Warble Entertainment's
Jon-Paul The Caricaturist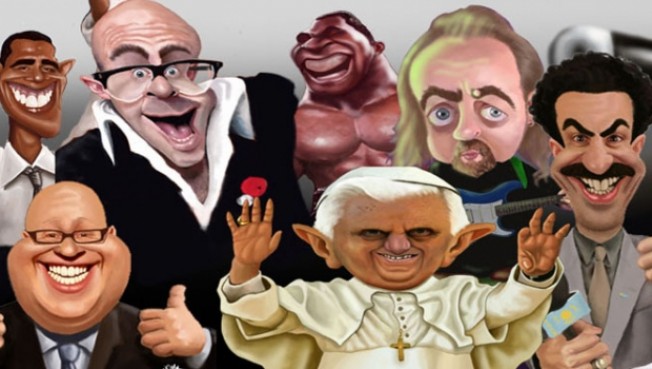 Location Sussex
Starting from £420.00
Location Sussex
Starting from £420.00
Introduction
Get a feel for them
Intro
Jon-Paul The Caricaturist provides amazing caricature entertainment for any event. Jon-Paul is a well established illustrator and has been in the industry for over 15 years. If you are looking for something fun and different for your party then look no further.
Jon-Paul works quickly to capture great likenesses in a humourous style which fills the room with laughter and leaves your guests with a personal and unique gift to remember the day with. Jon-Paul has worked for clients such as Disney and has even appeared Movies and TV. He works either traditional or his most popular choice on the iPad to accommodate any event.
10 reviews
Jon-Paul The Caricaturist
Number of Reviews and Counting... 10!
Jon-Paul can either mix and mingle with your guests or sit at his easel and let people come to him.
There are 3 packages
1. Traditional Black and White
2. Traditional Colour
3. Digital ( great for large venues)
Paper can also be personalised with logos and headings, digital option can have any template background and logos to fit any event.
Cathy Lane - MHG Insurance Brokers

, Corporate Event, The Walkways at Tower Bridge, London
Jon-Paul was fantastic! He arrived early to set up, was very charming and professional and exceptionally good! He had a queue of people all night and everyone loved the final results which they took away with them either printed or digitally on their phones. It was a fantastic keepsake and a huge talking point all night. Please pass on my thanks for his part in making a memorable evening for our guests.
---
Katy Martin

, Wedding Event, Sussex
Jon-Paul was a huge hit at the wedding! So much so that he still had a queue when he was due to finish and kindly stayed on! The pictures are great and he's a delight to have around!
---
Nikki Bell

, Corporate Event, Surrey
Jon-Paul was great, his drawings were amazing and everyone seemed really impressed with his work. What a lovely guy he is.
---
Momina Awan - Clarins

, Corporate Event, London
Jon-Paul was good!
---
Ivy Sharp

, Private Party Event, Kent
We were delighted with Jon-Paul, who was very professional and made sure everyone had the opportunity to go away with a caricature of themselves and a memento of the evening - capturing individual characteristics and personalities. Great fun. One of our party has asked us for details so we have given them the website of the agency.
---
Salina Patel

, Wedding Event, London
Sorry this is so late but Jon thanks so much for your brilliant work at our wedding in the summer in Kew. You accommodated to our requests and we love the caricature you drew in our guestbook. Absolutely amazing! Guests were really happy with their keepsakes and I have seen them hanging in people's living rooms proudly showing them off. I heard you were stuck in traffic on your way down to us but so happy when I heard you stayed longer to make up for this and until all the guests in the queue had their caricatures drawn. Thank you again so much and I will recommend you to anyone looking for a caricaturist. Salina and Nilesh :)
---
Suprio Dhas

, Wedding Event, Bedfordshire
Jon-Paul was a massive success at our wedding reception party. He was so approachable and flexible too. At one point so many people wanted a drawing from him, he offered to stay longer than we asked. Great guy, he made our evening excellent. I would definitely recommend him!
---
Becky Stephenson - P&MM Ltd

, Corporate Event, London
Jon-Paul was fabulous! He did a great job at, what was at times, a difficult awards ceremony and we had some great feedback from the guests. He exceeded my expectations, and I found the booking process very simple and received quick responses to all my queries. I'd definitely look to book Jon-Paul again.
---
Terry Rollings

, Corporate Event, Essex
Enjoyed having Jon-Paul work with us. Regards, Terry
---
Katy Hutchinson & James Knewstubb

, Wedding Event, Surrey
Excellent! Everyone loved it with a queue all evening. A fantastic addition to our day. Thanks!
---
Disney, Warner Bros, The Daily Mail, British Airways, HSBC, 360 Mall (Kuwait), Bahrain Gran Prix, The Mall of Egypt, The Mall of Dubai, Entertainment World Qatar, Handball World Cup Qatar, Amir's Sword Horse Race Qatar, The Football Association, Chelsea FC, Man Utd FC, Celtic FC, Roma FC, Juventus FC, Inter Milan FC, Southampton FC, Champions League, American Express, Vodafone, BAE Systems, Investec, RBS, AOL, Brighton and Hove County Council, Hampshire County Council, Table Table, Citi, Merrill Lynch, Credit Suisse, The Parker Pen company, ING Direct, PricewaterhouseCoopers LLP, Skoda, Ipswich Town Football Club, Pret a Manger, Costa, Tiger Beer, Baxa Ltd, Hitchens & amp, Harrison, Charle Stanley, Premier Inn Hotels Limited, Intercontinental hotel chain, Alton Towers, British Army, Metropolitan Police, Swedish Airforce, Rendezvous Casinos, The Shipowners Protection Ltd, Panmure Gordon, KBC, Adder, Mumtalakat, Pets at Home, Vertex Pharmaceuticals, Hays, BDL Hotels, Boston Scientific, The Royal Alexandra Children's Hospital, Cenkos, Davy, The Pensions Regulator, British HIV Association, Altium, WH Ireland, Oriel, Crowne Plaza, Underwood Carpenter, Liberum Capital, Hotel Du Vin, Holiday Inn, Travel Lodge, Langstone Hotel,
These include Corporate events, Charity functions, Weddings, parties etc...
Q: How many Caricatures can you draw in an hour?
A: About 15 B/W an hour, about 8 in colour.
Q: Do you walk around on sit in one place and draw.
A: Either, I can mix and mingle with your guests or bring my easel and set up somewhere for them to come to me.
Standard performance is 3 hours, but anytime can be worked.
Please Note: The fees indicated below are approximate and based on a central location for each county. They are intended to provide a rough guide only and exact quotes can only be given once the date and exact location of your event have been provided.
Scotland
Aberdeen
£720.00
Inverness
£720.00
Perth
£720.00
Sutherland
£720.00
Ayrshire
£720.00
Fife
£720.00
Stirlingshire
£720.00
West Lothian
£720.00
Dumfries-shire
£720.00
East Lothian
£720.00
Lanarkshire
£720.00
Midlothian
£720.00
North East
Durham
£540.00
Northumberland
£540.00
North Yorkshire
£540.00
South Yorkshire
£540.00
Tyne and Wear
£540.00
West Yorkshire
£540.00
Yorkshire
£540.00
North West
Cheshire
£540.00
Cumbria
£600.00
Manchester
£540.00
Lancashire
£600.00
Merseyside
£600.00
East Midlands
Derbyshire
£480.00
Leicestershire
£420.00
Lincolnshire
£480.00
Northamptonshire
£420.00
Nottinghamshire
£480.00
Rutland
£420.00
East
Cambridgeshire
£480.00
Norfolk
£480.00
Suffolk
£420.00
Wales
Anglesey
£600.00
Caernarvonshire
£600.00
Denbigh
£600.00
Flint
£600.00
Cardigan
£600.00
Brecon
£540.00
Carmarthen
£600.00
Glamorgan
£540.00
Monmouth
£480.00
Pembroke
£660.00
West Midlands
Gloucestershire
£420.00
Herefordshire
£480.00
Shropshire
£480.00
Staffordshire
£480.00
Warwickshire
£420.00
Worcestershire
£420.00
South East
Bedfordshire
£420.00
Berkshire
£420.00
Buckinghamshire
£420.00
East Sussex
£420.00
Essex
£420.00
Hampshire
£420.00
Hertfordshire
£420.00
Isle of Wight
£480.00
Kent
£420.00
Oxfordshire
£420.00
Surrey
£420.00
Sussex
£420.00
West Sussex
£420.00
London
£420.00
Middlesex
£420.00
South West
Cornwall
£720.00
Devon
£600.00
Dorset
£420.00
Somerset
£480.00
Wiltshire
£420.00
You may also like
Customers who have enquired for Jon-Paul The Caricaturist have also been interested in the following Caricaturists who are also based in the South East of England. For more information or further options, please call 0845 643 9384.