Warble Entertainment's
Kate The Violinist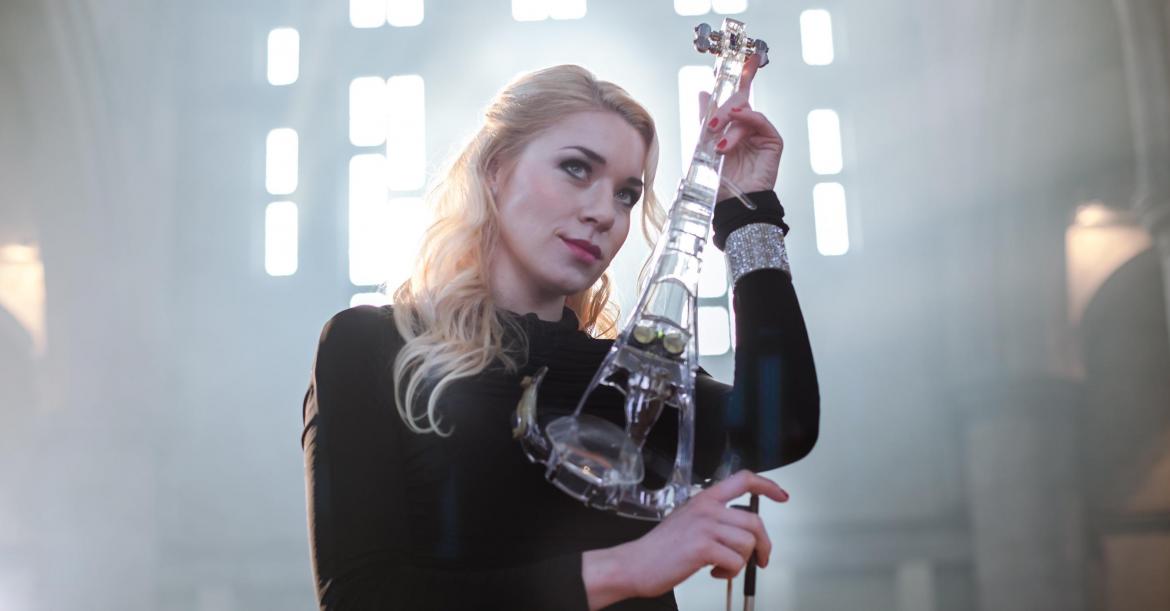 Location West Yorkshire
Starting from £372.00
Kate is a world-renowned, award-winning, virtuoso violinist.
She captivates audiences with her gorgeous violin performances for any function, from weddings to elaborate corporate events, catering to your unique occasion. She's been expertly trained at top European music academies, has recorded several acclaimed studio albums, and has performed in castles, cathedrals and aboard cruise ships.
Her extensive repertoire includes everything from ambient to upbeat, from Mozart to Michael Jackson, which she knows by heart - but she can learn special songs just for you and your guests.
3 reviews
Song List
Electric Remixed Tracks:
Contradanza - Vanessa Mae
Toccata and Fugue - Vanessa Mae
Libertango - Piazzolla
Storm - Vanessa Mae
Palladio - Escala
Night Flight - Vanessa Mae
Conquest of Paradise - Vangelis
Destiny - Vanessa Mae
Rule the World - Take That
Requiem for a Dream (Lux Aterna) - Mansell
Lambada - Kaoma
Eleanor Rigby - The Beatles
Bond Theme - Remix
Canon in D - Pachelbel
Wonderwall - Oasis
Por Una Cabeza - Gardel
Feeling Good - Escala
Popular:
Adele - Make You Feel My Love
Armstrong - La Vie en Rose
Armstrong - What a Wonderful World
Aznavour - She
Barry - You Only Live Twice
Beyonce - Halo
Blunt - You're Beautiful
Carey - Whenever You call
Cassidy - Songbird
Clapton - Tears in Heaven
Clapton - Wonderful Tonight
Cohen - Hallelujah
Coldplay - Viva La Vida
Gershwin - Summertime
Dylan - House of the Risin' Sun
Elbow - One Day Like This
Elton John - Can you Feel the Love Tonight
Enya - May it Be
Escala - Feeling Good
Escala - Palladio
Evanescence - My Immortal
Flying Pickets - Only You
Michael - Careless Whisper
Hamilton - Cry Me a River
Hupfeld - As Time Goes By
Kaoma - Lambada
Jones - Come Away With Me
Lily Allen - Not Fair
Lily Allen - Smile
Mancini - Moon River
Metallica - Nothing Else Matters
Muse - Butterflies & Hurricanes
Myers - Cavatina
Newman - Whisper of a Thrill
Oasis - Wonderwall
Seal - Kiss from a Rose
Sinatra - My Way
Snow Patrol - Chasing Cars
Stevie Wonder - Signed, Sealed & Delivered
Sting - Fields of Gold
Sting - Shape of My Heart
Streisand - Woman in Love
Take That - Greatest Day
Take That - Rule the World
The Beatles - Eleanor Rigby
The Beatles - Let it Be
The Beatles - Yesterday
The Beatles - Here Comes the Sun
The Beatles - Michelle
The Beatles - Norwegian Wood
The Killers - Mr Brightside
The Righteous Brothers - Unchained Melody
The Verve - Bittersweet Symphony
Van Morrison - Have I Told You Lately
Vanessa Mae - Contradanza
Vanessa Mae - I'm a Doun for Lack of Johnnie
Vanessa Mae - Night Flight
Vanessa Mae - Toccata and Fugue
Vanessa Mae - Storm
Vangelis - Conequest of Paradise
Webber - Memory
Withers - Ain't no Sunshine where she's gone
Classical:
Albinoni – Adagio
Bach - Air
Bach - Ave Maria
Bach - Joy of Man's Desiring
Beethoven - Minuet in G
Beethoven - Fur Elise
Barber - Adagio for Strings
Bocelli - Time To Say Goodbye
Brahms - Waltz in A
Brahms - Hungarian Dance No. 6
Bizet - Habenera
Clarke - Trupet Voluntary
Dvorak - Humoresque
Faure - Pie Jesus
Grieg - Solveig's Sog
Grieg - Morning Suite
Greensleeves - English
Hamnataing - Irish
Handel - Air
Handel - Hornpipe
Handel - Arrival of the Queen of Sheeba
Haste to the Wedding - Celtic
Holst - Jupiter
Massenet - Meditation
Monti - Czardas
Morricone - Gabriel's Oboe
Mozart - Minuet Divertimento
Mozart - Violin Concerto in G
O sole Mio - Italian
Pachelbel - Canon in D Major
Parry - Jerusalem
Puccini - O Mio Babbino Caro
Sait-Saens - The Swan
Scarborough Fair- English
Schubert - Traumerei
Schubert - Ave Maria
Schumann - Serenade
Strauss - Three Waltzes
Tchaikovsky - The Nutcracker
Musical / Film / TV:
Aladdin - A Whole New World
Beauty & the Beast - Theme
Bock - Sunrise, Sunset
Braveheart - Theme
Buffy Theme - Close Your Eyes
Fiddler on the Roof - Sunrise, Sunset
James Bond - Theme
Lord of the Rings - May it Be
Love Story - Theme
Love Actually - All You Need is Love
Meet Joe Black - Whisper of a Thrill
Out of Africa- Theme
Phantom of the Opera - All I Ask of You
Requiem for a Dream - Lux Aeterna
Scent of the Women - Por Una Cabeza
Secret Garden - Romance
Titanic - My Heart Will Go On
The Lion King - Can You Feel the Love Tonight
The Lion King - Circle of Life