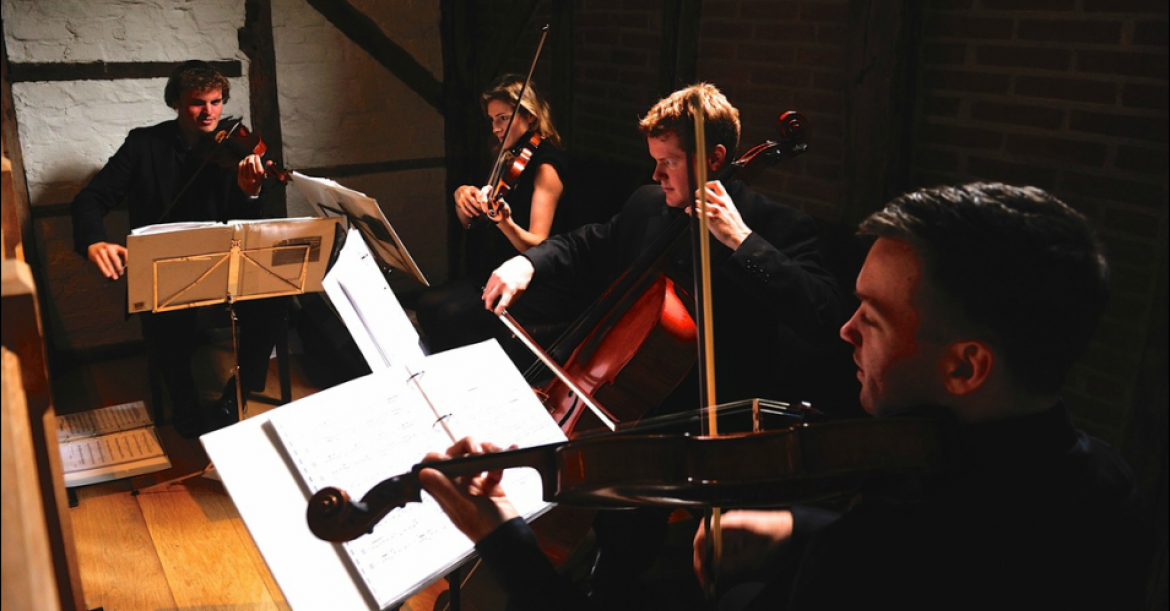 Location London
Starting from £564.00
Professional string quartet for any occasion performing any style of music from Mozart to Metallica!
Listen




Number of Reviews and Counting... 3!
London Strings has quickly gained a reputation as an elegant, versatile and high quality ensemble, providing music for functions, corporate events and weddings across the country.
The quartet has also enjoyed collaborating and recording with various bands and artists, in addition to corporate entertainment for clients including Audi, John Lewis, Marks and Spencer, Mercedes-Benz and HSBC and many more.
London Strings is a prefered supplier for many venues and shares a close working partnership with various other organisations and venues. They are frequently the string quartet of choice for corporate events and wedding music in London and Southern England.
The performers are all experienced freelancers in their own right, having performed, recorded and toured with many of the country's leading orchestras and artists.
Soloist - 1 Violin or 1 Cello
Duo - Violin and Cello
Trio - 2 Violins and 1 Cello
Quartet - 2 Violins, 1 Viola, 1 Cello
Larger groups, for example 9 piece - 4 Violins, 2 Violas, 2 Cellos, 1 Bass
CLASSICAL
Bach - Ach lieben Christen, seid getrost, Loure from Third Suite for Cello, Air on the G string, Prelude from English Suite No. 3, Arioso, Sarabande from The first French Suite, Bach Selection, Sheep May Safely Graze, Double Violin Concerto, St John's Chorale, Fughetta, St Matthew's Chorale, Jesu Joy of Our Desiring, Wachet Auf
Beethoven - Für Elise, Symphony No. 5 in C Minor, Mvt. 1, Ode to Joy
Bizet - Cabañera from Carmen, Toreador's song from Carmen, Habanera
Blow - Chaconne
Borodin - Nocturne
Brown - Waltz
Bruch - Adagio from the Violin Concerto
Burtch - Simple String Quartets
Charpontier - Te Deum
Chopin - Grande Valse Brilliante, Prelude in E minor, Nocturne in Eb Major, Valse, Polonaise
Clark - Trumpet Voluntary
Copeland - Hoe Down
Debussy - Berceuse, Le pas Español, Cakewalk, Mi-a-ou, Clair de Lune, Tendresse, Golliwog's Cakewalk, The Girl with the Flaxen Hair, Kitty-Valse
Delibes - Flower Duet, Intermezzo from Sylvia
Ditterdorf - Minuet from Quartet in Eb Major
Dvorak - Finale from Sonatina in G Minor, Humoresque
Elgar - Adagio, Idylle, Beau Brummel, Larghetto from Serenade, Chanson de Matin, Nimrod, Chanson de Nuit, Salut d'Amour
Fauré - Berceuse, Pavane, Foxtrot, Wouf/Mi-a-ou, Le Jardin de Dolly
Franck - Panis Angelicus
Fux - Menuet
Gounod - Ave Maria
Grieg - Gavotte from Holberg Suite, La Mort D'Ase
Handel - All We Like Sheep from the Messiah, Largo from Xerxes, Alla Hornpipe, Lascia chi Piagna, Arrival of the Queen of Sheba, Menuette, Concerto Grosso Op6 No1, Ombra Mai Fu, Halleluia Chorus from the Messiah, Water Music Suite in D, Hornpipe, Water Music Suite in F, La Rejouissance, Zadok the Priest, Largo
Haydn - Adagio from Quartet in G Major, Sinfonia, Minuet from Quartet in D Minor, Symphony No. 77, Mvt. 4, Serenata
Karl Jenkins - Adiemus Theme, Palladio, Khachaturian, Adagio from Sparticus
Krieger - Minuet
Lang - Tuba Tune
Lehar - Waltz from The Merry Widow
Mascagni - Intermezzo from Cavalleria Rusticana
Massenet - Meditation from Thais
Mendelssohn - Wedding March, Intermezzo from Quartet Op.13, Song Without Words, No.35
Monti - Czardas
Mozart - Allelujiah from 'Exultate Jubilate', Divertimento in F, Andante from Piano Concerto, Eine Kleine Nachtmusik, Bei Mannern from the Magic Flute, Minuetto, Der Vogelfanger from the Magic Flute, Quartet K 575 No 21, Divertimento in B, Quartet KV 387 No 14, Divertimento in D, Ave Verum Corpus, Andante from Quartet No. 8
Offenbach - Barcarolle, Medley, Galop
Pachelbel - Canon, Gigue
Puccini - Humming Chorus from Madame Butterfly, Rondo, Nessun Dorma, Trumpet Tune, O Mio Babbino Caro, Two Rondeaux from Abdelazar
Rachmaninov - Paganini Variations
Ravel - Bolero
Satie - Gymnopédie
Schubert - Moment Musical
Schumann - Traumerei, From the Album for the Young, Song, To Sunshine
Shostakovich - Waltz from Jazz Suite No.2
Staples - Midday at St James' Park, Sunset at Covent Garden, Sunrise at Golden Square
Strauss - On the Beautiful Blue Danube, Tritsch-Tratsch Polka
Tchaikovsky - Chanson Triste, Sleeping Beauty Waltz, Legend, Swan Lake Finale, Morning Song, Waltz from Swan Lake
Telemann - Sonata
Vaughan Williams - Fantasia on a Theme by Thomas Tallis
Linden Lea - Greensleeves
Vivaldi - Autumn from the Four Seasons, Winter from the Four Seasons, Summer from the Four Seasons
Wagner - Bridal Chorus, Ride of the Valkyries, Warlock, Basse Dance

JAZZ / MUSICALS / LIGHT / TELEVISION / FILM
A Trumpeter's Lullaby
Plink, Plank, Plonk
Blue Tango
Sandpaper Ballet
Belle of the Ball
Serenata
Forgotten Dreams
The Syncopated Clock
Horse and Buggy
The Typewriter
Jazz Legato
The Waltzing Cat
Jazz Pizzicato
Pirates of the Caribbean
Goldfinger
As Long as He Needs Me
Food Glorious Food
Diamonds are Forever
There's No Business like Showbusiness
America
One Hand, One Heart
Maria from West Side Story
Somewhere
Country Dance
La Rumba
The Girl From Ipanema
Cock Linnet
The Warriors Theme Tune
At Last
An American in Paris
Love Walked In
But Not For Me
Mine
Concerto in F
Nice Work if You Can Get It
Foggy Day
Rhapsody in Blue
For You, For Me, For Evermore
S'Wonderful
He loves She loves
Second Rhapsody
I Got Rhythm
Somebody Loves Me
I Got Rhythm Variations
Summertime
I'll Build Astaire Way to Paradise
Swansea
I've Got Rhythm
The Man I Love
Liza
They Can't Take That Away From Me
Love is Here to Stay
I Do Like to be Beside the Seaside
The Trap (London Marathon Theme Tune)
Tango del Maurice
Fly Me to the Moon
It Had to be You
Bethena
Roseleaf Rag
Country Club
Solace
Is You is or is You Ain't ma Baby
Moonlight and Roses
I'm Forever Blowing Bubbles
Zelda
Bustopher Jones
Music of the Night
Jesus Christ Superstar
Old Deuteronomy
Memory
Phantom of the Opera
Mr Mistoffelees
All I Ask of You
Moon River
Live and Let Die
That's Amore
Czardas
Serenata
Fandango
Tango
Rhumba
Tango Chromatique
Beauty and the Beast
Gabriel's Oboe
Nella Fantasia
What Kind of Fool am I?
James Bond Theme
Anything Goes
Night & Day
I Get a Kick Out of You
What is This Thing Called Love?
Just One of Those Things
You're the Top
Theme from the A-Team
You'll Never Walk Alone
Theme from The Godfather
Love Theme from Romeo & Juliet
Theme from The Muppet Show
Time to Say Goodbye
Stars
I Dreamed a Dream
May it Be from Lord of the Rings
Theme from Forrest Gump
Nobody Does It Better
New York, New York
Chelsea Bridge
Take The A Train
Three Little Maids from The Mikado
Dad's Army Theme
A Whole New World from Aladdin
Riverdance
Christine
ET Theme
Star Wars IVOpening Theme
Schindler's List
Fawlty Towers
Gladiator
POPULAR
Hometown Glory
I Don't Wanna Miss a Thing
Dream a Little Dream
A Hard Day's Night
If I Fell
All You Need is Love
Imagine
And I Love Her
Lady Madonna
Eight Days a Week
Michelle
Get Back
Norwegian Wood
Good Day Sunshine
Paperback Writer
Got To Get You Into My Life
Strawberry Fields
Hello Goodbye
The Fool On The Hill
Here, There and Everywhere
Tomorrow Never Knows
Hey Jude
When I'm 64
I Feel Fine
World Without Love
Joga
The Universal
Everything I Do I Do It For You
Heaven
Close to You
We've Only Just Begun
Hallelujah
Viva la Vida
Everlong
Silence
Kissing You from Romeo & Juliet
Mercy
One Day Like This
Candle in the Wind
Killing Me Softly With His Song
The Fray
How to Save a Life
Gade
Jalousie
You Raise Me Up
Without You
Cry Me a River
Iron Maiden
Can I Play with Madness
I Want You Back
Don't Stop Believing
A Moment Like This
Everlasting Love
Design for Life
Fade to Black (Intro)
Nothing Else Matters
Happy Ending
There is a Light
Black
Book of Love
A Groovy Kind of Love
The Show Must Go On
Don't Stop Me Now
Too Much Love Will Kill You
Angels
By Your Side
I Don't Feel Like Dancin'
A Moment Like This
Without Thee
Hoppipolla
Bridge Over Troubled Water
Chasing Cars
Run
Fields of Gold
Greatest Day
Love Cats
Lola's Theme
Bittersweet Symphony
Drops of Jupiter
The Rose
Flying Without Wings


FOLK / TRADITIONAL / RELIGIOUS
Go Tell It On The Mountain
Fiddle Faddle
Alouette
The Geese in the Bogs
The Friendly Beasts
As With Gladness Men of Old
English
A Great & Mighty Wonder
Jerusalem
Fletcher
Fiddle Dance
Folk Tune
Gibbs
Above Blea Tarn
Winster Valley
Loewswater: Calm after Storm
Hymn
Gabriel's Message
Irish
Londonderry Air/Danny Boy
The Star of County Down
Toss the Feathers
Jewish
Siman Tov
It was a lover and his lass
Prairie Song
Religious
Lo He Comes with Clouds Descending
O Come Little Children
Lord is My Shepherd
Of the Father's Love Begotten
Lord of All Hopefulness
Praise My Soul
Love Divine
This is the Truth Sent From Above
Scottish
My love is like a red red rose
Fiddle Tunes
Thorp
Irish Sherry
Traditional
Royal Engineers' March
Ashokan Farewell
Welsh
All Through the Night
Deryn Du
By Cool Siloams Shady Rill
Llety'r Bugail
Captain Morgan's March
Myfanwy
Endris
Rachie
Aberystwyth
Suo gan
Calon Lan
The Ash Grove
David of the White Rock
The Blind Harper
Christmas Traditional
Six Renaissance Christmas Carols
O Holy Night!
Traditional
Away in a Manger
Medieval 2
Carol of the Birds
Medieval 4
Carol Unknown
O Come, O Come Emmanuel
Christians Awake!
Once in Royal David's City
Deck the Halls
Pat a Pan
Ding Dong Merrily on High
Shepherd's Farewell
Gaudete
Sussex Carol
God Rest Ye Merry Gentleman
The Coventry Carol
Good King Wenceslas
The First Nowell
Hark the Herald
The Holly and the Ivy
Holly and The Ivy
Veni, Veni
I Heard the Bells on Christmas Day
We Gather Together To Ask The Lord's Blessing
I Saw Three Ships
We Three Kings
Joy to the World
We Wish You a Merry Christmas
Medieval 1
Wexford Carol
Christmas Concerto
Bring a Torch, Jeanette, Isabella
In Dulce Jubilo
Silent Night
Dadmé Albrícias, Ríu, Ríu, Chíu, E la Dondon, Verges Maria
Christmas Popular
Sleigh Ride
White Christmas
Winter Wonderland
Feliz Navidad
Santa Baby
Fairy Tale of New York
Rudolph the Red-Nosed Reindeer
Christmas Medley
Let it Snow!
The Christmas Song
Jingle Bells
It's Beginning to look a lot like Christmas
Francis and Kennie Hornak

, Birthday Party, Roebuck Farm, Somerset
They provided a perfect accompaniment for the start of our party. Many thanks.
---
Stu Collins

, Wedding, Clock Barn, Hampshire, Hampshire
Sounded beautiful... professional, great repertoire and great value for money.
---
Miguel Bachmann

, Wedding, Buckinghamshire
Very professional and extremely talented musicians. We would recommend them to anyone for any type of event.
---
Audi
Avanti TV
Cambridge University
Cemex UK
County Mall, Crawley
Culprit 1
Exceptional Records
Great British Olympics Team
Halflight
John Lewis
Long Wave Studios
M2 Training
Magenta
Marks and Spencer
Mercedes Benz
Musicbox Studios
Paper Aeroplanes
Southwark Playhouse
St David's Shopping Centre
The Pop Factory
Travelex
University College London
Wandsworth County Council
Welsh Assembly Government
What are your performance/space requirements?
London Strings requires at least 4 x 2 metres in order to not get in the way of your guests and to protect instruments. The venue should ensure that there are four armless chairs provided in the performance space, and that the quartet are offered soft drinks. For bookings of 3 hours or more, the quartet require a light meal or sandwiches.
Can you play outside?
Providing there is adequate shade, no rain and full shelter from any wind the quartet are happy to play outside. This is, however, at the sole discretion of the musicians on the day.
How long do you take to set up?
The quartet takes approximately 15 minutes to set up providing that chairs are provided within an adequate performance space. The quartet can also move position very quickly. However, London Strings will always arrive approximately 1 hour before an engagement is due to begin.
I have a limited budget, or there is limited space at my venue. Can I book a smaller group of musicians?
Yes, the London Strings are able to provide smaller groups - a soloist, duo or trio.
I am holding an event in a large venue, am I limited to a string quartet?
No - London Strings are able to provide a larger ensemble of stringed musicians and are often also joined by a singer. This larger, flexible-sized group is perfect for product launches or larger scale corporate events.
How many pieces do I have to choose for my event?
You are welcome to be as prescriptive as you like. Whilst you may want to give us a list of pieces you'd like to be heard, we are equally happy to judge the mood and play pieces/styles accordingly.
Continuous playing, as required, with a 10 minute break every 90 minutes.
Please Note: The fees indicated below are approximate and based on a central location for each county. They are intended to provide a rough guide only and exact quotes can only be given once the date and exact location of your event have been provided.
East Midlands
Leicestershire
£612.00
Northamptonshire
£612.00
East
Cambridgeshire
£624.00
Norfolk
£624.00
Suffolk
£624.00
Wales
Glamorgan
£576.00
Monmouth
£576.00
West Midlands
Gloucestershire
£612.00
Herefordshire
£612.00
Warwickshire
£624.00
Worcestershire
£624.00
South East
Bedfordshire
£600.00
Berkshire
£600.00
Buckinghamshire
£600.00
East Sussex
£600.00
Essex
£600.00
Hampshire
£600.00
Hertfordshire
£600.00
Isle of Wight
£660.00
Kent
£600.00
Oxfordshire
£600.00
Surrey
£600.00
Sussex
£600.00
West Sussex
£600.00
London
£564.00
Middlesex
£576.00
South West
Cornwall
£636.00
Devon
£624.00
Dorset
£624.00
Somerset
£612.00
Wiltshire
£612.00