Warble Entertainment's
Maestoso Strings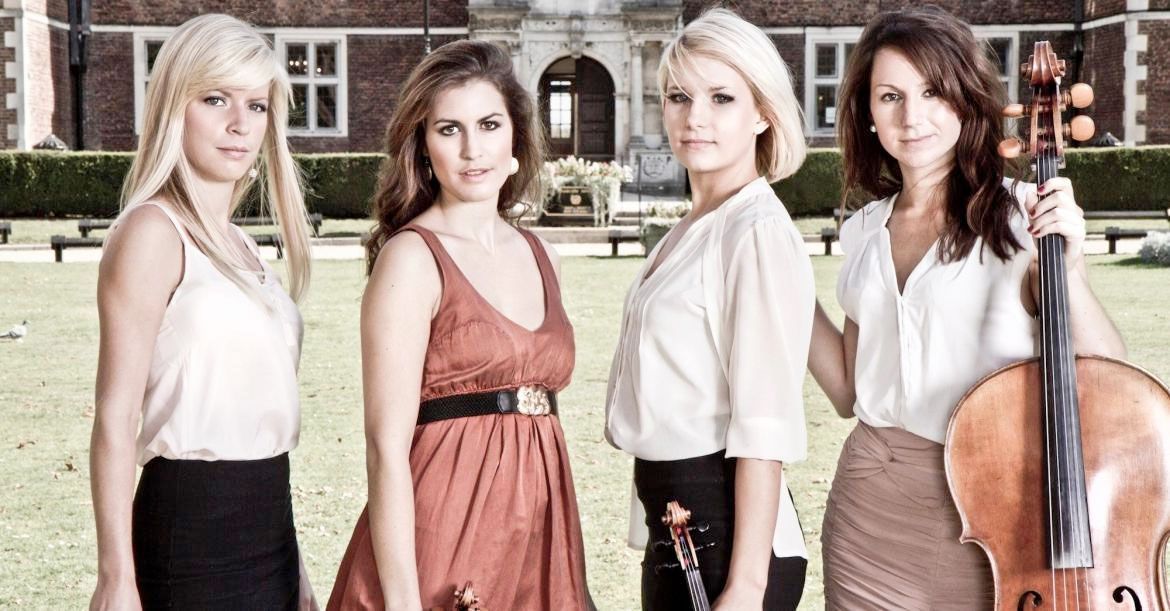 Location London
Starting from £792.00
Comprised of highly skilled and experienced professional musicians London based Maestoso Strings Quartet, Trio and Duo are guaranteed to compliment any event and add a touch of class.
They specialise in providing musicians of the highest caliber for weddings, corporate events and session work and pride themselves on their presentation and providing a friendly, tailor made service.
13 reviews
Song List
Pop/Rock
A Hard Days Night - The Beatles
A Thousand Years - Christina Perri
All of Me - John Legend
Amazing, Just the Way You Are - Bruno Mars
And I Love Her - The Beatles
As Time Goes By, Casablanca - H. Hupfeld
At Last - Etta James
Benny and the Jets - The Hitters
Beyond the Sea - Jack Lawrence
Billie Jean - Michael Jackson
Bittersweet Symphony - The Verve
Bohemian Rhapsody - Queen
Bonfire Heart - James Blunt
Brown Eyed Girl - Van Morrison
Calico Skies - Paul McCartney
Can't Help Falling in Love - Elvis
Can't Hold Us - Macklemore
Can't Take My Eyes off You - Frankie Valli
Chasing Cars - Snow Patrol
Clocks - Coldplay
Diamonds - Rihanna
Diamonds are Forever - S. Bassey
E.T. - Katy Perry
Eleanor Rigby - The Beatles
Every Little Things She Does Is Magic - The Police
Everytime - Britney
For Your Eyes Only - Sheena Easton
Fields of Gold - Sting
Firework- Katy Perry
Get Lucky - Daft Punk
God Only Knows - The Beach Boys
Golden Earth Girl- Paul McCartney
Grenade- Bruno Mars
Happy - Pharrell
Happy Together - The Turtles
Here Comes the Sun - The Beatles
Highway to Hell - AC/DC
Holiday - Greenday
Hoppipolla - Sigur Ros
How Long will I Love You - The Waterboys
How to Save a Life - The Fray
Human - The Killers
I Don't Want to Miss a Thing - Aerosmith
I Gotta Feeling - Black Eyed Peas
I'll Be There for You - The Rembrandts
I'm Yours - Jason Mraz
I'm A Believer - The Monkees
If I Aint Got You - Alicia Keys
Into the Mystic - Van Morrison
I've Had The Time of My Life - Dirty Dancing
Isn't She Lovely - Stevie Wonder
It Must be Love - Madness
Jai Ho - A.R. Rahman
Just the Way You Are - Bruno Mars
Kissing You, Romeo and Juliet - Des'ree
Love On Top - Beyonce
Love Story - Taylor Swift
Lucky - Jason Mraz
Make You Feel My Love - Adele
Marry You - Bruno Mars
Moondance - Van Morrison
Mr Brightside - The Killers
My Girl - Temptations
My Love - Paul McCartney
Nobody Does it Better - M. Hamlisch
No Surprises - Radiohead
On A Night Like This - Kyle
One Day Like This - Elbow
Only girl in the world - Rihanna
Ordinary People - John Legend
Paperback Writer - The Beatles
Paradise - Coldplay
Perfect Day - Lou Reed
Please Please Please - The Smiths
Poker Face - Lady Gaga
Pretty Woman - Roy Orbison
Pure Imagination - Gene Wilder
Rather Be - Clean Bandit
Rolling in the Deep - Adele
Royals - Lorde
Sailing - Rod Stewart
Shape of You - Ed Sheeran
She - Elvis Costello
She's My Baby - Paul McCartney
Signed, Sealed, Delivered - Stevie Wonder
Skyfall - Adele
Somedays - Paul McCartney
Someone Like You - Adele
Somewhere Over the Rainbow - Israel K.
Stay With Me - Sam Smith
Sweet Child of Mine - Guns 'N Roses
Sweet Dreams - Eurythmics
The Book of Love- Peter Gabriel
The Power of Love - Gabrielle Aplin
The Prayer - Dion/Bocelli
The Way You Look Tonight - Frank Sinatra
Thinking Out Loud - Ed Sheeran
Thriller - Michael Jackson
Tomorrow Never Knows - The Beatles
Truly Madly Deeply - Savage Garden
Up Town Funk - Mark Ronson
Viva La Vida - Cold Play
Warm and Beautiful - Paul McCartney
We Are Young - Fun
We Have All the Time in the World - B. White
We Found Love - Rihanna
Whatever - Oasis
When I'm 64 - The Beatles
When You Were Young - The Killers
Wherever you will go - Charlene Soraia
With or Without You - U2
Wonderful Tonight - Eric Clapton
You'll Never Walk Alone - R & H/Sinatra
You Really Got Me - The Kinks
You're My Best Friend - Queen
Young and Beautiful, The Great Gatsby - Lana Del Rey
Yours - Ella Henderson
Your Song - Elton John
TV/Film/Musicals
27 Dresses
Benny and the Jets - The Hitters
Aladdin
A Whole New World - Menken/Rice
Aspects of Love
Love Changes Everything - Lloyd Webber
Armageddon
I Don't Want to Miss a Thing - Aerosmith
Awakenings
Dexter's Tune - R. Newman
Beauty and the Beast
Theme from Beauty and The Beast - A. Menken
Braveheart
Theme from Braveheart - J. Horner
Breakfast at Tiffany's
Carousel
You'll Never Walk Alone - Rogers & Hammerstein
Casablanca
As Time Goes By- H. Hupfeld
Chitty Chitty Bang Bang
Hushabye Mountain - R. Sherman
Dirty Dancing
I've Had The Time of My Life
E.T.
Theme from E.T. - J. Williams
Fawlty Towers
Theme from Fawlty Towers - Dennis Wilson
Fiddler on the Roof
If I Were a Rich Man - S. Harnick/J. Bock
Friends
I'll Be There for You - The Rembrandts
Game of Thrones
Game of Thrones Theme - R.Djawadi
Great Gatsby
Young and Beautiful - Lana del Rey
Gremlins
The Gremlin Rag- J. Goldsmith
Harry Potter
Hedwig's Theme - J. Williams
Hogwarts Hymn - P. Doyle
Potter Waltz - P. Doyle
Indiana Jones
Raiders March - J. Williams
James Bond
All Time High, Octopussy - J. Barry
Diamonds are Forever - S. Bassey
For Your Eyes Only - S. Easton
James Bond Theme - M. Norman
Nobody Does it Better - M. Hamlisch
Skyfall - Adele
We Have All the Time in the World - B. White
Jeeves and Wooster
Jeeves and Wooster Theme - Anne Dudley
Jesus Christ Superstar
I Don't Know How to Love Him - Lloyd Webber
Jurassic Park
Theme from Jurassic Park - John Williams
Ladies in Lavender
Theme from Ladies in Lavender - Nigel Hess
Les Miserables
Empty Chairs at Empty Tables - C-M. Schonberg
I Dreamed A Dream - C-M. Schonberg
Lord of the Rings
Concerning Hobbits - H. Shore
Moulin Rouge
Notting Hill
On The Town
New York, New York - L. Bernstein
Pinocchio
When You Wish Upon A Star - from Pinocchio
Pirates of the Caribbean
The Medallion Calls-K. Badelt
The Black Pearl - K. Badelt
Pocahontas
Colours of the Wind - A. Menken
Quest for Camelot
The Prayer - C. Bayer/D. Foster
Romeo and Juliet
A Time for Us - N. Rota
Kissing You - Des'ree
Scent of a Woman
Por Una Cabeza - C. Gardel
Schindler's List
Theme from Schindler's List - J. Williams
Shrek
I'm A Believer - The Monkees
Sleeping Beauty
Slumdog Millionaire
Star Trek
The Next Generation - J. Goldsmith
Star Wars
The Throne Room - J. Williams
The Edwardians
Upstairs Downstairs - A. Faris
The Gadfly
Romance from Gadfly - D. Shostakovich
The Godfather
Speak Softly Love- N. Rota
The Mission
Gabriels Oboe - E. Morricone
The Magnificent Seven
The Magnificent Seven - E. Bernstein
The Molly Maguires
Theme from The Molly Maguires - H. Mancini
The Phantom of the Opera
Think of Me - Lloyd Webber
The Phantom of the Opera - Lloyd Webber
The Pink Panther Strikes Again
Inspector Clouseau Theme - H. Mancini
The Snowman
Suite from The Snowman - Howard Blake
The Sound of Music
Edelweiss - Rodgers
Wedding Procession - Rodgers
The Thorn Birds
Meggie's Theme - H. Mancini
The Wizard of Oz
Over the Rainbow, Wizard of Oz - Harold Arlen
West Side Story
Maria - L. Bernstein
One Hand, One Heart - L. Bernstein
Somewhere - L. Bernstein
Tonight - L. Bernstein
Willy Wonka
Pure Imagination - Gene Wilder
Light/Jazz
A Day in the Life of a Fool - B. Ligon
A Nightingale Sang in Berkley Square - M. Sherwin
All of You - C. Porter
Anything Goes - C. Porter
Baby Elephant Walk - H. Mancini
Begin the Beguine- C. Porter
Beyond the Sea - Jack Lawrence
Blue Moon - M. Turner
Bye Bye Blackbird - B. Caputo
Charade- H. Mancini
Days of Wine and Roses - H. Mancini
Embraceable You - G. Gershwin
Ev'ry Time We Say Goodbye - C. Porter
Fly Me to the Moon - F. Sinatra
How High the Moon - T. Sharp
I Concentrate on You - C. Porter
I Get A Kick out of You - C. Porter
I Got Rhythm - G. Gershwin
I Love You - C. Porter
I've Got You Under My Skin - C. Porter
Inspector Clouseau Theme - H. Mancini
It Don't Mean a Thing - D. Ellington
It Had to be You - M. Norgaard
It's All Right With Me - C. Porter
It's Easy to Say - H. Mancini
It's Only a Paper Moon - B. Ligon
Lady Be Good - G. Gershwin
Leaning on a Lamppost - N. Gay
Let's Do it - C. Porter
Makin' Whoopee- W. Donaldson
Maria, West Side Story - L. Bernstein
Meggie's Theme, Thorn Birds - H. Mancini
Moon River - H. Mancini
Moonlight in Vermont - K. Suessdorf
My Funny Valentine - Rodgers & Hart
New York, New York - L. Bernstein
Night and Day - C. Porter
Pennies from Heaven - A. Johnson
Pie in the Face Polka - H. Mancini
Ragtime Dance - S. Joplin
Someone to Watch Over Me - G. Gershwin
Summertime - G. Gershwin
Swanee- G. Gershwin
Sway/Cherry Pink- P. Beltran
Take Five - B. Ligon
The Folks Who Live on the Hill - J. Kern
The Man I Love - G. Gershwin
Theme from The Molly Maguires - H. Mancini
Thorn Birds Theme - H. Mancini
What is This Thing Called Love - C. Porter
You'd Be So Nice to Come Home To - C. Porter
Tangos
Czardas - M. McLean
Fandango - M. McLean
La Bamba - Trad. Mexican
La Cumparista - G.M. Rodriguez
Por Una Cabeza - C. Gardel
Rhumba - M. McLean
Serenata - M. McLean
Tango - M. McLean
Tango "Chromatique" - M. McLean
Tango Avila - M. Isaac
Tico – Tico - Z. de Abreu
Traditional
Danny Boy/Londonderry Air - Trad. Irish
English Country Gardens - Trad.
Evelyn Jean - T. Kime
Flowers of Edinburgh - Trad. Scottish
Greensleeves - Trad. English
Kate Dalrymple - Trad. Scottish
Lady Madelina Palmer - W. Marshall
Mrs. Roy of Nenthorn's Favourite - R. Mackintosh
My Love is Like a Red Red Rose - R. Burns
Scott's View - T. Kime
The Skye Boat Song - Trad. Scottish
Classical
Adagio from Violin Concerto - M. Bruch
Air from Water Music - G.F. Handel
Air in F - G.F. Handel
Air on a G string - J.S. Bach
Alleluja from Exultate Jubilate - W.A. Mozart
Andante from Piano Concerto No. 21 - W.A Mozart
Arabesque - C. Debussy
Aria from "Xerxes" - G.F. Handel
Arioso - J.S. Bach
Ave Maria - Bach- Gounod
Ave Maria - F. Schubert
Ave Verum Corpus - W.A. Mozart
Barcarolle - J. Offenbach
Bist du bei mir - J.S. Bach
Brandenburg Concerto No. 3 - J.S Bach
Canon in D - J. Pachelbel
Chanson de Matin - E. Elgar
Chorus: They Shall be as Happy - H. Purcell
Clair de Lune - C. Debussy
Concerto for 2 Violins in A minor - A. Vivaldi
Concerto for 2 Violins in D minor - J.S. Bach
Concerto Grosso Op. 6, No. 8 - A. Corelli
Dance of the Blessed Spirits - W. von Gluck
Dedication - R. Franz
Divertimento in B - W.A. Mozart
Divertimento in D- W.A. Mozart
Divertimento in F - W.A. Mozart
Eine Kliene Nacktmusik - W.A. Mozart
Fireworks Suite - G.F. Handel
Flower Duet, Lakme - L. Delibes
Gabriel's Oboe, The Mission - E. Morricone
Go Crystal Tears - J. Dowland
Golliwog's Cake-walk - C. Debussy
Greensleeves - Trad. English
Gymnopedie No's 1 – 3 - E. Satie
Hornpipe from Water Music - G.F. Handel
Humoresque - A. Dvorak
Hungarian Dance - J. Brahms
I Love Thee - E. Grieg
I Vow To Thee My Country, The Planets - G. Holst
If With All Your Hearts - F. Mendelssohn
Jerusalem - H. Parry
Jesu, Joy of Man's Desiring - J.S. Bach
Largo from Winter, The Four Seasons - A. Vivaldi
Le Onde- L. Einaudi
Let the Bright Seraphim - G.F. Handel
Liebestraum - F. Liszt
Lullaby - G. Gershwin
March, "The Marriage of Figaro" - W.A. Mozart
Meditation from Thais - J. Massenet
Minuet and Trio, from Quintet in E - L. Boccherini
My Heart Ever Faithful - J.S. Bach
Norwegian Dance No. 2 - E. Grieg
Norwegian Dance No. 3 - E. Grieg
Ode to Joy - L. Beethoven
Palladio - K. Jenkins
Panis Angelicus - C. Franck
Pizzicato Polka - J. Strauss
Polovtsian Dance No. 1 - A. Borodin
Prayer - H. Wolf
Queen of Sheba - G.F. Handel
Romance - C. Debussy
Romance from The Gadfly - D. Shostakovich
Rondeau- J.J. Mouret
Rondo Alla Turca- W.A. Mozart
Salut D'Amour - E. Elgar
Sheep may Safely Graze - J.S. Bach
Slavonic Dance No. 8 - A. Dvorak
Sleeping Beauty Waltz - P.I. Tchaikovsky
Spring from The Four Seasons - A. Vivaldi
Suite No. 3 - J.S. Bach
Te Deum, Prelude - M. Charpentier
Te Deum, Tu Devicto - M. Charpentier
The Fairy Queen Suite - H. Purcell
The Four Seasons, Excerpts - A. Vivaldi
The Girl with the Flaxen Hair - C. Debussy
Traumerei - R. Schumann
Trumpet Tune - H. Purcell
Trumpet Voluntary - J. Clarke
Two Rondeaux, Fairy Queen - H. Purcell
Vocalise - S. Rachmaninoff
Wachet Auf - J.S. Bach
Waltz, Op. 12 - E. Grieg
Wedding Day at Troldhaugen - E. Grieg
Wedding March - F. Mendelssohn
Wedding March - R. Wagner
Opera
Ah, Fuggi il Traditor!, Don Giovanni - W.A. Mozart
Ballata, Rigoletto - G. Verdi
Barcarolle, Tales of Hoffman - J. Offenbach
Bei Mannern, The Magic Flute - W.A. Mozart
Chanson Du Roi, Faust - C. Gounod
Con te Partiro/Time to Say Goodbye - F. Sartori
Deh Vieni, Non Tardar, Figaro - W.A. Mozart
Der Vogelfanger, The Magic Flute - W.A. Mozart
Entr'acte, Carmen - G. Bizet
Flower Duet, Lakme - L. Delibes
Funiculi Funicula- L. Denza
Habanera, Carmen - G. Bizet
Intermezzo, Cavalleria Rusticana - P. Mascagni
La ci Darem La Mano, Don Giovanni - W.A. Mozart
Libiamo, La Traviata - G. Verdi
Meditation, Thais - J. Massenet
Nessun Dorma, Turandot - G. Puccini
O Mio Babbino Caro, Gianni Schicchi - G. Puccini
O Sole Mio - di Capua
Quando M'en, La Boheme - G. Puccini
Toreador's Song, Carmen - G. Bizet
Vin O Biere, Faust - C. Gounod
Ballet
Arabian Dance, Nutcracker - P.I. Tchaikovsky
Czardas, Coppelia - L. Delibes
Czardas, Swan Lake - P.I. Tchaikovsky
Dance of the Sugar Plum Fairy - P.I. Tchaikovsky
Dance of the Swans, Swan Lake - P.I. Tchaikovsky
Danse Des Mirlitons, Nutcracker - P.I. Tchaikovsky
Divertissement Pizzicati, Sylvia - L. Delibes
March, Nutcracker - P.I. Tchaikovsky
Mazurka, Coppelia - L. Delibes
Overture, Nutcracker - P.I. Tchaikovsky
Pas de deux, Swan Lake - P.I. Tchaikovsky
The Swan, Carnival of the Animals - C. Saint-Saens
Trepak, Nutcracker - P.I. Tchaikovsky
Valse Lent, Coppelia - L. Delibes
Waltz of the Flowers, Nutcracker - P.I. Tchaikovsky