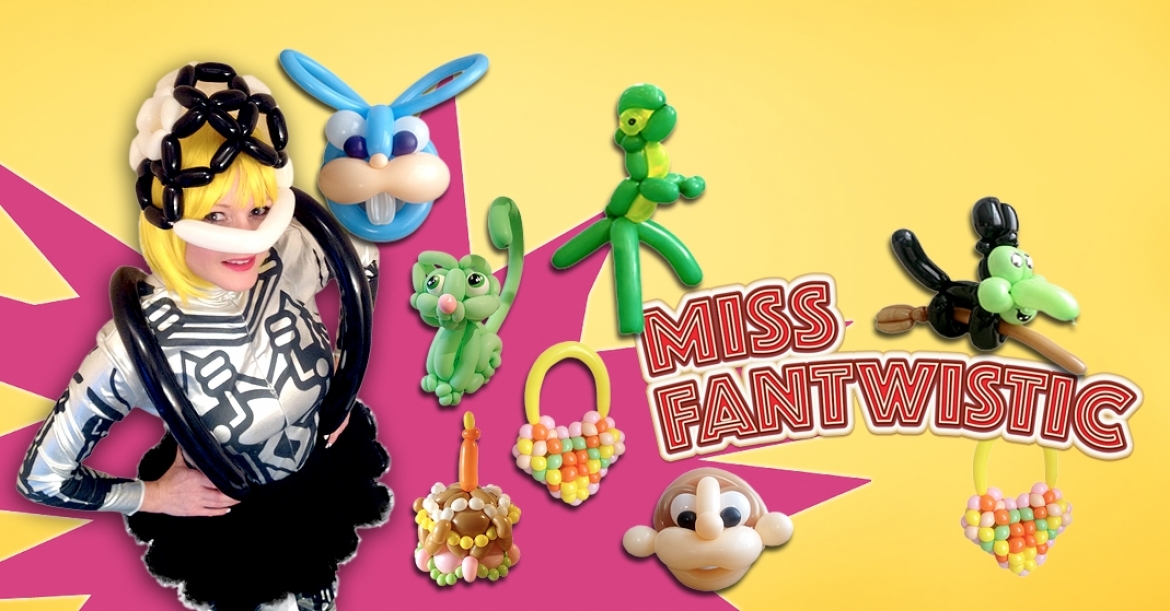 Location Hertfordshire
Starting from £216.00
This incredbile balloon twister will amaze you with ingenious balloon creations. If you can think of it Miss Fantwistic can make it all out of latex and rubber.
Number of Reviews and Counting... 32!
Miss Fantwistic is adept at captivating audiences with her imaginative balloon artistry. If you can think of it Miss Fantwistic can make it all out of latex and rubber.
This type of entertainment is perfect for any event and for any age group.
Miss Fantwistic can make on the spot balloon sculptures and in the blink of an eye turn your guests into pirates, witches, dogs, monkeys, monsters... You name it, by making giant wearable masks complete with claws.
Or, maybe a beautiful balloon hat or piece of jewellery is more your cup of tea? Or how about onlookers being immortalised in balloons and have Miss Fantwistic make a caricature of themselves to take away?
Balloon back packs are always a winner; fairies, ladybirds, jet packs, scuba tanks.
Plus, superheros, cartoon characters, animals, handbags, costumes, there really is no limit to the unusual art form, this versatile and memory making entertainment will be the talking point of your next function.
Lisa Meyer

, Wedding, Castle Hotel Windsor, Berkshire, Berkshire
Absolutely fantastic. So good with the children. Would definitely book again. Thank you!
---
Daniel Gale - A-Plan Insurance

, Public Event, Stratford Upon Avon Lights Switch On, Warwickshire
Absolutely Brilliant! Will 100% use again!
---
Paul Mathews

, Private Party, Essex
Thank you so much Miss Fantwistic - what an absolutely outstanding party entertainer. We booked for 2 hours, wished we had doubled that! All the children got a balloon, so did a few grown-ups. So pleased we booked you, thank you for coming and for being so nice.
---
Tracey McMaster - Biggar Little Festival

, Festival, Lanarkshire
Miss Fantwistic was amazing, she really entertained the kids really well and had a constant queue all day!! She was lovely to deal with, very professional and lots of fun for the children, everybody enjoyed it.
---
Catherine Williams - Monocle Events Ltd

, Birthday Party, Hampton Manor, Warwickshire
Miss Fantwistic was amazing! She was so friendly and approachable. Her balloons were amazing and guests really enjoyed it. She delivered an outstanding service and I would not hesitate to recommending her for anyone looking for a balloon artist for their next event.
---
Bianca Preugschat

, Wedding, Eastington Park, Gloucestershire, Gloucestershire
Miss Fantwistic was absolutely incredible! She was fantastic with all the children and something all the parents will never forget! Thanks so much! x
---
Malcolm Kays

, Birthday Party, Judges Restaurant, Hertfordshire
Tracey was excellent. She arrived punctually and kept the children fully entertained and then moved on to do an excellent job with the adults. Would highly recommend.
---
Anna Tarr

, Wedding, Hornington Manor, North Yorkshire
Great entertainment for all the children we had at our wedding. Positive feedback from parents and guests.
---
Jamie Cox - Ashford Borough Council

, Public Event, Ashford Town Centre, Kent
Miss Fantwistic was a really great addition to our Festive Family Fun Day. She was a big hit with the crowds and busy every time I saw her. She's really good at what she does and was very accommodating to our needs on the day.
---
Paula Smith - The Book Depository Ltd

, Corporate, Gloucestershire
Very talented and personable lady - would highly recommend! She worked very hard for 4 hours and produced some fantastic stuff - the kids went home very happy!
---
Nick Chan - Hitachi Powertools UK LTD.

, Corporate, Millbrook Proving Ground, Bedfordshire
I have nothing but positives to say about Miss Fantwistic. Not only were the balloon models great, but her enthusiasm and ability to engage with what would be considered an unconventional crowd was excellent. Managing to get a a group of mostly "manly men" to embrace balloon models would seem a challenging task, but this was done with ease. Highly recommended for any event!
---
Reena Heer

, Wedding, London
Excellent! So glad we booked you. Kids and parents were very happy!!
---
Chloe Donnelly - Todmorden Carnival

, Charity, Vale Park, West Yorkshire
Everyone that Miss Fantwistic interacted with just loved her. She is great with all age groups and a pleasure to work with.
---
Emma Matthews

, Birthday Party, Essex
Wow, Miss Fantwistic is sensational. Hired her for my sons 18th, he has special needs and so do many of his friends. I would thoroughly recommend this amazing entertainer. She read the room just right and worked her socks off. Love, love, love her! Would not hesitate to hire again.
---
Rebecca Eagle - McColls Retail Group PLC

, Corporate, Mulberry House, High Ongar, Essex
Provided hours of entertainment and laughter! If you are looking for something a bit different at an adult (big kids) party then Miss Fantwistic is your woman!
---
Jamie Cox - Ashford Borough Council

, Corporate, Ashford, Kent
Miss Fantwistic went above and beyond for us, working exceptionally hard to give hundreds of kids a smile. We were delighted with how she added to our town Festive Fun Day, and was a key part of making the event a success. Her balloon-twisting skills were very popular even when the weather outside was a bit gloomy, so she ensured the day stayed magical for everyone. She was easy to work with, adaptable to all our requests and wore a smile all day - we'd definitely look to book again next year.
---
Joanna Barnard

, Charity, West Hendford Street Party, Somerset
Very good entertainer, the children really enjoyed it. Thank you.
---
Leah Mouatt

, Corporate, Domino's 1000th UK Store Launch, Hampshire
Miss Fantwistic was a great asset to our day, very friendly, great interaction with the public and very skilled.
---
Milly Parry - Pembroke College

, University / School, Cambridgeshire
Miss Fantwistic was an utter delight to have at our event, she really wowed all the guests and kept them entertained all night long! Not just the usual balloon dogs and swords, she crafted all sorts of weird and wonderful creations - from giant fairy wings, to parrots, to cute little mokeys clinging to peoples arms! She was extremely professional and got on with job straight away. I cannot recommend her highly enough - thoroughly exceeded my expectations! We shall definitely be hiring her for future events!!!
---
Jackie Hammond

, University / School, Surrey
Absolutely fantastic! Amazing balloon creations that everyone loved! So hardworking and didn't stop for a moment! Would definitely re-book.
---
Naomi Hodgkins

, Wedding, Gaddens Manor House, Hampshire
Guests and children raved about Sarah. She created some fantastic balloons and is very talented! Thank you!
---
Glenys Reynolds

, Festival, Essex
She was brilliant and the kids loved it. The event was outdoors and she persevered through 2 hours of torrential downpour. We will definitely be asking her back again.
---
Jackie Wolstenholme

, Birthday Party, Cheshire
Excellent entertainer. Very skilful at balloon-making for adults and children. She was dressed up with balloons and costume which was very good. Would recommend for any party.
---
Bonnie Field

, Wedding, Essex
Little lady was so lovely realy really great - can't thank her enough. All kids and adults loved what she could make out of balloons. Would recommend her definitely, and, again if I ever have a huge party, I would hire her she was very lovely and I can't thank her enough x
---
Vanessa Gayton - Epping Forest District Council

, Festival, Essex
Miss Fantwistic was a great hit with our audience. She really brought something different to our family event and thoroughly engaged both children and grown-ups alike. Her balloon creations were amazing and novel and the fact she gave them to her helpers to keep was such a bonus. Her gifts to everyone at the end were also welcomed. She had a great balance of storytelling, music, magic and comedy. I would highly recommend her to anyone. A lovely lady as well :) Many thanks, Vanessa
---
Sian Reen

, Wedding, Surrey
Performed way beyond expectations & was a large talking point at the wedding for the adults. The children loved her too & she embraced all kinds of requests.
---
Katy Wainwright

, Wedding, Northamptonshire
Miss Fantwistic was superb. The children, the adults and the staff loved her! We all loved your creations and were amazed at how amazing they were. Thank you so much for sharing our special day and providing us all with your great work and meeting the needs of everyone that wanted a special creation. Highly recommended A ************ we cannot Thank you enough x x
---
Jo Payton

, Wedding, Essex
Thank you Miss Fantwistic for your amazing balloon modelling on our Wedding Day.... you kept all of the children and the adults entertained throughout the Wedding Breakfast. Such an amazing talent and we highly recommend. Thank you!!!!
---
Richard Mullins

, Wedding, Cumbria
Very entertaining for the kids........ and those big kids!! On the go from the minute she landed, some really good balloons for the kids and adults.... wow, can you really make that out of a balloon.....?!?!? Yes she can! Thank you.
---
Bally Sarai

, Birthday Party, Middlesex
I was very happy with Miss Fantwistic. The kids had a fantastic time & the balloons she created were amazing! I'm very happy I booked her. Thank you.
---
Nicola Kearsley

, Wedding, Nottinghamshire
Miss Fantwistic was brilliant, a definite hit at our daughter's wedding. Guests loved her unique act and the kids thought she was amazing. Lovely to deal with too. Would definitely recommend her.
---
Peter Ollerenshaw (Softcat & Adobe)

, Corporate, Manchester
Miss Fantwistic was fantastic, really self sufficient and very approachable. The staff loved her and her balloon sculptures. The only thing we could have done better was to book her out for longer! We'll certainly consider her again for future events at our other offices. A++++ :)
---
Are you CRB checked? Yes, fully checked.
Have you got public liability insurance? Yes, covered up to 10,000,000.
What makes you different to other balloon modellers? The balloon sculptures I create are intricate and detailed and I'm always learning new designs to add to my repertoire.
Is your price fixed or can you possibly work on an ad hoc basis? Yes, I'm open to discussion on this.
Are you a member of Equity? Yes.
What costume do you wear? My character is a robot and my costumes vary but are all along this theme. Parts of my costume are made of balloons. But if you have a particular theme I can adapt parts of my outfit to this and can adopt your chosen colours.
How far do you travel? I'm happy to travel all over the country as long as travel expenses are met.
6 hours - breaks at 2 hour intervals
Please Note: The fees indicated below are approximate and based on a central location for each county. They are intended to provide a rough guide only and exact quotes can only be given once the date and exact location of your event have been provided.
Scotland
Aberdeen
£480.00
Inverness
£480.00
Perth
£480.00
Sutherland
£480.00
Ayrshire
£480.00
Fife
£480.00
Stirlingshire
£480.00
West Lothian
£480.00
Dumfries-shire
£480.00
East Lothian
£480.00
Lanarkshire
£480.00
Midlothian
£480.00
North East
Durham
£360.00
Northumberland
£360.00
North Yorkshire
£360.00
South Yorkshire
£360.00
Tyne and Wear
£360.00
West Yorkshire
£360.00
Yorkshire
£360.00
North West
Cheshire
£300.00
Cumbria
£300.00
Manchester
£300.00
Lancashire
£300.00
Merseyside
£300.00
East Midlands
Derbyshire
£240.00
Leicestershire
£240.00
Lincolnshire
£240.00
Northamptonshire
£240.00
Nottinghamshire
£240.00
Rutland
£240.00
East
Cambridgeshire
£216.00
Norfolk
£216.00
Suffolk
£216.00
Wales
Anglesey
£360.00
Caernarvonshire
£360.00
Denbigh
£360.00
Flint
£360.00
Cardigan
£360.00
Brecon
£360.00
Carmarthen
£360.00
Glamorgan
£360.00
Monmouth
£360.00
Pembroke
£360.00
West Midlands
Gloucestershire
£240.00
Herefordshire
£240.00
Shropshire
£240.00
Staffordshire
£240.00
Warwickshire
£240.00
Worcestershire
£240.00
South East
Bedfordshire
£216.00
Berkshire
£216.00
Buckinghamshire
£216.00
East Sussex
£216.00
Essex
£216.00
Hampshire
£216.00
Hertfordshire
£216.00
Isle of Wight
£216.00
Kent
£216.00
Oxfordshire
£216.00
Surrey
£216.00
Sussex
£216.00
West Sussex
£216.00
London
£216.00
Middlesex
£216.00
South West
Cornwall
£360.00
Devon
£360.00
Dorset
£360.00
Somerset
£360.00
Wiltshire
£360.00