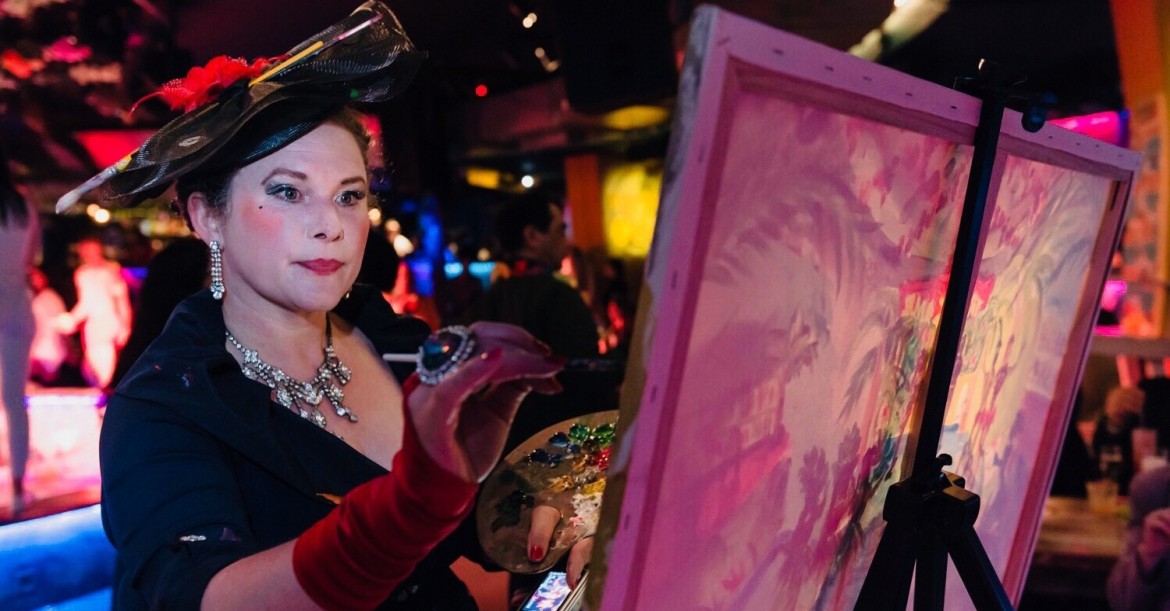 Location Bristol
Starting from £540.00

Rose can capture your event on live on a canvas, be it on her own or charming your guests to join in! Illustrative or contemporary painting style, you choose!
Your guests will delight in seeing your event appear on a canvas and you get a keep sake to treasure. Rose will impress you with her quick draw and quick wit. She is extremely capable and can work with all ages and abilities. A special feature to make an occasion memorable.
Number of Reviews and Counting... 2!
Invite Rose to add that special touch to your event. She can boldly capture your party scene on a canvas before your eyes! Your guests will delight in seeing its progress. Rose has a wonderful ability to charm the guests and can even include them. Just let rose know if it's audience participation that you would like.
She draws alongside your guests making sure it has a strong structure, delicate ink, drawing with washes of colour OR if you would like Rose to paint solo - this is a more fine art with looser strokes style of painting. She can come in her paint splattered cocktail frock, her Georgian dress or simply as her smart self!
Rose's performance and fine art background gives her strength and vision to work harmoniously with your guests. She encourages them to join in with her and they love it! Rose can draw at your wedding and even get your guests to join in with her charming ink line drawings of your party and the happenings around.
Rose can also offer quick Portraits-charming line drawings, more like an Enid Blighton character- this can be on A4 paper/or drawn on a digital tablet. This takes less time than a canvas painting so is at a cheaper rate.
She can adapt to work with all ages and abilities.
Rose has performed around the world for over 20 years so has a wealth of expertise and professionalism at events. She is a professional comedy performer as well as a fine artist in her own right.
Spencer Jones

, Birthday Party, Solent Hotel and Spa, Hampshire
Rose was absolutely amazing. She was brilliant with all our guests and with their help she has created a fantastic artwork that Ruth (and all our guests) loved to bits. If I could have dreamed how well our evening would go it could not have been any better.
---
Hannah Brown

, Wedding, Bristol
The drawing Rose did of my best friends wedding was perfect, she fused all the best bits of the day to create a unique keepsake of their special day. I was really impressed how she picked up so much of the detail including the venue and scenery. A wonderfully unique and personal wedding gift. Everyone should own a bespoke Rose piece, cannot recommend her highly enough.
---
LUSH cosmetics, SKY, sage, Dawn Porter and Chris O'Dowd, British Council Shanghai Expo, Damien Hirst, as well as hundreds of private parties, events and festivals across the globe... including, Buckingham Palace!
Travel/costs
Rose Is based in Bristol but does not drive so the venue will need to be accesable by Train or Taxi.
The price section is based on 5 hours at a wedding/event. Please get in touch to work out exact costs - portrait time will be less. Rose is willing to travel.
Wedding/Event canvas
The canvas is on an easel to start with, then once drawn led on a table ready to paint. This is a contained activity and Rose will bring all that is needed apart from a table. The painting will take around 5 hours however can be shorter or longer if needed. The canvas size is generally 20 x 16 inches but can be bigger.
Portraits
Rose is happy to work in one position or to wander around the room. She can draw on to paper or work on her digital tablet. These will take around five minutes each - one other version can be to take a photo and work from that. It works best if the area has some lighting - Rose can bring a few small lights.
Weddings - Rose likes to have a photo of the Bride and Groom to work from, then draw a few features and then invite guests to join in. The whole canvas can take up to 5 hours to complete but this has been done for less time if needed - Rose can always prep the canvas before.

Portraits - around 6 minutes per guest - this can be adapted depending on situation.
Please Note: The fees indicated below are approximate and based on a central location for each county. They are intended to provide a rough guide only and exact quotes can only be given once the date and exact location of your event have been provided.
Scotland
Aberdeen
£960.00
Glasgow
£960.00
Edinburgh
£960.00
East Midlands
Derbyshire
£720.00
East
Cambridgeshire
£600.00
Norfolk
£600.00
Suffolk
£600.00
Wales
Anglesey
£600.00
Caernarvonshire
£600.00
Denbigh
£600.00
Flint
£600.00
Cardigan
£600.00
Carmarthen
£600.00
Cardiff
£600.00
West Midlands
Gloucestershire
£600.00
Herefordshire
£600.00
Shropshire
£600.00
Staffordshire
£600.00
Warwickshire
£600.00
Worcestershire
£600.00
South East
Bedfordshire
£600.00
Berkshire
£600.00
Buckinghamshire
£600.00
East Sussex
£600.00
Essex
£600.00
Hampshire
£600.00
Kent
£660.00
Oxfordshire
£600.00
Surrey
£660.00
Sussex
£660.00
London
£660.00
South West
Cornwall
£600.00
Devon
£600.00
Dorset
£600.00
Somerset
£540.00
Wiltshire
£540.00
Bath
£540.00
Bristol
£540.00