Mobile Fun Casinos (East)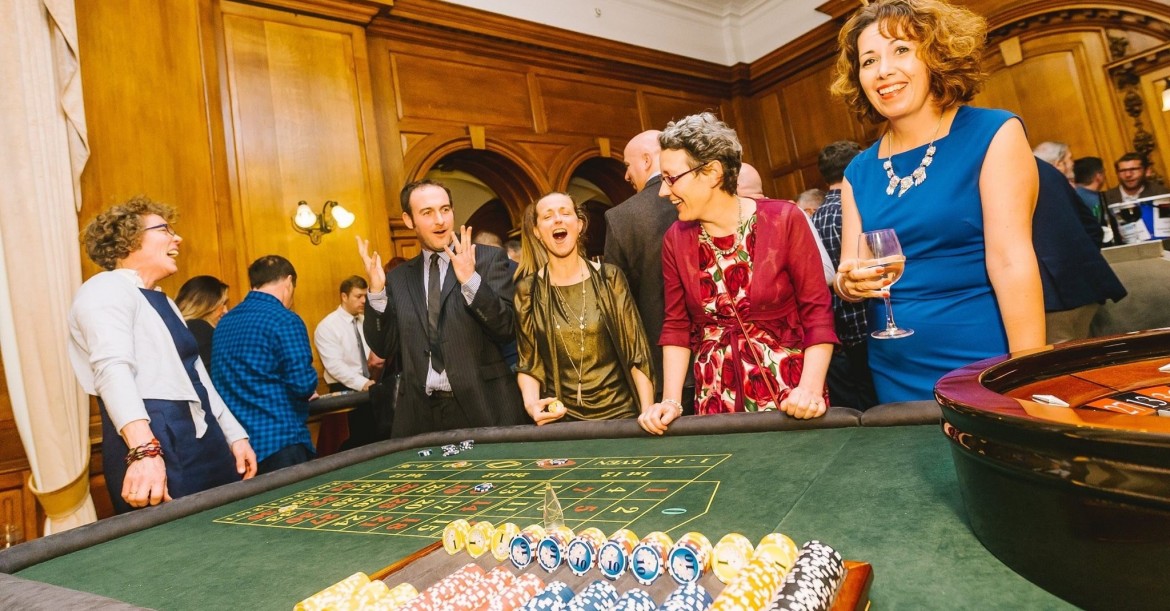 Location Cambridgeshire
Starting from £456.00
Looking for something different? Mobile Fun Casino Hire Services for Special Events & Occasions.
Mobile Fun Casinos (East)
Number of Reviews and Counting... 10!
Mobile Fun Casinos have American roulette and blackjack tables available for rent and come with professional chips, and croupiers. They also offer casino hire for corporate events, private parties, wedding receptions, TV and film shoots, product launches, conferences, team building events, or just a fun casino night with friends at home.
Features:
- Minimum of 2.5 full hours of casino play.
- Professional full size tables to the higest standard.
- Easy to learn games ideal for beginners or experienced players.
- Fun yet professional and experienced croupiers.
How it Works:
- Fun money (instead of real money) is provided to you & your guests.
- The Fun money is then exchanged for chips at the gaming tables.
- Croupiers will show you & your guests how to get the most fun out of any game played.
- As the evening draws to a close your croupiers will ask guests to return all chips & fun money, in order to find the event winner .
- No license is required for Fun Casino entertainment, and non-cash prizes can be presented to the winner(s). Mobile Fun Casinos comply with 1976 - amusement & lotteries Act.
- A fun casino event is also ideal for those special occasions when you need to add a little something special and unique. Over the years Mobile Fun Casinos (East) have provided fun casino services for a large variety of different occasions.
Games Available:
Blackjack
Roulette
Casino War
Stud Poker
Wheel of fortune
Crown and Anchor
Some more regular requests include:
Weddings and Anniversaries
Birthdays
TV and Film Shoots
Private and Exclusive Parties such as House Warmings
Seasonal Gatherings such as Christmas Parties
Staff Parties
Corporate Events and Product Launches
Banquets and Dinners
Team Building Events and Seminars
Charity Events and Fund-Raisers
Stag Parties and Nightclubs
Mobile Fun Casinos (East) also offer an all female croupier package - perfect for nightclubs, stag parties and birthday parties. All of the stunning girls can dress to suit your theme (swimsuit, formal, bunny, burlesque etc).
Ann-Marie Kirkham

, University / School, Holiday Inn, Cambridgeshire
Really friendly and helpful staff.
---
Caroline Kent

, Wedding, St Michaels Manor, Hertfordshire
A very successful evening was enjoyed by our wedding guests. The croupiers were brilliant and the arrangements were very simple. I wish we had booked them to stay longer!
---
Nicola Luckett

, Wedding, Norfolk
Very professional and get people up playing. Entertaining for all ages!
---
Hannah Eades

, Private Party, London
The casino staff were excellent, arriving early and were fantastic with our guests. Would definitely use them again for future events.
---
Tim Hall

, Private Party, Derbyshire
The croupiers arrived earlier than planned so were able to set up without any disruption to the arrival of our guests. Ollie and Matt were extremely friendly and brilliant at helping everybody to enjoy what turned out to be a very successful,and enjoyable evening for everybody. All our guests whose ages ranged from 20 to 85 joined in the fun. I cannot praise Ollie and Matt more highly and hope that they also enjoyed being part of our Golden Wedding Celebration. I will have no hesitation in recommending Mobile Fun Casinos (East) to anybody who is looking for that type of entertainment for the evening. Thank you also to Warble Entertainment and Danielle in particular for her care and help throughout our preparations for what can only be a one off celebration. Thank you, Best wishes, Tim and Pat Hall
---
Monica Crouch

, Private Party, Birmingham
Excellent, fun, happy and professional croupiers! Highly rated, deffo made the night for us and were incredibly engaging with all guests, thoroughly recommend them. :)
---
Elliot Sinclair

, Wedding, Surrey
Really happy with these guys. Wouldn't change a thing.
---
Nick Leavey

, Wedding, Surrey
Thank you so much for all your help when booking Mobile Fun Casinos. You were incredible responsive and the casino team were fantastic on the day. Our guests really enjoyed themselves. Many thanks again, Nick
---
Nicky Constable

, Wedding, Yorkshire
The guys were amazing, I would recommend them to anyone. Great idea and it went down very very well. Overall thought... Perfect!
---
Emma Cullen

, Birthday Party, Cambridgeshire
Great team, thanks very much for a fun evening!!
---
Cambridge Regional College
CalmerKarma
Peterborough Regional College
Sainsburys
Kensington Roof Gardens
Ace Tones Group
Vindis Group
Harrison Clinical Research Limited
Help For Heroes
Audi
Wendy Burke School of Dance
Anglian Ruskin University
The Perse School
The Crown - Fordham
Carebase Ltd
Cancer Research
Club Rub
Cambridge Clinical School
Birmingham City University
Chaps Ltd
Kings School - Ely
Writtle College
The Prince of Wales - Newmarket
O2
University of Cambridge
Camvine
The Emperor - Cambs
Little Downham Youth Group
Frontier Agriculture
Auther Mellows College
Excelcare
Price Bailey Chartered Accountants
Citroen
The Old Bridge Hotel - Huntingdon
The Fox Bar & Restaurant - Little Wratting
Duxford Motor Group
Christs College
The Exihibition - Over
The Edge Entertainments
Cambridge City Council
Sturmer Hall
Northampton University
White Hart Hotel - Newmarket
Chatteris Working Mens Club
Amanda Orchard Events
Hardwick Social Club
Parkinsons UK
Archway Care
Tesco
Caldecote Social Club
Breakthrough Breast Cancer
Dansac
Royal Air Force
Citreon
Ozone Breakdown
Spencers Hair Salon
Frontline Ltd
Maxavita
Exec Peterborough
Hard Rock Cafe
Coreco Partners LLP
Santander
Yorkshire Building Society
Mimeo Limited
University Center Peterborough
Forces Fit
Wyboston Lakes Ltd
1. How much space do I need for the casino?
Each table requires a 5ft X 8ft space
2. Do you need a license for a fun casino?
No, fun casino's are just for fun and no money is involved.
3. Are croupiers included?
Yes, all our casino tables come with professionally trained croupiers
4. Is fun money included?
Yes, and we can even print your company logo, birthday message or bride and grooms names on our money!
5. Is your equipment full scale casino equipment?
Yes, unlike many other fun casino hire company's, all of our tables are full scale, and to real las vegas casino standard!
6. I bet its expensive isn't it?
No, in fact we guarantee to give you the cheapest quote, so its more affordable then you think. We also offer money saving packages with a close up magician!
Mobile Fun Casinos (East) provide a normal running time of 3 hours, however they can provide any time to suit your event
Please Note: The fees indicated below are approximate and based on a central location for each county. They are intended to provide a rough guide only and exact quotes can only be given once the date and exact location of your event have been provided.
North East
South Yorkshire
£576.00
East Midlands
Derbyshire
£576.00
Leicestershire
£576.00
Lincolnshire
£576.00
Northamptonshire
£576.00
Nottinghamshire
£576.00
Rutland
£576.00
East
Cambridgeshire
£456.00
Norfolk
£480.00
Suffolk
£480.00
Norwich
£480.00
West Midlands
Gloucestershire
£552.00
Herefordshire
£552.00
Shropshire
£552.00
Staffordshire
£552.00
Warwickshire
£552.00
Worcestershire
£552.00
Birmingham
£552.00
South East
Bedfordshire
£504.00
Berkshire
£504.00
Buckinghamshire
£504.00
East Sussex
£504.00
Essex
£504.00
Hampshire
£504.00
Hertfordshire
£504.00
Isle of Wight
£600.00
Kent
£576.00
Oxfordshire
£600.00
Surrey
£600.00
Sussex
£600.00
West Sussex
£600.00
London
£576.00
Middlesex
£600.00