Warble Entertainment's
Neil The Caricaturist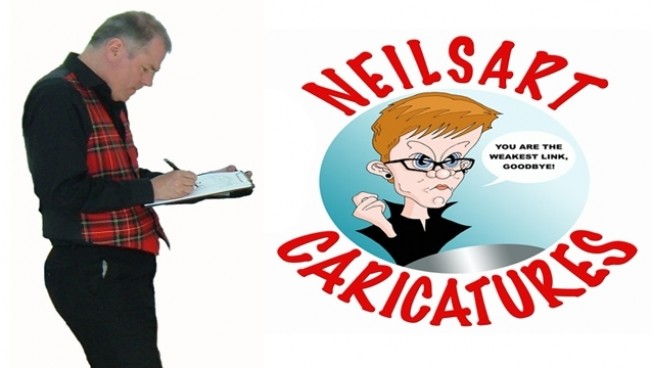 Location Glasgow
Starting from £174.00
Location Glasgow
Starting from £174.00
Introduction
Get a feel for them
Intro
Neil has extensive experience working as an 'on the spot' caricaturist at a variety of events including weddings, private parties and corporate functions. Neil mingles with the guests during the drinks reception or round the tables during dinner producing quick 5 minute sketches in black ink. These are presented to each guest for the perfect icebreaker to get the laughs going!
*Fantastic Caricaturist based in Scotland*
39 reviews
Neil The Caricaturist
Number of Reviews and Counting... 39!
'On the spot' caricatures!'
Neil has extensive experience providing 'on the spot' caricatures at private functions and corporate events including weddings, dinner dances and drinks receptions. Caricatures provide the perfect 'icebreaker' to help guests relax and ensure your event runs smoothly. He chats and mingles with the guests producing quick sketches which take a few minutes to produce and are presented to the guest at A3 size in black ink
Neil has entertained at venue's all across Scotland providing caricatures at weddings, private parties and corporate events for Loch Lomond Golf Club, Diageo, Glenmorangie Whiskey, KPMG, Sky Sports News, Scottish Power, IBM, British Petroleum, 02, Sainsbury's. Phoenix Honda, Scottish Brewers, Standard Life and the IF Halifax Bank.
He also appeared recently on a tour with Stavros Flatley of 'Britain's Got Talent' fame and demonstrates his caricaturing skills in schools. He has recently featured on CBBC Children's program, 'Best of friends', Sky Sports News and the Four Weddings show on the Living TV channel.
Michelle Dunleavy

, Wedding, Private Members Club, Glasgow
Neil created lots of great pictures for our guests and kept them entertained at the same time. :)
---
Audrey Polley

, Wedding, Wedding , Stirlingshire
I would just like to say how much everyone enjoyed Neil at my daughter's wedding last night. He was so friendly and mingled very easily... worth every penny.
---
Florian Chebance - Marketing Edinburgh

, Corporate, Balmoral Hotel , Edinburgh
Guests loved the touch and it was good that Neil was not staying in one spot as well.
---
Dianne Hendersan

, Wedding, Dundee
Definitely recommend Neil. Punctual, polite and professional. All the wedding guests love their drawings. Thank you so much.
---
Amanda Ingram Jacobs

, Charity, Anges Blackadder Hall, Fife
5 stars!
---
Lorna Walker

, Private Party, Glasgow
Five out of Five!
---
Emma Foreman - LEEA

, Corporate, Aberdeen
Neil was brilliant, happy to interact with our guests and very professional. If we are in Aberdeen for another event I would happily use him again.
---
Jill Love

, Wedding, Glasgow
Neil was great on the day. He was friendly and very professional. My guests loved it and thought it was such a nice touch and a good ice breaker for all the guests and he brought many laughs too! We would highly recommend Neil for any function, but for a wedding he's perfect to add that little extra to the day!
---
Danielle Johnstone

, Wedding, Glasgow
On time, pleasant and got as many pics done as he could. Everyone loved it.
---
Lesleyanne Currie

, Wedding, Glasgow
All the guest loved their drawings, they were great. Would definitely recommend Neil.
---
Alannah Duggan

, Wedding, Perth
Neil was fantastic at our wedding. All our guests commented on how unusual having a caricaturist was at a wedding, but they loved it. All the caricatures are so similar to the people too, they are ace haha! Thanks again Neil x
---
Janine McKnight

, Wedding, Fife
He looked great in his Kilt and Fez! Thank you Neil, everyone was so pleased with your art work xxxxx
---
Tracey Pearce

, Wedding, Inverness
Neil was a complete success! I booked him as a surprise at my sister's wedding and everyone ended up with a fabulous memento of her special day. The caricatures were excellent and they were all framed and displayed at the blessing party last Saturday! Neil made everyone feel relaxed and everyone had their pictures done and everyone loved them - even Bailey the dog was included! Thank you very much Neil!
---
Anna Watson

, Wedding, Inverness
Us and the guests were very happy with Neils work. The top table loved their pre-drawn caricatures and guests on the day enjoyed getting drawn. We weren't there during the drinks but Neil told us he was busy. Thanks again. Mr & Mrs Friday
---
Janis Rae

, Charity, Fife
Hello Charlotte, we were delighted with Neil's brilliant caricatures. I am sure he went home with writer's cramp! Everyone wanted to be a subject! Thank you for your help in setting this up for us, we will not hesitate to use your services again if required. Many thanks.
---
Lois Watson

, Wedding, Fife
Neil the caricaturist was absolutely fantastic! All the guests loved him and the drawings were fab!
---
Mrs Lynn Young

, Wedding, Fife
Fantastic service, fantastic day. Neil was amazing. Thanks again.
---
Nicky Borthwick

, Private Party, East Lothian
Everyone at my party thought Neil was a fantastic caricaturist. The people who didn't want their picture drawn seemed to enjoy looking over his shoulder and admiring his work too. He worked quietly away in the background. Surprisingly he managed to do about 20 pictures in 2 hours. Value for money, nice chap, I'd recommend him.
---
Samantha Eyrew

, Wedding, Angus
We decided to have that element of fun at our wedding and Neil proved to be just that, he arrived just before time and started mingling with our guests, and before you knew it everyone knew he was there and was trying to get there picture done with him. Even after 3 weeks guest are still speaking about him at the wedding. I would definitely recommend Neil.
---
Christine Bell

, Birthday Party, Edinburgh
Neil fitted in brilliantly with our family and guests. He was friendly and unobtrusive allowing people to come and go either having caricatures drawn or watching. It was a great talking point and something to take away from a special occasion. We have all enthused about him and thoroughly enjoyed having him with us. Thank you very much.
---
Cheryl Mackenzie

, Wedding, Fife
Neil was amazing, he was so quick in his drawings, all our guests thought he was brilliant. Definitely money well spent. Couldn't recommend Neil highly enough.
---
Sue Bruce - Virgin Money

, Corporate, Edinburgh
If 5 is excellent then Neil should have a 10 he was more than excellent. He engaged with colleagues really well, I hope we can use him again in the future.
---
Claire Cullinane

, Wedding, Aberdeen
Neil was brilliant our guests are ecstatic with their pics! I love our one and wasn't even aware Neil was there when getting our one done! Would highly recommend Neil.
---
Helen Peutherer - Holiday Inn Edinburgh

, Hotel, Midlothian
Neil was great - arrived on time (a bit before which which was helpful). Very polite and chatted well. Worked to our specifications. Checked with us before he left. Many thanks, Helen
---
Michelle Stevens

, Wedding, Dumfries and Galloway
Neil was our chosen entertainer at our Valentines Day wedding reception at the Hetland Hall Hotel near Gretna. He arrived on time and looked very smart in his tartan waistcoat! We hadn't told anyone he was coming and the whisper went round that there was a magician - much to our amusement! Neil just mingled with our guests effortlessly and when we heard the roars of laughter after his first drawing, we knew we had chosen the right man. Everybody commented that it was a fantastic idea and about how well Neil had captured everyone. We would thoroughly recommend Neil to anyone looking for a wedding entertainer!!! Many thanks, Michelle & Michael Cox
---
Louisa Pye

, Wedding, Dumfries and Galloway
Only one word to describe the artist ''Excellent''. The drawings were wonderful and caused quiet a giggle. Our guests commented on what a novel idea the artist was and would most certainly recommend. Thank you for making our evening special, Danny and Louisa Pye
---
Lorna Dobinson (Atkins)

, Corporate, Dumfries and Galloway
Great drawings, good feedback from staff on the night. Thanks.
---
Hazel McLaughlan

, Wedding, Ayrshire
Our guests were thrilled with the surprise entertainment on the day, everyone was happy with their caricature and enjoyed getting them done. Neil was friendly and on time, we are happy with the service.
---
Elizabeth Low (Sainsbury\'s)

, Corporate, Cambridgeshire
Everyone enjoyed the event. Neil added to the occasion.
---
Andrew Galbraith - Prudential

, Corporate, Stirlingshire
Neil was fantastic!!! Very friendly with everyone and the feedback my company has provided about him since the event has all been very positive! Highly recommened. Thanks.
---
Karen Booth

, University Event, Midlothian
Excellent!!
---
Pauline Gilbert

, Wedding, Aberdeen
An excellent addition to any social event, our guests loved Neil. Thankyou very much.
---
Pamela Hartley

, Wedding, Lanarkshire
Neil you were absolutely fantastic. Went down a treat with the guests :) Thanks again.
---
Shona Hunter

, Wedding, Midlothian
Filled a lull in the day very well. Good value and great for a wedding.
---
Helen Hamilton

, Private Party, Ayrshire
Event was enjoyed by all. Would ask Neil along to other events. Great night, thank you.
---
Connie Flint

, Private Party, East Lothian
Excellent. Captured caricatures of all the guests of which there were around 30 and guests had a great keepsake of the night. Very professional and good value for money.
---
Catriona and Peter Heath (Mother and Father of the Bride)

, Wedding, Midlothian
Hi, sorry its taken so long to reply! Just wanted to thank Neil for his fantastic creations on my daughter's big day, it was a real icebreaker and had everyone talking. Our guests were delighted with their souvenirs of the day and we all had lots of laughs at the exagerated likeness of your drawings! Thanks for adding that wee bit of something different to what was a most perfect day.
---
Bob Melville

, Wedding, Lanarkshire
Hi Tracey, the Event was a Silver Wedding in Edinburgh. Very, very good it added a real extra dimension to the evening and would have no hesitation in reccommendind Neil's services.
---
Dee McGregor

, Charity, Dumfries-shire
Hi Marie, Neil arrived on time as agreed and did a great job - people were delighted with their pictures. Many thanks!
---
Neil has previously performed at events for BP Grangemouth, Halifax IF Internet Bank, Tunnocks the Bakers, Tennents the Brewers, Glenmorangie Whisky, Tesco, Sky Sports News, KPMG, Scottish Brewers, Loch Lomond Golf Club, The Law society of Scotland, RAF Lossiemouth, Sainsbury's and Phoenix Honda to name a few.
Venues he has performed at include: Scottish Exhibition & Conference Centre, Edinburgh International Conference Centre , Glasgow Science Centre, Gleneagles hotel, Turnberry Hotel. Stirling Castle, and Loch Lomond Golf Club.
How long do the caricatures take?
Around 5 minutes.
Do guests keep their caricatures?
Generally yes, although sometimes I am instructed to keep them in order to produce colour caricatures for a later date.
How long do you generally provide caricatures for?
2 to 3 hrs.
How are your drawings presented?
Black and white pen drawings on A4 paper. Please see the attached images for examples.
Please Note: The fees indicated below are approximate and based on a central location for each county. They are intended to provide a rough guide only and exact quotes can only be given once the date and exact location of your event have been provided.
Scotland
Aberdeen
£342.00
Inverness
£420.00
Perth
£174.00
Sutherland
£540.00
Ayrshire
£300.00
Fife
£240.00
Stirlingshire
£222.00
West Lothian
£240.00
Dumfries-shire
£360.00
East Lothian
£300.00
Lanarkshire
£240.00
Midlothian
£240.00
Glasgow
£240.00
Edinburgh
£270.00
Dundee
£252.00
Foreign Locations
Europe
£600.00
North East
Tyne and Wear
£480.00
North West
Cumbria
£510.00
You may also like
Customers who have enquired for Neil The Caricaturist have also been interested in the following Caricaturists who are also available in Scotland. For more information or further options, please call 0845 643 9384.