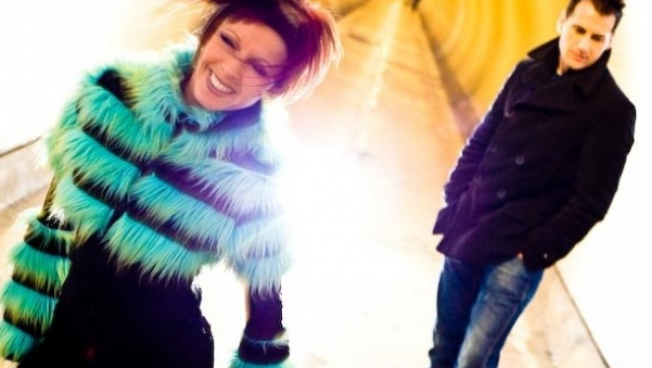 Location London
Starting from £480.00

Having spent a decade travelling the world with their unique music, more recently Nu Society have been hitting the UK with a bang!
The duo has played to every age group imaginable, receiving outstanding feedback after each performance.
The marriage of these two highly seasoned talents, assures exceptional results every time. Nu Society is versatile and dynamic, and equally at home covering Pop, Funk, Dance, Dub, House, Electronica and Jazz. Creating, on the dancefloor, an unforgettably happy festival vibe.
Always preferring to work with the latest technology and equipment, Nu Society provides an exceptional array of music and cutting edge sound.
Listen




Number of Reviews and Counting... 28!
Having spent a decade travelling the world with their unique sound, Nu Society look forward to performing their inimitable style of music.
The latter part of their travels ground them to the USA, living in Miami and working for Disney, where they were awarded an 'Oscar' for 'outstanding performers' prior to their return to the UK.
The duo has played to every age group imaginable, receiving outstanding feedback after each performance. The marriage of these two highly seasoned talents, assures exceptional results every time.
Julia was brought up in theatres and jazz clubs, the daughter of a successful jazz pianist. She followed in family footsteps and spent the early part of her career fully immersed in musical theatre and television, only to head directly into the music industry - performing and recording.
Ret's musical journey began aged seven, playing solo flute on a weekly TV show. On completion of his music/composers degree, he played classical flute to great acclaim with touring symphonic orchestras around Europe. He later discovered his true genius in piano, electronics, composition and production. Ret's other current projects include writing, producing and performing with his band "Base Mosquito", writing and remixing tunes for the dance industry and producing raw, locally sourced artistes. All of Nu Society's tracks are played and remixed by Ret Alex in his studio.
Nu Society is both versatile and dynamic, equally at home covering most styles from simple piano and voice, through Pop, Funk, Dance, Dub, House, Electronica and Jazz, creating an atmospheric experience wherever they perform.
Nu Society 2 Piece – Male and female vocals, keyboards, flute, DJ/computers
Additional Artistes:
3 Piece - With Antarma (Antarma performs vocals, rap, djembe, percussion, guitar)
3 Piece - With Gabriela Eva (Gabriela Performs vocals and guitar)
4 Piece - Full band with Antarma & Gabriela Eva
Here is a small selection of the Artists / Songs Nu Society cover: The New and Old songs listed are uniquely remixed into exceptionally cutting edge styles through Pop, Dance, Funk, Electronica, Festival, Indie, Electro Swing and Nu-Jazz.
Meghan Trainor - All About That Bass
DJ Shadow - Lean On
Chacka Kahn - Ain't Nobody
Pharrell Williams - Happy
Black Eyed Peas - I've Got a Feeling
Ain't Nobody (Remix)
Adele - Rolling in The Deep
Kings of Leon - Sex on Fire
Jessie J - Price Tag
Amy Winehouse - Valerie
Coldplay - Various
Beyonce - End Of Time
Rihanna - Only girl in the world/ Please don't stop the music
Florence & The Machine - You've Got The Love
Emeli Sande - Heaven
Crystal Waters - Gypsy Woman
Fat Boy Slim - Praise You
Bodyrockers - I Like The Way You Move
Calvin Haris - We Found Love
Eurythmics - Sweet Dreams
The Verve - Bittersweet Symphony
Groove Armada - Shakin' That Ass
Human League - Don't You Want Me Baby
Beatles - Come Together
Dido - White Flag
Tina Turner - Proud Mary
Norah Jones - Sunrise
Shania Twain - Still The One
Gloria Gaynor - I Will Survive
Sister Sledge - We Are Family
Pussy Cat Dolls - Sway
Dusty Springfield - Son of a Preacher Man
Fleetwood Mac - Dreams (Dance Remix)
The Doors - Light my Fire
Maroon 5 - This Love/She Will be Loved
Abba - Dancing Queen
Jamiroquai - Little L
KC & the Sunshine Band - That's The Way I Like It
Scissor Sisters - Take Your Mama
Van Morrison - Moondance
Mojo - Lady
Kylie - I Can't get you Outta my Head
Sophie Ellis Bextor - If This Ain't Love
Gabrielle - Rise
Van Morrison - Moondance
Brand New Heavies - Midnight At The Oasis
The Corrs - What can I Do / Runaway
Plus, numerous standards and many many more tracks... from 60's, 70's, 80's, 90's and to date.
Phil Tommony

, Military Event, Frimley Park, Hampshire
Absolutely brilliant Duo. I would highly recommend them and I wouldn't hesitate to book these again. They was also very well priced.
---
Nicole Parker

, Private Party, Essex
Nu Society played at our end of season Football Ball on Saturday night. They were fantastic, everyone was up dancing within minutes of them starting and the floor was packed until the lights came on. Highly recommend.
---
Nick Dowell

, Private Party, Cambridgeshire
Great act if your looking for something a bit different to a standard sing-a-long band. We're the main act at our home festival and certainly delivered - on time, very professional set up and got the crowd up on their feet! Highly recommend.
---
Alison Grayley

, Corporate, Moor Hall, Berkshire, Berkshire
Fantastic band, great music with a lively atmosphere. Would definitely re-book!
---
Brett Vince

, Wedding, Greenwich Yacht Club , London
Nu Society were absolutely amazing! They were friendly, professional and had outstanding voices. They made our whole evening perfect and got everybody dancing! I'll be booking them the next time I need a band and can't recommend them highly enough.
---
Victoria Ritchie

, Birthday Party, Hertfordshire
Amazing! From initial communication about my event and the evening where Nu Society had everyone up dancing. Won't hesitate to book them again.
---
Fiona Richards

, Birthday Party, Surrey
Lovely couple of sociable singers who did exactly as we wanted at the right time. Kept the party going and since we have had back plenty of great feedback. Would definitely use again!
---
Nicole Ronson

, Private Party, London
They were fabulous. Guests all loved them and danced all night!
---
Phil Whitehouse - The Polecat Inn

, Venue Club, Buckinghamshire
Great fun, these guys really know how to entertain. Very professional with great talent. I would certainly recommend Nu Society.
---
Yvonne Tomlins - Deansbrook School

, Charity, London
Brilliant, brilliant, brilliant! Nu Society were absolutely fantastic - I couldn't recommend them highly enough! They attended our school summer fair – everyone loved them and haven't stopped talking about them! Extremely high standard, very professional, excellent communication and great people! Totally outdid our expectations! Thank you!
---
James Burrows

, Venue Club, Northamptonshire
Great people, really professional! Excellent vocals and even DJ'd inbetween sets which they offered as an additional bonus. They created an excellent atmosphere which reflected well in our on the night bar sales! I would recommend these guys for any occasion, excellent mix!
---
Claire and Iain Stickings

, Wedding, Hampshire
We found Nu Society on the website and liked the sound of what they could offer. We wanted something a little bit more than just a disco and the idea of live music followed by a disco really appealed to us. It was a bit nerve wracking choosing a band which we didn't know but we needn't have worried. Nu Society were brilliant. Absolutely great. They sang the songs we chose and the atmosphere was fantastic. The range of songs they performed appealed to a broad range of tastes, everyone was up dancing at some point. We received several comments after the wedding to say it was the best evening entertainment they had experienced at a wedding. I would not hesitate to book Nu Society again.
---
Sarah Peirson

, Birthday Party, West Sussex
The band were totally crazy - in a good way! We all partied the night away and they made my 40th very special and memorable.
---
Andy Rolfe

, Birthday Party, Hampshire
Jules and Ret gave us a fabulous performance last night. Infectious music, mixing and singing that got everyone dancing and enjoying the massive energy they put out. Brilliant. Lisa loves to dance and they served up the best of that for her birthday. Please let us know when you are performing next.
---
Annette Wright

, Private Party, Kent
Nu Society were fantastic and gave us a brilliant night. They were really friendly and by the end of the night we felt like we were waving off old friends. They got in touch a few weeks before the event to confirm details and find out if we had questions. They were punctual on the night, professional, courteous and made sure we had a fab night. Lots of people at the party commented on how great the band were. I would have no hesitation in booking them again. Thanks Nu Society!
---
Sandy Sanderson

, Birthday Party, Sussex
Nu society were amazing yet again, they helped celebrate our daughter and her friend's 21st birthday, they made it very special as they're disabled along with all there lovely friends from Chailey Heritage. They made it so special and were very understanding, the young adults enjoyed the music so much, thankyou. Sandy & family
---
Judy King

, Wedding, Oxfordshire
Nu Society were absolutely fantastic for our wedding we couldn't have hoped for better - they were so friendly and created such a brilliant atmosphere - we and our guests loved them so much - big thank you! Using Warble made it hassle free and would recommend Warble and Nu Society to everyone.
---
Eileen Fox

, Private Party, Hertfordshire
We had a great party because Nu Society were fantastic. They were friendly and approachable and played and sang a great music selection, keeping our guests on the dance floor all night. We have had some wonderful feedback. They know that I was thrilled and that I will have them back again as soon as.
---
Matthew Forest

, Private Party, Kent
Outstanding effort from Nu Society! Many thanks. Great setup which worked perfectly with the space provided. Guests were very impressed with the music and the production quality of the band. We had a superb night and it really would not have been the same without the input from Julia and Ret.
---
Sandra Williams

, Private Party, Bedfordshire
What a great night we had for our Silver Wedding Anniversary. As soon as Nu Society arrived they were shaking hands with family & friends & taking the time to chat to everyone. Music style was very different - lots of familiar tracks with a tech twist. Dance floor grooving! Thanks to you both for being a big part of the celebration.
---
Christianne Harland

, Wedding, Suffolk
What can I say, warm friendly and packed with loads of energy. Amazing sound, really loved their own songs which they did for us, everyone has been raving about Nu Society. They helped make our special day finish on a high. Big hug to both really cool guys will defiantly be looking out for your gigs. Chrissy and Tim. Xx
---
Sarah Samuels

, Private Party, East Sussex
OMG... Nu Society were totally brilliant!!! They contacted us before, asked for any special requests and were so friendly I was confident the night was going to be good. They read the crowd so well and did an awesome job of keeping us dancing all evening. We were all saying we hadn't danced so much in ages! I would definitely recommend them to anyone who wants to have a wicked party!!!!
---
Lene Connolly

, Wedding, Gloucestershire
Thank you for a wonderful evening. Even though it was so warm and many people were chilling outside, you still managed to get a great atmosphere and we all had a great time. You both worked so hard. You are both very talented and so many guests said how much they enjoyed the evening. Thank you both again.... we will book you again on any future functions. Good luck and best wishes, Love Lene and Reg
---
Steve Clark

, Private Party, Surrey
We had a great night, made all the better by Nu Society. Guests were delighted to have a live act and Nu Society worked hard throughout the night to get everyone up and dancing. The duo were very friendly, providing background and interval music as well as their sessions. I would recommend Nu Society to anyone arranging an event.
---
Andy Buller

, Birthday Party, Sussex
Hi Sam, Just a quick email to say thanks. Nu Society were excellent and well worth the money. Not only are they talented musicians but they work so hard to get people up and dancing. The venue wasn't perfect but that didn't deter them and they really made the difference. Please pass my thanks to them and I'm sure they will be back in Brighton very soon. Our friends loved them. Thanks Again
---
Gail Burton

, Charity, Berkshire
Nu Society went the extra mile to ensure that our Family Night went off with a bang! They kept us entertained all night and the dance floor was packed. They provided fantastic entertainment and value for money. I would certainly have no hesitation in using them again and thoroughly recommend this fantastic duo to anyone who wants a good party. Well done!
---
Sandy Sanderson

, Birthday Party, East Sussex
Hi Tracey, I booked NU Society in the summer (9th July) for my daughter's 18th Birthday Large Garden Party. May I just tell you WOW, absolutly FANTASTIC. They played anything and everything. Entertained all ages. What a voice. Well worth booking and I would do it all again and definatly book again. Well worth the money. Everybody commented on how good they were, everyone was on their feet dancing. Thank you for such an enjoyable event. You made it worth all the effort.
---
Sandy Sanderson

, Private Party, East Sussex
Thankyou so much, Nu Society were fantastic, easy to get on with such lovely people you should be so proud of them! We didn't want them to go! A big THANKYOU!
---
Leicester Forest Farm (Festival)
Silverstone Curcit
Dubai - Monthly TOUR
Abu Dhabi - Grand Prix TOUR
Italy - Dum Dum Republic TOUR
Passing Clouds (Feat. Artists)
Passing Clouds - (Live Original Performances)
Live and Unsigned London - (Grand Final O2 - from top 6 London bands voted 5th place)
Scala Kings Cross London - (Dance events in collaboration with a large club promoter)
Club Warehouse London - (Dance events in collaboration with a large club promoter)
Area Vauxhall London - (Dance events in collaboration with a large club promoter)
Ten Bar Worthing - (Bank holiday private event)
Guanabara London - (Resident act)
Exit Bar - Shoreditch (Resident)
Cafe 1001 - DJ Set, Live Performances
Embassy West Sands - (Resident act)
Cocoon Bar/Club - (Dj sets)
Pizza Express London - (Accoustic piano/vocal)
Piano Kensington London - (Accoustic piano/vocal)
Toothing and Balham Charity Festival
Piano Soho London - (Accoustic piano/vocal)
Walt Disney Company - Main Act - (Voted The best innovative act 2002 - 2007)
NCL (Private events)
Silversea 6 star Cruise Line
Bookers - (Private events)
Runnymede Hotel and Spa - (Private events)
Nu Society is a fully self-contained act with PA and suitable lighting for small venues. If required, and at extra cost, the group is able to hire in additional lighting.
In addition, Nu Society is able to add a rap/djembe/guitarist to the line-up for that extra wow factor, again for a small fee.
Furthermore, as standard the group provide pre-recorded music before, between and after their sets if required.
A full DJ service is available for an additional fee.
Please Note: The fees indicated below are approximate and based on a central location for each county. They are intended to provide a rough guide only and exact quotes can only be given once the date and exact location of your event have been provided.
East Midlands
Northamptonshire
£540.00
Rutland
£540.00
East
Cambridgeshire
£528.00
Suffolk
£480.00
South East
Bedfordshire
£480.00
Berkshire
£480.00
Buckinghamshire
£504.00
East Sussex
£504.00
Essex
£480.00
Hampshire
£480.00
Hertfordshire
£480.00
Kent
£480.00
Oxfordshire
£540.00
Surrey
£480.00
Sussex
£480.00
West Sussex
£480.00
London
£480.00
Middlesex
£480.00
South West
Bath
£600.00
Bristol
£600.00