Warble Entertainment's
Simon Plays Piano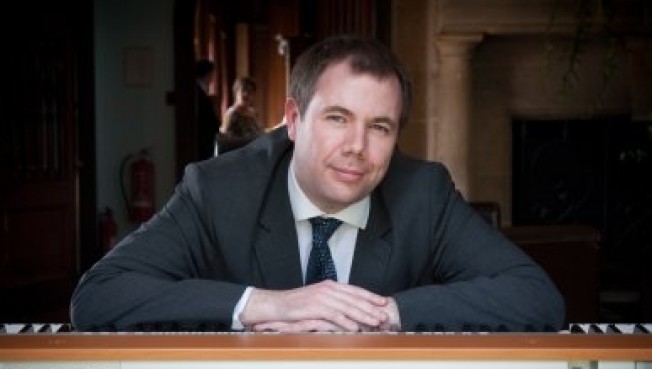 Location Buckinghamshire
Starting from £228.00
From Bach to Beyonce, Simon can play any tune, and delights in playing your choice of music.
Simon is a Royal Academy trained pianist, and a former BBC Radio 3 and BBC Radio 2 producer. He has worked with some of the world's greatest musicians and has played in concert halls and hotels across Europe, including an annual performance for the Prime Minister at Chequers.
Simon can perform all kinds of music, including pop, jazz, rock, ballads, blues and cocktail piano. Simon travels with over 800 songs and can play any of them on request within a moment's notice.
Simon can often play any tune you hum to him, and will play your favourite music, not restricting you to repertoire lists like other musicians.
1 reviews
Song List
A Woman in Love Barbra Streisand
Air on the G String Bach
All I Have to Do Is Dream Everly Brothers
All You Need Is Love Beatles
Always Atlantic Starr
Always and Forever Luther Vandross
American Beauty Thomas Newman
Annie's Song John Denver
April in Paris Frank Sinatra
Baby, I Love Your Way Peter Frampton
Because You Loved Me Celine Dion
Bridge over Troubled Water Simon and Garfunkel
Can't Help Falling in Love Elvis / UB40
Catch the Wind Donovan
Cavatina (The Deer Hunter) Stanley Myers
Close to You Carpenters
Come Rain or Come Shine Frank Sinatra
Dancing Queen Abba
Don't Cry for Me Argentina Madonna
Don't Know Why Norah Jones
Don't Let Go (Love) En Vogue
Eternal Flame Bangles
Eternity Robbie Williams
Everything I Do (I Do It for You) Bryan Adams
Falling into You Celine Dion
Feel Like Making Love Roberta Flack
Female of the Species Space
Fields of Gold Sting
Fly Me to the Moon Sinatra
Forever Love Gary Barlow
From Me to You Beatles
Fur Elise Beethoven
Goodnight Girl Wet Wet Wet
Greatest Love of All Whitney Houston
Hearbeat Buddy Holly
Hey Jude Beatles
Higher and Higher Jackie Wilson
How Deep Is Your Love Bee Gees
How Do I Live LeAnn Rimes
I Am Blessed Eternal
I Can Hear the Bells Hairspray
I Think We're Alone Now Tiffany
I Wanna Be Loved by You Marilyn Monroe
I Will Always Love You Whitney Houston
I'm In the Mood for Love various
I've Got You under My Skin Michael Buble et al
In the Air Tonight Phil Collins
It Had to Be You Sinatra / Harry Connick et al
Just the Two of Us Bill Withers / Grover Washington Jr
Let's Do It (Let's Fall in Love) Bing Crosby
Livin' on a Prayer Bon Jovi
Lough Erin Shore Corrs
Love Is a Many-Splendored Thing Engelbert Humperdinck
Love Me Tender Elvis Presley
Lovin' You Minnie Riperton
More than Words Extreme
Most Beautiful Girl in the World Prince
Move Closer Phyllis Nelson
My Baby Just Cares for Me Nina Simone
My Funny Valentine Chaka Khan
My Heart Will Go On Celine Dion
Nights in White Satin Moody Blues
Nobody Does It Better Carly Simon
On the Wings of Love Jeffrey Osborne
Perfect Moment Martine McCutcheon
Power of Love Jennifer Rush
Promise Me Beverley Craven
Show Me Heaven Maria McKee
Someone to Watch over Me various
Somethin' Stupid Robbie Williams / Nicole Kidman
Something Beatles
Something about the Way You Look Tonight Elton John
Stand by Your Man Tammy Wynette
Strangers in the Night various
Take My Breath Away Berlin (Top Gun)
That Ole Devil Called Love Alison Moyet
The More I See You various
We've Only Just Begun Carpenters
What the World Needs Now various
When a Man Loves a Woman Michael Bolton
When I Fall in Love Nat "King" Cole
Who Wants to Love Forever? Queen
Wind beneath My Wings Bette Midler
Wonderful Tonight Eric Clapton
Words Ronan Keating
You Are So Beautiful Joe Cocker
You Do Something to Me Paul Weller
You Do Something to Me Cole Porter
You Were Meant for Me various
You're the One that I Want Grease
Your Love Is King Sade
Your Song Elton John
CLASSICAL
Air on the G String (J S Bach)
Allegro from the Water Music (Handel)
Ave Maria (Gounod)
Ave Maria (Schubert)
Here Comes the Bride (Wagner)
Panis Angelicus (Cesar Franck)
Tumpet Tune (Purcell)
Trumpet Voluntary (Jeremiah Clarke)
Wedding March (Mendelssohn)
SHOW
Can You Feel the Love Tonight (The Lion King)
Take That Look Off Your Face (Tell Me on a Sunday)
Memory (Cats)
All I Ask of You (The Phantom of the Opera)
The Music of the Night (The Phantom of the Opera)
Love Changes Everything (Aspects of Love)
Pie Jesu (Andrew Lloyd Webber)
Amigos para Siempre - Friends for Life (Andrew Lloyd Webber)
80s
Eternal Flame (Bangles) - 1989
A Woman in Love (Barbra Streisand) - 1980
Move Closer (Phyllis Nelson) - 1985
The Power of Love (Jennifer Rush) - 1985
Take My Breath Away (Berlin) - 1986
Just the Two of Us (Grover Washington and Bill Withers) 1981
Your Love Is King (Sade) 1984
Never Tear Us Apart (INXS) 1988
Someone like You (Van Morrison) 1987
Have I Told You Lately? (Van Morrison) 1989
Something's Gotten Hold of My Heart (Marc Almond) 1988
Thank You for Being a Friend (Cynthia Fee) 1985
Grow Old with Me (John Lennon) 1982
If We Hold On Together (Diana Ross) 1988
Somewhere Out There (Linda Ronstadt and James Ingram) 1986
Up Where We Belong (Joe Cocker and Jennifer Warnes) 1982
Save the Best for Last (Vanessa Williams) 1989
90s
(Everything I Do) I Do It for You (Bryan Adams) 1991
I Will Always Love You (Whitney Houston) 1992
Love Is All Around (Wet Wet Wet) 1994
No Matter What (Boyzone) 1998
When You Say Nothing at All (Ronan Keating) 1999
Goodnight Girl (Wet Wet Wet) 1991
Don't Let Go (Love) (En Vogue) 1996
I Am Blessed (Eternal) 1995
You Do Something to Me (Paul Weller) 1995
Fields of Gold (Sting) 1993
More than Words (Extreme) 1990
Runaway (The Corrs) 1995
Lough Erin Shore (The Corrs) 1995
I Believe I Can Fly (R Kelly) 1996
Love Shine a Light (Katrina and the Waves) 1997
When You Tell Me That You Love Me (Diana Ross) 1991
All for Love (Bryan Adams, Rod Stewart, Sting) 1993
Amazed (Lonestar) 1998
Always Be My Baby (Mariah Carey) 1995
Angel (Sarah McLachlan) 1997
Change the World (Eric Clapton) 1996
I'll Make Love to You (Boyz II Men) 1994
Unchained Melody (Robson and Jerome) 1995
You'll Be in My Heart (Phil Collins) 1999
60s
Here, There and Everywhere (Beatles) 1966
Love Is All Around (Reg Presley) 1967
Till There Was You (Beatles) 1963
All You Need is Love (Beatles) 1967
Something (Beatles) 1969
Words (Bee Gees) 1968
A Whiter Shade of Pale (Procol Harum) 1967
I Say a Little Prayer (Dionne Warwick) 1967
Sunny (Cher) 1966
Unchained Melody (The Righteous Brothers) 1965
Can't Help Falling in Love (Blue Hawaii) Elvis
70s
(They Long to Be) Close to You (Carpenters) 1970
How Deep Is Your Love (Bee Gees) 1977
I Will Always Love You (Dolly Parton) 1974
Annie's Song (John Denver) 1974
Lovin' You (Minnie Riperton) 1975
Feel Like Making Love (Roberta Flack) 1974
Wonderful Tonight (Eric Clapton) 1977
Songbird (Fleetwood Mac) 1977
Maybe I'm Amazed (Paul McCartney/Wings) 1970
A Song for You (Leon Russell) 1970
Bridge over Troubled Water (Simon and Garfunkel) 1970
Fernando (Abba) 1976
I Write the Songs (David Cassidy, Barry Manilow) 1975
00s
Your Love Is King (Will Young) 2004
By Your Side (Sade) 2000
Can't Get You Out of My Head (Kylie Minogue) 2001
Don't Need the Sun to Shine (to Make Me Smile) (Gabrielle) 2001
Family Affair (Mary J Blige) 2001
Kiss Kiss (Holly Valance) 2002
Sweet Baby (Macy Gray feat Erykah Badu) 2001
A Thousand Miles (Vanessa Carlton) 2002
How Wonderful You Are (Gordon Haskell) 2001
Don't Know Why (Norah Jones) 2001
Into My Arms (Nick Cave) 2004
Breathless (The Corrs) 2000
Irresistible (The Corrs) 2000
50s
Peggy Sue (Buddy Holly) 1957