The German Oompah Strollers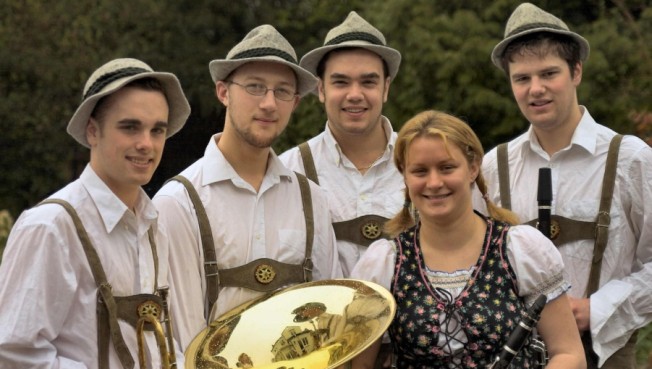 Location Cambridgeshire
Starting from £600.00
The German Oompah Strollers are one of the UK's leading Bavarian Bands and have over 30 years experiance. The German Oompah Strollers can do anything from strolling round your event playing traditional German music to a full Bier Keller stage show where the band get the audience singing, dancing and drinking.
Listen




The German Oompah Strollers
Number of Reviews and Counting... 4!
The German Oompah Strollers are one of the country's most successful Bavarian bands and have been an established German Um Pah band since 1978. The band uses first class professional musicians and is based on a traditional Bavarian band consisting of 2 clarinets, trumpet, trombone and tuba although the band can also perform with a 4, 6 or 7 piece line up adding accordion and drums.
The German Oompah Strollers' main strength is German Bier Keller or beer cellar nights and they have a vast repertoire of both traditional and popular German music and English sing-along tunes. There are vocals in both English and German and they play in traditional German Lederhosen costume. The band can perform both indoors and outside and can stand, sit or stroll around a venue. They also provide a free German 1 litre stein hire service upon request.
A typical Bier Keller night would consist of a performance of either two or three 45 minute sets, the first usually being mainly traditional music to set the atmosphere with plenty of Bavarian toasts to get the beer flowing. The second set usually contains more audience participation and games with Um Pah music to accompany and a few old favourite English songs. The third set or 'party' set is packed with rousing German and English songs from 'Val der Ree, Val der Raa' to 'Daisy Daisy' and 'The Dambusters' to 'Que Sera' and involves lots of drinking, dancing, singing and thigh slapping!
The German Oompah Strollers have played at venues around the world including performances in Germany, Italy, the Channel Islands and Ireland. They have performed at many venues throughout the United Kingdom including Harrods store, the RAC Club, Skibo Castle, various Universities, The Royal College of Music, The Royal Netherlands Embassy, Battersea Bier Fest and the National Caravan Exhibition. The Bavarian Strollers have appeared on numerous TV shows including BBC's Never Mind The Buzzcocks, Sport Relief and Sky 1's Vroom Vroom and have appeared in several films. They have also recorded on the Olive Branch Label.
The German Oompah Strollers are regularly booked for corporate events and have recently been booked by BMW, Munich RE Insurance and T-Mobile to name a few. The band can add a touch of class and a bit of something different to any event and can perform anything from traditional Bavarian music in the background to a full Bier Fest for your clients.
4 piece - Clarinet, Trumpet, Trombone, Tuba + Frontman
5 piece - Clarinet, Trumpet, Trombone, Tuba, Accordion + Frontman
6 piece - Clarinet, Trumpet, Trombone, Tuba, Accordion, Drums + Frontman
7 piece - Clarinet x 2, Trumpet, Trombone, Tuba, Accordion, Drums + Frontman
Peter Harris

, Private Party, Old Monastery Gardens, Bishop's Stortford, Hertfordshire
Very punctual, very east to brief etc. everyone enjoyed them and there was applause at the end of each part. Excellent to work with and highly recommended.
---
Hazel Everest

, Wedding, Kent
The band were great. They arrived at the venue on time and were playing as guests arrived for our reception. The guests loved them (especially our German guests). Thank you for entertaining us.
---
Patricia Buxton

, Birthday Party, Derbyshire
I thought the lads were great, very talented and great fun. Highly recommended.
---
Julie Alexander

, Private Party, London
Thanks very much to the band for last night, they were fantastic! They were very pleasant and polite to deal with. They really got people involved and everyone thought they were brilliant. They exceeded my expectations and don't think the night would have been as good without them. Thanks again!
---
Harrods
The RAC Club
Skibo Castle
The Royal College of Music
The Royal Netherlands Embassy
Battersea Beer Festival
London Bierfest
National Caravan Exibition
Never Mind the Buzzcocks
BBC1's Sport Relif
SKY 1's Vroom Vroom
Do you provide your own PA equipment? Yes, we bring our own sound system and can run it from stage saving money on sound engineers
Do you play backgroung music during breaks? Yes, we have a CD of Bavarian music we play through our speakers during breaks
Do you perform in Lederhosen? Yes, we have German Lederhosen which we wear on stage
Are you German? No, We're not actually German but we often convince people otherwise
2 x 45 mins sets
3 x 45 mins sets
3 x 30 mins sets
2 x 1 hour sets
Please Note: The fees indicated below are approximate and based on a central location for each county. They are intended to provide a rough guide only and exact quotes can only be given once the date and exact location of your event have been provided.
Scotland
Aberdeen
£1,800.00
Inverness
£1,800.00
Perth
£1,800.00
Sutherland
£1,800.00
Ayrshire
£1,560.00
Fife
£1,560.00
Stirlingshire
£1,560.00
West Lothian
£1,560.00
Dumfries-shire
£1,440.00
East Lothian
£1,440.00
Lanarkshire
£1,440.00
Midlothian
£1,440.00
North East
Durham
£1,080.00
Northumberland
£1,080.00
North Yorkshire
£1,080.00
South Yorkshire
£1,080.00
Tyne and Wear
£1,080.00
West Yorkshire
£1,080.00
Yorkshire
£1,080.00
North West
Cheshire
£960.00
Cumbria
£960.00
Manchester
£840.00
Lancashire
£960.00
Merseyside
£960.00
East Midlands
Derbyshire
£840.00
Leicestershire
£840.00
Lincolnshire
£840.00
Northamptonshire
£840.00
Nottinghamshire
£840.00
Rutland
£840.00
East
Cambridgeshire
£780.00
Norfolk
£864.00
Suffolk
£780.00
Wales
Anglesey
£1,020.00
Caernarvonshire
£1,020.00
Denbigh
£1,020.00
Flint
£1,020.00
Cardigan
£960.00
Brecon
£840.00
Carmarthen
£840.00
Glamorgan
£840.00
Monmouth
£840.00
Pembroke
£840.00
West Midlands
Gloucestershire
£840.00
Herefordshire
£840.00
Shropshire
£840.00
Staffordshire
£840.00
Warwickshire
£840.00
Worcestershire
£840.00
South East
Bedfordshire
£720.00
Berkshire
£720.00
Buckinghamshire
£720.00
East Sussex
£780.00
Essex
£780.00
Hampshire
£780.00
Hertfordshire
£780.00
Isle of Wight
£960.00
Kent
£780.00
Oxfordshire
£720.00
Surrey
£780.00
Sussex
£780.00
West Sussex
£780.00
London
£600.00
Middlesex
£600.00
South West
Cornwall
£1,080.00
Devon
£960.00
Dorset
£900.00
Somerset
£900.00
Wiltshire
£900.00