Warble Entertainment's
Stunning Brass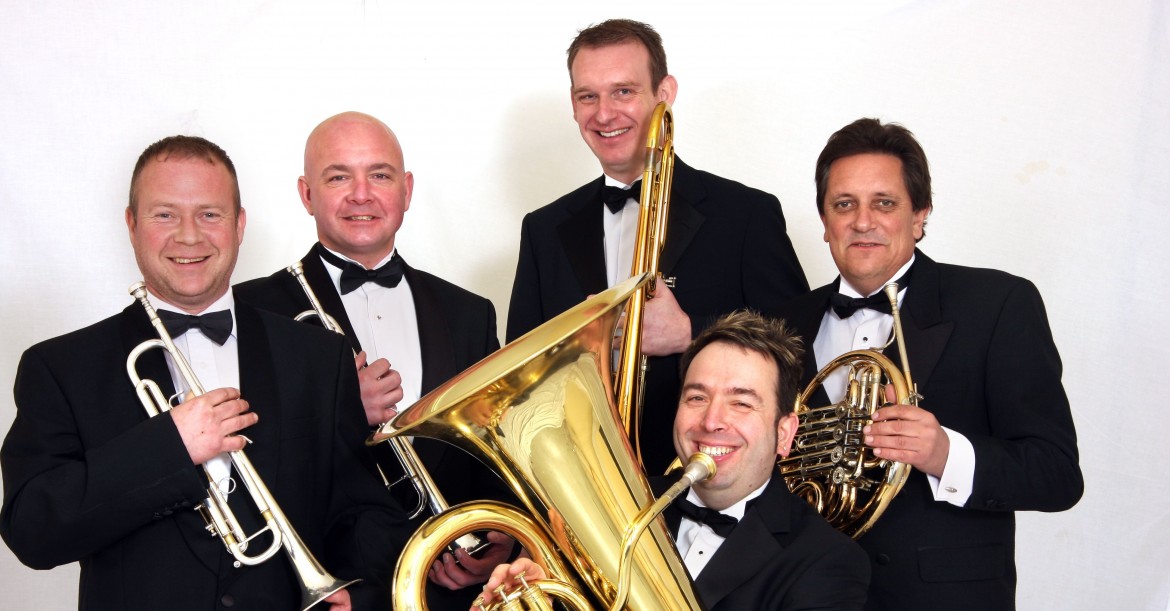 Location Kent
Starting from £840.00
Stunning Brass are one of the UKs leading brass quintets.
The ensemble performs a wide ranging repertoire of music from the Baroque music of Bach and Handel to the more popular music of Gershwin, the Beatles and Queen with all styles in between.
Stunning Brass are available for a wide variety of events from more formal recitals, concerts, music festivals and wedding ceremonies to background music for business luncheons, dinners (including, military mess dinners, mess dress can be worn for these functions), garden parties, receptions and product launches.
*The UKs finest Brass Ensemble*
5 reviews
Song List
This is only a selection of the music performed by Stunning Brass:
Classical Music:
Air on the G string - J.S.Bach
Rondeau from Abdelazar - H.Purcell
Pavane - G.Faure
Rondo from "Horn Concerto No.4" - W.A.Mozart
Allegro from Eine Kleine Nachtmusik - W.A.Mozart
Promenade No.1 from "Pictures at an Exhibition" - M.Mussorgsky
Overture William Tell - G.Rossini
La Rejouissance - G.F.Handel
Allegro from the "Water Music" - G.F.Handel
Wacht auf Bach (Sleepers Awake) - J.S.Bach
1920's - 1940's:
Puttin' on the Ritz - I.Berlin
Mood Indigo - D.Ellington
The Nearness of You - H.Carmichal
Ain't Misbehavin' - F.Waller
Four Hits for Five - G.Gershwin
The Roaring Twenties - arr.P.Nagle
Strike up the Band - G.Gershwin
I'm Beginning to See the Light - D.Ellington
Anything Goes - C.Porter
Easy Listening / Pop Music:
Tuba Tiger Rag - arr.L.Henderson
King of the Road - R.Miller
Amazing Grace - Trad. arr. M.MacKinnon
Cantina Band from "Star Wars" - arr.D.Haskew
Bohemian Rhapsody - F.Mercury arr.D.Moon
The Way We Were - M.Hamlisch
The James Bond Theme - M.Norman La Cumparisita - M.Rodriguez
My Heart Will Go On from "Titanic"- arr.A.Gardner
The Pink Panther - H.Mancini
Can You Feel the Love Tonight--E.John
Devils Galop (Dick Barton theme)
Wedding Music:

Wedding March from "A Midsummer Night's Dream" Mendelessohn
Bridal March from "Lohengrin" - R.Wagner
Trumpet Tune - J.Clarke
Trumpet Voluntary (The Prince of Denmarks March - J.Clarke
Let The Bright Seraphim from "Samson" -G.F.Handel
All hymns are also available
Marches:

The Liberty Bell - J.P.Sousa
The Stars and Stripes Forever - J.P.Sousa
Colonel Bogey - K.Alford
Rule Britannia (A Patriotic Suite) - arr.M.MacKinnon
All British Regimental and Corps marches are also available for Military Mess Dinner Nights
Band of the 24th Invicta Rifles:

A Chorus Line Spectacular
Broadway Show Stoppers
Eagle Squadron
Echos of an Era
Glenn Miller Story
Hey Jude
Holyrood
I Left My Heart in San Francisco
In a Persian Market
Lassus Trombone
Lawrence of Arabia
Les Miserables
Marching Songs of World War II
Mary Poppins
Michael
Michelle
Oliver
Post Horn Galop
Royal Standard
Scipio
So Nice to Come Home To
St. Louis Blues March
Standard of St. George
Sunset
The Acrobat
The Great Escape
Where Eagles Dare
Where No Man Has Gone Before