Warble Entertainment's
The Greek Band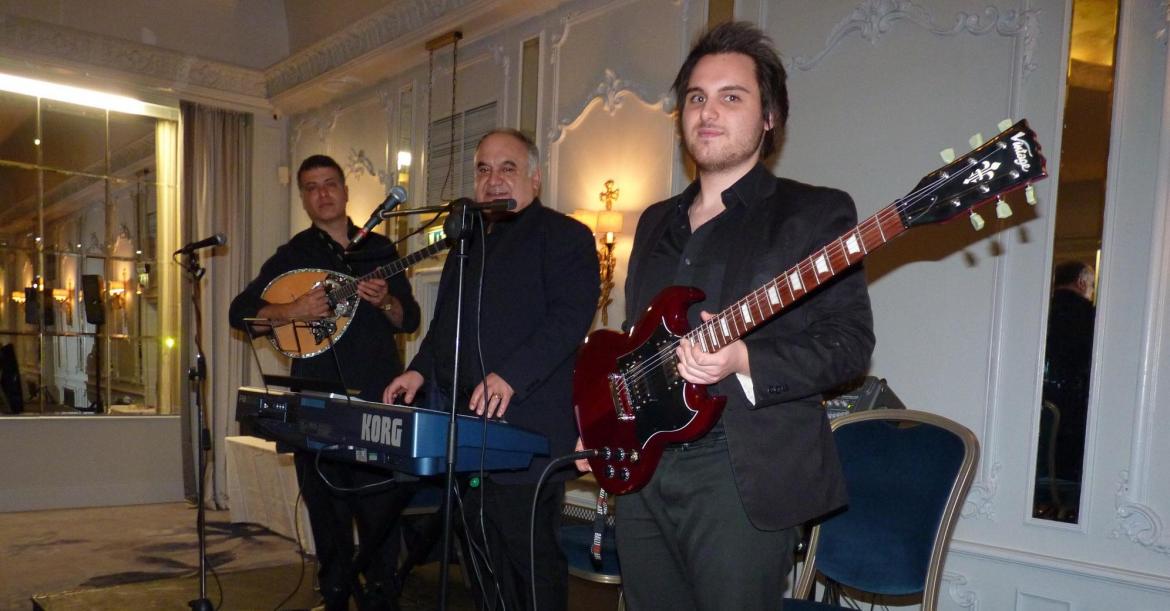 Location Berkshire
Starting from £480.00
Long established and experienced professional Greek and International band based in South East of England, but prepared to travel wherever necessary. Featured on TV show "Come Dine With Me".
Specialities:
Corporate Events
Greek Weddings
Birthdays and Private Parties
Baptisms
Greek Themed Events
Festivals
Theatres
TV appearances and more...
Their music and entertainment will take you back to Greece with the amazing sounds of the bouzouki. Your Event is a special day, so The Greek Band can provide that unique sound that will make it fun and memorable experience for you, as a client, and your guests.
5 reviews
Song List
KALAMATIANO
Gerakina
I Mana Mou Me Therni
Oraia Aegiotissa
Po Po Po Maria
Samiotisa
Se Ida Na Kladevis
Skali Skali
Taka Taka Ta Petalakia
Talassaki Mou
Mesa Sto Nero Tis Limnis
Milo Mu Kokino
Na Haries
NISIOTIKA/SYRTA
Ama Thes Na Figis Fige
Armenaki
Ase Me Pia
Chiculata
Den Ksana Kano Filaki
Diri Dah Dah
Ekatomiria
Ena Karavi Apo Ti Xio
Ena Lepto Periptera
Filakia
Gia Tha Lefta
Giati Thes Na Figis
Girna Pali Girna
Hilia Matia
Hronia Tora Makria Su Liono
Ise Izoi Mou
I Trata Mas I Kourelou
Kapetan Andrea Zepo
Kali Tixi (Den se Krino)
Kalyviotissa
Karavia Xiotika
Kerasma (Logia Klidomena)
Maria Me Ta Kitrina
Meine Agapi Mou Konta Mou
Melahrinaki
Mera Me Ti Mera
Mes Tou Egeou
Oti arhizi oreo
Oso Axizei Esy
Palamakia
Pios Moro Mou Pios
Psarovarka
Psaropoula
Siko horepse koukli mou
Sirma Pano Katse Kato
Ta Rialia
Thi Allo Theleis Piopoly
Ti Ti (Giorgos Alkaios)
To Loloudaki Tou Baxe
To Moro
WEDDINGS
Matia San Ke Ta Dika Su
Money Dance
Simera Gamos Yinete
Sagapo Giati se Orea
TSIFTETELLIA
Aneva Sto Trapezi
Eida Kai Epatha Kira Mou
Exo Dertia
Hariklaki
Eheis Kormi Arapiko
Ekso Dertia Ke Kaimi
Filedem
Fousta Klaroti
Garifallo Stafti
Glike Mou Tirane
Katse Ston Kanape Mou
Misirlou
Moustafa
Otan Horevis Matia Mou
Pote Voudas Pote Koudas
Ta Mavra Matia Sou
Tetia Koukla Ke Tsahpina
ZEMBEKIKO
Aetos
Agalma
Aliti mu ipes mia vradia
Apalahtika
Ayta Ta Xeria
Dahtilidia
Den Pao Pouthena
Den Tha Ksanagapiso
Ego Den Imouna Alitis
Evdokia
Genethlia
Nikta Xelogiastra
Sinefiasmeni Kiriaki
Soma Mou
Stin Elefsina Mia Fora
Svise Me Kira Mou
Opou Giorgos Ke Malama
O Alitis (Mitsias)
O Paliatzis
O Salonikos
O Taxitzis
O Kir Thanos
Oi Ntalikes
Sinefies
Sinefiasmeni Kiriaki
Then Pao Puthena
Then Thelo Tetious Filous
To Dihti
To Telefteo Vradi Mou
Ti Imouna Gia Senane
Vadizo Ke Paramilo
Vrehi Fotia Stin Strata Mou
HASAPO-SERVIKO
Apo Vradi Se Kinisa
Apopse Stis Akrogiales
Aspra Kokkina Kitrina Mple
Balanta Tou Andrikou
Baxe Tsifliki (Pame Tsarka)
Choli Nihta
Deka Palikaria
Dirladada
Doxa To Theo
Gialo Gialo
Gorgona
Imaste Alania
Ksimeroni Ke Vradiazi
Milise Mou
O Pio Kalos O Mathitis
Pame Tsarka
Pendozali
Sousta
Tin Kardoula Sou
Varka Sto Gialo
HASAPIKO
Antropi Imaste
Aponi Zoi
Epipoleos
Faliriotisa
Fragkosiriani
Ftohologia
Kamaroula
Kathe Limani
Kaymos
Kira Giorgaina
Matya Bourkomena
My Friend The Wind
Natane to 21
Never on Sunday
Oli I Rebetes
Omorfi Thessaloniki
Oniro Apatilo
Oniro Demeno
Pireotisa
Siko Horepse Sirtaki
Strose To Stroma Sou
Tha Traina Pou Fygan
Thessaloniki Mou
To Tram To telefteo
To Minore Tis Avgis
Zorba
ENGLISH & INTERNATIONAL

ROCK, POP & BALLADS
A Groovy Kind of Love
Always On My mind
A Million Love Songs
Angels
Blueberry Hill
Bridge Over Troubled water
Can't Help Falling in Love
Delilah
Fernando
Feelings
Fly Me to the Moon
Country Roads
Green Grass of Home
Hello
Help Me Make It Through The Night
Hey Jude
I Can't Stop Loving You
If Tomorrow Never Comes
I Just Called to Say I Love You
Imagine
Killing Me Softly
Lady in Red
Let it be
Love Me Tender
Love Story
Moon River
My Love
My Way
New York
Nikita
Only You
Power of Love
Que Sera Sera
Release Me
Sailing
Sealed With a Kiss
She Is the One
Show Me The Way to Go Home
Something Stupid
Spanish Eyes
Stuck on You
Sweet Caroline
The Last Waltz
Three Times a Lady
To All The Girls I've Loved Before
Unchained Melody
What a Wonderful world
When I fall in Love
When I Need You
Wonderful Tonight
Wonder of You
Yesterday
You Needed Me
PARTY SONGS
Amarillo
Blue Suède Shoe
Brown eyed girl
Build Me Up Butter Cup
Bye, Bye love
Can't Buy Me Love
Dance The Night Away
Hello Mary Lou
Hi-Ho Silver Lining
I saw her standing there
Johnny B. Goode
La Bamba
Let's Dance
Let's Twist Again
Livin La Vida Loca
Living Next Door To Alice
Old Time Rock n Roll
Proud Mary
Rock Around the Clock
Rockin' All Over The World
Rocking Around The Christmas Tree
Roll Over Beethoven
Saw Her Standing There
Sweet Caroline
Come on over babe
The Twist
La Vida Loca
Walk of Life
DISCO DANCE
Chapel Of Love
Conga
Dancing Queen
D.I.S.C.O
Espana
Hot Hot Hot
Mamma mia
Music Man
Locomotion
Obladi oblada
The Hokey Cokey Song
Sex Bomb
Sugar Pie Honey
YMCA
LATIN - ITALIAN
Amor
Baila Me
Bamboleo
Bessa me Moucho
Guantanamera
Lambada
La Shante mi Cantare
Marina
Porompompero
Quando Quando
Quanta La Mera
Volare