Warble Entertainment's
Nightingale Ceilidh Band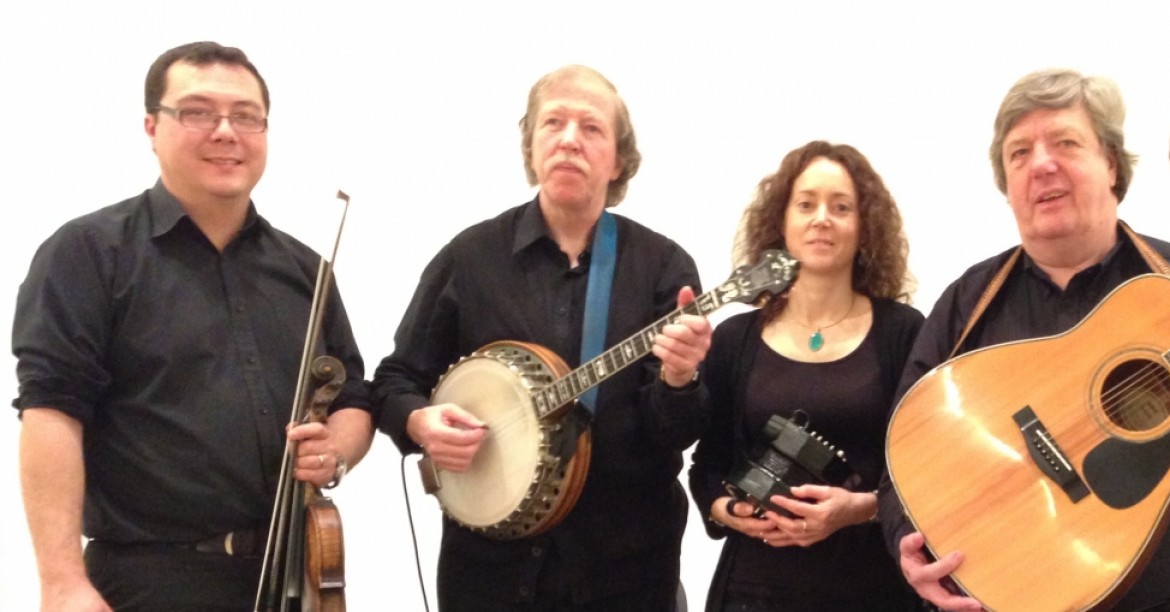 Location London
Starting from £492.00
Nightingale Ceilidh Band are professional, award-winning and experts at creating a fun & interactive party atmosphere suitable for all ages. Featuring some of the finest traditional musicians performing Celtic, Irish and Scottish music, the Band have toured extensively and performed at a multitude of events, such as, weddings, corporate events, charity galas and festivals. A fantastic party guaranteed!
A highly recommended and extremely professional band.
3 reviews
Song List
Nightingale Ceilidh Band is sensitive to the occasion and responsive to the mood of the audience. If you wish they may concentrate on one particular style e.g. Scottish or Irish throughout.
Nightingale Ceilidh Band are equally at home doing a song-based performance as they are playing tunes for a dance. Bandleader Mick built his extensive repertoire of songs during many years performing in public. Mick says, "We will gladly do requests if we know them and I'll even try to learn a new song if there's time". Mick continued, "There is no formal set list because we really enjoy working with the audience, finding out what's popular and 'going with the flow'."
Main Set
Amorillo
As I Roved Out (Christy) / The Night Visit
Auld Lang Syne
Back Home in Derry
Black is the Colour
Black Velvet Band
Bonny Ship the Diamond
Brown Eyed Girl
Caledonia
Clare to Here
Cliffs of Doneen
Cockles & Mussels
Come by the Hills
Country Roads
Danny Boy
Dark Island
Dirty Old Town
Far away in Australia
Fiddlers Green
Fields of Athenry
Fleur of Scotland
Foggy Dew
Galway Girl
Galway Shawl
I'll Tell My Ma
Irish Rover
Jambalaya
Lakes of Ponchartrain
Last thing on my mind
Leaving of Liverpool
Lights of London
McAlpine's Fuseliers
Mountain Dew
Muirsheen Duirkin
My Lovely Rose of Clare
Nancy Spain
Only our Rivers run Free
Ordinary Man
Peggy Gordon
Ride On
Sean South
Seven Drunken Nights
Spancil Hill
Star of the County Down
Sweet Sixteen
Sweet Thames Flow Softly
Tipping it up to Nancy
Town I Love so well
Waltzing for Dreamers
Whiskey in the Jar
Whistling Gypsy Rover The
Wild Colonial Boy
Wild Rover
Will you go Lassie Go
Willie and Mary
Willie McBride
Wraggle Taggle Gypsies
Rock / Pop
500 Miles
All My Loving
American Pie
Amorillo
Annie's Song
Brown Eyed Girl
Can't buy me love
Country Roads
Dance the Night Away
From Me To You
Galway Girl
Hallelujah
Hey Good Lookin
I just called to say I love you
I'll never find another you
I'm into something good
Love is the sweetest thing
Return to Sender
Summer Holiday
Twist & Shout / La Bamba
World of Our Own
Yesterday
Other songs
Amazing Grace
Among The Wicklow Hills
Anniversary Waltz
Any Tipperary Town
Bandiera Rossa
Band Played Waltzing Matilda
Banks of My Own Lovely Lee
Banks of the Ohio
Blowin In The Wind
Bold Grenadier
Both Sides the Tweed
Boys from the County Armagh
Bunch of Thyme
Carrickfergus
Cavan Girl
Charlie is my Darling
City of Chicago
Congratulations
Curragh of Kildare
Donald Where's Your Troosers
Dublin in the Rare Old Times
Fairytale of New York
Farewell My Green Valleys
For These Are My Mountains
Grace
Hokey Cokey
I'm gonna be (500 miles)
Jolly Beggarman
Jug of Punch
Leaving On A Jet Plane
Let It Snow, Let It Snow, Let It Snow
Loch Lomond
Marie's Wedding
My Love is Like a Red Red Rose
My own dear Galway Bay
Now I'm Easy
Queen Jane
Red Rose Cafe
Roll in My Sweet Baby's Arms
Rose of Allendale
She Moved Through The Fair
Stand by me
Take me Home to Mayo
Wagon Wheel
Whiskey On A Sunday
Will ye go to Flanders?
Winter it is Past
Tunes
Nightingale Ceilidh Band have an extensive repertoire of traditional tunes. Here's a few favorites:
Arkansas Traveller
Ashokan Farewell
Athol Highlanders
Banish Misfortune
Banshee
Barren Rocks of Aden
Behind the Haystack
Blackthorne Stick
Blarney Pilgrim
Bluebell Polka
Boston Two Step: MacNamara's Band: Nellie The Elephant
Boys of Ballisodare
Boys of Bluehill
Bucks of Oranmore
Calliopie House
Cliffs of Moher
Cock of the North (Auntie Mary)
Coleraine
College Hornpipe (Sailors Hornpipe)
Congress
Connaughtman's Rambles
Cooley's
Cronin's
Cup of tea
Dark Eyes
Dashing White Sergeant
Dennis Murphy's
Dingle regatta
Donnybrook Fair
Drowsy Maggie
Drunken Piper
Duke of Leinster
Duke of Perth
Dundee Glasgow Aberdeen: Road & The Miles to Dundee: I Belong to Glasgow: Northern Lights of Old Aberdeen
Dusty Windowsill
Earl's Chair
Fairy Dance
Farewell To Erin
Father O'Flynn
Fisher's Hornpipe
Flowers of Edinburgh
Foxhunters
Galway Hornpipe
Golden Keyboard
Gravel Walks
Guaracha Walz: Come o'er the Stream Charlie: Break: Red Red Rose: Break: Skye Boat Song: Break: Comin' through the Rye
Hag at The Churn
Harvest Home
Haste to the Wedding
High Reel
Hunter's Purse
I wanna be near you/Aupres de ma Blonde
Irish Washerwoman
Jenny's Chicken's
Jig of Slurs
Julia Delaney
June Apple
Kangeroo Polka
Kate Dalrymple
Kathleen's Waltz
Keel Row
Kesh
Kid on the Mountain
King of the Fairies
La Bastrange
Lads of Laoise
Lady Ann Montgomery
Laird of Drumblair
Lark in the Morning
Lilting Banshee
Log Cabin Set
Longford Collector (2nd of Tarbolton Set)
Maggie in the Wood
Maguire & Pattersons
Maid behind the Bar
Margarets Waltz
Marino Waltz
Martin Wynns No 1 & No 2
Mason's Apron
Maudabawn Chapel
Merry Blacksmith
Millers Reel
Miss McLeods
Morrisons
Mountain Road
Mr O'Connor
Munster Buttermilk (Behind the Haystack)
Musical Priest
My Love is but a Lassie yet
My Love is Like a red Red Rose
Never On a Sunday
New Rigged Ship
Nine Points of Roguery
O'Carolan's Welcome
Off to California
Orange & Blue (The Big Broon Coo)
Otters Den
Out on the Ocean
Over the Moor to Maggie
Peter Street/Timor the Tartar
Phoenix
Pinch of Snuff
Planxty Irwin
Ragtime Annie
Rakes of Kildare
Rakes of Mallow
Rakish Paddy
Rambling Pitchfork
Rattling Bog
Red Haired Boy/Little Beggarman
Rights of Man
Rocky Road to Dublin
Rose in the Heather
Saddle the Pony
Sailor's Bonnet (3rd of Tarbolton Set)
Sally Gardens
Scotland the Brave
Sean Ryan's
Ships are Sailing
Si Bheag Si Mhor
Silver Spear
Skye Boat Song
Sligo Maid
Soldiers Joy
Spanish Lady
Spider in the Bog
St Annes
St Bernards Waltz: After the Ball is Over
Star of Munster
Statten Island
Swallows Tail
Swedish Masquerade
Sweet Georgia Brown
Tam Linn
Tarbolton (1st of Tarbolton Set)
Teetotallers
Tennessee Waltz
Tenpenny Bit
The Rose Tree
Timor the Tartar/Peter Street
Toss the Feathers
Tripping up the Stairs
Trumpet Hornpipe (Captain Pugwash)
Turkey in the Straw
Whiskey Before Breakfast
Wise Maid
Wonderful Copenhagen/After the ball
Yellow Tinker
Dances
A ceilidh or barn dance is an evening of informal traditional dancing. Perfect for a wedding or party, it is suitable for all ages and provides a great way for people to mix and socialize. The faster dances are an energetic work out, and Nightingale Ceilidh Band also play in a more relaxed romantic mood. Our callers teach the dances from scratch - no experiencenecessary! Everyone will have a good time! Mistakes are half the fun of it!
Barn Dance
Big Set
Bridge of Athlone
Circassian Circle
Circle dance
Circle Waltz
Cumberland reel
Cumberland Square Eights
Danish Waltz
Dashing White Sergeant
Gay Gordons
Harvesting Jig
Haymakers jig
Hokey Cokey
I Want to be near you
Longways dances
Sausage roll
Seige of Ennis
Square dance
Strip the Willow
Virginia Reel
Walls of Limerick
Waves of Tory
Plus many more Scotish, Irish and Barn Dance selections;