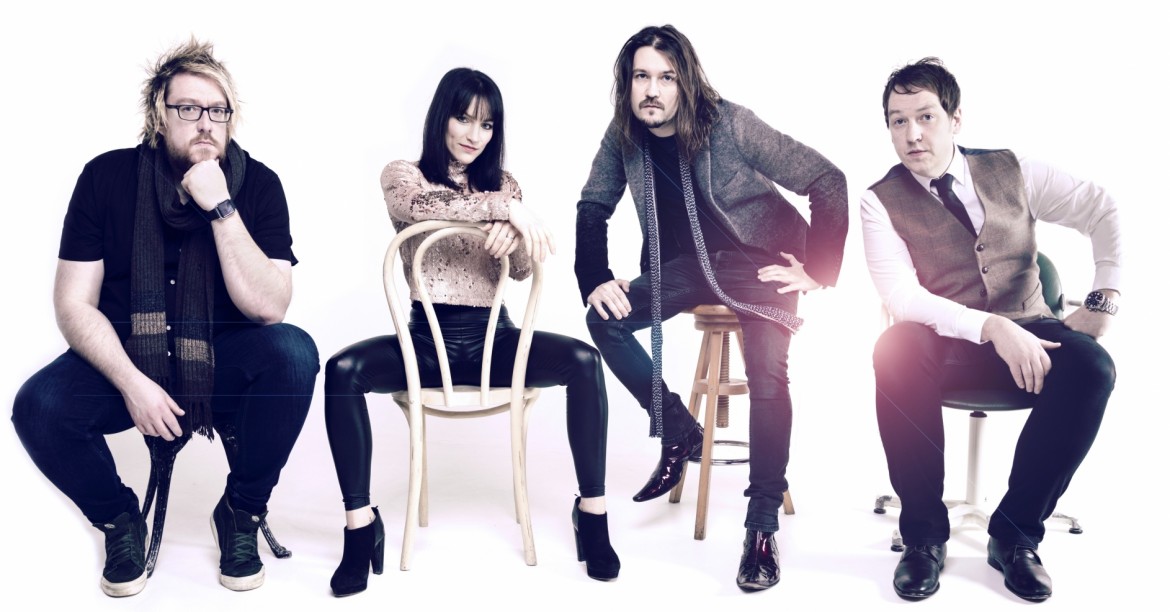 Location Essex
Starting from £1,020.00
If you're looking for the ultimate live band experience for your wedding, party or function event, then you're in the right place. The New Offenders have set out to create a lively and exciting live band experience that is perfect for every event. With years of experience at the highest level, you can be sure The New Offenders will get the party rocking!
Number of Reviews and Counting... 3!
THE NEW OFFENDERS - THE ULTIMATE LIVE BAND FOR ANY OCCASION!
Using an extremely high level of musicianship, the best live equipment and a current and constantly changing set list comprising of pop, rock, disco, funk and soul, The New Offenders will ensure that your special event goes exactly the way you planned.
All band members are professional full time musicians who have worked with some well known names in the music industry as well as providing session recording work, west end theatre productions and XFM radio sessions. Members have had recording contracts with their own material and sold records across Europe, written for artists such as Melanie Blatt from All Saints and provided musical backing to artists such as Mark Owen of Take That and Emma Bunton from the Spice Girls.
The New Offenders have a varied set which can be tailored to suit any occasion. From classic songs of the 60's, 70's and 80's right through to modern favourites such as Kings of Leon, The Killers and Lady Gaga, The New Offenders can cater for all tastes.
With a wealth of experience in the music business and a real flare for performing, The New Offenders really are the perfect choice for any event.
Lynsey - Lead Vocals & Keyboards
Rick - Vocals & Guitar
Luke - Bass Guitar
Nick - Drums & Vocals
00's
Mr Brightside (The Killers)
Pokerface (Lady Gaga)
Sex On Fire (Kings of Leon)
Dakota (Stereophonics)
Don't Stop Believin' (Glee/Journey)
Valerie (Amy Winehouse)
I Kissed a Girl (Katy Perry)
Use Somebody (Kings of Leon)
Bohemian Like You (Dandy Warhols)
I Believe In A Thing Called Love (Darkness)
Take Me Out (Franz Ferdinand)
You've Got the Love (Florence and the Machine)
Chasing Cars (Snow patrol)
Mercy (Duffy)
Ruby (Kaiser Chiefs)
I Predict a Riot (Kaiser Chiefs)
This Love (Maroon 5)
She Will Be Loved (Maroon 5)
How You Remind Me (Nickleback)
Last Night (Strokes)
Beautiful Day (U2)
Teenage Dirtbag (Wheatus)
Smooth Criminal (Alien Ant Farm)
All My Life (Foo Fighters)
Times Like These (Foo Fighters)
Vertigo (U2)
It's My Life (No Doubt/Talk Talk)
Just Like A Pill (Pink)
Get The Party Started (Pink)
Im Outta Love (Anastasia)
In the Morning (Razorlight)
90's
All The Small Things (Blink 182)
Park Life (Blur)
Song 2 (Blur)
Yellow (Coldplay)
Weather With You (Crowded House)
Buck Rogers (Feeder)
She's The One (Robbie Williams)
She's Electric (Oasis)
Wonderwall (Oasis)
Basket Case (Green Day)
Don't Look Back In Anger (Oasis)
Hush (Deep Purple/ Kula Shaker)
Day We Caught The Train (Ocean Colour Scene)
Riverboat Song (Ocean Colour Scene)
Place Your Hands (Reef)
Let Me Entertain You (Robbie Williams)
Angels (Robbie Williams)
Just Looking (The Stereophonics)
Why Does It Always Rain On Me (Travis)
Alright (Supergrass)
All I Wanna Do (Sheryl Crow)
You Oughta Know (Alanis Morrisette)
Under The Bridge (Red Hot Chilli Peppers)
Are You Gonna Go My Way (Lenny Kravitz)
Creep (Radiohead)
Teen Spirit (Nirvana)
What's Up (4 Non Blondes)
Ironic (Alanis Morrisette)
80's
Beat It (Michael Jackson)
Livin' On A Prayer (Bon Jovi)
Go your own Way (Fleetwood Mac)
Power of Love (Huey Lewis and The News)
The Chain (Fleetwood Mac)
Summer Of '69 (Bryan Adams)
With or Without You (U2)
Have I Told You Lately (Rod Stewart)
500 Miles (Proclaimers)
Sweet Child O' Mine (Guns 'n Roses)
Paradise City (Guns 'n Roses)
Kids In America (Kim Wilde)
Love Shack (B 52's)
Walking On Sunshine (Katrina And The Waves)
Walk This Way (Run DMC / Aerosmith)
70's
Ain't No Sunshine (Bill Withers)
Stuck In The Middle With You (Steelers Wheel)
Big Yellow Taxi (Joni Mitchell)
20th Century Boy (T Rex)
My Generation (The Who)
I Love Rock N Roll (Joan Jett)
Teenage Kicks (Undertones)
Heart Of Glass (Blondie)
Video Killed The Radio Star (Buggles)
Dancing Queen (Abba)
Lady Mamamlade (Pattie Labelle)
Long Train Running (Doobee Brothers)
I Will Survive (Gloria Gaynor)
Hey Jude (The Beatles)
Come Together (The Beatles)
Don't stop me now (Queen)
Disco Inferno (Earth Wind and Fire)
Sweet Home Alabama (Lynard Skynard)
60's
Can't Take My Eyes Off You (Andy Williams)
Sunny Afternoon (The Kinks)
Daydream Believer (Monkees)
I'm A Believer (Monkees)
Saw Her Standing There (The Beatles)
Hard Days Night (The Beatles)
I Feel Fine (The Beatles)
Dock of the Bay (Otis Redding)
Hard To Handle (Otis Redding)
Mustang Sally (The Commitments)
La Bamba (Richie Valence)
Mrs. Robinson (Simon & Garfunkel or Lemonheads )
Brown Eyed Girl (Van Morrison)
All Day and All of the Night (Kinks)
Respect (Aretha Franklin)
You Really Got Me (Kinks)
Happy Together (the Turtles)
Higher and Higher (Jackie Wilson)
Can't Buy Me Love (The Beatles)
Gary Little & Hayley Fitzgerald

, Wedding, Berkshire
What a fabulous band! Played a great variety of music and had all our guests up dancing. Would highly recommend.
---
Julian Jepson

, Wedding, Essex
Amanda and I would like to pass on our deepest thanks to The New Offenders: Lynsey, Rick, Luke & Nick who played at our Wedding Reception, and to Sam at Warble for helping put everything together in the background. From the very start of our conversations with Sam, through the selection and booking process, Sam and the team at Warble made everything simple and easy and communicated well throughout. Luke from the band called us several times to discuss our song choices, particular favourites, what should be played between sets and what we would like for our first dance, even offering to learn the song specifically for us. He listened to us and made some excellent suggestions as to sets and timings. All in all we felt very assured that he understood our requirements and the music would rock and the party would flow on the night. On the day itself, all four band members where chatty, sociable, polite, and dressed smartly for our black tie wedding reception. From the conversations we had, and the way these guys all played together, it really showed how much they enjoy their music. We're pretty sure we couldn't have found a better band for our wedding. We choose The New Offenders for a few reasons in addition to their locality to Essex, price and availability. A four piece band works so well with a good mix of vocalists, making for great variety in their sound and repertoire. There is a good selection of audio on their webpage, but very important to us was the video which enabled us to see their image and style. I'd really recommend keeping the webpage up to date with new sound clips and video as it was a big factor in our selection process. Their song list is also extremely wide ranging, which really helped mix it up in each of the Sets. We had a fantastic wedding at Prested Hall, Essex, and we received lots of comments and compliments about the New Offenders, from our guests and wedding staff. Thank you so much for making our special day all the more special.
---
Helen Anthony

, Wedding, Suffolk
Absolutely brilliant!! Contact in the lead up was fantastic and they were absolutely brilliant on the night! Loved by everyone. Thank you, Helen & James.
---
The New Offenders have played for a wide range of prestigious clients and venues across the country. Here is s small selection of some:
Sheppards Bush Empire - London
BBC Broadcasting House - House
The Landmark Hotel - London
The Lowry - Manchester
Leeds Castle - Kent
Royal Air Force & British Army Barracks
Cancer Research
The Royal Brompton Hospital
How long does it take for you to set up?
It takes around 1 hour to set up. It can take a little longer if we can't get the van near to the performance area and have further to walk the equipment in.
How long do you play for?
We play for a total of 2 hours, this can be split up into any time intervals you like i.e: 2 x 1 hours, 3 x 40 minutes, 4 x 30 minutes. We have a lot of experience and understand that timings on the day can very, this is why we aim to be very flexible making sure your day runs as smooth as possible.
Can you play music in-between your live sets?
Yes, we have a laptop we can link into our sound system. We can play music of many styles to keep your guests dancing all night. If you have any specific songs you would like played you can send them over before the big day, or on the day. We can read many file formats, CD, MP3's, AAC files. We can also play music before we start. All of this is available at NO extra charge, so no additional DJ costs! If you have a specific playlist you would like played in between sets we can arrange this for you.
We have a special first dance in mind that isn't on your set, can you play it?
If we have enough time and it's a song that we can pull off (Banging drum n bass may be a bit of a challenge) then yes. If the song is not suitable or you would prefer to here the original we can play it through our sound system. You can either send the song to us via email before or give us a CD on the day.
The venue has asked the band we book to provide certificates of Public Liability Insurance and for equipment PAT testing, what are these and do you have them?
Yes we have certificates for Public Liability Insurance and Equipment PAT testing. These can be made available in advance to yourselves or the venue by email or we can bring them on the day. Public liability insurance covers claims made against us, if our employees are shown to be responsible for personal injuries to a third party or damage to property up to £10 million. All of our equipment is checked annually to make sure it is safe and in working order. All of our equipment is individual tagged with green safety stickers.
Do you need feeding?
It would be very nice if we could get a hot meal in the evening. We often leave quite early in the day and some dinner is always appreciated by the band! If you are providing food we have one vegetarian in the band. Thank you.
What do you wear for your performance?
Unless otherwise requested, the band will dress in appropriate wear for the event, ie, smart dress code.
We have a wide age range of guests coming, can you cater for this?
We play music from 60's to current day. We try to mix it up to cater for all ages and tastes, again please call us if you have any specific requirements.
The New Offenders play for a total of 2 hours, this can be split up into any time intervals you like i.e: 2 x 1 hours, 3 x 40 minutes, 4 x 30 minutes.
The New Offenders have a lot of experience and understand that timings on the day can vary, this is why the band aims to be very flexible making sure your day runs as smooth as possible.
Please Note: The fees indicated below are approximate and based on a central location for each county. They are intended to provide a rough guide only and exact quotes can only be given once the date and exact location of your event have been provided.
North East
Durham
£1,560.00
Northumberland
£1,560.00
North Yorkshire
£1,560.00
South Yorkshire
£1,560.00
Tyne and Wear
£1,560.00
West Yorkshire
£1,560.00
Yorkshire
£1,560.00
North West
Cheshire
£1,560.00
Cumbria
£1,560.00
Manchester
£1,560.00
Lancashire
£1,560.00
Merseyside
£1,560.00
East Midlands
Derbyshire
£1,320.00
Leicestershire
£1,320.00
Lincolnshire
£1,320.00
Northamptonshire
£1,320.00
Nottinghamshire
£1,320.00
Rutland
£1,320.00
East
Cambridgeshire
£1,140.00
Norfolk
£1,140.00
Suffolk
£1,140.00
Wales
Cardigan
£1,560.00
Brecon
£1,560.00
Carmarthen
£1,560.00
Glamorgan
£1,560.00
Monmouth
£1,560.00
Pembroke
£1,560.00
West Midlands
Gloucestershire
£1,320.00
Herefordshire
£1,320.00
Shropshire
£1,320.00
Staffordshire
£1,320.00
Warwickshire
£1,320.00
Worcestershire
£1,320.00
South East
Bedfordshire
£1,080.00
Berkshire
£1,080.00
Buckinghamshire
£1,080.00
East Sussex
£1,080.00
Essex
£1,020.00
Hampshire
£1,080.00
Hertfordshire
£1,080.00
Kent
£1,080.00
Oxfordshire
£1,080.00
Surrey
£1,080.00
Sussex
£1,080.00
West Sussex
£1,080.00
London
£1,080.00
Middlesex
£1,080.00
South West
Cornwall
£1,740.00
Devon
£1,740.00
Dorset
£1,560.00
Somerset
£1,560.00
Wiltshire
£1,560.00