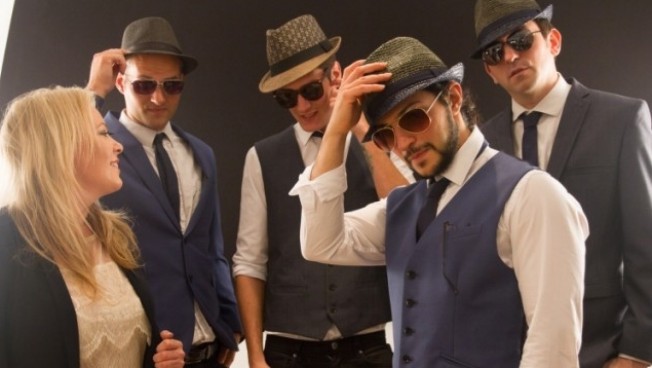 Location London
Starting from £1,200.00
The Party Crashers are a band of professional musicians based in London and Kent that are suitable for any event from weddings to corporate events. They offer a all male 4-piece service with optional extras available including a female vocalist, full brass section or acoustic sets.
With 8 hours of fantastic music on hand, The Party Crashers playlist possesses tracks from the 50s through to now - Perfect for any event!
Number of Reviews and Counting... 2!
With a repertoire consisting of artists such as Bill Haley and the Comets and Elvis to Motowns' James Brown and Stevie Wonder - right through to modern day acts such as the Kaiser Chiefs, Killers, Kings Of Leon and Daft Punk and Pharell.
The Party Crashers have worked with some of the leading artists in the industry. Band leader Matt is an accomplished musician having worked with Sony, Warner's, BBC, Channel 4, Just Jack, Lee Mead, Aswad, Madness, Jon Lyndon, Finlay Quay and Hurts to name a few. The Party Crashers drummer features on Kylie Minogue and Taio Cruz's music video Higher while the bass player has gigged the world with Michael Jackson's Thriller Live. Also if you choose the female singer option Rosie, you will be utilising a singer that has had top ten hits and been signed to major record labels.
The Party Crashers have the understanding to make arranging your event that little bit straight forward. Matt the keyboard player/singer will supply the PA and lighting and is able to play incedental music or as a duo perform an acoustic set prior to the full band. You have the opportunity to book them as a 4 piece or as a full band with a extra male vocalist, female vocals and a horn section. If you have a DJ booked, the band will touch base with them to provide you with a hassle free yet immense live music event. With much knowledge to call upon and having performed at some of the UK and Europe's most notable venues including castles and football stadiums you can be sure they will provide a nights entertainment that you and your guests will be talking about for years.
Standard Four Piece:
Drummer
Bass Player
Keyboard/ Male Vocals
Guitar / Male Vocals
The Party Crashers can alternatively provide additional options including the female singer in the pictures, a saxophonist, trumpet player, trombonist or extra male singer taking them up to a 9 piece band.
From 2010-Now
Get Lucky (Daft Punk/Pharrell)
Bruno Mars (Marry You)
Happy (Pharrell)
Moves Like Jagger (Maroon 5)
Pricetag (Jessie J)
Forget You (Cee Lo Green)
I Gotta Feeling (Black Eyed Peas)
Don't Stop Beleivin (Glee/Journey)
2000's
Sex On Fire (Kings Of Leon)
Use Somebody (Kings Of Leon)
Mr Brightside (The Killers)
Somebody Told Me (The Killers)
Human (The Killers)
Valerie (A.winehouse/M. Ronson)
Valerie (Zutons)
She's So Lovely (Scouting For Girls)
Take Me Out (Franz Ferdinand)
I Predict A Riot (Kaizer Chiefs)
Ruby (Kaizer Chiefs)
Yellow (Coldplay)
Viva La Vida (Coldplay)
American Boy (Estelle)
Take Your Mamma Out (The Scissor Sisters)
Bet You Look Good On The Dance Floor (The Arctic Monkeys)
All The Small Things (Blink 182)
Mercy (Duffy)
Dakota (Stereophonics)
Rock Star (Nickelback)
For The Lovers (Pete Doherty)
Times Like These (Foo Fighters)
Chasing Cars (Snow Patrol)
Beautiful Day (U2)
Your Body Is A Wonderland (John Mayer)
Teenage Dirtbag (Wheetus)
Last Night (The Strokes)
Rule The World (Take That)
1990's
Cigarettes and Alcohol (Oasis)
Live Forever (Oasis)
Wonderwall (Oasis)
Don't Look Back In Anger (Oasis)
Park Life (Blur)
Song 2 (Blur)
Save Tonight (Eagle Eye Cherry)
Rocks (Primal Scream)
Killing In The Name Of (Rage)
Dancing In The Moonlight (Toploader)
Are You Gonna Go My Way(Lenny Kravitz)
You And Me Song (The Wannadies)
Sit Down (James)
Weather With You (Crowded House)
I'll Be There For You (The Rembrandts)
Mr Jones (Counting Crows)
Angels (Robbie Williams)
1980's
Jump (Van Halen)
The Power Of Love (Huey lewis And The News)
Living On A Prayer (Bon Jovi)
Faith (George Michael)
All Night Long (Lionel Richie)
Freefalling (Tom Petty)
Money For Nothing (Dire Straits)
Wonderful Tonight (Eric Clapton)
Every Breath You Take (The Police)
Message In A Bottle (The Police)
Every Little Thing She Does (The Police)
Ghostbusters (Ray Parker)
M C Hammer (Cant Touch This)
Beat It (Michael Jackson)
Crazy Little Thing Called Love (Queen)
Don't Stop Me Now (Queen)
Another One Bites The Dust (Queen)
Under Pressure (Queen)
500 Miles (The Proclaimers)
Sweet Child O Mine (Guns n' Roses)
Summer Of 69 (Bryan Adams)
Heaven (Bryan Adams)
With Or Without You (U2)
Don't Stop (Fleetwood Mac)
Everywhere (Fleetwood Mac)
Walking On Sunshine (Katrina and the Waves)
1970's
Superstition (Stevie Wonder)
Let's Stay Together (Al Green)
I Will Survive (G Gaynor)
In The Summertime (Mungo Jerry)
Little Wing (Jimi Hendrix)
Sweet Home Alabama (Lynyrd Skynyrd)
Alright Now (Free)
20thCentury Boy (T Rex)
You Shook Me All Night Long (ACDC)
Long Train Running (The Doobie Brothers)
Rocking All Over The World (Status Quo)
Hotel California (The Eagles)
Love Is In The Air (John Paul Young)
The Joker (Steve Miller Band)
My Sharona (The Knack)
Smoke On The Water (Deep Purple)
American Pie (Don McLean)
1960's
Twist And Shout (The Beatles)
I'm A Beleiver (The Monkeys)
Standing There (The Beatles)
Come Together (The Beatles)
Brown Sugar (The Rolling Stones)
Satisfaction (The Rolling Stones)
You Really got Me (The Kinks)
My Generation (The Who)
Mustang Sally (Wilson Pickett)
I Feel Good (James Brown)
Build Me Up Buttercup (C.Young &The Foundations)
Stand By Me (Ben E King)
Brown Eyed Girl (Van Morrison)
Can't Take My Eyes Off You (Andy Williams)
Midnight Hr (Wilson Picket)
Grapevine (Marvin Gaye)
Rescue Me (Fontella Bass)
My Girl (Temptations)
Keep On Running (Spencer Davis)
Oh What a Night (Frankie Valli)
Proud Mary (Creedence/Tina Turner)
1950's
Jonny B Goode (Chuck Berry)
Rock Around the Clock (Bill Haley And His Comets)
Tutti Frutti (Little Richard)
Jailhouse Rock (Elvis Presley)
Amy Matthews

, Birthday Party, Oxfordshire
The Party Crashers were amazing and totally made our party the success it was. Their music had everyone dancing and I don't think my husband or I left the floor all night. Matt was extremely professional, friendly and helpful calling beforehand and calming any nerves, and answering any queries I had promptly. The band all looked great too and the lead female singer was sensational with a wonderful voice. They instigated a dance off between the boys and the girls which I am still thinking about and chuckling over now. Thank you so much Party Crashers!!!
---
Ronan and Catherine

, Wedding, Sussex
The Party Crashers band played at our wedding in Sussex and absolutely made the day. The dance floor was packed from beginning to end, and our first dance to Walking in Memphis was a complete triumph (the music anyway!). They play fun, dancing music, are exceptional musicians and great guys to boot. Highly recommended!
---
Foxtons
Premier League Football Clubs
BBC
London Zoo
Capital
Hampton Court Palace
Park Lane Hotel
Edinburgh Castle
The Natural History Museum
various locations in Europe
Do you have public liability insurance and is your equipment PAT-tested?
Yes to both points. We have public liability insurance covering up to £10 million and our equipment is PAT tested.
My venue has a sound limiter. Can you play with one of these?
Yes, we have performed in venues where there have been sound limiters many times. If you know your venue has one of these, you should let us know in advance.
How long is your interval and do you provide interval music?
Our breaks are 30-60 minutes and we will take this to coincide with your events needs. During the break, we provide music for your guests through our sound system. We can provide a laptop DJ service at an additional cost.
When is your arrival time and how long is your set up?
We will arrive at 6pm unless otherwise advised. It takes 60 minutes to set up in most venues, dependent on ease of access. Please contact Warble if you require an early set-up.
Where are you located, and will you travel for our event?
We are all located in and around London and travel the capital and home counties, we will also travel most locations in the UK.
Can we decide your playlist?
You can let us know if there are any songs you DO NOT want us to perform. However, we are very experienced at choosing the right song for the right time to keep the party going, so we would prefer to be left to do our job as well as we can by having the freedom to choose our set as to what the crowd are being receptive to on the night.
What do you require the venue to provide?
An area of 14 ft sq for 4 piece band and 20 ft sq for a 9 piece. we do require a flat level playing surface to set up on, our equipment is heavy and can move if set up on an un-level or bumpy surface. A minimum of 2 x 13 amp mains plug sockets, although more is always useful and 2/3 parking space.
Do you need food on the night?
It would be very nice if we could get a hot meal in the evening. A supply of water or soft drinks is required.
Do you have your own lights?
We have lights for the stage and can also provide lights for the dance floor at an additional cost.
Can we use your PA speakers for the speeches?
If you have co-ordinated for us to be set up early enough then absolutely, you can use our system for your speeches.
What attire will you wear?
We traditionally wear trousers, skinny jeans, white shirts, waist jackets and blue ties and sometimes trilbys. We can wear different attire if required, please let us know if you need us to wear something different for your event.
2 x 60 Minutes
3 x 40 Minutes
If you require an early start or a late finish, this can be arranged via your Warble agent at an extra cost.
Please Note: The fees indicated below are approximate and based on a central location for each county. They are intended to provide a rough guide only and exact quotes can only be given once the date and exact location of your event have been provided.
Foreign Locations
Europe
£2,040.00
Rest of the world
£2,400.00
East
Cambridgeshire
£1,200.00
Norfolk
£1,320.00
Suffolk
£1,200.00
Norwich
£1,320.00
West Midlands
Gloucestershire
£1,440.00
Herefordshire
£1,440.00
Shropshire
£1,440.00
Staffordshire
£1,380.00
Warwickshire
£1,320.00
Worcestershire
£1,380.00
Birmingham
£1,320.00
South East
Bedfordshire
£1,200.00
Berkshire
£1,200.00
Buckinghamshire
£1,200.00
East Sussex
£1,200.00
Essex
£1,200.00
Hampshire
£1,200.00
Hertfordshire
£1,200.00
Isle of Wight
£1,500.00
Kent
£1,200.00
Oxfordshire
£1,260.00
Surrey
£1,200.00
Sussex
£1,200.00
West Sussex
£1,200.00
London
£1,200.00
Middlesex
£1,200.00
South West
Cornwall
£1,500.00
Devon
£1,560.00
Dorset
£1,380.00
Somerset
£1,320.00
Wiltshire
£1,380.00
Bath
£1,380.00
Bristol
£1,320.00