Warble Entertainment's
The Swingsetters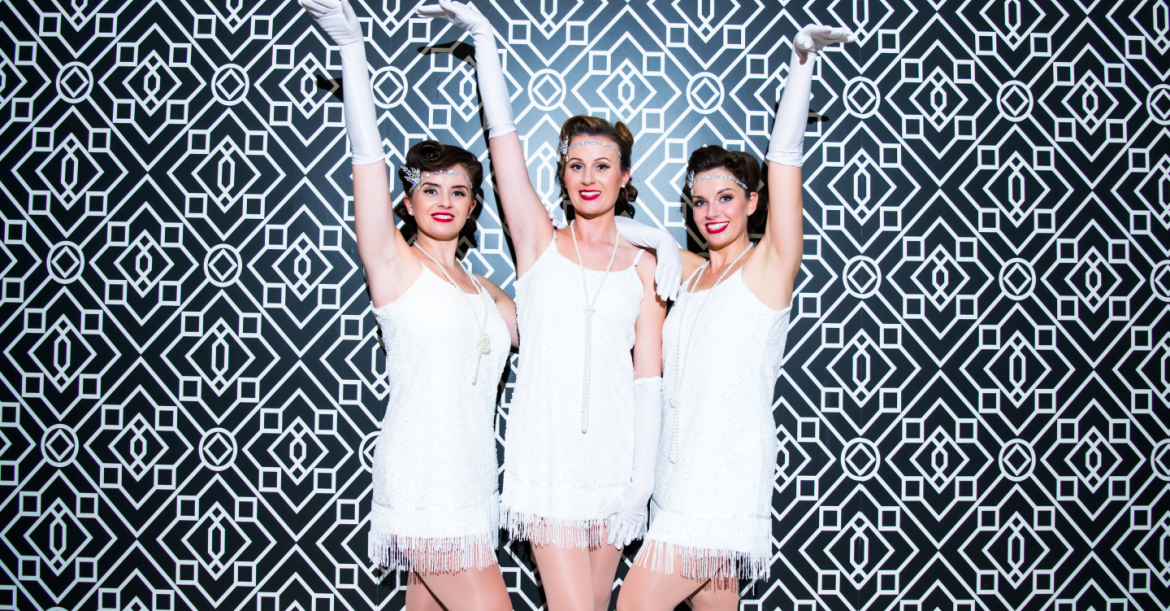 Location London
Starting from £744.00
'Putting the Zing in Swing' This stunning Vintage Trio and Jazz band will wow your guests with themed shows from the 1920's and 1940's swing eras to todays pop hits with a vintage twist. Customisable for your event, brand and budget, The Swingsetters work with backing tracks to a jazz trio or full jazz band.
25 reviews
Song List
1940's
The 1940's show is a nostalgic mixture of British Wartime such as Vera Lynn & Anne Shelton and American Swing Featuring the beautiful harmonies of the Andrews Sisters and sensational swing of Glenn Miller. With beautiful costumes and swinging choreography, The Swingsetters will make you want to 'Pack up your troubles and Smile'!
Run Rabbit Run
Goodnight Sweetheart
Straighten up & Fly right
White Cliffs of Dover
Pack Up Your Troubles
Alexanders Ragtime Band
Kiss Me Goodnight Sergeant Major
Coming In on a wing and a prayer
Lili Marlene
My Old Man Said Follow the Van
We'll Meet Again
Coming In on a Wing and a prayer
Bless em all
Bei Mir Bist Du schon
Boogie Woogie Bugle Boy
Rum & Coca Cola
Dont Fence Me In
In The Mood
Beer Barrel Polka (Roll out the barrel)
Apple Tree
Beat me daddy eight to the bar
Chattanooga
Sing Sing Sing
Cheek to Cheek
Good Morning
Modern Hits with a Vintage Twist
Dance Floor Fillers with a Vintage Twist, The Girls along with their Swinging Jazz Band get the party started with a touch of class. Wow your guests with reworked modern pop hits with a jazz twist!
All About that Bass
That Man
Fancy
Summer
Straight Up
I'm not the only one
Call Me Maybe
Night Like This
Girls Wanna Have Fun
Like A Prayer
Careless Whisper
No Diggity
What a Man
Royals
1920's
The Great Gatsby Girls perform their 1920's themed show with a live Jazz Band, it features a mixture of traditional Jazz songs from the Roaring Twenties to Modern dancefloor hits with a vintage 1920's twist!
Charleston
Puttin' on the Ritz
I Got Rhythm
Button Up Your Overcoat
Jeepers Creepers
Dream a little Dream
Minnie the Moocher
Anything Goes
It Don't mean a Thing (If it ain't got that swing)
I Wanna Be Like You
Why Don't ya do Right
Swing
Putting the 'Zing in Swing' The Swingsetters perform popular Swing and Jazz from the 40's and 50's with sensational choreography and sparkling costumes. Available with a live band or backing tracks.
Do Right
Perhaps, Perhaps, Perhaps
Sway
Under My Skin
Slow Boat To China
Night And Day
Love
I've Got My Love To Keep Me Warm
Diamonds
I Wanna Be Loved By You
Cheek to cheek
Fly me to the moon
Vintage Christmas
Step into Christmas with The Swingsetters, Celebrating the festive season with your all time favourite Christmas hits. You can mix and match the Christmas set with any of their other shows - Swing, Modern Pop, 20's or 40's.
Santa Baby
Here Comes Santa Claus
Last Christmas
White Christmas
Let it Snow
Winter Wonderland
All I want for Christmas
Baby It's Cold Outside
The Christmas Song
Blue Christmas
Have Yourself a Merry Little Christmas