Warble Entertainment's
The York Wedding Singers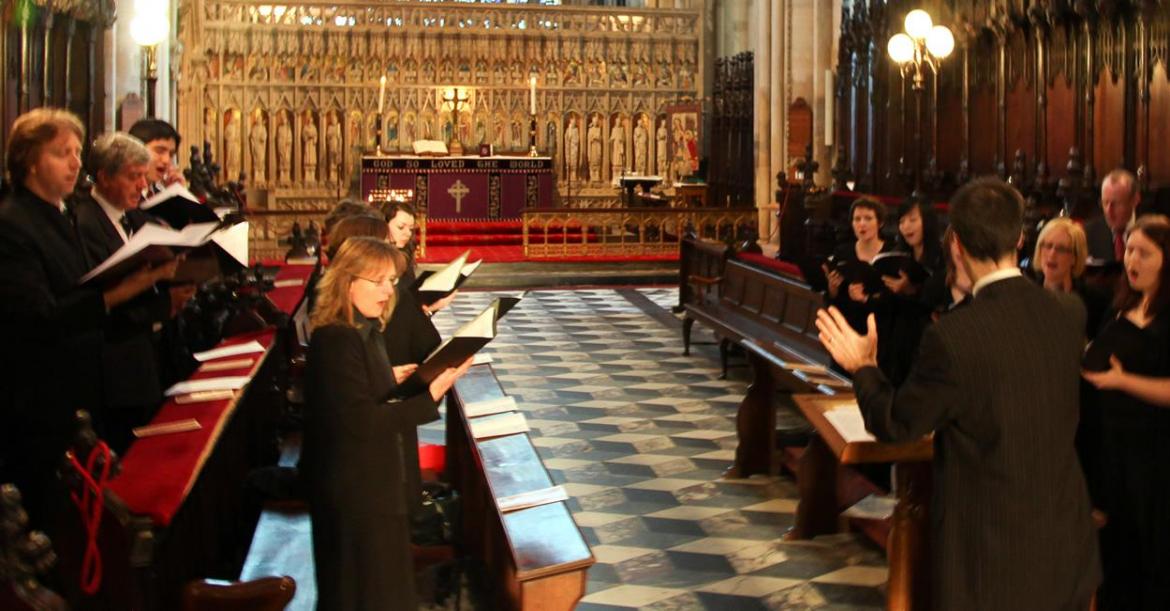 Location Yorkshire
Starting from £360.00
The York Wedding Singers are one of Yorkshire's leading liturgical chamber choirs. They bring high-quality music to churches and cathedrals in Yorkshire, and provide a specialised choral music service for church weddings. None of them makes any profit from what they do -- charges simply cover expenses throughout the year.
6 reviews
Song List
Many couples ask The York Wedding Singers for advice on what music to choose for their wedding ceremony. So they have put together a list of music they know really well and would be happy to perform. But if you're booking in plenty of time, they don't expect you to choose exclusively from this list. Except in very busy periods, The York Wedding Singers are generally happy to learn new music at your request — in fact, it's something they particularly enjoy!
The Blue Bird (Charles Stanford): an impressionistic setting of a poem by Mary Coleridge, describing a bird flying over a lake. Features a soprano soloist. The words aren't religious, and so can be used in secular ceremonies.
O Taste and See (Ralph Vaughan Williams): a short, pretty motet originally composed for the coronation of Elizabeth II. Features a soprano soloist. Words: O taste and see how gracious the Lord is: blessed is the man that trusteth in him. Great for the entrance of the bride.
Beati Quorum Via (Charles Stanford): a beautiful six-part motet whose words translate roughly as Blessed is he who walks in the way of the Lord.
Ubi Caritas (Maurice Duruflé): a well-known motet based on plainsong themes. The words translate as Where love is, there will God be also. Short and sweet.
I Was Glad (Henry Purcell): a very celebratory setting of a well-known psalm, composed by one of England's greatest musicians. The piece is about 5 minutes long.
I Was Glad (C H H Parry): another, even more famous setting of the same psalm, this time from the coronation of Elizabeth II. There's an organ part and it's quite challenging, so if you're not using The York Wedding Singers organist, you should check your organist is happy to play it.
Jesu, Joy of Man's Desiring (Bach): a popular choice for church weddings. Requires an organ.
Ave Verum Corpus (Mozart): a very famous motet on a religious theme. Requires accompaniment, but this works equally well on piano, organ or strings. Particularly appropriate if you're having a nuptial mass (i.e. communion during your service).
The Heavens are Telling the Glory of God (Haydn): a chorus from Haydn's famous work The Creation. Energetic and celebratory in tone. Requires a piano or organ (or indeed a full orchestra, if you have one lying around!).
Sing Unto God (Handel): another celebratory chorus, very well suited to weddings. The text is Sing unto God, and high affections raise: to crown this conquest with unmeasur'd praise. Also requires an organ – doesn't work so well on piano.