Warble Entertainment's
A Forties Dame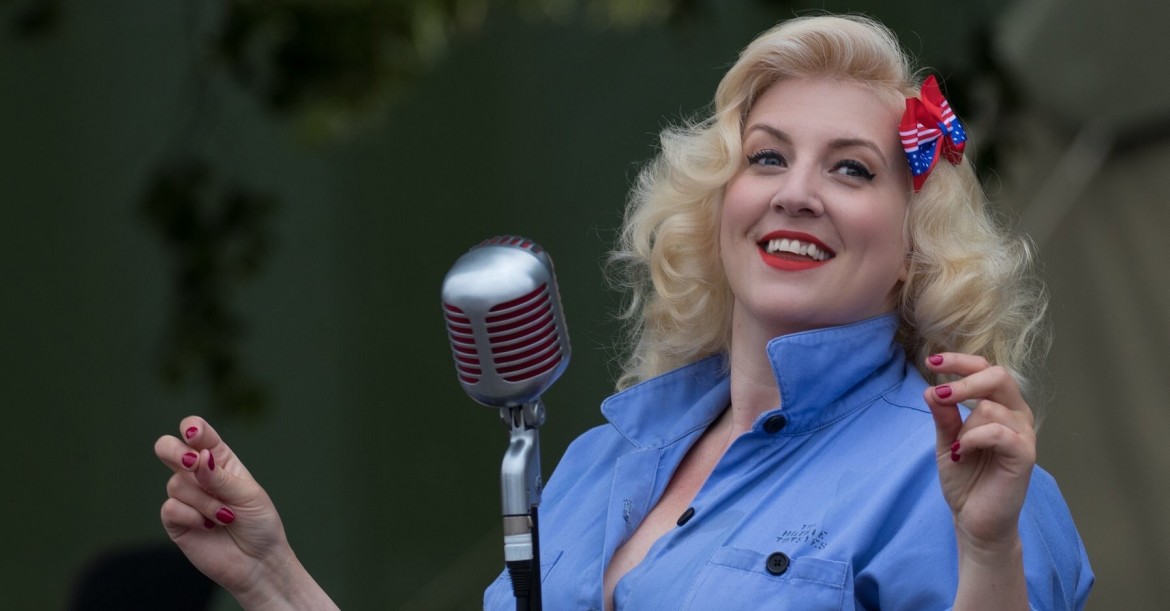 Location London
Starting from £540.00
A truly authentic 1940s cabaret act that includes comedy, audience participation and is ideal for small-medium crowds for that intimate feel. A Forties Dame will have everyone laughing and crying with her beautiful voice and comedic banter.
Also available with her amazing 4 piece band for a jazzier, more sultry show.
Think Sophie Tucker or a 1940s Bette Midler!
"A Forties Dame is a tour-de-force of entertainment. Stunning, hilarious and fantastically talented, without fail she has the whole room enraptured in her brassy, flirty in-your-lap performance. I cannot recommend her highly enough." Olly Draper - Cahoots London.
3 reviews
Song List
An example set list would include...
L.O.V.E
Let There be Love
That Ole Devil Called Love
Beat Me Daddy, Eight to the Bar
It's a Good Day
Let's Call the Whole Thing Off
New York, New York
Gee Baby, Aint I Good to You
Get Happy
Too Darn Hot
It Had to be You
Why Don't You Do Right?
Boogie Woogie Bugle Boy (of Company B)
Don't fence Me In
Button Up Your Overcoat
Ev'ry time we say Goodbye
Chattanooga Choo Choo
Let's Face the Music & Dance
How D'ya Like Your Eggis in the Morning?
Puttin' on the Ritz
Ac-Cent-Chu-Ate the Positive
Don't Sit Under the Apple Tree
Someone to Watch Over Me
I Wanna Be Like You
I Wanna Be Loved By You
That's Amore
Sway
Swing on a Star
Cheek to Cheek
Dream a little Dream of Me
Post Modern Jukebox
Single Ladies & Careless Whisper
Christmas Set (as Mrs Santa)
Winter Wonderland
Let it Snow
Last Christmas
White Christmas
The Christmas Song
Have Yourself a Merry Little Christmas
Don't Sit Under the Christmas Tree
Santa Baby
Rockin' Around the Christmas Tree
I'd Like to Hitch a Ride with Santa Claus
Here Comes Santa Claus
Santa Claus is Comin' to Town
And more!