Warble Entertainment's
Vintage Billie Williams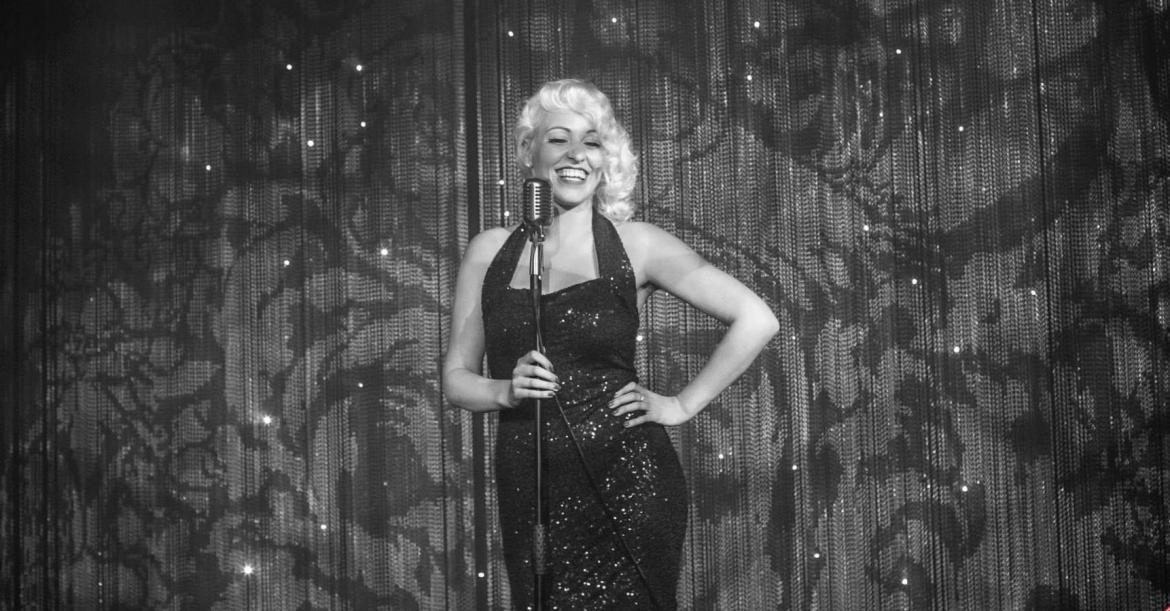 Location East Sussex
Starting from £480.00
Move over Marilyn Monroe! Vintage Billie Williams is in town and ready to dazzle!!
Have an enchanted evening filled with glamour and charisma with sassy lounge singer, Vintage Billie. Her charming smile and powerful honeyed voice will warm the hearts of your guests and keep any event alive and swinging.
Singing for venues such as the O2 Shephards Bush Empire and the Love Supreme Festival, Billie has developed quite the enamoured following. Guaranteed - she'll make you swing, sway, swizzle and swoon!
17 reviews
Song List
20's And 30's
A Tisket A Tasket Ella Fitzgerald
Bei Mir Bis Du Schon The Andrew Sisters
Black Coffee
Charleston
Cheek to Cheek
Happy days are here again Ben Selvin and the Crooners
I Got Rythm Bobby Darin
I Wanna Be Loved By You Helen Kane
I'm Gonna Sit Right Down And Write Myself A Letter
Just One Of Those Things Cole Porter
Me And My Shadow
Minnie The Moocher Cab Calloway
My Romance
Night And Day
Pennies From Heaven Billie Holiday
Puttin On The Ritz Irvin Berlin
S'Wonderful
Sing Sing Sing
Somewhere over the rainbow Judy Garland
Stomping At The Savoy Ella Fitzgerrald
The Charleston Spike Jones/Green Hill Instrumental
The Gold Diggers Song
The Lady Is A Tramp Frank Sinatra
Too Darn Hot Ella Fitzgerald
When I Get Low I Get High Ella Fitzgerald
When Your Smiling Louis Armstrong
Why Don't You Do Right Peggy Lee
Yes Sir That's My Baby
40's
As Time Goes By Frank Sinatra
Black Coffee Peggy Lee
Boogie Woogie Bugle Boy The Andrew Sisters
By The Light Of The Silvery Moon Doris Day
Cant Help Lovin' Dat Man Billie Holiday
Cheek To Cheek Ella Fitzgerald
Diamonds Are A Girls Best Friend Marilyn Monroe
Don't Fence Me In Bink Crosby
Dont Sit Under The Apple Tree The Andrew Sisters
In The Mood The Andrew Sisters
Nature Boy Nat King Cole
The White Cliffs Of Dover Vera Lynn
Tico Tico The Andrew Sisters
Too Darn Hot Ella Fitzgerald
Side By Side
We'll Meet Again Vera Lynn
You Belong To Me Vera Lynn
50's
All Shook Up Elvis Presley
Baked A Cake Eileen Barton
Beat Me Daddy Eight to the Bar The Andrew Sisters
Blue Sued Shoes - Elvis Presley
Bye Bye Baby Marilyn Monroe
Crazy Patsy Cline
Good Morning (Singing in the rain)
That Old Black Magic Peggy Lee
The Dirty Boogie The Brian Setzer Band
Fever Peggy Lee
Honky Tonk And A Merry Go Round Patsy Cline
I Fall To Pieces Patsy Cline
I Love You So Much It Hurts Patsy Cline
I Put A Spell On You Nina Simone
Jump, Jive An' Wail The Brian Setzer Band
Love Letter In The Sand Pat Boone
Mack The Knife Ella Fitzgerald
Mr Sandman The Chordettes
Music Music Music Teresa Brewer
My Funny Valentine Frank Sinatra
Old Cape Cod Patti Page
Que Sera Sera Doris Day
Secret Love Doris Day
Smile Nat King Cole
Sway Rosemary Cloony
Sweet Dreams Patsy Cline
The Deadwood Stage Doris Day
Two Little Girls From Little Rock Marilyn Monroe
Viva Las Vegas Elvis Presley
Whatever Lola Wants Sarah Vaughan
When I Fall In Love Nat King Cole
Whole Lotta Shakin' Goin On Jerry Lee Lewes
Who's Sorry Now Connie Francis
Witchcraft Frank Sinatra
Won't You Come Home Bill Bailey Patsy Cline
60's
A dream is a wish your heart makes Walt Disney Cinderella
At Last Etta James
All I could do was cry Etta James
Big Spender Peggy Lee
Bring Me Sunshine
Feeling Good Nina Simone
For Once In My Life Frank Sinatra
The Girl From Ipanema Peggy Lee Perry Ribeiro Astrud Gilberto Stan Gets
Hello Dolly Louis Armstrong
Hit The Road Jack Renee Olstead
Je Ne Vauxpas Travailler Pink Martini
Lilly Pink Martini
Misty Sarah Vaughan
Moon River Audrey Hepburn
Perhaps, Perhaps, Perhaps Doris Day
Son Of A Preacher Nina Simone
Summertime Ella Fitzgerald
The Girl From Ipanema Astrud Gilberto
Wonderful World (Piano)
You Always Hurt The One You Love Patsy Cline
80's, 90's To Present / Wedding requests
At Last Etta James/ Beyonce Knolls
Enjoy Yourself Jools Holland
For Once In My Life Vonda Shepard
Somewhere over the rainbow Judy Garland
Kissing You Des'ree
Wicked Game Chris Isaak
Love song Adele
Teenage Dream (acoustic version) Glee
A dream is a wish your heart makes Walt Disney Cinderella
Once upon a dream Lana Del Rey
Christmas Songs
I'm Dreaming of a white Xmas
Jing Jingaling Jingaling Jingaling
Let It Snow
Winter Wonderland
Have Yourself a Merry Little Christmas
Santa Baby
I Want A Hippopotamus For Christmas
I Saw Mommy Kissing Santa Claus (And Santa Claus Was Me)
Santa Claus Is Coming To Town
Here Comes Santa Claus
Zat You Santa Claus
Rudolf the Red Nosed Reindeer
The Christmas Song - (chest nuts roasting on an open fire)
Frosty the Snowman
Sleigh Ride
It's The Most Wonderful Time of The Year
O Christmas tree
Jingle Bells
It's Beginning to Look a Lot Like Christmas
We Wish You a Merry Christmas
Jingle Bells
Merry Christmas Baby
Walking in The Air
We Wish You The Merriest
Jingle Bell Rock
I'll Be Home For Christmas
Silent Night