Warble Entertainment's
Brighty The Caricaturist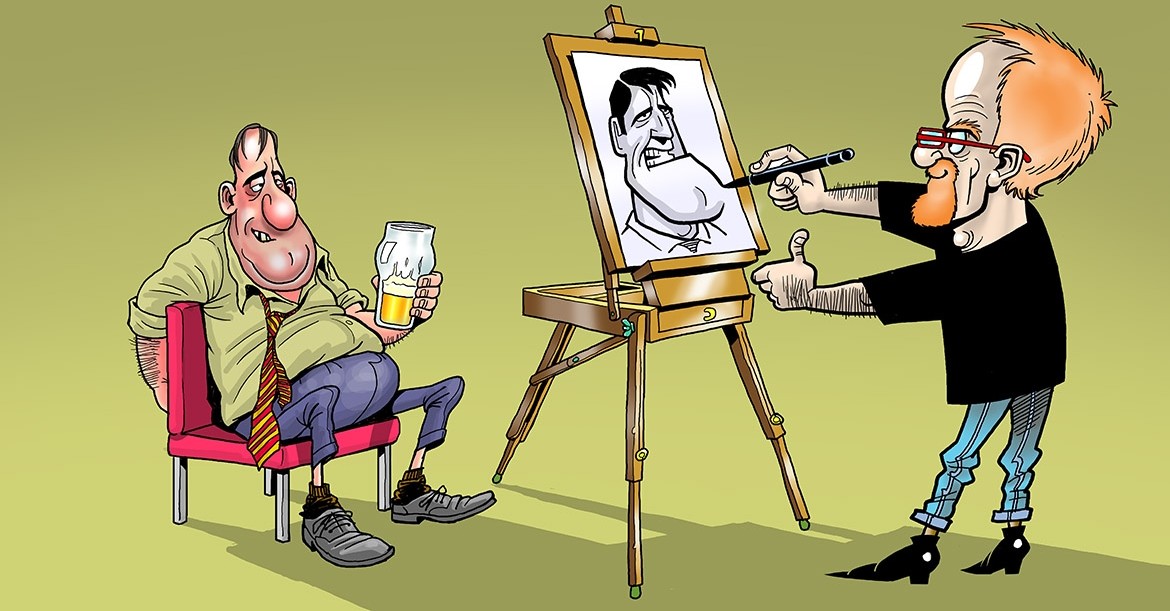 Location Perth
Starting from £216.00
Location Perth
Starting from £216.00
Introduction
Get a feel for them
Intro
Carlsberg don't draw caricatures, but if they did, they'd probably look like Brighty's...
Brighty has been drawing live caricatures since his junior school days. Back then, it earned him detention. Today, it earns him his living.
Brighty the caricaturist is available to hire throughout Scotland and northern England.
27 reviews
Brighty The Caricaturist
Number of Reviews and Counting... 27!
Brighty, is one of the UK's most successful, prolific and diverse cartoonists, having worked in the cartoon business full time since the day he left school as an 18-year old. He has produced artwork of the highest quality for a huge variety of publications, from The Beano to The Sunday Times, and currently draws editorial cartoons for The Sun. He can turn his skills to any area of cartoon or comic illustration, and is equally at home with the technological advances that see many cartoon works drawn digitally, as he is with the more traditional methods of pens and paper. Caricature has always featured prominently in his portfolio, and he is very highly regraded in this field. There's nothing he likes better than demonstrating his skills in a live atmposphere under the pressure of a ticking clock.
He credits his mum with his well-mannered approach, and his kids with his patience and gentle demeanour, and relishes the social aspect of every event, having been involved in what is otherwise a very solitary career, chained to a drawing board for decades. Happy to engage in repartee when desired, he has a wealth of stories from the world of cartooning for any sitter who choses to hear them. Ask him about Bananaman...
Claire Morrison

, Wedding, Smiths Hotel, Gretna, Dumfries-shire
A very professional service delivered by Brighty. Friendly and approachable throughout! Everyone loved his work! I would highly recommend him for any function!
---
Katie Smith

, Wedding, Edinburgh
Brighty was a fantastic artist. Easy to deal with added something really special to our friend's wedding. Would highly recommend him. Thank you!
---
Jessica Prodger

, Wedding, Shropshire
Fantastic drawings from a great, friendly and very flexible man. We and all the guests were very happy with the service and the quality of the drawings. Was amazing, thanks again.
---
Neil Waite

, Private Party, Cheshire
Brighty was simply excellent. The party guests were unaware that he had been engaged to draw for the evening. Everybody thought it was a fantastic idea and the caricatures were wonderful mementoes of a lovely party. I would thoroughly recommend engaging his services if you get the opportunity.
---
Emily Holland

, Wedding, Worcestershire
AMAZING. He was so kind and friendly. His work was absolutely JAWDROPPING. We really appreciate his hardwork and time.
---
Gary Prior

, Wedding, Shropshire
Brighty went down a hit at our wedding reception at Rowton Castle. We booked him for a three hour set from 6.30-9.30pm. There was a constant flow of people sitting from the time he started. We had been given the option to extend the session provided we gave him notice, not ten minutes before he was due to finish. I was made aware that there were people who wanted their caricature drawn, 10 mins before he was due to finish! I went immediately to speak to Brighty who kindly offered to stay for an additional one hour fee, on condition we found the people he had turned away due to time constraints, which we did. He is very professional. Brighty delivered great pictures to our guests who were delighted with their keepsake momento of our special day. He is a very talented artist, very good at relaxing the guests. Would we recommend him? You bet we would - 100%
---
Nicola Currie

, Wedding, Lancashire
Absolutely amazing! There was a queue right from the beginning. He also drew for an hour after he was meant to finish. Everyone loved their pictures and we had a lot of people disappointed that couldn't have theirs done. Thanks again for making our day so special xxx
---
Clare Taylor

, Wedding, Leicestershire
Brighty attended my daughters wedding recently and was great entertainment for all. The drawings were brilliant and everyone wanted their picture doing. So glad I booked him.
---
Celia Lawley

, Birthday Party, Shropshire
Steve is a thoroughly nice gentleman. He worked so hard throughout the evening and his caricatures were greatly received.
---
Allison Harrison

, Wedding, Cheshire
Absolutely amazing!!!!!
---
Jacqueline Samuel

, Wedding, Warwickshire
Totally fantastic! Our guests just loved Brighty and were blown away by his drawings. He was very popular indeed, so much so that we wish our budget had allowed us to hire him for the whole day! :-)
---
Sahra St John-Campbell

, Wedding, Cambridgeshire
Brighty was great, everyone loved their Caricatures! Top job!
---
Joanne Harper

, Private Party, Cheshire
One word describes Brighty, EXCELLENT!!!
---
Olivia Redgrave

, Wedding, Shropshire
Brighty was a fantastic fun addition to our wedding reception. He was a real talking point and everyone loved the pictures he created of them. He drew people from young kids up to a Great Aunt - and all of them walked away with smiles and laughter from the experience. He really put everyone at ease as he drew them and created fun pictures without ever making people feel uncomfortable about what he was capturing. Not only did the people being drawn have an experience but the process of watching Brighty put the pictures together was fascinating and he always had a little crowd watching him work. Brighty called us a couple of weeks in advance of the event to run through what we wanted and to explain what he'd need in the way of space and chairs. When he arrived he set straight up and worked solidly for three hours - an hour longer than originally booked as he was so popular. Dealing with Warble was also very easy and straightforward, responding promptly to queries and making everything clear and simple - a company that it was a pleasure to do business with. We wholeheartedly recommend Brighty to anyone who is looking for a caricaturist for their event - his easy manner and huge talent is something that will add the something special to any event.
---
Zoe

, Wedding, Shropshire
Fabulous addition to our party. Every guest was delighted with their pictures. Great guy!
---
Louisa Morris & Stephen Evans

, Wedding, Cheshire
Our Wedding was perfect in every way and Brighty was a big factor of that perfection. Not only were his drawings FANTASTIC which I know will be the discussion of many conversations to come but he is a lovely gentleman who worked relentlessly the whole time, and in addition, due to demand was happy to stay that little bit longer. Brighty drew all ages ranging from 18 months to 88 and his easy going personality was a hit with all. We can definitely be sure we will be booking him again. THANK YOU BRIGHTY. I would also like to thank Matt Warren from Warble Entertainment for making the booking process very easy. Responses to queries were very quick and the advise offered by both Matt and Brighty were gratefully appreciated. THANK YOU MATT.
---
Simon Gregg

, Wedding, Staffordshire
What can I say Brighty was fantastic, all our guests commented on how comfortable they were being drawn and loved the end results. Brighty drew all ages from my young nieces and nephews to us grown ups. Definately one of our best choices for the day, In the end there was so much demand we had to ask for him to stay an extra hour. My Wife and I couldn't Reccomend Brighty enough.
---
Helen Sullivan

, Birthday Party, Cheshire
Brighty was a fabulous addition to our event. He worked relentlessly the whole time, not taking up our offers of a break for food and drink! Everyone was so impressed with his work, and left proudly clutching their artwork. Thanks so much Brighty for what you did for us, a very special man.
---
Sharon Davies

, Wedding, Cheshire
The service we recieved from Warble Entertainment has been excellent, the whole process was quick, easy and very professional. Brighty was fantastic, the guests were thrilled to go away with such a unique gift. Brighty was originally booked for 4 hours but for a relatively small fee stayed on for an extra hour such was the demand. I would strongly recommend Brighty not only for his talent but for his easy going pleasant nature, he had a lovely way with the guests and it was just a pleasure to have him at my wedding.
---
Samantha Tame

, Corporate, Cambridgeshire
Fantastic! Brighty was great to work with, he did some amazing pictures and really helped make our event something special. We'll be certain to book him next year! Thank you very much.
---
Melissa (Solutions Diverse)

, Corporate, Leicestershire
Hi Jennie, Brighty was excellent. He did exactly what we needed and asked for with personality and flair. He himself was an interesting character that had lots of stories to tell from his early days at DC Thomson's Comics and the like. The whole team enjoyed the experience and as a result would strongly recommend Brighty to all. Thank you for a quick, prompt and professional service. "The Solution Street Kids"
---
Chris Boorman

, Wedding, Denbigh
Brighty was a great addition to our wedding day, his drawings were excellent and he was a great guy. He was that popular with our guest we asked him to stay for an extra hour and they are still talking about him now!! I would definately recommend him and our wedding venue are adding his details to their entertainment list.............. Many Thanks.
---
Jennie Whitworth

, Birthday Party, Cheshire
Hi Steve, I just wanted to write and say thank you so much for last night. Everyone absolutely loved it, my Mum was so impressed with hers and usually she's really shy about things like that but you made her feel so at ease. Also cannot believe that you stayed for so long after to make sure my partner Stu got a drawing too as he couldn't be there. I hope that you had a good time too, we really enjoyed it, I loved the whole night it really made my day. It was so cool seeing how it all works first hand and my mum is talking about booking you for our next family 'do' already so once again just thank you so much! Everyone was showing off their drawings to each other last night, and apparently even the band asked for your details!!! I will send over our photos from last night later on once we dig the camera out. Thank you again and again!
---
Kate Ross

, Wedding, Nottinghamshire
Absolutely brilliant, he even stayed an extra hour at late request!! Such a fantastic artist and man.
---
Helen Haytree

, Wedding, Staffordshire
Brighty was a great surprise for the bride and groom, who were his first sitters. Guests also commented on how good it was to have something to take away with them. What a laugh we have had this morning looking at each others, even though they were not hugely exagerated, the drawings and Brighty's skills are brill, just capturing that personal feature from each guest. Communication between your company and myself has been fast and accurate.
---
Fergus Kerrigan

, Wedding, Gwynedd
Brighty was absolutely brilliant - he helped keep our wedding going in full speed and he never stopped working all night - everyone there had not experienced this type of entertainment before so they were fascinated and he couldn't have been more charming. Please could you pass on our thanks as I do not have his email and I would certainly use your services again - thanks for you own expertise too.
---
Hayley Stallard

, Wedding, Hertfordshire
I was super impressed with Brighty he was fantastic! I booked him as a gift for the bride and groom who were thrilled. His work was amazing and I would definitely reccomend him to anyone. 100% happy thank you so so much.
---
Brighty works from a box easel in order that your guests can have a clear view of the fun, whilst building up the courage to sit for their own caricature.
His caricatures are never savage though (he leaves that for his political cartoons), and the emphasis is always on genteel, fun, cartoon portraits, rather than outrageous distortions...unless specifically requested by the sitter!
He draws to A3 size, which is twice the traditional letter size, using brush pens, and including tones to give the caricatures depth.
All drawings are protected in a clear plastic A3-sized resealable envelope, keeping them safe until you get them home.
There is no exact time per caricature - everyone is different, but Brighty has been known to complete up to fifteen caricatures in an hour. However, his priority is always on quality over quantity.
2 hours minimum performance.
Up to six hours maximum.
Please Note: The fees indicated below are approximate and based on a central location for each county. They are intended to provide a rough guide only and exact quotes can only be given once the date and exact location of your event have been provided.
Scotland
Aberdeen
£288.00
Inverness
£300.00
Perth
£216.00
Sutherland
£288.00
Ayrshire
£300.00
Fife
£228.00
Stirlingshire
£240.00
West Lothian
£252.00
Dumfries-shire
£312.00
East Lothian
£276.00
Lanarkshire
£276.00
Midlothian
£264.00
Glasgow
£264.00
Edinburgh
£264.00
Dundee
£240.00
North East
Durham
£360.00
Northumberland
£336.00
Tyne and Wear
£360.00
North West
Cumbria
£420.00
You may also like
Customers who have enquired for Brighty The Caricaturist have also been interested in the following Cartoon Artists who are also available in Shropshire and in The Midlands. For more information or further options, please call 0845 643 9384.