Warble Entertainment's
Chris The Caricaturist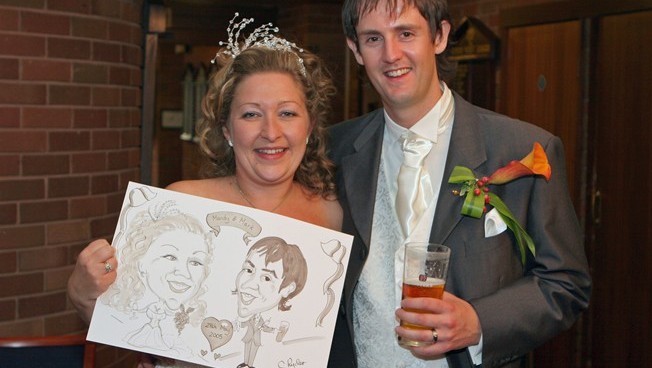 Location Shropshire
Starting from POA
Location Shropshire
Starting from POA
Introduction
Get a feel for them
Intro
Chris has been working as a caricature artist for 10 years at venues throughout the UK and has steadily gained more and more popularity.
Chris is a delightful lady who you will find a pleasure to work with whether it is at your function or working with her on your own project.
She is based in the Midlands which makes her ideally placed for many locations for On Site work.
Chris regularly works in Birmingham, Manchester, Solihull, Worcester, Shropshire, Stafford and London. She will travel to any location within the country.
*Chris is available for a variety of location work such as weddings, parties, special events, charity functions, corporate events, balls and dinners*
11 reviews
Chris The Caricaturist
Number of Reviews and Counting... 11!
Chris The Caricaturist has been an 'on-the-spot' event caricature artist for over eight years. Based in the Midlands she is ideally placed to easily reach locations throughout the UK and travel far and wide, mainly working at weddings, corporate events such as balls and dinners, trade fairs, company launches, shopping centres and parties for all ages from kids up to adults.
Chris The Caricaturist loves entertaining people with her drawings and will mix and mingle amongst partygoers. Chris will listen to what they say and try to capture that in a drawing. It's a great icebreaker and will get your guests laughing about their pictures!
Caricatures take 5-6 minutes, so during the time you get a lot of unique pictures drawn. Chris The Caricaturist can draw guests with a big head and a little body or doing a hobby or pastime they enjoy! The caricatures are humorous, life-like but not offensive! Also available are individuals, couples and small groups.
For a wedding, depending on what best fits your day Chris The Caricaturist can draw after the wedding ceremony, maintaining the continuity of the day or at the evening reception.
At a Trade fair it will attract people to your stand giving you the opportunity to talk to them.
Chris The Caricaturist will present the artwork in a wallet for guests to take home (a great memento of a party, wedding or corporate event).
Cost includes all the drawing work carried out during your event and there is no extra charge to your guests.
Jessica Arnold

, Wedding Event, Dewsall Court, Hereford, Herefordshire
We hired Chris for 2 hours for our wedding in Jan 2018 she was a great hit with our guests. Her drawings are brilliant and she is so lovely. Very reliable, she turned up on time and her communication before the wedding was excellent. I arranged for Chris to do a portrait of myself and my husband as a surprise for him which I gave him on the wedding day. This was all done from a photo. It's also a great idea as your guests can sign it, a wonderful keepsake.
---
Aisha Valli

, Private Party Event, Leicestershire
Great lady, very friendly and accommodating. X
---
Paula Green

, Private Party Event, Cheshire
Hi Nicola, Just to Thank You for your help, my enquiry was dealt with very swiftly, efficiently and very easily. You came back to me within 24 hours with a choice of two Caricaturists and we chose Chris The Caricaturist, she visited our home for our sons 21st party. There was a mix of age groups and we wanted something that would help the different age groups mingle a little bit. Chris did just that!! Everyone wanted a picture to take home, even the 21 year olds, it caused such a stir and lots of laughter as everyone wanted to see what the end result was, it was great fun. It's now three days after the party and I am still receiving texts to thank us for such a great night and that having Chris there was a fantastic idea. I have passed your details onto lots of people already including the local Cricket Club. Thank you so much for helping us make the night such a success.
---
Mark Groves

, Birthday Party Event, Worcestershire
We would like to take this opportunity to thank Chris for the wonderful work she produced throughout the whole evening at our joint 50th birthday bash. She arrived as planned got stuck in and kept everyone amused and entertained all night. Both of us would have no hesitation in using her services again and would recommend her to anyone needing someone with her artistic talents. Many thanks Chrissy, Mark & Jan Groves.
---
Pauline Powell - Shepherd Engineering Service

, Corporate Event, Lancashire
We were all delighted with Chris not only was she very good at what she did she blended in very well with all the staff and clients alike. Please pass on our best wishes to Chris and if we hold a similar event again we will be in touch. Also, thanks to your company for all the assistance with the booking. Regards, Pauline
---
Margaret Joyce

, Private Party Event, Merseyside
Just to say thank you to the caricaturist Chris who was at our party on Saturday. She arrived on time, was so patient with her permanent queue of people - it was a great talking point. She was fantastic and the next day there were so many of her pictures she had completed on Facebook it was amazing. Thank you so much, she is thoroughly professional, very talented and highly recommended.
---
Linda Lycett

, Wedding Event, Worcestershire
Chris thank you for your work at our wedding. All our guests thought you were fabulous and your drawings were great. You were so accommodating and also warm and friendly. Thank you again. Linda & Johnny
---
Cathy Watts

, Charity Event, Lancashire
Chris was lovely and produced some great pictures for our team.
---
Andy Forbes

, Birthday Party Event, Cheshire
We had a great 40th birthday party for my wife and Chris did us proud on the night!! The prep was done in good time and Chris pitched up very punctually with the super pre-prepared drawing on a mounted board! She adapted very smoothly to the party theme, I'm not sure how many pictures were done but it was lots and everyone was really happy with their pictures - SO THANK YOU CHRIS!! We say "book her you won't be disappointed"!! Thanks very much also for your quick and efficient locating and booking service, I've dropped your details to my wife who runs a Concierge company and has to deal with a lot of party planning and so on, so you may get a little bit more business from that angle too. Andy and Lisa Forbes
---
Sara Fergusson

, Wedding Event, Yorkshire
Chris was brilliant!
---
Pam Lawrence

, Birthday Party Event, West Midlands
Hi Matt, Well, where can I begin.... Chris was wonderful! She arrived promptly, got set up and started straight away. We had planned that she'd mingle with the guests, but a queue formed and she couldn't get away all evening! I did intervene at one point and insist she had a break and got something to eat, which she did, but she was certainly in demand and everyone was thrilled with their cariacatures, particularly my children! My only (very minor) disappointment was that my husband didn't get his done as we just ran out of time, but never mind :-). Had she been there 5 hours she would have still had a queue I suspect! Chris is a lovely lady, she was friendly & chatty and made everyone feel comfortable, I would have no hesitation in recommending her to anyone. Would you please pass on my thanks to her for helping to make a wonderful, memorable evening and thanks also to you for recommending her.
---
Your marriage ceremony is so special and we are sure you are looking for many ways to make it even more so. With Chris in attendance your day will be enhanced at all times as she amuses and entertains your guests with her caricatures.
Chris can start whilst photographs are being taken, or in that lull after the wedding breakfast before the nights fun starts, or she can come along for the evening. Chris is flexible and can fit in to meet the schedule of your day. In this time she will wander around your guests chatting to them and encouraging them to have their caricatures drawn.
Children especially love to be drawn and it is not unusual for Chris to have an audience of children who love to watch.
Each drawing takes around 5 - 6 minutes to complete and will look similar to those on the right. Your guests, of course, keep their drawings as a memento of your day, as Chris presents each guest with their picture in a plastic wallet.
The usual engagement at a Weddng, Party or Corporate Event is 3 hours.
Please Note: The fees indicated below are approximate and based on a central location for each county. They are intended to provide a rough guide only and exact quotes can only be given once the date and exact location of your event have been provided.
You may also like
Customers who have enquired for Chris The Caricaturist have also been interested in the following Caricaturists who are also available in Telford, Shropshire and in the Midlands. For more information or further options, please call 0845 643 9384.