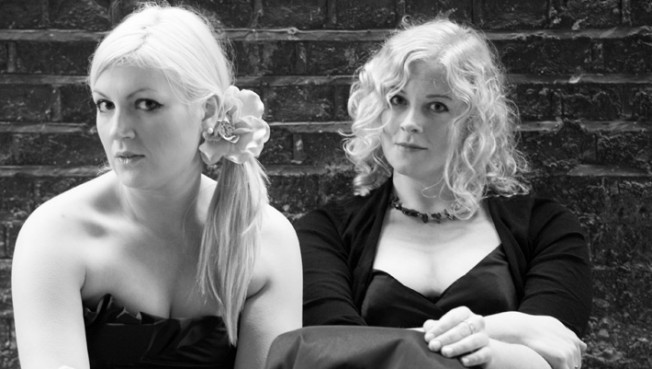 Location London
Starting from £360.00
The Felice Cello Duo features 2 Cellos and adds style and sophistication to any special event.
Felice Cello Duo believe that every event is unique, and are more than happy to discuss specific music requests and arrange any music for your special event.
Number of Reviews and Counting... 7!
Felice Cello Duo came about when Jenny and Leah met in 2007 in the picturesque hill-top town of Montepulciano, Italy. On discovering how well the sound of their two cellos worked together, the pair decided to find a way to work together more often.
Felice Cello Duo believe that every event is unique, and are more than happy to discuss specific music requests and arrange any music for your special event.
Classical & Folk
Albinoni - Adagio
Aubert - Siciliene
Bach - Air from French Suite 4
Air on the G String
Arioso
Bourree from English Suite 1
Bourree from French Suite 6
Gavotte from French Suite 4
Gigue from French Suite 4
Jesu, Joy of Man's Desiring
Minuet
Minuet (Anna Magdalena Notebook)
Polonaise from French Suite 6
Sheep May Safely Graze
Wachet auf
Bach-Gounod - Ave Maria
Bartok – Round Dance (For Children)
Beethoven – Ode to Joy (Symphony No. 9)
Boccherini - Minuet
Brahms - Hungarian Dance No.5
Lullaby
Buckley – Autumn Song
Camilleri – Lamento Pacis
Charpentier - Prelude from Te Deum
Chedeville - Merry Dances
Clarke - Trumpet Voluntary
Corelli - Two Adagios
Cramer – In Memoriam
Dvorak – Theme (New World Symphony)
Elgar – Chanson de Matin
Elgar – Salut d'Amour
English folk song – Greensleeves
Scarborough Fair
Faure - Pavane
Gluck - Che Faro Senza Euridice? (Orfeo ed Euridice)
Grieg - In the Hall of the Mountain King
Norwegian Folk Dance
Handel - Air from Water Music in F
Allegro from Suite 7
Aria from Suite 14
Bourree from Water Music in F
Entrance of the Queen of Sheba
Hornpipe from Water Music in D
Hornpipe from Water Music in F
La Rejouissance from Royal Fireworks
Haydn – 4 Duets for Cello
Andante Quasi Allegretto ('Military' Symphony No. 100)
Echo
Quadrille
Hook - Minuet
Humperdinck – Evening Prayer (Hansel and Gretel)
Irish folk song – The Last Rose Of Summer
Israeli song – Zum Gali Gali
Kodaly – Duo No. 7 from Fifteen Duos
Lully - Au Clair De La Lune
de Machaut – Virelai
Massenet - Meditation from Thais
Mendelssohn - Wedding March
Mouret - Rondeau
Mozart – 12 Easy Duets
Allegro
Canon Inversus
Che Soave Zeffiretto (The Marriage of Figaro)
Das Klinget So Herrlich (The Magic Flute)
Drei Knabchen, Jung, Schon, Hold Und Weise (The Magic Flute)
Duet
March Of The Priests (The Magic Flute)
Minuet in Canon
Non Piu Andrai Farfallone Amoroso (The Marriage of Figaro)
Presto Presto Pria Ch'ei Venga (Don Giovanni)
Vivat Bacchus, Bacchus Lebe (Il Seraglio)
Wer Ein Liebchen Hat Gefunden (Il Seraglio)
You Who Trifle With Love (Don Giovanni)
Zum Ziele Fuhr Dich Diese Bahn (The Magic Flute)
Offenbach - Andante
Pachelbel - Canon
Pallis (arr.) - Renaissance Tunes
Pleyel – Duetto
Purcell - Lost is My Quiet
Trumpet Tune
Raff – Scherzo
Rameau - Two Rigadons
Saint-Saens – The Swan
Scarlatti - Pavana
Schubert - Ave Maria
Landler
Wiegenlied
Schumann - Die Beiden Grenadiere
First Sadness
Melody
Traumerai (Scenes from Childhood)
Scottish folk song – Lewis Bridal Song
Spanish song – Stella Splendens
Spiritual – Swing Low Sweet Chariot
Stravinsky – Lento and Allegro (Les cinq doigts)
Tchaikovsky – The Hurdy Gurdy Man
Waltz (Swan Lake)
Telemann - Allegro from Fantasia 2
Allegro from Fantasia 4
Gavotte / Bourree from Dance Suite in F
Larghetto
Minuet from Fantasia 8
Minuet / Andante / Gigue from Dance Suite in G
Moderato from Fantasia 11
Traditional - Mexican Hat Dance
Simple Gifts
Twinkle Twinkle Little Star
Happy Birthday
Verdi - Aria from Rigoletto
Vivaldi - Largo from Four Seasons, Winter
Wagner - Bridal Chorus (Wedding March)
Weber – Barcarole (Oberon)
Bohmischer Walzer (Der Freischutz)
Jagerchor (Der Freischutz)
O Lest Den Dank In Diesen Zahren (Der Freischutz)
Jazz & Popular Music
Aguilera- Beautiful
Abba – I Have A Dream
Mamma Mia!
Albeniz - Capricho Catalan
An American Tale – Somewhere Out There
Atomic Kitten- Eternal Flame
Beatles- Yesterday
Boyzone- No matter what
Britney Spears- Oops!...I did it again
Canaro – Se Acabaron Los Otarios (Tango)
Tiempos Viejos (Tango)
Carpenters- Close to you
Churchill arr. J Hepple - Someday My Prince Will Come
de Dios Filiberto – Cuando Llora la Milonga (Tango-Cancion)
Mentias (Tango)
Coldplay- Clocks
Desmond arr. J Hepple - Take Five
Ellington arr. J Hepple - It Don't Mean A Thing
Ellington / Jobim arr. J Hepple - A Train / The Girl From Ipanema
Flores – A la luz del Candil (Tango-Cancion)
Gardel – Tango Cello Duets – Melodia de arrabal
Por una cabeza
Volver
El dia que me quieras
Mi Buenos Aires querido
Gershwin – Let's Call The Whole Thing Off
Oh, Lady Be Good
Gershwin arr. J Hepple - Embraceable You
Fascinating Rhythm
I Got Rhythm
Someone To Watch Over Me
Summertime
'S Wonderful
The Man I Love
Howard arr. J Hepple - Fly Me To The Moon
Jobim arr. J Hepple - Chega De Saudade
Dindi
Kepler-Lais – La Cieguita (Tango-Cancion)
Kosma arr. J Hepple - Autumn Leaves
Legg – Habanera
Waltz
Ragtime
Blues
Rhythm Rag
Cabaret
Carnival Rag
Lullably Blues
Micro Waltz
Ragtime Doll
Loesser arr. J Hepple - If I Were A Bell
Mary Poppins – Chim Chim Cher-ee
Supercalifragilisticexpialidocious
Melua- The closest thing to crazy
Monk arr. J Hepple - 'Round Midnight
Minogue- Can't get you out of my head
Norah Jones- Don't know why
Porter arr. J Hepple - I've Got You Under My Skin
Righteous Brothers- Unchained melody
Robbie Williams- She's the one
Rodgers & Hart arr. J Hepple - My Funny Valentine
Sclub 7- Don't stop movin'
Shearing arr. J Hepple - Lullaby Of Birdland
Spice Girls – Stop!
Teisseire – Calandria (Tango-Cancion)
The Aristocats – Ev'rybody Wants To Be A Cat
The Sound of Music – My Favourite Things
The Lonely Goatherd
Westlife- I have a dream
Whitney Housten- I will always love you
Zehm – Ragtime
Tango
Polka
Langsamer Walzer
Zweifacher,
Black-Bottom
Tarantella
Other Music
Albeniz 3 Pieces for 2 cellos
Bartok 18 Duos
Boccherini Sonata in C major
Boismortier 6 Sonatas for 2 Cellos
Boismortier Sonate
Boismortier Sonata in D major op.L/3
Danzi Sonate I
Danzi Sonate II
Danzi Sonate III
Dotzauer Twelve Duets Op.63
Dotzauer Trois Sonates Op.103
Dragonetti Duetto
Cambini 6 Duos
Escudero Bulerias (Flamenco)
De Fesch Sonata op.XIII/4
Gliere 10 Duets
Kummer 6 Duets
Mozart Sonata (Duo)
Offenbach 6 Duos
Popper 15 Etudes
Romberg 3 Sonaten Op.43
Viotti 3 Duos Concertants Op.29
Vivaldi Concerto in G minor
Paul King

, Wedding, The Abbot's Fireside, Kent
Leah and Jenny were excellent, and complimented our evening perfectly. They accommodated all our music choices and were very flexible in how we arranged the evening. My only regret is that I was so tied up in spending time with our guests that I didn't manage to sit for long to just listen! Glorious sound!
---
Adam Hedley & Bonnie Brand

, Wedding, The Union Club, London
The ladies were professional, lovely and were very accommodating with having to change rooms in order to play where the guests were located. The music was just as I expected and I wouldn't hesitate to book Felice Cello Duo again.
---
Rob Pain

, Wedding, Rowhill Grange, Kent
Easy booking process and Felice Cello Duo were very polite, talented and a perfect background to our big day.
---
Helen Wickes

, Wedding, Kent
Felice Duo were great! We were aiming for a classy and elegant wedding in the settings of a beautiful house and gardens and Felice Duo helped us achieve that. All of our guests were commenting on how wonderfully they played the cello and what a lovely instrument it is to listen to. Leah also was very helpful when it came to us choosing the music we wanted for the ceremony because we were clueless!! The suggestions she gave us were brilliant. They helped towards making our day perfect! We would highly recommend them. Helen & Dean
---
Laura Stephenson

, Wedding, Surrey
Great mix of songs that were beautifully played and added to the mood without being intrusive. Guests commented on how lovely the music was.
---
Angi Sowerby - 10 QOGLR

, Military Event, Hampshire
Very good entertainment and a nice change from a band. 100% recommendation for 10 QOGLR mess. Thank You.
---
Kiera Duggan

, Wedding, West Sussex
Absolutely brilliant. Played great ambiance pieces, all the wedding guests loved the extra touch that the cellos brought. So easy to arrange times and length they played. Would highly recommend to anyone for any occasion.
---
Grosvenor House Hotel, Park Lane
The Hilton
The Dorchestor
Claridges
The Ritz
BBC Radio Wales
Houses of Parliament
Buckingham Palace
The Dragon Hotel
Clarendon Hotel
2 x 45 minute sets
2 x 60 minute sets
3 x 45 minute sets
3 x 60 minute sets
Other times negotiable
Please Note: The fees indicated below are approximate and based on a central location for each county. They are intended to provide a rough guide only and exact quotes can only be given once the date and exact location of your event have been provided.
North West
Cheshire
£480.00
Cumbria
£480.00
Manchester
£480.00
Lancashire
£480.00
Merseyside
£480.00
East Midlands
Derbyshire
£480.00
Leicestershire
£480.00
Lincolnshire
£480.00
Northamptonshire
£480.00
Nottinghamshire
£480.00
Rutland
£480.00
East
Cambridgeshire
£360.00
Norfolk
£360.00
Suffolk
£360.00
Wales
Brecon
£480.00
Carmarthen
£480.00
Glamorgan
£480.00
Monmouth
£480.00
Pembroke
£480.00
West Midlands
Gloucestershire
£480.00
Herefordshire
£480.00
Shropshire
£480.00
Staffordshire
£480.00
Warwickshire
£480.00
Worcestershire
£480.00
South East
Bedfordshire
£360.00
Berkshire
£360.00
Buckinghamshire
£360.00
East Sussex
£360.00
Essex
£360.00
Hampshire
£360.00
Hertfordshire
£360.00
Isle of Wight
£480.00
Kent
£360.00
Oxfordshire
£360.00
Surrey
£360.00
Sussex
£360.00
West Sussex
£360.00
London
£360.00
Middlesex
£360.00
South West
Cornwall
£420.00
Devon
£420.00
Dorset
£420.00
Somerset
£420.00
Wiltshire
£420.00