Warble Entertainment's
Fire Performers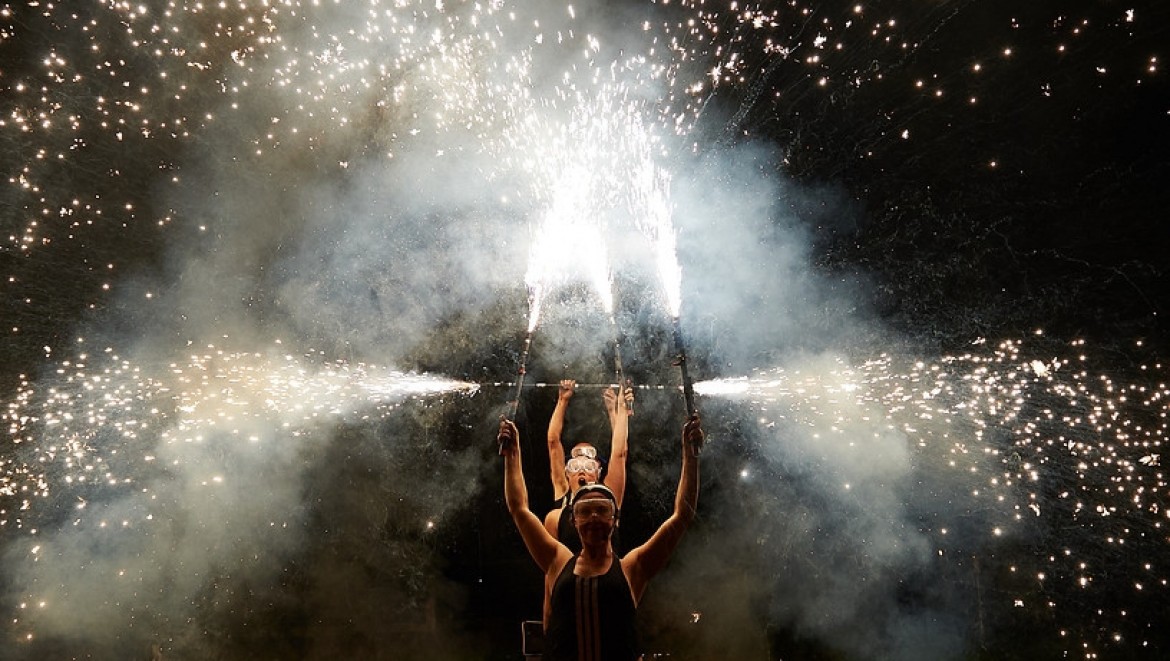 Location Cambridgeshire
Starting from £474.00
Location Cambridgeshire
Starting from £474.00
Introduction
Get a feel for them
Intro
Professional fire performers available for hire all over the UK and internationally. Solo or group fire shows, freestyle performances, or meet and greet fire acts to entertain your guests.
The whole team is highly skilled in a wide variety of techniques including fire eating, body burning, fire juggling and pyrotechnics.
40 reviews
Fire Performers
Number of Reviews and Counting... 40!
Fire entertainment adds a unique and exciting element to events from weddings to corporate functions.
If you are planning an event, wedding or party why not book some fiery entertainment? These highly skilled and death-defying performers can deliver solo or groups shows that will amaze and astound!
From private parties to huge corporate events, the Warble team can supply you with fire entertainment to suit your needs perfectly.
What can I expect?
World class fire entertainment for you and your guests
Hassle free delivery from Warble and our fire performers
Reassurance that you are booking qualified and experienced professionals who's first priority is audience safety
Direct contact with performers if required to make your event stand out from the crowd
Full insurance cover
Solo and group fire performances with a wide variety of skills - all shows come with the option of a Pyrotechnic finale
Andrew Oakley

, Wedding Event, Homewood Park, Wiltshire
Great show everyone loved it - great finale.
---
Amanda Blandford

, Wedding Event, Combermere Abbey - Cheshire, Cheshire
Wow, totally unexpected, Simon was out of this world!!! He was totally amazing, every guest was blown away by the performance!!! Thank you so much. Definitely recommend him, and worth every penny. Thank you, Andy and Amanda xxx
---
Hannah Johnson

, Wedding Event, Tunnels Beaches, Devon
Brilliant show. Lots of effort made, extra time and we loved the finale that involved us lighting the heart. Thanks so much!
---
Johnathan Matthews

, Birthday Party Event, Yorkshire Wildlife Park, South Yorkshire
Absolutely professional and AMAZING!! My guests were blown away and the fire entertainer was so, so patient and accommodating. Thank you so much!!
---
Sophie Bennett

, Charity Event, West Yorkshire
Josh was really great to work with. Really laid back and just got on with practicing once he knew his performance area. I would definitely book again!
---
Markus Wilder

, Charity Event, Wingham Wildlife Park, Kent
The fire performance for our charity fright night - a family halloween event was carried out by a Fire Performer who put on 3 amazing shows. We found her to be incredibly easy to talk to, easy going, professional and above all an amazing performer. She was certainly worth every penny, making sure that everyone who watched the shows was able to get the most out of them. She made the shows interactive and fun, adding a whole new dimension to our long running charity event. We wouldn't hesitate to book her again.
---
Rebecca Crane - Reading University

, Venue Club Event, Reading SU, Berkshire
Lovely and smiley! Did a great job and kept the crowds entertained!!
---
Catherine Mcgill

, Private Party Event, Cannington Grange, Somerset
It was a great spectacle that really made a memory.
---
Alexandra Hough

, Wedding Event, Thornton Manor, Cheshire
Amazing!!! Totally made our day and if we could do it all over again we certainly would. Thank you so much.
---
Eve-Marie Allan - Lookers Skoda

, Corporate Event, Skoda Centre, Manchester, Manchester
What an amazing act and fabulous guy all round. Will definitely book again.
---
Becky Peter - CGC Events

, Venue Club Event, West Yorkshire
Thank you to the fire performers that performed at the Christmas parties at Pontefract Racecourse in 2016. Our guests were very happy with the performance as were our managers. It was a very easy service to book and organise. Please also thank Lois for being so accommodating and helpful throughout the booking process.
---
Kerry Taylor

, Corporate Event, Birmingham
Brilliant entertainment, fantastic service.
---
Finley Tait

, Private Party Event, Oxfordshire
Great performance, would hire again!
---
Adam Saron

, University / School Event, London
Els and James were very professional throughout. They were diligent in setting up and making sure that spectator safety was a priority. There is no doubt that they also fully captivated the audience during both their sets.
---
Charlotte Gore - Tropical Birdland

, Festival Event, Leicestershire
Rob, our fire performer for our Halloween event was excellent. He involved the crowd and performed a very good show. We were impressed with his set up and the show overall. Many thanks.
---
Grace Ho

, Wedding Event, Durham
Andy was great! He worked the crowd and all the guests loved it. Andy was professional, fun and entertaining. More than what we could ask for. Thank you so much!!
---
Jane Kaufmann

, Wedding Event, Norfolk
Andrew (Fire Performer) was brilliant/amazing. Our guests were all transfixed by his performance and loved it - he was just fantastic and kept his audience spell bound! This was all the more incredible as the venue admitted it was their problem but there was no sound system as although they were in direct contact they had not told him or me that they have no license for any outside performances where any noise is made. So he did his performance with no electronic aids apart from the most responsive audience. Thank you again for your fantastic competence and professionalism and for being a real pleasure to work with. We have already recommended you to a couple of friends and have given your and Andrew's details to Briony at Hales Hall as she wanted to add you both to her preferred service provider list. Please give me Andrew's email so that I can thank him direct. Thank you again, Jane
---
Sue Taylor - Commonweal School

, University / School Event, Wiltshire
The artist certainly lived up to expectations. Andy was friendly, punctual and professional. He was clear and decisive in planning and explaining his act to suit the venue, took great care to fulfil H&S requirements (especially important when entertaining nearly 200 16-year-olds) and the performance was amazing! Thanks!
---
Zoe Gasper

, Wedding Event, Buckinghamshire
Fabulous show, worth every penny. We really enjoyed the performance Andy did. He interacted well with the guests during the meet and greet and provided us with an amazing performance later in the evening. He contacted us before the event and went through all our requirements. The whole process of booking was very professional and easy to do. Definitely worth the extra for the fire finale.
---
Naomi Johnson

, Wedding Event, Wiltshire
Fantastic performance, Andy adapted to the smaller area no problems, no fuss. The performance was fun, entertaining, dazzling just all around perfect. Would not have improved the act whatsoever - just a shame about the performance area change by the venue.
---
Simon McEnery

, Private Party Event, Wiltshire
Not only charming but very talented, and a great entertainer. We've had lots messages from very happy guests already. Thank you!
---
Sophie Austin - Wellingborough School

, Private Party Event, Northamptonshire
To Warble Entertainment, thank you so much! Last Friday we, at Wellingborough School, held a Circus themed dinner for which I hired two of your performers. The entire process of initially enquiring, through to watching your performers at the event was so hassle free and easy. The service I received from Ben was extremely helpful and he was able to give advice and information on the entertainment for which I knew little about. Both 'Fire Performers' and 'Mathew the Magician' completely blew all of our guests away and made the night so memorable. Not only did Mathew leave our guests truly amazed but he charismatically worked the room with such comfort. Simon from 'Fire performers' gave a thrilling and fun performance which was the pinnacle of our evening. He firstly brought his stilts in addition to the fire equipment and he also went on to breathe fire despite me agreeing that it was okay for him not to as he had expressed the danger of it. Simon's Pyrotechnic finale (recommended and explained by Ben) was absolutely spectacular! The show exceeded my expectations by far. Both performers gave not only amazing performances but were a pleasure to have at the event. We certainly were given value for money in both performers! I need to speak to the photographer of the event but I should soon be able to send some photo's taken from the night of both performers. Thank you again for such a positive experience.
---
Vish Naik - Priory School

, University / School Event, Cambridgeshire
All in all fantastic... very well received!
---
Richard Paganuzzi

, University / School Event, Hampshire
I didn't see the performance myself but the feedback I got was that the children and parents who watched it enjoyed it.
---
Cora Hansen

, Festival Event, Cumbria
What a great entertainer engaging with all our guests making his show have a fun vibrant edge as always. All our guests commented on how good he was. I will definitely be booking for next years event.
---
Carl Lee

, Festival Event, North Yorkshire
It was fantastic entertainment enjoyed by over 200 people. I was reluctant to spend over £400 pounds for a 20 minute act however it was worth every penny and I wouldn't hesitate to book again through this company (& I will be for next year).
---
Jon Twigg

, Festival Event, Flint
Tim provided us with a spectacular fire show and some fantastic interaction with the crowd. We had nothing but great feedback from the 200+ Harley Davidson fans at our event.
---
Jane Miller- BDO LLP

, Corporate Event, Hampshire
Absolutely amazing! Was captivating and interactive with the audience and performed a great act that had everyone mesmerized. Andy was really pleasant and friendly and would highly recommend him.
---
Isabelle Edward

, Birthday Party Event, Dorset
The show was fantastic! It really added another dimension to our Great Gatsby party. The performer was very professional. We loved the finale! Highly recommended!
---
Colin Flounders

, Private Party Event, Cornwall
Fire performer was really good, all the guests loved it!
---
Mark Penn - William Morgan Group

, Corporate Event, Oxfordshire
Top chap and really added an extra edge to our launch! Thank you
---
Rod Wood (Leeds City Council)

, Festival Event, West Yorkshire
A brilliant show organised by an excellent Agency. Will be back next year to re-book.
---
Abbie Fido (Creation Media)

, Corporate Event, Carmarthen
The show was excellent and everyone really enjoyed it, definitely lived up to our expectations.
---
Molly Gould and Annie Dempsey (Signal Radio)

, Charity Event, Cheshire
Very good performance, looked amazing! Thank you so much!
---
Anne Hazledine

, Wedding Event, Kent
A wonderful performance, great personality reaching out to all our guests, who ALL loved it with perfect balance of verbal interaction and exciting and dangerous fire displays. Totally different to anything we had seen before, it played an important part of our daughters wedding. Thank you all, Anne Hazledine
---
Lyn Bannister

, Festival Event, Derbyshire
Absolutely superb and so accommodating, we would like to book Simon again for next year!
---
Dean Courts

, Wedding Event, Hereford and Worcester
Excellent!! Tim was great with the crowd and the kiddies. And what a finale!!!
---
Lorraine Scobbie

, Wedding Event, Merseyside
We were left speechless at our wedding.... what an amazing act! Our guests are still talking about it now, telling us how wonderful Tim was, and we couldn't agree more. Tim lived up to our expectations and then some. What a skilled showman. He interacted with the crowd brilliantly. Both young and old alike thought he was totally fantastic. Tim pitches humour at the right level, is lots of fun and provides exciting and very skilled entertainment. We couldn't recommend him more for any function, but he was just so right for our wedding. We would also strongly recommend the pyrotechnic finale - a total must have! Thank you Tim, you made our wedding very special, and I am sure it will be a talking point for many years! Thanks also to Jennie at Warble for making the booking process so easy. A big mwah to you both x
---
Kelly Keating (Dreamflight Ball)

, Charity Event, London
Dear Tim, Just a note to say a massive thank you to your team for a superb performance on Saturday. They were a joy to work with and certainly bought the flavour and exhuberance of the circus to the event. They were all so accommodating and friendly and the meet and greet and opening act were fabulous. Thank you so much for working with us to get everything just right and being so generous with regard to it being a charity function. we managed to raise a staggering £117k! Really hope we get to work with you again. Please pass on our thanks and compliments to the team.
---
Laura Nagli, Events Co-ordinator

, Charity Event, London
Hi Tracey, I just wanted to thank you for arranging the performance at our charity event on Saturday evening. Please also pass on our thanks to Annette herself – she put on a great show and was lovely to work with on the night. If I ever need a fire performer in the future, I know who to call!
---
How long do the fire shows last?
We will always be as flexible as possible; however we recommend 15 - 20 minutes for outdoor shows and 8-12 minutes for indoor shows. If you want some extra performance we are happy to provide some meet and greet or ambient (freestyle) fire performances at no extra cost.
Can we hire more than one fire entertainer?
Absolutely, please contact the Warble team for prices and availability
Are the fire entertainers multi skilled?
Yes, all of our fire entertainers are highly skilled in a variety of fire performance skills.
Are you insured?
Yes, all of our fire entertainers are fully insured and risk assessed. We are very happy to send you the details if needed and are also happy to give advice on any health and safety concerns you may have.
What information do you need from me?
We'll require details of the area available for the fire performance - we can work from photos or video, site visits are usually not required. We will also need an idea of what kind of fire performance you would like; we can offer subtle ambient entertainment or an explosive fire show. Our team will work with you to provide the best entertainment within your budget. We can offer anything from a solo performance to a 7 person show. Contact the Warble team for prices and availability. Our performances are high energy and we recommend that they are between 8 – 12 mins for an indoor performance and 8 – 20 mins for outdoors.
You can book a dynamic fire show on it's own to wow your guests, or have something a bit more ambient to animate the event.
Fire shows are 15-20mins for outdoor shows and 8-12 minutes for indoor shows
Ambient (freestyle) fire can be booked for up to 3 x half hours
Please Note: The fees indicated below are approximate and based on a central location for each county. They are intended to provide a rough guide only and exact quotes can only be given once the date and exact location of your event have been provided.
Scotland
Aberdeen
£474.00
Inverness
£474.00
Perth
£474.00
Sutherland
£474.00
Ayrshire
£474.00
Fife
£474.00
Stirlingshire
£474.00
West Lothian
£474.00
Dumfries-shire
£474.00
East Lothian
£474.00
Lanarkshire
£474.00
Midlothian
£474.00
Glasgow
£474.00
Edinburgh
£474.00
Dundee
£474.00
Foreign Locations
Europe
£474.00
Rest of the world
£474.00
North East
Durham
£474.00
Northumberland
£474.00
North Yorkshire
£474.00
South Yorkshire
£474.00
Tyne and Wear
£474.00
West Yorkshire
£474.00
Yorkshire
£474.00
East Yorkshire
£474.00
Leeds
£474.00
North West
Cheshire
£474.00
Cumbria
£474.00
Manchester
£474.00
Lancashire
£474.00
Merseyside
£474.00
Liverpool
£474.00
East Midlands
Derbyshire
£474.00
Leicestershire
£474.00
Lincolnshire
£474.00
Northamptonshire
£474.00
Nottinghamshire
£474.00
Rutland
£474.00
East
Cambridgeshire
£474.00
Norfolk
£474.00
Suffolk
£474.00
Norwich
£474.00
Wales
Anglesey
£474.00
Caernarvonshire
£474.00
Denbigh
£474.00
Flint
£474.00
Cardigan
£474.00
Brecon
£474.00
Carmarthen
£474.00
Glamorgan
£474.00
Monmouth
£474.00
Pembroke
£474.00
Wrexham
£474.00
Cardiff
£474.00
West Midlands
Gloucestershire
£474.00
Herefordshire
£474.00
Shropshire
£474.00
Staffordshire
£474.00
Warwickshire
£474.00
Worcestershire
£474.00
Birmingham
£474.00
South East
Bedfordshire
£474.00
Berkshire
£474.00
Buckinghamshire
£474.00
East Sussex
£474.00
Essex
£474.00
Hampshire
£474.00
Hertfordshire
£474.00
Isle of Wight
£474.00
Kent
£474.00
Oxfordshire
£474.00
Surrey
£474.00
Sussex
£474.00
West Sussex
£474.00
London
£474.00
Middlesex
£474.00
South West
Cornwall
£474.00
Devon
£474.00
Dorset
£474.00
Somerset
£474.00
Wiltshire
£474.00
Bath
£474.00
Bristol
£474.00
You may also like
Customers who have enquired for Fire Performers have also been interested in the following performers who are also available UK wide. For more information or further options, please call 0845 643 9384.