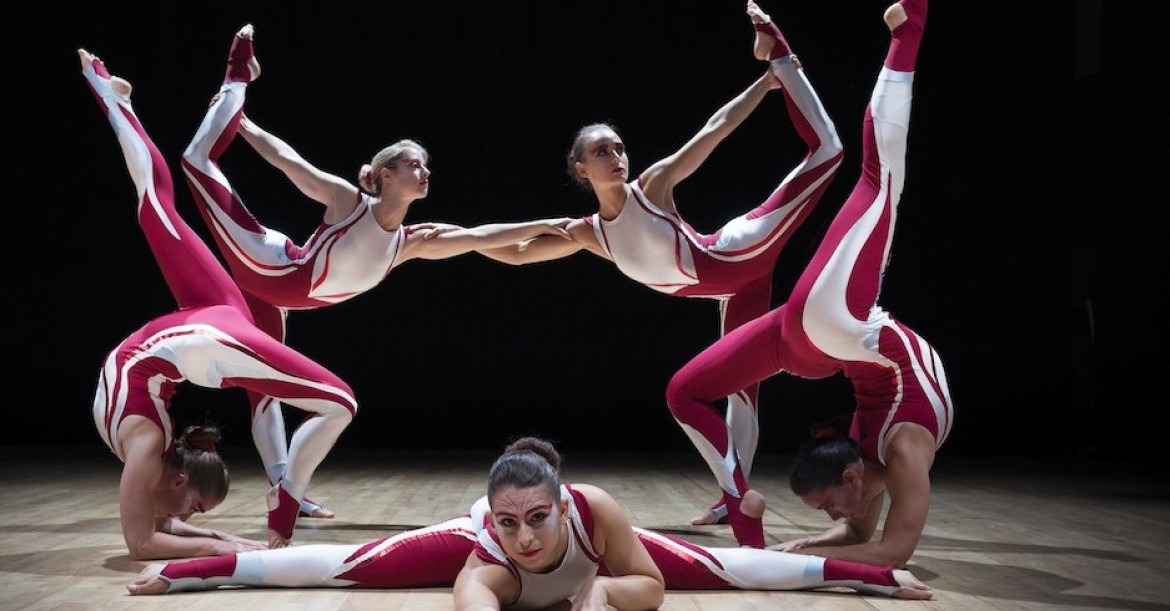 Location Dorset
Starting from £1,500.00

If you want to celebrate in style and create a real buzz at your next event, then book this amazing gymnastic act!
"They were the talk of the evening! We had amazing comments about them… They made our event." - Hitatchi Capital Ltd
Number of Reviews and Counting... 1!
Create an impact with this superb high-energy gymnastic act!
These 3 - 8 acrobatic gymnasts perform a medley of high balances and fast-paced tumbling that thoroughly entertains! This is the next best thing to the gymnastics event at London 2012!
These sports acrobats are now professionally performing at events all over the UK.
Options:
The act – 5 minutes
Walkabout sets – 15 minutes
"They were the talk of the evening! We had amazing comments about them… They made our event." - Hitatchi Capital Ltd
Richardson PRM

, Corporate, Bristol
These acrobats are always reliable, professional & top of their game in both skill level and design with their acts. Top quality! I thoroughly recommend them!
---
A few UK clients:
Airbus
Audi A1 Launch
Avon
Bank of Scotland
BMW
Commonwealth Games, Manchester
Craft
Diana Tribute, Wembley Stadium
Honda
House of Fraser
LandRover
London Boat Show
McLaren
Mercedes
National Theatre
Red Bull
Remington
Royal Albert Hall, Carmen
Royal Mail
Sourz
Superdrug
Swarovski
T Mobile
Victoria Square, Belfast
Walkers Crisps
Wrigleys
Can you perform outdoors?
We can perform outdoors on concrete and grass but the surface must be dry.
How much stage space do you require?
5 person act: 6m width x 4m depth x 4m height.
3 person act: 5m width x 3m depth x 4 height.
Can you still perform if we don't quite have these stage dimensions?
Yes, we can adapt routines to suit your staging. Please get in touch to discuss.
What indoor surface can you perform on?
We perform on all indoor surfaces including carpet. Please ensure the surface is not slippery.
Act length: 5 minutes approx.
Ambient sets: 15 minutes approx. Ambient sets are not 'Stop & watch' shows. They are not choreographed to music. They are usually slower paced than the act. For ambient slots, the acrobat can perform around the venue and not just in one place.
Number of sets: Up to 3 times per event. However, we suggest that 1 act and 1 ambient slot works best.
Please Note: The fees indicated below are approximate and based on a central location for each county. They are intended to provide a rough guide only and exact quotes can only be given once the date and exact location of your event have been provided.
Scotland
Aberdeen
£1,740.00
Inverness
£1,740.00
Perth
£1,740.00
Sutherland
£1,740.00
Ayrshire
£1,740.00
Fife
£1,740.00
Stirlingshire
£1,740.00
West Lothian
£1,740.00
Dumfries-shire
£1,740.00
East Lothian
£1,740.00
Lanarkshire
£1,740.00
Midlothian
£1,740.00
Glasgow
£1,740.00
Edinburgh
£1,740.00
Dundee
£1,800.00
Foreign Locations
Europe
£2,400.00
Rest of the world
£2,760.00
North East
Durham
£1,680.00
Northumberland
£1,680.00
North Yorkshire
£1,680.00
South Yorkshire
£1,680.00
Tyne and Wear
£1,680.00
West Yorkshire
£1,680.00
Yorkshire
£1,680.00
East Yorkshire
£1,680.00
Leeds
£1,644.00
North West
Cheshire
£1,680.00
Cumbria
£1,680.00
Manchester
£1,680.00
Lancashire
£1,680.00
Merseyside
£1,680.00
Liverpool
£1,632.00
East Midlands
Derbyshire
£1,704.00
Leicestershire
£1,704.00
Lincolnshire
£1,704.00
Northamptonshire
£1,704.00
Nottinghamshire
£1,704.00
Rutland
£1,704.00
East
Cambridgeshire
£1,680.00
Norfolk
£1,680.00
Suffolk
£1,680.00
Norwich
£1,632.00
Wales
Anglesey
£1,680.00
Caernarvonshire
£1,680.00
Denbigh
£1,680.00
Flint
£1,680.00
Cardigan
£1,680.00
Brecon
£1,728.00
Carmarthen
£1,728.00
Glamorgan
£1,728.00
Monmouth
£1,728.00
Pembroke
£1,728.00
Wrexham
£1,596.00
Cardiff
£1,536.00
West Midlands
Gloucestershire
£1,704.00
Herefordshire
£1,704.00
Shropshire
£1,704.00
Staffordshire
£1,704.00
Warwickshire
£1,704.00
Worcestershire
£1,704.00
South East
Bedfordshire
£1,692.00
Berkshire
£1,692.00
Buckinghamshire
£1,692.00
East Sussex
£1,692.00
Essex
£1,692.00
Hampshire
£1,692.00
Hertfordshire
£1,692.00
Isle of Wight
£1,692.00
Kent
£1,692.00
Oxfordshire
£1,692.00
Surrey
£1,692.00
Sussex
£1,692.00
West Sussex
£1,692.00
London
£1,692.00
Middlesex
£1,692.00
South West
Cornwall
£1,764.00
Devon
£1,752.00
Dorset
£1,740.00
Somerset
£1,716.00
Wiltshire
£1,728.00
Bath
£1,530.00
Bristol
£1,500.00