Warble Entertainment's
Ian the Historical Musician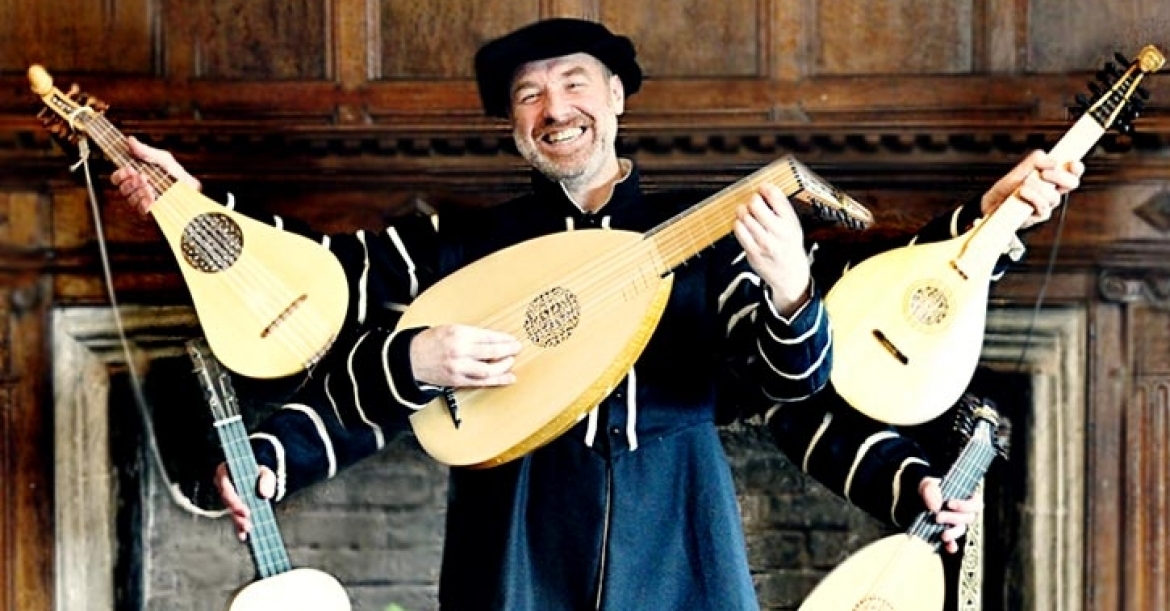 Location Birmingham
Starting from £204.00
Ian is a multi-instrumentalist specialising in the music of the renaissance and mediaeval periods, playing period instruments such as the beautiful lute, the early renaissance guitar and the silvery sound of the cittern.
Add that extra-special touch with authentic historical music played by "a mature talent well in command of the material" (Folk Monthly), especially if your wedding is to take place in a historical building.
Ian is flexible to suit the needs of your event: he can play music for some or all of the bride's entrance; signing of the register; wedding breakfast; guest entertainment; and he can play in renaissance or modern clothes.
5 reviews
Song List
Lute
Thomas Morley, 1599 – O mistress mine
John Dowland, c. 1620 – Mr. Dowland's Midnight
John Dowland, c. 1615 – Fortune
John Dowland, c. 1590 – Tarlton's Resurrection
John Dowland, c. 1590 – Mrs. Winter's Jump
John Dowland, c. 1590 – Robin is to the green wood gone
Robert Johnson, 1610 – Where the bee sucks
Cesare Negri, 1602 – Il Bianco Fiore
Francis Cutting, c. 1595 – Francis Cutting's Toy
Francis Cutting, c. 1595 – The Squirrel's Toy
Francesco Canova da Milano, 1536 – Fantasia 7
Christopher Marlowe, c. 1590 – Come live with me and be my love
John Sturt, 1620 – The Lady Banning, her Almand
Thomas Robinson, c.1600 – Robinsons May
Ian Pittaway, 2001 – Lady Poplar's Gift
Ian Pittaway, 2004 – The Twin Binding Fancy
Ian Pittaway, 2006 – Fantasia Margherita Maria
anon., England, 1610 – Gray's Inn mask
anon., England, 1600 – Prince's Mask
anon., England, 1616 – Draw near me and love me
anon., England, 1590 – Folger Dowland f.87r
trad. England, c. 1601 – When that I was
trad., England, c. 1620 – Home again, Market is done
trad., England, c. 1560 – Heart's ease
trad., England, 1584 – Calen o Custure me
trad., England, 1580 – Greensleeves
trad., England, c. 1600 – How should I your true love know
trad., England, 1583 – Rogero
trad., England, 1590 – Kemps jigge
anon., Scotland, c. 1605-20 – Rowallan untitled
anon., Scotland, c. 1605-20 – Gypsies Lilt
anon., Scotland, c. 1627 – The Canaries
anon., Scotland, 1620 – Mure of Rowallan, f.5
trad., France, 1589 – Belle qui tiens ma vie
trad., France, 1603 – Branle et Branle gay
anon. Italy, c. 1502-1512 – Calata
Renaissance Guitar
Anthony Holborne, 1599 – The Night Watch
trad., England, 1620 and Germany, 1612 – La Volta
trad., England, 1651 – Broom : The bonny bonny Broom
trad., England, 1651 – Chestnut (or Dove's Figary)
trad., England, 1651 – Jenny Pluck Pears
trad., France, 1589 – Pinagay
trad., France, 1589 – Branle des lavandieres
trad., France, 1589 – Branle d'Escosse
Cittern
trad., England, 1590 – Sellenger's Round
trad., England, 1651 – Millison's Jig
trad., England, 1590 – All in a Garden Green
trad., England, 1590 – Gathering Peascods
trad., England, 1587 – Go From My Window
trad., England, 1618 – The little Barly-Corne
trad., England, 1637 – Cuckolds all a row
trad., England, c. 1610 – Goddesses
trad., France, 1589 – Branle Cassandre
trad., France, 1589 – Branle des Hermites
trad., France, 1589 – Branle des chevaulx
trad., France, 1589 – Branle de l'official
trad., Scotland, c. 1650 – Sweet smiling Katie loves me
Thomas D'Urfey, 1706 – In the Fields in Frost and Snow