Warble Entertainment's
Ian the Historical Musician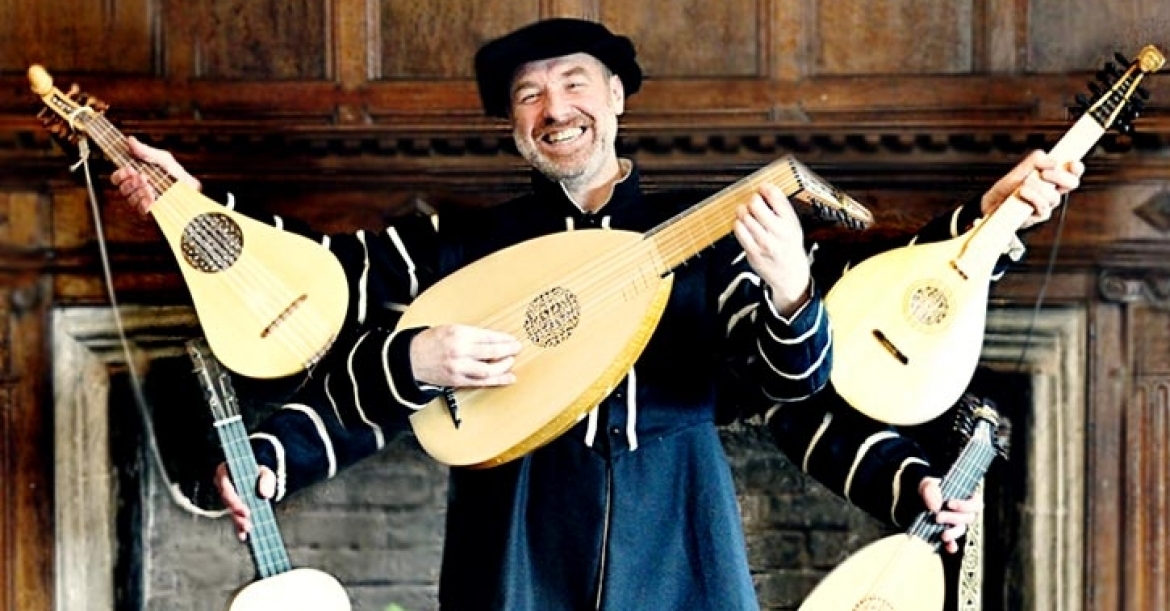 Location Birmingham
Starting from £204.00
Ian is a multi-instrumentalist specialising in the music of the renaissance and medieval periods, playing period instruments such as the beautiful lute, the early renaissance guitar, the silvery sound of the cittern and the melodious medieval harp.
Add that extra-special touch with authentic historical music played by "a mature talent well in command of the material" (Folk Monthly), especially if your wedding is to take place in a historical building.
Ian is flexible to suit the needs of your event: he can play music for some or all of the bride's entrance; signing of the register; wedding breakfast; guest entertainment; and he can play in renaissance or modern clothes.
6 reviews
Song List
RENAISSANCE (& EARLY BAROQUE) REPERTOIRE: LUTE, 4 COURSE GUITAR AND CITTERN
LUTE
Mr. Dowland's Midnight ... John Dowland, c. 1620
Fortune ... John Dowland, c. 1615
Tarlton's Resurrection ... John Dowland, c. 1590
Mrs. Winter's Jump ... John Dowland, c. 1590
Il Bianco Fiore ... Cesare Negri, 1602
O mistress mine ... Thomas Morley, 1599
The Lady Banning, her Almand ... John Sturt, 1620
Robinsons May ... Thomas Robinson, c.1600
Gray's Inn mask ... anon., England, 1610
Prince's Mask ... anon., England, 1600
Rowallan untitled ... anon., Scotland, c. 1605-20
Gypsies Lilt ... anon., Scotland, c. 1605-20
Calata ... anon. Italy, c. 1502-1512
Belle qui tiens ma vie ... trad., France, pub. 1589

Home again, Market is done ... trad., England, c. 1620
Heart's ease ... trad., England, c. 1560
Greensleeves ... trad., England, 1580
How Should I Your True Love Know ... trad., England, c. 1600
4 COURSE GUITAR
The Night Watch ... Anthony Holborne, 1599
La Volta ... trad., England, 1620 and Germany, 1612
Broom : The bonny bonny Broom ... trad., England, before 1634
Chestnut (or Dove's Figary) ... trad., England, before 1651
Jenny Pluck Pears ... trad., England, before 1651
Pinagay ... trad., France, pub. 1589
Branle des lavandieres

...

trad., France, pub. 1589
Branle d'Escosse ... trad., France, pub. 1589
CITTERN
Sellenger's Round ... trad., England, 1590
All in a Garden Green ... trad., England, 1590
Gathering Peascods ... trad., England, 1590
Millison's Jig

...

trad., England, before 1651
The little Barly-Corne ... trad., England, 1618
Cuckolds all a row ... trad., England, 1637
Goddesses (Codling's Delight) ... trad., England, c. 1610
Branle de l'official ... trad., France, pub. 1589
Branle Cassandre

...

trad., France, pub. 1589
Branle des chevaulx

...

trad., France, pub. 1589

Une Jeune Fillette = Queen's Almain ... trad., France/England, 1568
In the Fields in Frost and Snow ... Thomas D'Urfey, 1706
MEDIEVAL REPERTOIRE: MEDIEVAL HARP, CITOLE AND GITTERN
HARP
Angelus ad virginem ... trad., England, c.1300

Foweles in þe frith ... anon., England, c. 1270

Magno gaudens ... anon., England, c. 1200

La duches / This enderis day ... anon., England, c. 1480
Ly bens distonys ... anon., England, c. 1480
Septime Estampie Real

...

anon., France, Manuscrit du Roy, c. 1300
Seste Estampie Real ... anon., France, Manuscrit du Roy, c. 1300
Dansse [ductia] ... anon., France, Manuscrit du Roy, f. 5r, c. 1300
Dansee real ... anon., France, Manuscrit du Roy, f. 104v, c. 1300
Manuscrit du Roi, folio 5r [untitled]

...

anon., France, Manuscrit du Roy, f. 5r, c. 1300

Amoroso ... trad. France, pub. c. 1470
Os que a Santa María (CSM 344) ... Cantigas de Santa Maria, Iberia, 1257-83
Tantas en Santa María (CSM 173)

...

Cantigas de Santa Maria, Iberia, 1257-83
En bon ponto vimos (CSM 363) ... Cantigas de Santa Maria, Iberia, 1257-83
In Dulci Jubilo ... ?Henrich Suso, Germany, 1328

Lamento di Tristano

...

anon., Italy, c.1400

Winder wie ist nû dîn kraft ... Neidhart von Reuental, Germany, 13th century
CITOLE or GITTERN
Edi beo þu heuene quene ... anon., England, late 13th century

Estampie from Douce 139 ... anon., England, 13th century
quinte estampie Real ... anon., France, Manuscrit du Roy, c. 1300
A Virgen mui grorïosa (CSM 42) ... Cantigas de Santa Maria, Iberia, 1257-83
Santa María, Strela do día (CSM 100) ... Cantigas de Santa Maria, Iberia, 1257-83
Quen a omagen da Virgen (CSM 353) ... Cantigas de Santa Maria, Iberia, 1257-83
Kalenda maya ... anon., Italy, 12th c.

Saltarello ... anon., Italy, Harley 29987 f.63, c. 1400

Saltarello (akin to a jig) ... anon., Italy, Harley 29987, f.64, c. 1400

CITOLE (in addition to CITOLE or GITTERN list)
Man mei longe him liues wene ... anon., England, c. 1250
Ce fu en mai ... Moniot d'Arras, France, fl. 1213–1239

tierche Estampie Roial

...

anon., France, Manuscrit du Roy, c. 1300
Uitime estampie Real ... anon., France, Manuscrit du Roy, c. 1300
Stella Splendens

...

anon., Catalonia, c. 1390

Ghaetta ... anon., c. 1400, Italy
La manfredina / La rota

...

anon., c. 1400, Italy
GITTERN (in addition to CITOLE or GITTERN list)
Poi-las figuras fazen (CSM 136) ... Cantigas de Santa Maria, Iberia, 1257-83