Warble Entertainment's
Johnny S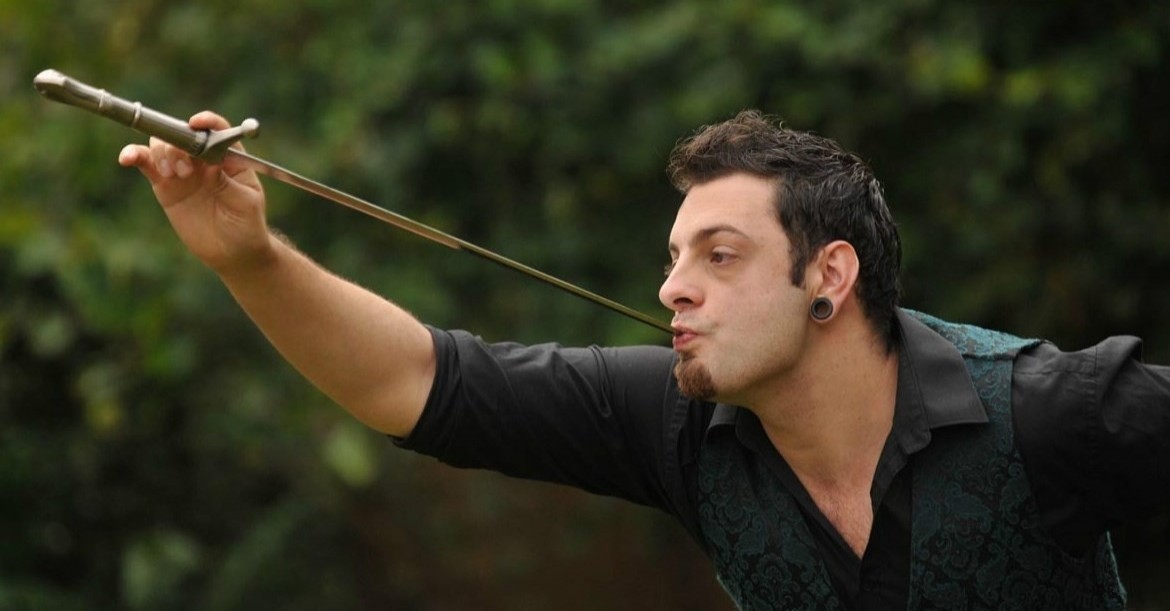 Location Cambridgeshire
Starting from £420.00
Location Cambridgeshire
Starting from £420.00
Introduction
Get a feel for them
Intro
Johnny is a multiple Guinness World Record holder based in London, who travels throughout the UK and the rest of Europe performing jaw dropping stunts. His shows are family friendly and packed with humour, suspense and plenty of audience participation. Johnny's shows are suitable for the young and old, both adults and children, and everyone leaves with a smile of their face.
Johnny's diverse performances can range from 5 to 45 minutes, filled with nonstop, outrageous entertainment. So if you are looking for an entertainer who will stand out and add something totally unique to your event then look no further, because he really does have to be seen to be believed!
16 reviews
Johnny S
Number of Reviews and Counting... 16!
Johnny is able to customise his act to suit your event's needs, providing an enjoyable brand of humour coupled with death defying acts of precision that are sure to leave a lasting impression. He also understands that some of his acts, at first, can be perceived as being too shocking, so bearing this in mind, he presents everything in a charming and friendly manner, laced with jokes and designed to entertain and thrill rather than to shock and repulse.

Acts Can Include:
Host/ MC
Sword Swallowing - swallowing various different swords and can involve audience participation
Neon Sword Swallowing - swallowing an illuminated 2000v glass neon tube
The Human Blockhead - sliding a pair of scissors and drilling a power drill up his nose and into the centre of his skull
Target Whip Cracking - a whip routine with a difference; splitting targets held in his hands, behind his back and even out of the mouth of a brave audience member
Feats of Speed - testing the speed of his hand against the reaction time of the steel jaws of a bear trap
Razor Blade Swallowing - swallowing a series of razor blades, followed by a length of string before miraculously retrieving them all neatly tied together
Pierced Weight Lifting - demonstrating why Guinness World Records gave him the title "The man with ears of steel" by lifting a beer keg off the floor by just the piercings in his ears
Chainsaw Juggling - Juggling like you have never seen before, juggling a real running chainsaw!
Chainsaw Stunts - one of the stunts that got him featured in the Guinness Book of Records; cutting an apple out of his mouth using a petrol chainsaw... blindfolded
Escapology - with the help of 3 audience members he escapes from 60 feet of chains, 5 padlocks and a set of police issue handcuffs... using just a regular hair pin
Glass Eating - devouring a generous serving of red wine, followed by the glass it was served in, miraculously remaining unharmed
Walking on Broken Glass - carefully walking across a path of broken wine bottles without sustaining injury
Fire Eating - elegantly performing multiple fire stunts including; eating fire, brething fire, fire vapors, fire transferes and more
Dangerous Balancing Act - balancing a running lawnmower on his face while the audience throw paperballs into the blades. Hey presto, instant confetti!
Live Guinness World Record attempt - whether it's for a TV show, an advertising campaign
Large Publicity Stunts - promoting a product, event or just offering the WOW factor. Johnny can design a large publicity stunt just for you!
Official Guinness World Records:
Johnny holds an ever growing list of official Guinness World Records, including;
The most apples chainsawed out of his own mouth in one minute
The most apples chainsawed out of someone else's mouth in one minute
The most melons chopped on someone's stomach while they lay on a bed of nails
The heaviest weight lifted with ear piercings
The heaviest weight pulled with ear piercings
The most animal traps released on the body in one minute
The fastest time to break 16 concrete blocks on someone's stomach with a sledgehammer
The most swords swallowed in 3 minutes
The most eggs split with a bullwhip in one minute
The most newspapers split with a bullwhip in 30 seconds
Many of which can be seen, in the world wide published, Guinness Book Of Records. Guinness World Record photos credited to; Paul Michael Hughes / Guinness World Records.
Markus Wilder

, Charity, Wingham Wildlife Park, Kent
Johnny was professional yet easy to deal with, from emailing before hand through to the end of his last performance. Each performance was thoroughly enjoyed by our visitors and myself alike, with audience participation and a chance to get close to the action. He's a true showman who is great at what he does. He performed at a family event for us, with age ranges across the board and around 1,000 people in attendance, but I think he would suit any event, venue or audience. We'd love to have him back!
---
Daniel Cassidy

, Corporate, The Christmas Club , Leicestershire
Johnny was fantastic! He was very accommodating and was flexible with the brief that we gave him. He went down very will with our audience and and delivered a 5* performance.
---
Martin Pitman

, Private Party, Private Function, Somerset
Brilliant , I would book again.
---
Stephen Parry

, Charity, North Yorkshire
Fantastic performance, the combination of suspense and danger really brought the night alive.
---
Rosie Redvers-Jones

, Festival, Screamfest, Derbyshire
Johnny was absolutely fantastic to work with! He was incredibly professional the whole time he was here. Communications with yourself were great and I really appreciate the clear effort you put in to helping us book Johnny in. We will definitely be looking your way when we come to book in the future.
---
Rosie Redvers-Jones

, Festival, Screamfest, Derbyshire
Johnny was a pleasure to work with. He was incredibly professional and very efficient.
---
Michael Hudson - Office Friendly

, Corporate, The Belfry, Birmingham, Birmingham
I enjoyed Jonny's performance and he was a very high energy and good at presenting himself.
---
Craig Flynn

, University / School, West Yorkshire
A thoroughly enjoyable night and act. Thank you!
---
Stephen Wright

, Private Party, Fife
This is the second time we have hired Johnny S and again he has not failed to impress. We all had a great night and his act is second to none.
---
Gary Fowler

, Private Party, West Yorkshire
Johnny is a legend! Very entertaining show and a pleasure to deal with.
---
Roger McDowell - McDowell Distribution Ltd

, Corporate, Cumbria
Excellent - Great act, we all thoroughly enjoyed it. Jonny was a real good bloke and we all got on with him really well.
---
Phil Bennett - Santa Pod Raceway

, Festival, Northamptonshire
Yes, we were very impressed with Johnny, the crowd seemed to enjoy his act.
---
Michelle Jacobs - Food Events

, Wedding, London
Great act, lovely guy. Would be more than happy to book again and to recommend.
---
Ollie Mann - 8 out of 10 Cats Does Countdown

, TV / Film and Advert, Manchester
Hi Niki, I would like to pass on a huge thank you from the whole Zeppotron crew and myself! Johnny did a fantastic job and we're all really happy with how his performance turned-out. It can't have been easy with all our demands and limitations as to what we wanted him to do in the time limit, but he was very easy to work with, which we are extremely grateful for. I also wanted to say an extra thank you to him for shaving-off his beard for us. I know it wasn't ideal for him, but we really did appreciate it, as it gave that extra polish to the segment and will end-up looking great in the final edit of the show. I hope Johnny had a good time as well. I know there was a lot of waiting around, but hopefully it wasn't too boring! Also, I'd like to thank you for all your help booking Johnny. You've been very easy to correspond with, which is always a nice bonus with this kind of work! I hope all went well with payment, and we will definitely call on you again if we need any more top notch performers. Don't hesitate to get back to me with any queries or issues if you have them. Many thanks, Ollie
---
Ollie Mann - Media City

, TV / Film and Advert, Manchester
Johnny was great on the day. He was very professional and adapted very well to our requests. He was easy to work with and put on a great performance under high pressure conditions. Many thanks!
---
Paul Cunningham

, Wedding, Oxfordshire
Johnny was simply amazing and made our wedding even more special. People will talk about it for years to come! And a big thanks to Sam for helping with the booking. Brilliant service! Cheers, Paul & Imogen
---
Ripley's Believe It Or Not!
Guinness World Records
Red Bull
Nitro Circus
BBC Studios
ITV Studios
Channel 4
The Sun Studios
Harley Davidson
The Amir Khan Foundation
Glastonbury Festival
Download Festival
Southside Fringe Festival
London Wonderground
The Great Dorset Steam Fair
Are your shows scary?
Not at all, Johnny's shows are fun. They are suitable for both kids and adults. He wants to make people laugh, so his shows are light hearted and project a positive message - whilst keeping you on the edge of your seat.
Is what you do real?
Everything Johnny does on stage is real, He's not a magician, there is no slight of hand. The swords, the chainsaws, the power tools are all very real - So don't try to copy the acts you see him perform, they have taken many years of practice to master.
How much space do you need?
Johnny requires a minimum of 3m x 3m performance area, clearly marked. However some acts, such as fire breathing, are not suitible at every venue. If you have any queries just ask, we are happy to give advice.
What areas do you cover?
Johnny travels throughout the UK, the rest of Europe and Internationally performing his shows.
Where do you usually perform?
Johnny performs at various places around the world - from festivals, fairs, universities and theatres to weddings, private parties, corporate functions and charity events. You can also occasionally catch him on TV and on the radio too.
Do you have Public Liability Insurance and are you CRB checked?
Yes and yes.
Technical Specifications:
For all performances Johnny requires;
PA system for venues with a capacity greater than 50.
A clearly marked performance area inaccessible for audience members.
If you specifically require a curtain act, please specify when making enquiry.
Can you perform during National Holidays (Christmas, New Years etc)?
Yes of course but prices may increase, this also aplies to Halloween!
Johnny can perform shows ranging from 5 minutes to 60 minutes in multiple combinations (e.g, 4 x 5 minutes, 2 x 10 minutes, 1 x 30 minutes and everything in between).
Johnny prides himself on his ability to tailor each show and the price to suit most budgets, depending on which acts are required and how long he is needed to perform. All his acts can be tailored in length and combined in any running order to suit the clients needs.
Please Note: The fees indicated below are approximate and based on a central location for each county. They are intended to provide a rough guide only and exact quotes can only be given once the date and exact location of your event have been provided.
Scotland
Aberdeen
£420.00
Inverness
£420.00
Perth
£420.00
Sutherland
£420.00
Ayrshire
£420.00
Fife
£420.00
Stirlingshire
£420.00
West Lothian
£420.00
Dumfries-shire
£420.00
East Lothian
£420.00
Lanarkshire
£420.00
Midlothian
£420.00
North East
Durham
£420.00
Northumberland
£420.00
North Yorkshire
£420.00
South Yorkshire
£420.00
Tyne and Wear
£420.00
West Yorkshire
£420.00
Yorkshire
£420.00
North West
Cheshire
£420.00
Cumbria
£420.00
Manchester
£420.00
Lancashire
£420.00
Merseyside
£420.00
East Midlands
Derbyshire
£420.00
Leicestershire
£420.00
Lincolnshire
£420.00
Northamptonshire
£420.00
Nottinghamshire
£420.00
Rutland
£420.00
East
Cambridgeshire
£420.00
Norfolk
£420.00
Suffolk
£420.00
Wales
Anglesey
£420.00
Caernarvonshire
£420.00
Denbigh
£420.00
Flint
£420.00
Cardigan
£420.00
Brecon
£420.00
Carmarthen
£420.00
Glamorgan
£420.00
Monmouth
£420.00
Pembroke
£420.00
West Midlands
Gloucestershire
£420.00
Herefordshire
£420.00
Shropshire
£420.00
Staffordshire
£420.00
Warwickshire
£420.00
Worcestershire
£420.00
South East
Bedfordshire
£420.00
Berkshire
£420.00
Buckinghamshire
£420.00
East Sussex
£420.00
Essex
£420.00
Hampshire
£420.00
Hertfordshire
£420.00
Isle of Wight
£420.00
Kent
£420.00
Oxfordshire
£420.00
Surrey
£420.00
Sussex
£420.00
West Sussex
£420.00
London
£420.00
Middlesex
£420.00
South West
Cornwall
£420.00
Devon
£420.00
Dorset
£420.00
Somerset
£420.00
Wiltshire
£420.00
You may also like
Customers who have enquired for Johnny S have also been interested in the following entertainers. For more information or further options, please call 0845 643 9384.