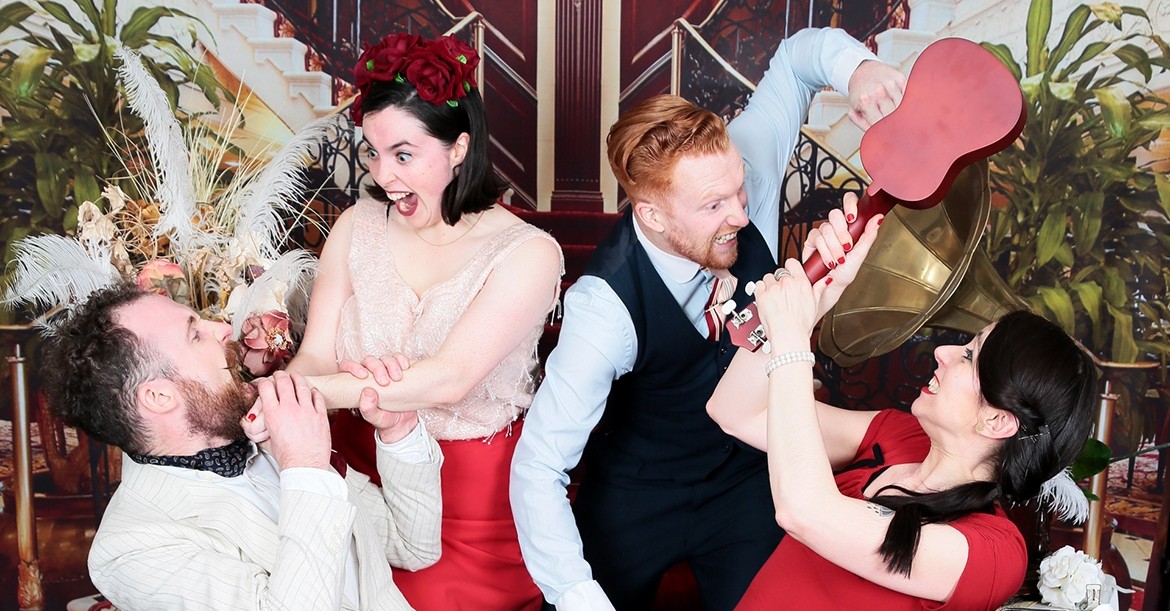 Location London
Starting from £780.00
The Live Photo Boutique will bring drama to your event - it is an interactive, very theatrical studio set which is created to be unique and work with the theme of your event.

Live Photo Boutique use authentic and fun props and delightful, colourful and creative photographic backgrounds. All your guests will leave with photographs and big smiles on their faces. The studio comes with a photographer and an assistant who is brilliant at creating energy and atmosphere to create the fantastic photographs taken in the Live Photo Boutique.
The Live Photo Boutique gives you and your guests unlimited prints for up to 2 hours!
Number of Reviews and Counting... 1!
Live Photo Boutique are available troughout the UK and all equipment is professional studio equipment, cameras, lightings and tripods.
The sets are created with individual themes in mind which can be tailored to your event. Once set up, Your guests are encouraged (they don't really need any encouragement!) to come and have their photos taken and to help themselves to an array of props which could be anything from a Violin to a Flying helmet or National Flag wedding dress.
The photographer will then help pose your guests and they will instantly be able to view their photos and have a print.
1 x Photographer
1 x Assistant
Sarah Clarke - Viking Cruises

, Corporate, London
Thanks so much, photos all received - They are fantastic! Thanks so much again. Sarah
---
Chelsea Football Club
The Jumeriah Carlton
The Hilton Hotel
Radisson Blu
World Branding Forum, International
Kensington Palace
Paris Hilton, France
The Savoy
The Dorchester
BBC
L'Oreal
London Zoo
Oliver PR
The Electric Cinema
The Electric Ballroom
Taylor Herring
The Oval Cricket Ground
Maynineteen
Iceland
Sainsburys
Viking Crusies
Blue Elephant
VinoPolis
Le Gothique
Hedonism Wines
NHS
The Tower of London
Sandown Race Course
Epsom Race Course
Hamilton Race Course, Glasgow
How much time do you need to create a studio set to work wih our theme?
This depends upon whether you would like one of our existing backgrounds or a completely new one, if you choose one from our catalogue then we can do something within a couple of days however if you would like us to create something just for you then we need a minimum of 2 weeks.
What is the minimum time we can book you for?
2 hours.
Will you travel anywhere?
Yes, We can provide quotes for anywhere in the UK.
How much space will you require?
We need at least an area of 16 ft width and 18ft depth
How many photos will we get?
As many as we can print out in the time you have booked us for!
Do you have public liability insurance
Yes we do - Certificates available on request.
2 Hours (Minimum)
3 Hours
4 Hours
Timings can also be tailored to your event.
Please Note: The fees indicated below are approximate and based on a central location for each county. They are intended to provide a rough guide only and exact quotes can only be given once the date and exact location of your event have been provided.
Scotland
Aberdeen
£2,400.00
Inverness
£2,400.00
Perth
£2,400.00
Sutherland
£2,400.00
Ayrshire
£2,400.00
Fife
£2,400.00
Stirlingshire
£2,400.00
West Lothian
£2,400.00
Dumfries-shire
£2,400.00
East Lothian
£2,400.00
Lanarkshire
£2,400.00
Midlothian
£2,400.00
Glasgow
£2,400.00
Edinburgh
£2,400.00
Foreign Locations
Europe
£3,600.00
Rest of the world
£6,000.00
North East
Durham
£1,980.00
Northumberland
£1,980.00
North Yorkshire
£1,980.00
South Yorkshire
£1,980.00
Tyne and Wear
£1,980.00
West Yorkshire
£1,980.00
Yorkshire
£1,980.00
East Yorkshire
£1,980.00
Leeds
£1,980.00
North West
Cheshire
£1,980.00
Cumbria
£1,980.00
Manchester
£1,980.00
Lancashire
£1,980.00
Merseyside
£1,980.00
Liverpool
£1,980.00
East Midlands
Derbyshire
£1,860.00
Leicestershire
£1,860.00
Lincolnshire
£1,860.00
Northamptonshire
£1,860.00
Nottinghamshire
£1,860.00
Rutland
£1,860.00
East
Cambridgeshire
£1,200.00
Norfolk
£1,200.00
Suffolk
£1,200.00
Norwich
£1,200.00
Wales
Anglesey
£2,340.00
Caernarvonshire
£2,340.00
Denbigh
£2,340.00
Flint
£2,340.00
Cardigan
£2,100.00
Brecon
£2,340.00
Carmarthen
£2,100.00
Glamorgan
£2,340.00
Monmouth
£2,340.00
Pembroke
£2,340.00
Wrexham
£2,340.00
Cardiff
£2,100.00
West Midlands
Gloucestershire
£1,980.00
Herefordshire
£1,980.00
Shropshire
£1,980.00
Staffordshire
£1,980.00
Warwickshire
£1,980.00
Worcestershire
£1,980.00
Birmingham
£1,800.00
South East
Bedfordshire
£960.00
Berkshire
£960.00
Buckinghamshire
£960.00
East Sussex
£960.00
Essex
£960.00
Hampshire
£960.00
Hertfordshire
£960.00
Isle of Wight
£1,440.00
Kent
£960.00
Oxfordshire
£960.00
Surrey
£780.00
Sussex
£840.00
West Sussex
£840.00
London
£780.00
Middlesex
£780.00
South West
Cornwall
£2,100.00
Devon
£1,980.00
Dorset
£1,980.00
Somerset
£1,980.00
Wiltshire
£1,980.00
Bath
£1,440.00
Bristol
£1,440.00