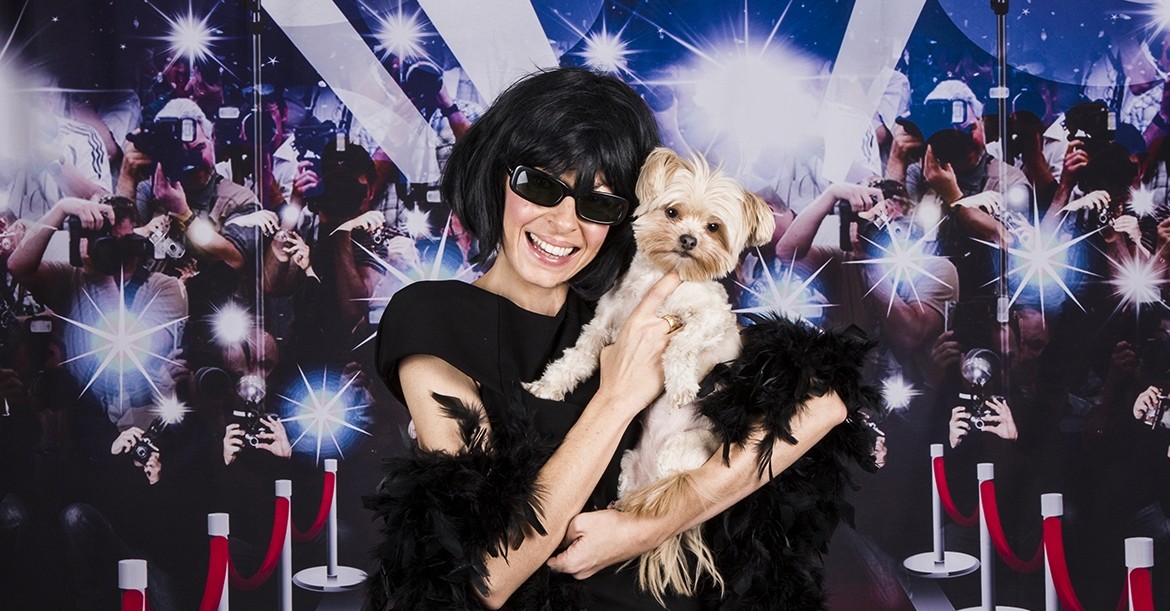 Location London
Starting from £108.00

Event Photographers for any event!
POP UP Studio - to suit all themes providing your guests with photos to take home!
Paparrazi photographers are fun, upbeat and take amazing photos...
Number of Reviews and Counting... 31!
Booking Paparazzi is a fantastic present for any occasion, it brings smiles and fun as well as lots of attention to the person or persons you want to surprise.
PAPARAZZI PHOTOGRAPHERS
Greet your guests with lots of flashes and banter, after the event the photographs will appear on your own gallery and be available for download at not extra cost. The paparazzi photographers can dress to any theme, for example they be vintage with long macks and feodora hats or modern dayas well as suits for premiers and red carpet events.
EVENT PHOTOGRAPHERS
It can be more cost effective to have your Paparazzi photographers continue into the evening as an event photographer. All photographers come with professional cameras, lenses and flashguns. They have plenty of experience as photographers and will give you beautiful photographs at the end of your event, these will be available edited and in HD on a password protected gallery and can be provided by electonic transfer or downloadable from the gallery.
New! POP UP STUDIO
Paparrazi Photographers are pleased to bring their new Pop Up Studio. The Studio can work to any theme from Christmas themes to Vintage, Vintage, Steam Punk, Oscars, Beach Scenes and plenty more. Whatever the theme of your event, Paparazzi Photographers will be able to come back with ideas about what we can do to create a theme for the Pop Up Studio.
With the studio comes a prop box which will be tailored to suite your theme.
Paparazzi Photographers also have a Dye Sublimation Printer meaning they can print out large number of printers quickly giving your guests something to go home with. When booking the studio you will have a photographer and an operator.
Paparazzi Photographers are suitable for all occassions including:
Hen Nights
Stag Nights
Christmas Parties
Birthday Parties
Engagements
Prize givings
Nights out
Corporate events
Leaving Parties
Announcements
Promotions
Impress a new partner, friends and colleagues
Paparazzi
For bookings over 1 hour discounts available
When booking more than 6 Paparazzi you will receive a 7th Pap free!
Peter Millen

, Birthday Party, Kent
Simon was great and took almost 500 pictures! Would recommend 100%
---
Sarah Guiver

, Birthday Party, Essex
Used these two lovely ladies for my birthday party and they were Fabulous!! Guests loved them, interaction was brilliant and would definitely recommend. x
---
Kerry Hodges - London Borough of Barnet

, Other, Hertfordshire
Very engaging and encouraged our guests to get involved in having their photo taken. Very professional and friendly.
---
Hatti Suvari

, Birthday Party, Trent Park Golf Club, London
Francesca was absolutely brilliant! She was a joy to deal with and her photographs were very natural. Really pleased, I would recommend and re-book her without a doubt.
---
Christopher Gough-Goodman

, Birthday Party, Suffolk
Tremendous fun to ensure the right atmosphere!
---
Rebecca Maxted

, Corporate, De Vere Cotswold Water Park Hotel, Gloucestershire
We hired the paparazzi photographers for a corporate gala dinner. They captured great photos as all guests entered the red carpet, and throughout the night for awards presentations, right through to the early hours dancing shots! The whole team were incredibly friendly, and couldn't have done any more to keep us happy. The turnaround of the photos was very fast after the event with a lot of really good shots to share with the delegates. Would highly recommend!
---
Charlotte George

, Birthday Party, Kettering Park Hotel, Northamptonshire
Absolutely amazing! The lady taking our photos was really sweet! Extremely helpful and really went out of he way to make my party as special and as memorable as it could be. I can't wait to see the pictures. Thank you so much!
---
Martin Lay

, Private Party, Bedfordshire
Very professional, helpful and friendly. Thanks for making our event a great one.
---
Rosie Keane - Class 1 Personnel

, Other, The Stables, Surrey
We had two Paparazzi photographer's at our Christmas party last weekend and I have to say they were both lovely. We're very impressed with not only the amount of photo's we received but also the quality, the photographers made sure that every guest was photographed as well as some great group photos and action shots! Thank you very much!
---
Maite Alegre

, Private Party, Oxfordshire
Nice surprise for guest that weren't expecting the photographers. They felt a bit more special as they came into the hotel to the party.
---
Liza Olivero

, Other, The Vaults, London
The photos are amazing! Well worth doing for a special celebration.
---
Marion Cameron

, Birthday Party, Bristol
I am so pleased with the service & customer care that I have received from everyone, it was faultless & so professional. Anna, our photographer, arrived on time and she was so friendly. Anna put myself & my guests at ease straight away and has taken the most amazing photos, she has managed to capture everyone at my party having a fantastic time without being intrusive. Thanks ever so much to Anna, Francesca and Adam for all of your help and assistance and for giving me some amazing memories to keep forever.
---
Kelli Kendrick

, Birthday Party, That Amazing Place, Essex, Essex
Very accommodating, unimposing and went with the flow of the night as it unfolded. Couldn't have asked for more.
---
Jackie Cohen

, Birthday Party, Hertfordshire
Excellent. Added a good atmosphere to our party and lovely people to deal with. The end result were some great photos of the event. Really pleased I booked this! Many, Many thanks!
---
Ronaldo Lopes

, Corporate, London
It's for me to say thank you to you, Mike and the Paps. They were truly professional and in one word, amazing! The evening was outstanding and the feedback has been so great and so positive about the night as a whole. You guys made a huge difference. A big thank you.
---
Nikita Thakrar

, Birthday Party, Essex
Amazing paparazzi photographers .. Heightened the party atmosphere .. Lovely and fun photographers .. Worth every penny!
---
Samantha Etheridge - Sandown Park Racecourse

, Corporate, Surrey
Our Guests absolutely loved the pap photographers, we are very pleased with the final photos. Thank you.
---
Kirsti Agent - Reach

, Corporate, Surrey
The Papparazi Photographers were fantastic. Very professional, fun and social ladies that absolutely made our event special. Would recommend to anyone to enhance their event. Many thanks.
---
Sean-Paul Roberts

, Corporate, London
The guys that came were AMAZING! Very friendly and really worked the crowd. Just how I had hoped it to have been! Very Happy!
---
Emanuela Greco Janczarek - VIA

, Corporate, London
Papparazzi Photographers were brilliant. Our client was extremely happy and the Paparazzi Photographers added that element of surprise and glamour. Fantastic price too, I will definitely use it again for our future corporate events! Thank you for all your help with making last night a success!
---
Davina Perkins (Goodman Masson)

, Corporate, London
I just wanted to write to say a huge thank-you for Friday. Beth and your other chap were really super, great fun, very efficient and very professional. We were quite tight for space in the venue but I think that they really got into the spirit of things and "worked the crowd" – we are all waiting with baited breath to see the photographs!! Thanks and have a lovely week!
---
Agnes Prokocka (Gerson Lehrman Group Limited)

, Corporate, London
Thank you so much for a great fun! Everyone was very pleased with your service! Great job on a costume change :) xxx Agnes
---
Stephanie ESP Enigma

, Corporate, West Midlands
Both the paparazzi were brilliant. They both turned up in plenty of time and were able to have a chat with us so they could understand who our guests were. They were brilliant with the crowd and made everyone feel very special and like they were attending a real premiere in Hollywood! I would highly recommend these guys for any event.
---
Sandra White

, Birthday Party, Surrey
The paps were amazing and everyone loved them. They were polite and professional and couldn't do enough to ensure we were happy with the photos they were taking. More importantly they made my 2 daughters feel like the Kardashians!!! Will definitely be recommending your company in the future. Thank you!
---
Kevin Rodbard

, Corporate, London
Fantastic.... Thank you!
---
Neil Floyd

, Corporate, Warwickshire
Guys were great - really added to the event. Just awaiting the outcome of the photos.
---
Lisa Duffell (American Express)

, Corporate, London
I would like to thank Beth & Simon for a fabulous job at our works 'Oscars' event for 130 people! The attention to detail was amazing, they both looked authentic and worked tirelessly for the hours they were with us. Simon joined our team on a routemaster bus from the office to the venue which took over 1.30 hours! He was amazing! Beth was at the hotel for any guests that arrived on their own steam, she took some wonderful shots and was very patient. They were both extremely friendly and couldn't do enough for us, very professional. Can't wait to see the photos. A massive thank you from us all.
---
Stephanie Davies

, Corporate, London
Despite our plans going slightly awry due to some late arrivals, the photographers adapted and did a great job. Very pleased with the photos too. Thank you.
---
Stephanie Davies

, Corporate, London
The photographers did a great job, even though we had delays and so did not get on the boat as quickly as we had planned but they were relaxed and went with it and were very helpful; I am looking forward to seeing the disc of pictures this week.
---
Sophie Slater

, Charity, Cheshire
Huge thanks to Tracey at Warble Entertainment for arranging paparazzi at the charity gala! They were absolutely fabulous! The booking process at Warble was quick and easy and Tracey was very thorough always keeping me informed of the process. Would definitely recommend this act - the guests loved it!!! Many thanks for all your help. I would always go to Warble for any entertainment! xx
---
Ronaldo Lopes

, Corporate, London
This company exceeded our expectations and provided excellent value. They showed flexibility, willingness to please, and our photography was great! Overall, we are very happy and have already recommended friends to them, one of which has already booked them. I don't give perfect scores ever, but they are that good. 5 stars and true professionals.
---
The Tower of London
Oliver PR Agency
The World Branding Forum
Iceland
Innocent
Sainsburys
L'Oreal
London Zoo
Kensington Palace
Butlins, Bognor Regis
Jumeriah Carlton, Knightsbridge
Hurligham Club, Fulham
Blue Elephant
Fulham Palace
Beach Blanket of Babylon, Ladbrook Grove
The Electric Cinema
Chelsea Design Quarter
Hilton Warwick
Karcher Ltd
Reach Recruitment
Mandolay Hotel, Guildford
NHS
Planet Hollywood, London
Hamilton Park Race Course, Glasgow
Epson Race Course
Sandown Race Course
Radisson Edwardian
BYOC, Covent Garden
Chelsea Football Club
HGA Creatvie
Marriot Grosvenor Hotel
Whitchurch City Centre
Selsdon Park Hotel
La Gothique, Clapham
Vinopolis
Hedonism Wines, Mayfair
Olympia
Maynineteen Ltd
Manchester Arndale Center
Big Brother, Boreham Wood
Ognisko, Exhibiton Road, London
The Polish Center, Exhibition Road, London
Viking Cruises, London
Newlands Manor
Radison Bl Portman Hotel
Mecure Manchester Piccadilly Hotel
English /Asian Business Awards
The Oval Cricket Ground
London Fashion Weeek
How many photogtraphers can I book and how long should I book for?
You can book any number of photographers from 1 to 12 photographers for anything between 30 minutes and up to 8 hours.

What's the difference between Paparazzi Photographers and normal photographers?
However many or however long our photographers are in attendance they will play their part well, with professional cameras and flash guns, they will call out your name or whoever they are papping to make the experience unforgettable. Hire your own photographer or an entourage of paparazzi to capture your every move. Photos will be available after the event. You can become a celebrity for a day having a pictures taken of you going about everyday life or making your grand entrance or exit. We can also arrange for those who have had a Paparazzi experience to receive a paper with their photograph on the front cover and an announcement of the occasion.
When should I book the Paparazzi Photographers for?
Our Paparazzi photographers can capture your guests as they arrive at the party, whether it be the office party, birthday party or celebration in venues such as bars, restaurants, pubs and clubs, we can pap virtually anywhere, and can guarantee that the first moment when the person being pap'd first hears their name being called out and sees a flash of cameras will never be forgotten. If you want to take things a step further we can also bring barriers and a red carpet to walk along when entering or leaving a building.
Paparazzi Photographers
Minimum Performance time 1 hour upwards.
Event Photography
Minimum time 1 hour upwards.
POP UP Studio
Minimum time 2 hours and upwards
Please Note: The fees indicated below are approximate and based on a central location for each county. They are intended to provide a rough guide only and exact quotes can only be given once the date and exact location of your event have been provided.
Scotland
Aberdeen
£108.00
Glasgow
£108.00
Edinburgh
£108.00
North East
Durham
£108.00
Northumberland
£108.00
North Yorkshire
£108.00
South Yorkshire
£108.00
Tyne and Wear
£108.00
West Yorkshire
£108.00
Yorkshire
£108.00
East Yorkshire
£108.00
Leeds
£108.00
North West
Cheshire
£108.00
Cumbria
£108.00
Manchester
£108.00
Lancashire
£108.00
Merseyside
£108.00
Liverpool
£108.00
East Midlands
Derbyshire
£108.00
Leicestershire
£108.00
Lincolnshire
£108.00
Northamptonshire
£108.00
Nottinghamshire
£108.00
Rutland
£108.00
East
Cambridgeshire
£108.00
Norfolk
£108.00
Suffolk
£108.00
Norwich
£108.00
West Midlands
Gloucestershire
£108.00
Herefordshire
£108.00
Shropshire
£108.00
Staffordshire
£108.00
Warwickshire
£108.00
Worcestershire
£108.00
Birmingham
£108.00
South East
Bedfordshire
£108.00
Berkshire
£108.00
Buckinghamshire
£108.00
East Sussex
£108.00
Essex
£108.00
Hampshire
£108.00
Hertfordshire
£108.00
Isle of Wight
£192.00
Kent
£108.00
Oxfordshire
£108.00
Surrey
£108.00
Sussex
£108.00
West Sussex
£108.00
London
£108.00
Middlesex
£108.00
South West
Cornwall
£108.00
Devon
£108.00
Dorset
£108.00
Somerset
£108.00
Wiltshire
£108.00
Bath
£108.00
Bristol
£108.00