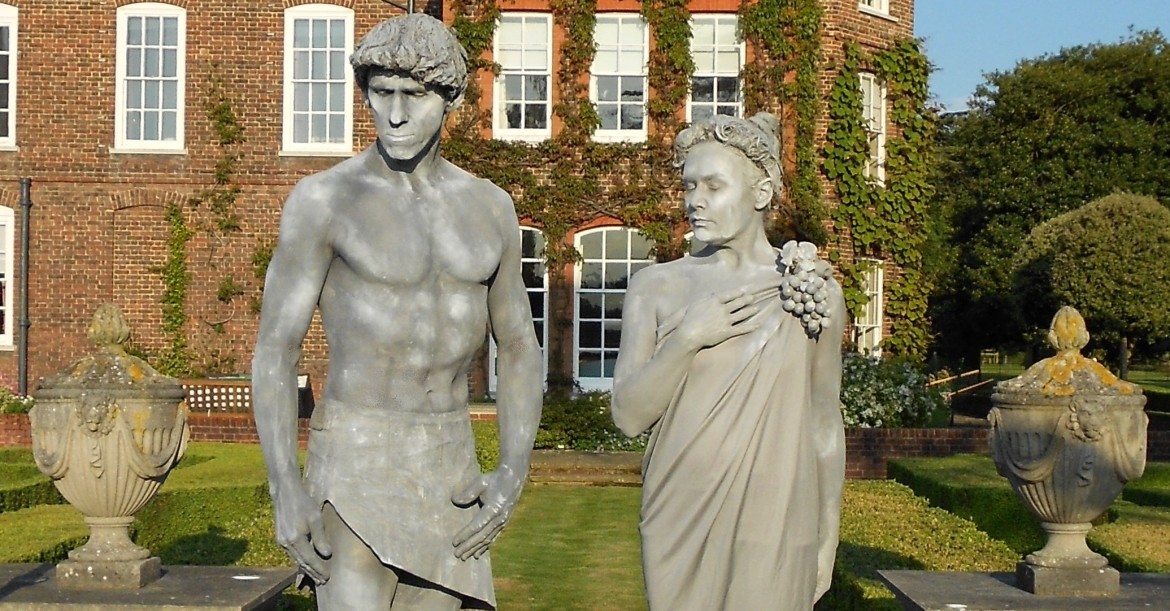 Location Middlesex
Starting from £324.00

These unique living Statues are unbelievably realistic and a fantastic form of entertainment at any type of event.
To create a huge impact they can completely deceive your guests into thinking that they are not real, before suddenly "coming to life" with instant movement to startle and surprise!
Number of Reviews and Counting... 15!
Being the largest and most established professional living statues in the UK today they can provide over 150 different themed costumes to cover almost any event. In addition they can make bespoke statues for more specific themes.
Their costumes are second to none, not to be confused with street buskers, these living statues are incredibly realistic and true to life, guests are completely taken in even standing just feet away!
Interaction with guests is a must. They can make people jump, pose for photo opportunities, frame doorways and entrances and hand out company literatue at exhibitions. The possibilties are endless!
They can be positioned inside or outside and usually only need a very small space to perform in, so compact venues are no problem. Each statue comes with a matching plinth and self contained up-lighting to enhance the impact and realism.
They can provide up to 4 living statues per event or just an individual performer, these can be 2 x male and 2 x female or individual male or female characters
The statues can be matching costumes and colours, or historically themed, ie - King Arthur and Guinevere, or Queen Victoria and Albert for example
Laura Jones

, Public Event, Isle of Wight
An excellent service from start to finish. Great communication which made the whole process run smoothly, and the performance was incredible!
---
Anne Smith

, Festival, Llandrindod Wells Victorian Festival, Powys
This act was brilliant. Was a hit with the children who were amazed and the adults loved it too. Very professional and was a great addition to our Festival. Would definitely recommend and will look to rebook in the future.
---
Sarah Hammond - RAF Halton

, Military Event, RAF Halton, Buckinghamshire
Awesome as always. Very professional. Would highly recommend them.
---
Amit Hayer - Leisure Services

, Public Event, Gravesham Borough Market, Kent
Amazing service, everyone really enjoyed the living statues and very polite and professional.
---
Kathleen Walker

, Birthday Party, Wheatsheaf Inn, Oxfordshire
Our Living Statue, David, was excellent. He was on time and he consulted me as to how to proceed. He delivered as planned and I can recommend him without any non-positive remarks.
---
Kathleen Walker

, Birthday Party, Gloucestershire
David arrived on time with all his luggage and we discussed the best way to proceed. At all times he was easy to talk to and professional. In position David was incredibly believable, he surprised many of my guests and I was worried (not really) about my 22 year old granddaughter as she was so frightened by David coming "alive". I had some photographs taken with David which I could forward if they are needed! All in all I was very pleased with the choice of Victorian gentleman statue and the way that David performed. He enhanced my party and certainly entertained my guests. Thank you David.
---
Ron Rogers

, Birthday Party, Monmouth
Brilliant, thanks Dave for going the extra mile.
---
Tracy Kenny

, Corporate, Horwood House, Buckinghamshire, Buckinghamshire
Very punctual, professional and accommodating. Our delivery of 'fake' statues actually never turned up so I was so pleased to see the Living Statue version turn up. Very accommodating and agreed to do 1 x full hour to fit into our schedule rather than 2 x 45 minutes. Was very entertaining for our guests. Thank you.
---
Shirley Jolly

, University / School, Cambridgeshire
Easy to book, communication good and the artists were excellent.
---
Claire Grasby - Party Delights

, Corporate, Manchester
Fantastic performers - looked great and really drew attention. Would highly recommend.
---
Fiorella Massey

, Birthday Party, Spencer House, London, London
The idea to have them at the entry point meant that literally every guest had a fun frisson on arrival. They both really got into what I had requested and were absolutely perfect. Many comments on what a fun addition to the evening they were. They were much photographed! Many thanks, perfect.
---
Cheryl Greenwood

, Wedding, Carlton Towers, North Yorkshire, North Yorkshire
The living statues for our wedding was fantastic. The guests were very surprised and impressed, he was very professional and arrived early and stuck to the time frame perfect, and was very accommodating.
---
Lyn Russell

, Corporate, Surrey
Great service.
---
James Hill

, Birthday Party, Gloucestershire
Super people to deal with. Grasped the brief first time and very quickly. Great unsolicited feedback from guests. Would be more than happy to use again and to recommend.
---
Victoria Shepherd

, Private Party, Norfolk
The living statues were excellent! We were all very impressed with how they looked - they fitted the theme perfectly! We had many positive remarks from the guests and they added so much atmosphere to the party! Thank you so much, I will certainly recommend Warble to anyone else looking for party entertainment.
---
BBC TV
Channel 4 TV
Arsenal FC
La Senza Lingerie
The Conservative Party
Oxford Utd FC
Swarofski Crystal
The Four Seasons Hotel
The Hilton Hotel Group
Lord And Lady Archer
Sofitel Hotel Group
Ericsson
Monsoon
Leeds Royal Armouries
Do they move at all?
Yes, they can interact with guests with sudden movement to startle! They can also perform robotics and pose for photo opportunties.
Is there any mess with the body make up?
No, there is no spraying of paint involved, any bodypaint is carefully applied by hand and every changing area provided is left spotlessly clean.
Can they stand outside?
Yes we can, but best to enquire as some costumes are not suitable for cold weather.
Do you perform at Covent Garden?
No, Living Statues are not street buskers. They are professional living statue artists and use only the very best an most realistic costumes available.
2 x 45 mins
3 x 30 mins
1 x 90 mins
For exhibitions, conferences and family fun days etc, they can perform different set options spread out to cover longer periods, please enquire for details.
Please Note: The fees indicated below are approximate and based on a central location for each county. They are intended to provide a rough guide only and exact quotes can only be given once the date and exact location of your event have been provided.
Scotland
Aberdeen
£552.00
Inverness
£540.00
Perth
£552.00
Sutherland
£552.00
Ayrshire
£540.00
Fife
£540.00
Stirlingshire
£552.00
West Lothian
£552.00
Dumfries-shire
£540.00
East Lothian
£540.00
Lanarkshire
£540.00
Midlothian
£540.00
Glasgow
£540.00
Edinburgh
£540.00
Dundee
£540.00
Foreign Locations
Europe
£420.00
Rest of the world
£480.00
North East
Durham
£420.00
Northumberland
£432.00
North Yorkshire
£420.00
South Yorkshire
£420.00
Tyne and Wear
£420.00
West Yorkshire
£420.00
Yorkshire
£420.00
East Yorkshire
£420.00
Leeds
£420.00
North West
Cheshire
£432.00
Cumbria
£468.00
Manchester
£420.00
Lancashire
£420.00
Merseyside
£420.00
Liverpool
£420.00
East Midlands
Derbyshire
£384.00
Leicestershire
£384.00
Lincolnshire
£408.00
Northamptonshire
£384.00
Nottinghamshire
£384.00
Rutland
£384.00
East
Cambridgeshire
£354.00
Norfolk
£384.00
Suffolk
£354.00
Norwich
£384.00
Wales
Anglesey
£462.00
Caernarvonshire
£456.00
Denbigh
£408.00
Flint
£408.00
Cardigan
£408.00
Brecon
£468.00
Carmarthen
£408.00
Glamorgan
£408.00
Monmouth
£408.00
Pembroke
£432.00
Wrexham
£420.00
Cardiff
£408.00
West Midlands
Gloucestershire
£396.00
Herefordshire
£396.00
Shropshire
£396.00
Staffordshire
£402.00
Warwickshire
£396.00
Worcestershire
£396.00
Birmingham
£396.00
South East
Bedfordshire
£354.00
Berkshire
£354.00
Buckinghamshire
£342.00
East Sussex
£348.00
Essex
£354.00
Hampshire
£354.00
Hertfordshire
£354.00
Isle of Wight
£354.00
Kent
£354.00
Oxfordshire
£336.00
Surrey
£324.00
Sussex
£336.00
West Sussex
£336.00
London
£330.00
Middlesex
£324.00
South West
Cornwall
£474.00
Devon
£474.00
Dorset
£456.00
Somerset
£456.00
Wiltshire
£384.00
Bath
£384.00
Bristol
£396.00