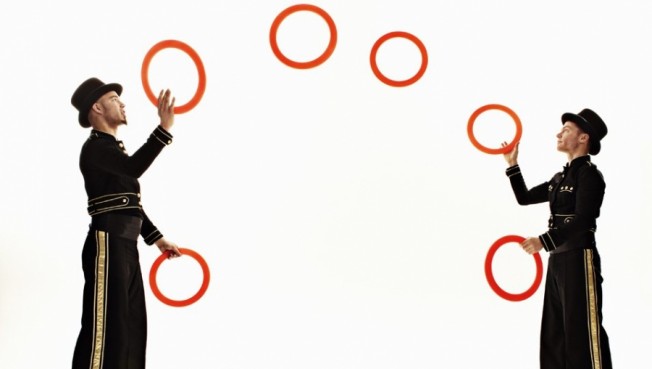 Location UK Wide
Starting from £444.00
Highly skilled walkabout jugglers available to hire to mix and mingle with guests at your upcoming event.
Number of Reviews and Counting... 3!
Walkabout jugglers are a great addition to any event where you are looking for ambient entertainers to mix and mingle with the guests.
The walkabout jugglers will entertain your guests with a variety of juggling skills which can include:
Tradition Ball and Club Juggling
Crystal Ball Juggling
Glow juggling - (Only suitable in dark conditions - see 'Glow Performers')
Vikki McGeough - Halsall Electrical

, Private Party, The Belfry Hotel & Resort, Birmingham
Walkabout Jugglers were perfect for our event. Very Friendly and extremely talented. A massive thank you.
---
Lesley Ingle - Girlguiding Northamptonshire

, Charity, Northamptonshire
Rob the juggler was excellent, he walked about the venue & interacted with the children holding their attention. His entertainment was exceptional with magical moments & a variety of juggling.
---
Punch Taverns

, Corporate, Staffordshire
Jay was great entertainment and everyone thoroughly enjoyed his performances. He interacted with everyone and was a good laugh.
---
How long do the performances last?
Up to three thirty minute sets per performer.
What do they juggle with?
Ball, clubs, rings, clubs, glow props, and crystal balls.
What costumes do they wear?
We have a range of outfits for every occasion if you have specific themes let us know and we'll do our best to help.
Can this be combined with a fire show or a glow performance?
Yes, subject to availability you can book a fire show with some walkabout juggling at no extra cost.
Is this a show?
No, this is interactive walkabout entertainment. Typically the juggler will mix and mingle doing short performances for a few guests before moving on to the rest of the event.
Up to three thirty minutes sets per performer
Please Note: The fees indicated below are approximate and based on a central location for each county. They are intended to provide a rough guide only and exact quotes can only be given once the date and exact location of your event have been provided.
Scotland
Aberdeen
£444.00
Inverness
£444.00
Perth
£444.00
Sutherland
£444.00
Ayrshire
£444.00
Fife
£444.00
Stirlingshire
£444.00
West Lothian
£444.00
Dumfries-shire
£444.00
East Lothian
£444.00
Lanarkshire
£444.00
Midlothian
£444.00
Glasgow
£444.00
Edinburgh
£444.00
Dundee
£444.00
Foreign Locations
Europe
£444.00
Rest of the world
£444.00
North East
Durham
£444.00
Northumberland
£444.00
North Yorkshire
£444.00
South Yorkshire
£444.00
Tyne and Wear
£444.00
West Yorkshire
£444.00
Yorkshire
£444.00
East Yorkshire
£444.00
Leeds
£444.00
North West
Cheshire
£444.00
Cumbria
£444.00
Manchester
£444.00
Lancashire
£444.00
Merseyside
£444.00
Liverpool
£444.00
East Midlands
Derbyshire
£444.00
Leicestershire
£444.00
Lincolnshire
£444.00
Northamptonshire
£444.00
Nottinghamshire
£444.00
Rutland
£444.00
East
Cambridgeshire
£444.00
Norfolk
£444.00
Suffolk
£444.00
Norwich
£444.00
Wales
Anglesey
£444.00
Caernarvonshire
£444.00
Denbigh
£444.00
Flint
£444.00
Cardigan
£444.00
Brecon
£444.00
Carmarthen
£444.00
Glamorgan
£444.00
Monmouth
£444.00
Pembroke
£444.00
Wrexham
£444.00
Cardiff
£444.00
West Midlands
Gloucestershire
£444.00
Herefordshire
£444.00
Shropshire
£444.00
Staffordshire
£444.00
Warwickshire
£444.00
Worcestershire
£444.00
Birmingham
£444.00
South East
Bedfordshire
£444.00
Berkshire
£444.00
Buckinghamshire
£444.00
East Sussex
£444.00
Essex
£444.00
Hampshire
£444.00
Hertfordshire
£444.00
Isle of Wight
£444.00
Kent
£444.00
Oxfordshire
£444.00
Surrey
£444.00
Sussex
£444.00
West Sussex
£444.00
London
£444.00
Middlesex
£444.00
South West
Cornwall
£444.00
Devon
£444.00
Dorset
£444.00
Somerset
£444.00
Wiltshire
£444.00
Bath
£444.00
Bristol
£444.00