Warble Entertainment's
Manchester Strings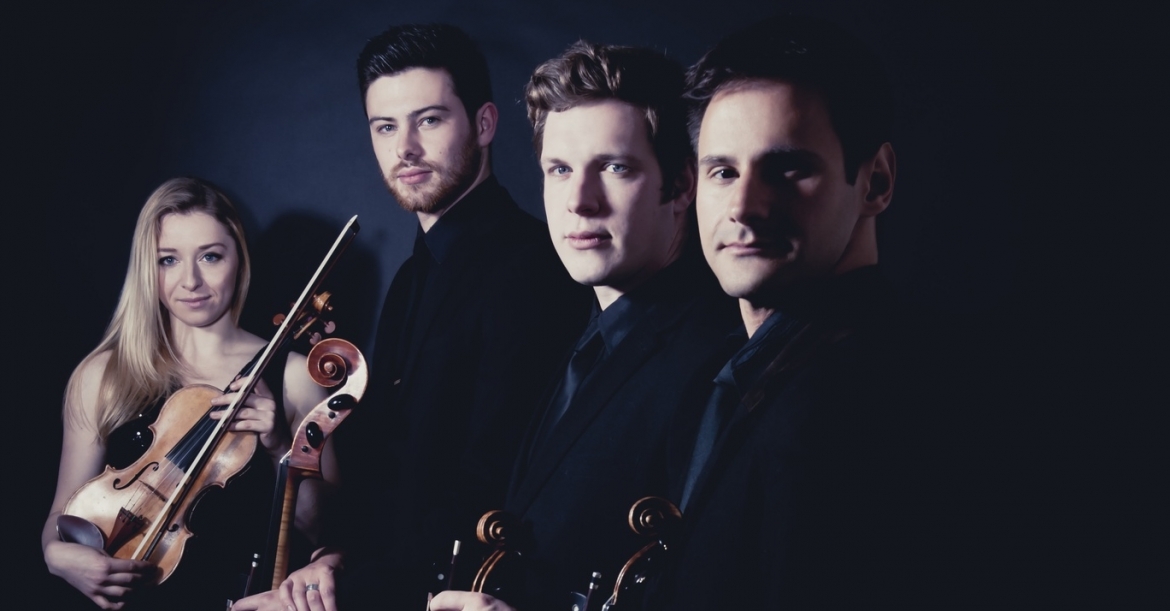 Location Manchester
Starting from £468.00
Founded at one of the top UK music conservatoires, The Royal Northern College of Music, Manchester Strings specialise in the provision of high quality live music for weddings, functions, galas, christenings, product launches, corporate events and more in the North West.
The four members are all highly trained, professional musicians. They have a wealth of experience performing in venues all over Europe including The Wigmore Hall, Purcell Room, Queen Elizabeth Hall, Munich Cathedral, Edinburgh Castle, Versaille Palace and for clients such as Harvey Nichols, BBC 2, Redrow, Unilever, National Trust and more.
The quartet and trio offer a professional service, tailored to suit your needs with one fo the largest quartet/trio repertoire collections in the UK! A personalised music arranging service is also available if you would like your favourite piece to be played.
19 reviews
Song List
Classical
Albeniz: TangoTR
Albinoni: Concerto
Arvo Part: Spiegel im spiegel
Bartok: Romanian dances
J.S Bach: Jesu Joy of Man's DesiringTR , Wachet AufTR, Ave Arioso, Air on the G stringTR, Sheep May Safely GrazeTR , Badinerie, Double Violin ConcertoTR , Bist Du bei mir,My heart ever faithful, Brandenburg Concerto No. 3TR
Beethoven: Ode To Joy, Fur Elise,Moonlight Sonata
Bizet: Music from Carmen
Boccherini: Master and Commander theme (Passacalle Musica Notturno delle strada di Madrid), Minuet and TrioTR
Brahms: Hungarian Dance No.1 and No.5TR
Brian Crain: Butterfly waltz
Capua: O Sole MioTR
Charpentier: Te Deum
Chopin: Nocturne in E flat major, Polonaise Militaire
Clarke: Trumpet VoluntaryTR
Carl Jenkins: Palladio
Corelli: Adagio from the Christamas Concerto (theme from Master and Commander)
Delibes: Flower DuetTR, Valse from Coppelia
Debussy: Claire De LuneTR, Le Petit Negre, Girl With The Flaxen Hair, Reverie (Dreaming), Selections from Childrens corner
Dvorak: HumoresqueTR, Largo from the New World SyphonyTR, Slavonic dance no.2
Elgar: Chanson de Matin, Salut D'AmourTR, Chanson de NuitTR, Nimrod
Frank: Panis AngelicusTR
Faure:PavaneTR
Gluck: Melodie from Orpheus
Grieg: Gavotte from Holberg Suite, In the Hall of the Mountain KingTR, Morning from Peer GyntTR, Slavonic dance no.9, Norwegian dance no.2, Wedding Day at Troldhaugen
Gounod: Ave MariaTR
Handel: Music from Water Music in FTR, Music from Water Music in DTR, Music from The Royal FireworksTR, Arrival of the Queen of SheebaTR, Largo from the Violin Sonata in D majorTR, Lascio chia Pianga aria, All We Like Sheep, See the conquering hero
Holst: Jupiter
Kreisler: Liebeslied, Plaisir d'amour, Schon Rosmarin
Mendelssohn: Wedding MarchTR
Mozart: Eine Kleine Nacht MusikTR, Divertimentii I, II and IIITR, Alleluja from Exultate Jubilate, Andante from Piano Concerto No.21, Ave Verum Corpus, Rondo Alla Turka, If with all your hearts
Mouret: RondeauTR
Monti: CzardasTR
Mussorgsky: Promenade from pictures at an exhibition
Offenbach: BarcarolleTR, The Can Can
Pachebel: CanonTR
Prokofiev: Dance of the knights (Apprentice theme)
Purcell: Trumpet Tune, Suite from the fairy queen
Rachmaninoff: Vocalise
Ravel: Bolero
Satie: Gymnopedie no.1TR
Schubert: Ave MariaTR, Trout quintet
Schumann: Traumerie TR
Shostokovich: Waltz 2 from Jazz Suite no.2, (from the film Eyes Wide Shut)
Strausse/Strauss Jnr: Blue Danube waltz, Emperor Waltz, Tales from the Vienna woods, Chit Chat Polka, Pizzicato Polka
Tchaikovsky: Waltz from Sleeping Beauty TR, March from The Nutcracker Suite
Vivaldi: Music from The Four SeasonsTR
Wagner: Bridal ChorusTR
Opera Favourites
Bizet: Habenera (Carmen),Toreador's song (Carmen)
Delibes: The Flower Song (Lakme)TR
Donizetti: Una furtiva Lagrima
Mascagni: Intermezzo (Cavelleria Rusticana)TR
Massenet: Meditation (Thais)TR
Mozart: Der Vogelfanger (Magic Flute), Bei Mannern (Magic Flute), Non Piu Andrai (Marriage of Figaro)TR
Puccini: O mio babino caroTR, Nessun DormaTR
Verdi: Libiamo (La Traviata), La Donna E Mobile (Rigoletto), Vedi! le fosche (Il Trovotore)
Modern, Pop, Rock, Indie
Abba: Mamma MiaTR, Gimme Gimme, Dancing queen, SOSTR, Money Money Money, Take a Chance on MeTR, Medley-Mamma Mia/I have a dream/Dancing Queen, Thank you for the music, The winner takes it all, Super Trouper
ACDC: Highway to Hell
Adele: Make You Feel My LoveTR Listen, Rolling in the deep, Someone Like You, Skyfall, Set fire to the rainTR
Aerosmith: Dream on, AngelTR, I Don't Want To Miss A ThingTR
Alicia Keys/Jay Z: Empire state of mind, If i ain't got youTR
American Authors: Best day of my life
Andrea Bocelli: Time to Say GoodbyeTR, Besame MuchoTR, The PrayerTR
Andy Williams: Music to watch girls byTR
Angry Anderson: Suddenly (processional version only)TR
Aretha Franklin: Say a little Prayer
Avenged Sevenfold: Warmness of the soul, Afterlife
Avici: Wake me upTR, Hey brother
Aznavour: She TR 16 she endymion.mp3
Bacharach/Carpenters: Close to youTR 15 close to you endymion.mp3
Badly Drawn Boy: The Shining
Barbara Streisand (made famous by): Evergreen, The Way We Were
Barry Manilow: Cant Smile Without You
Barry White: My First My Last My Everything
Beach Boys: God Only Knows, Wouldn't It Be Nice, Good vibrations
Beatles: Across the UniverseTR , All my lovingTR, All you need is loveTR 5 all you need is love endymion.mp3, And I love her, Back in the USSR, Day Tripper, Eleanor RigbyTR, Get Back, Grow Old With MeTR, Hard Day's Night, Hello Goodbye, Here comes the sunTR, Here There and EverywhereTR, Hey JudeTR, In my lifeTR, MichelleTR, Norwegian Wood TR, Obladi oblada, P.S I love you, Penny Lane, She loves meTR, SomethingTR, When I'm 64, With a little help from my friendsTR, Yellow Submarine, YesterdayTR
Bee Gees: How deep is your love, Yesterday Once More
Ben E King: Stand by me
Berlin: Take My Breath Away
Bette Midler: Wind Beneath My Wings,The Rose
Beyonce: HaloTR, Crazy in love, Love on top, If i were a boy
Biffy Clyro: Many of Horror
Bill Medley: Time of My Life
Billy Joel: Shes Always a Woman,Just The Way You Are, Shes got a way
Birdie: Skinny Love
Blues Brothers: Everybody Needs Somebody
Blur: Universal
Bon Jovi: Its My Life, Livin on a prayer
Boston: More Than A Feeling
Britney Spears: Toxic
Bruno Mars: Just The Way You AreTR, Marry YouTR, E.T - Katy Perry, Uptown Funk, Grenade, Without you, Locked out of heaven
Bryan Adams: Heaven, Everything I do I do it For YouTR
Burt Bacharach: The look of love
Carly Rae Jepson: Call Me MaybeTR
Carly Simons: Nobody Does It BetterTR
Carpenters: Top of the world, Close to youTR
Celine Dion: My Heart Will Go OnTR, The Prayer
Chaplin: SmileTR
Christina Perri: A thousand yearsTR
Clapton: Wonderful Tonight
Clean Bandit: Rather beTR
Coldplay: Sky Full of stars, Charlie Brown, ClocksTR, Fix YouTR, In My Place, Life in Technicolor, ParadiseTR, ScientistTR, Speed of sound, Viva La VidaTR 1 viva la vida endymion.mp3, Sky Full of YellowTR trio yellow.mp3
Creed: Arms wide open
Crowded house: Fall at your feet
Cyndi Lauper: True Colours
Daft Punk: Get Lucky
Damien Rice: The Blower's daughterTR
David Bowie: Heroes
David Guetta: Titanium, Without you
Dawn/Tony Orlando: Tie a yellow ribbon
Desree: Kissing YouTR
Dire Straits: Brothers in arms
Dixie Chicks: Not ready to make nice
DJ Sammy: Heaven-candlelight version
Ed Sheeran: Thinking out loudTR
Elbow: One Day Like ThisTR
Ellie Goulding: How long will i love youTR
Ellie Goulding: How long will i love youTR, Burn
Elton John: Your SongTR, Circle of Life, Bennie and the jets, Can You Feel the love tonightTR
Elvis: The Wonder of You, Cant Help Falling In LoveTR, Love me tender
Emilie Sande: Next to me
Enya: Flora's secret , Orinoco Flow, May it be (from Lord of the rings)TR
Eric Clapton: Wonderful tonight
Etta James: At LastTR
Europe: The Final Countdown
Eurythmics: Sweet Dreams are made of these
Eva Cassidy: SongbirdTR
Fields/Kern: The Way You Look Tonight
Foo Fighters: EverlongTR, Learn to Fly
Francois Revaux: I did it my way
Frank Mills: Music box dancer
Frank Sinatra: Strangers in the nightTR, All the way, You'll Never Walk AloneTR
Frankie Goes to Hollywood: Power of LoveTR
Fun: We are young
George Ezra: Budapest
Glen Hansard: Falling SlowlyTR
Goo Goo Dolls: Iris
Goyte: Somebody that i used to knowTR
Greenday: Wake me up when September ends, Holiday
Guns and Roses: Sweet Child of MineTR
Heusen: Come Fly With MeTR, Love and Marriage
Heyman and Young: When I fall in love
Hurricane: Only the strongest will survive
Ian Brown: F.e.a.rTR
Imagine Dragons: On tio of the world
Irene Cara: What a feeling
Iron and Wine: Flightless bird, American mouth (from the Twilight soundtrack) TR
Jackie Wilson: Your love is lifting me higher and higherTR
Jason Mraz: I'm YoursTR, Lucky, I wont give upTR
Jeff Buckley: HallelujaTR
Jerome Kern: Smoke gets in your eyesTR,The way you look tonight TR
Jimmie Davis: You are my sunshine
Joe Cocker: You are so beautiful to me
John Denver: Annie's SongTR, Country roads
John Legend: Ordinary People, All of meTR
Josh Groban: You Raise Me UpTR
Journey: Don't Stop BelievingTR, Open Arms
Katy Perry: Roar, FireworkTR,Birthday
Keane: Somewhere only we know
Killers: Mr BrightsideTR, Human, When You Were Young
Kings of Leon: Use SomebodyTR
Kylie: I believe in youTR
Lady Gaga: Poker Face, Allejandro, Judas, Paparrazzi, Bad Romance
Lana del rey: Summetime sadness, Shade of Cool, Once upon a dream (Maleficant) Young and beautifulTR
Led Zeppelin: Stairway to heaven, Sweet child of mineTR, All my love
Leona Lewis/Celine Dion: The first time I ever saw your face
Lifehouse: You and me
Lionel Richie: Endless Love
Lorde: Royals
Louis Armstrong: All the time in the world, What a wonderful worldTR
Maccabees: Toothpaste KissesTR
Madness: It Must Be LoveTR
Madonna: Frozen
Mama Cass: Dream a little dream of meTR
Marie Grever: What a difference a day makes
Maroon 5: Moves Like Jagger, Payphone
Meghan Trainor: All about that bass
Metallica: Fade to black
MGMT: Kids
Michael Buble: Me and Mrs JonesTR, Everything
Michael Jackson: Beat It, Ben, Billie Jean, Smooth CriminalTR, Thriller, Man in the mirrorTR, Human nature
Michael Legrand: The Summer knows (theme from summer of 42)
Miller: Moonlight SerenadeTR
Moby: Raining Again
Montovani: Charmaine
Moody Blue: Nights in white satin
Murray Gold: Song of freedom
Muse: Feeling GoodTR, StarlightTR
N Sync: This i promise you
Nacio Brown: Singin' in the rain
Nat King Cole: Unforgettable
Norah Jones: Don't Know Why, Come away with meTR
Oasis: Champagne Super Nova, Dont Look Back In Anger, Masterplan, WonderwallTR, WhateverTR
One Direction: What makes you beautiful
One Rebublic: Counting stars, Love Runs Out, SecretsTR
Outkast: Hey Ya
Owlcity: Fireflies
Panic at the disco: I write sins not tragedies
Patrick Wolf: Magic PositonTR
Percy Sledge: When A Man Loves A WomanTR
Peter Gabriel: In Your Eyes
Pharell Williams: Happy
Piano Guys/One Republic: SecretsTR
Pink Floyd: Shine on you crazy diamondTR
Plain White T's: Hey There DelilahTR
Queen: We Are The Champions, Bohemian Rhapsody, Who wants to live forever, Crazy Little Thing Called LoveTR, We will rock you, Dont Stop Me NowTR, You're my best friendTR, Somebody to loveTR
R Kelly: I believe i can fly
Radioactive: Imagine dragons
Radiohead: House of Cards, Paranoid Android, No Surprises, Karma
Rascall Flatts: Bless the broken roadTR
Ray Charles: Georgia on my mind
Regina: Spector Us, Samson
REM: NightswimmingTR, At My Most Beautiful, End of the worldTR (trio only)
Rick Astley: Never Gonna Give You Up
Righteous Brothers: Unchained MelodyTR
Rihanna: We found loveTR, Only girl in the worldTR, Diamonds, Stay, What now
Robbie Williams: AngelsTR
Rolling Stones: Wild Horses
Ronan Keating: When you say nothing at all
Roy Orbiso: Pretty WomanTR
Sarah Mcloughlin: Arms of the angel
Savage Garden: Truly madly deeply
Shins: New Slang
Sigur Ros: HoppipolaTR
Simon and Garfunkel: Bridge over troubled waterTR,Mrs Robinson
Sixpence non the richer: Kiss me
Smashing Pumkins: TodayTR, Stand inside your love
Snow Patrol: Chasing CarsTR, Run
Stevie Wonder: Isnt she lovely, Called to say i love you
Sting: Fields Of GoldTR
Stone Roses: I Wanna Be AdoredTR
Stone Temple Pilots: Plush
Susan Boyle: Perfect Day
Swedish House: Mafia Dont you worry childTR
Take That: Rule The WorldTR, Greatest DayTR, A million love songs
Taylor Swift: Love StoryTR, Safe and sound, Mean
The Cure: Just like heavenTR
The Fray: How to save a life
The Kinks: Sex on fire
The Lumineers: Ho Hey
The Piano Guys: Beethoven's 5 secrets/Secrets
The Pretenders: I'll Stand By You
The Smiths: There is a light that never goes outTR
The Style Council: Shout to the topTR
The Supremes: Aint No Mountain High Enough
The Temptation: My Girl
Tina Turner: Simply the Best
Tom Jones: DelilahTR
Tony Bennet: I left my heart in San Francisco
Train: Hey there soul sister, Marry meTR
Trenet: Beyond the SeaTR
Turning Page: Sleeping at last (from the twilight breaking dawn soundtrack) TR
U2: OneTR, With or without youTR, Beautiful DayTR, Sunday Bloody Sunday, All i want is youTR
Van Morrison: Have I told you Lately, Brown Eyed GirlTR
Vanessa Carlton: 1000 miles
Velvet Revolver: Fall to pieces
Verve Bittersweet: SymphonyTR
Wannadies: You and me song
Whitney Houston: I will always love you
Yiruma: River Flows in You
Tangos and Latin Songs
Abreu: Tico Tico
Albeniz: TangoTR
Consuelo Velasquez: MuchoTR
Gade: Jalousie
Gardel: Tomo Y Obligo Tango Por Una CabezaTR
Jobim: Besame
Mendes/Brasil 22: Girl from Ipanema
Piazzola: Libertango, Oblivion
Rodriquez: La Cumparasita
Sergio: Mas que nada
Traditional Mexican: La Bamba
Villodo: El Choclo
Yradier: La Paloma
Jazz
Antonio Carlos Jobim: Desafinado, The girl from Ipanema
Bart Howard: Fly me to the moon
Bill Martin: Congratulations
Billy Strayhorn: Chelsea Bridge, Take the 'A' train
Bob Haggart: What's new
Buddy Johnson: Since I fell for you
Cole Porter: Lets Do It, Anything Goes, Every Time We Say Goodbye, Night and day, Second Time Around
Duke Ellington: In a sentimental mood, Caravan, Satin Doll
Eroll Garner: Misty
George Shearing: Lullaby of Birdland
Gershwin: It Aint Necessarily SoTR, SummertimeTR, Someone to watch over me, I've Got a Crush On you, Fascinating Rhythm, I Got Rhythm
Gus Kahn: It Had To Be You
Harold Arlen: It's only a Paper Moon
Herman Hupfield: As Time Goes By
Jean Thielemans: Bluesette
Joe Garland/Glen Miller: In the mood
Joplin: Paragon RagTR, Entertainer, Ragtime Dance, Country Club RagTR, Pineapple RagTR, Pleasant MomentsTR, The ChrysanthemumTR, SolaceTR, Peacherine RagTR
Karl Suessdorf: Moonlight in Vermont
Mancini: Pink Panther theme
Mannin Sherwin: A Nightingale Sang in Berkeley SquareTR
Morgan Lewis: How High The Moon
Nat King Cole: Unforgettable, When I fall in love
Paul Desmond: Take FiveTR
Quincy Jones: Soul Bossa Nova
Ray Charles: Georgia on my mind
Ray Henderson: Bye Bye Blackbird
Richard Rogers: Blue Moon, My Funny Valentine
Walter Donaldson: Makin WhoopeeTR
Musicals, Film and TV Themes
Aladdin :A Whole New World
Andrew Lloyd Weber:Memory (Cats)TR, Don't cry for me Argentina (Evita), Think of Me (Phantom of the Opera), All I ask of you (Phantom of the opera)TR, Love changes everything, Music of the NightTR
Avengers: Main theme
Back to the future: Main Theme
BBC Sherlock Holmes: Medley
Braveheart: Secret weddingTR
Buffy the vampire slayer: Main Theme
Camelot: If I Ever Would Leave You
Chess: I know him so wellTR
Chicago: All that Jazz
Cinderella: A dream is a wish, So this is love
Cinema Paradiso: Main theme
Crimson Wing Mystery of the flamingos: Arrival of the birds
Cy Cloleman: Big Spender (Sweet Charity)
Dambusters: Main Theme
Deer Hunter: Cavatina
Doctor Who: 11th doctorTR (trio only), Song of freedom, I am the doctor
E.T: Theme
Fawlty Towers: Theme
Finding Nemo: Theme
Frozen: Let it go, Do you want to build a snowman
Game of Thrones: Theme
Gladiator: Now we are free
Great Gatsby: Young and beautiful
Great Gatsby: Young and Beautiful
Harry Potter: Medley, Hedwigs theme, The Shire
Henry Mancini: Moon RiverTR, Pink Panther Theme
Hercules: I can go the distance
Hook: Flight to Neverland
Indiana Jones: Raider's March, Marion's Theme
James Bond: Main ThemeTR, Diamonds are forever, Goldfinger, We have all the time in the world, From Russia with love Nobody does it betterTR, For your eyes only, Skyfall, All time high
Jaws: Main Theme
Jeeves and Wooster: Main Theme
Jurassic Park: Main Theme
Last Of the Mohicans: The Kiss
Legend of Zelda – Theme, Skyward sword Romance theme
Les Miserables: I dreamed a dreamTR, One day more
Lion King: Can you feel the love tonightTR, Circle of Life
Little Mermaid: Part of Your World, Under the sea, Kiss the girl
Lord of the rings: Concerning hobbits, In dreamsTR, Main theme
Love is a many splendored thing: Main Theme
Maleficant: Once upon a Dream
Marry Poppings Collection: Various
Mission Impossible: Main Theme
Moulin Rouge: Come What May, Roxannes Tango
Murder by death: Lost river, I came around
Notebook: Main Theme
Once Upon a Time in America: Friendship and Love (Morricone)
Out of Africa: I had a farm in Africs
P.S I love You: Kisses and Cake
Pinnochio: When you wish upon a star
Pirates of the caribbean: Theme
Pochohontas: Colours of the Wind
Pride and Prejudice: Main theme
Requiem for a dream: Theme
Rocky: Main Theme
Romeo and Julliet: Kissing youTR, Balcony Scene
Schindlers List: Main Theme
Sound of Music: EdelweissTR, My Favourite Things
Star Wars: Main Theme, Cantina Band, Hall of Thrones
Super man: Can you read my Mind, Main theme
Super Mario: Underwater theme
Tangled: I see the Light
Twilight: Falling slowly, Sleeping at last, A thousand yearsTR, Bellas lullaby
Up: Married LifeTR
West side story: Maria
Willy Wonka: Pure imagination
Wizard of Oz: Somewhere over the rainbowTR
Folk and Traditional Music
American traditional: Star spangled banner, Go tell it to the mountain
Irish traditional: Londonderry Air (Danny Boy)TR, Cock LinnetTR, Lily of the WestTR, Mick MaguireTR, Toss the feathers Solider's JoyTR, Celitc OdysseyTR, Irish WasherwomanTR, SheebegTR
Scottish traditional: The Dark IslandTR, My Love is Red Red RoseTR, Loch LomondTR, Auld Lang SyneTR
Well known tunes & football themes: GreensleevesTR, Scarborough FairTR, Happy birthdayTR, Daisy Daisy (Daisy Bell), Glory Glory HallelujaTR, Johnny Todd/ZcarsTR, Amazing GraceTR, God Save The QueenTR
Greek:Zorbas dance
Gypsy Music
Hungarian: Czardas- Monti, Hungarian dance no 5-BrahmsTR
Other: The BassoTR, Habanera from CarmenTR
Romanian: Hora Stacatto, Hora Martisorului, Maruntal from Bartoks Romanian folk dancesTR
Russian: KalinkaTR, Dark EyesTR, My Gypsy GirlTR
Hymns
All That I AmTR
All things bright and beautifulTR
As I kneel Before YouTR
Be Thou My Vision Bind Us Together LordTR
Here I Am LordTR
I Watch the sunriseTR
Jerusalem
Lord of the danceTR
Make me a channel of your peaceTR
Morning has brokenTR
On Eagles WingsTR
One more step along the world I goTR
Shine Jesus ShineTR
Sing Hosanna (Give me joy in my heart)TR
The Lord Is My ShepherdTR
Christmas Music-all Quartet and Trio
All I want for Christmas is you
Away in a Manager:
Christmans Tree
Christmas Song (Chestnuts roasting by the fire)
Conventry Carol Santa Baby
Deck the Halls
Ding Dong Merrily On High
Frosty The Snowman
God Rest Ye Merry Gentlemen:
Good Christian Men Rejoicing
Good King Wencelas
Hark the Heral Angels Sing
Have Yourself a Merry Little Christmas
I Saw Three Ships
I'll be home for Christmas
In the Bleak Mid Winter
Jingle Bell rag
Jingle Bell Rock
Jingle Bells
Let it Snow
Little Town Of Bethlemen
Once In Royal Davids City
Rudolph
Santa Claus is Coming to Town
Silent Night: Last Christmas
The Christmas Waltz
The First Nowell
The Holy and The Ivy
The Little Drummer Boy
The Red Nose Reindeer
The Twelve Days of Christmas
Twinkle Twinkle Little Star
We Three kings
We wish you a Merry Christmas
What Child is this-Greensleaves
While Shepherd Watched
White Christmas
Winter Wonderland
Jewish
Fiddler on the Roof: Sunset sunrise, If i were a rich man
Hannukah: Al Hanisim, Hannukah, I have a dreydl, Maoz Tur, Who can retell, Yvanim
Klezmer: Freylach Zayn-fast klezmer style, Freylachs-various, Russian Scher
Other Popular Songs: Bei Mir Bist Du Shayn ,Bo'ee B'shalom (Yaakiv shwekey version), Chanukah O Chanukah ,Dodi Li (Scher) ,Dona Dona Eishes Chayil (Yaakiv shwekey version), Eli Eli(my god my god), En Kelohenu Freylach Zayn-fast klezmer style, Hakotel (The western wall), Hatikvah - Jewish National Anthem, Hava Nagila, Hevenu Shalom Alechem, Hitragut (In quiet mood), K'Shoshana Ben HaChochim (Lily among thorns ), Mayim Mayim, Oif'n Weyg (By The Wayside Stands a Tree ), Ose Shalom, Rock of Ages, Scher, Tumbalaika, Uru Achim, Vezakeini (Baruch Levine)
Processional: Al Kol Ele, Bashana Haba, Chorshat Ha'ekaliptus (the eucalyptus grove) ,Dodi Li (my beloved is mine) ,Erev Ba ,Erev Shel Shoshanim (evening of roses) ,Eschet Chayil ,Hassidic Nigun wedding march ,Jerusalem of Gold ,K'var Achare Chatsot (past midnight) ,Y'did Nefesh (beloved of the soul)
Recessional: Mazel Tov, Od Yishoma, Siman Tov
Bollywood
Akhiyan
Ay Mere HumsafarTR
Aye ho meri zindagi mi
Chaudvin Ka Chand HoTR
Chura LiyaTR
Dheere Dheere
Do Dil Mil Rahe Hai
Ghar Aaya Sonja
Haule Haule
Heer
Humko Humise ChuraloTR
'Jai Ho' ListenTR
Jashn E Bahara
Kabootar Ja Ja Ja Listen
Kal Ho Na HoTR
Khabi khabie mere dil meinTR
Kuch Kuch Hota HaiTR
Kuch Na Kaho
Main Shayer Toh Nahin
Mein Haath Mein
Mein Huu na
Mere Rang MeinTR
Mere Sapno Ki Rani
Monsoon Wedding them
Pehla NashaTR
Pehli Nazar MeinTR
Ravoyi Chandamama
Saans
Sachi Sachi
Suraj Hua Maddham
Surili Ankhiyon Wale
Tere LiyeTR
Teri Hone Laga Hoon
Teri Meri Prem KahaniTR
Teri Ore
Tujhe Deka To
Tujhme Mein Rab Dikhta Hai
Tum Hi Ho
Tum Se Hi
Japanese
Aka tonbo
Biwako Shuuko no uta
Furusato
Japanese National Anthem
Juugoya Otsukisan
Nanatsu no ko
Sou shun fu
Spring in Japan medley
Summer in Japan medley
Yashi no mi
Yuuyake Koyak