Warble Entertainment's
The Arioso Cello Duo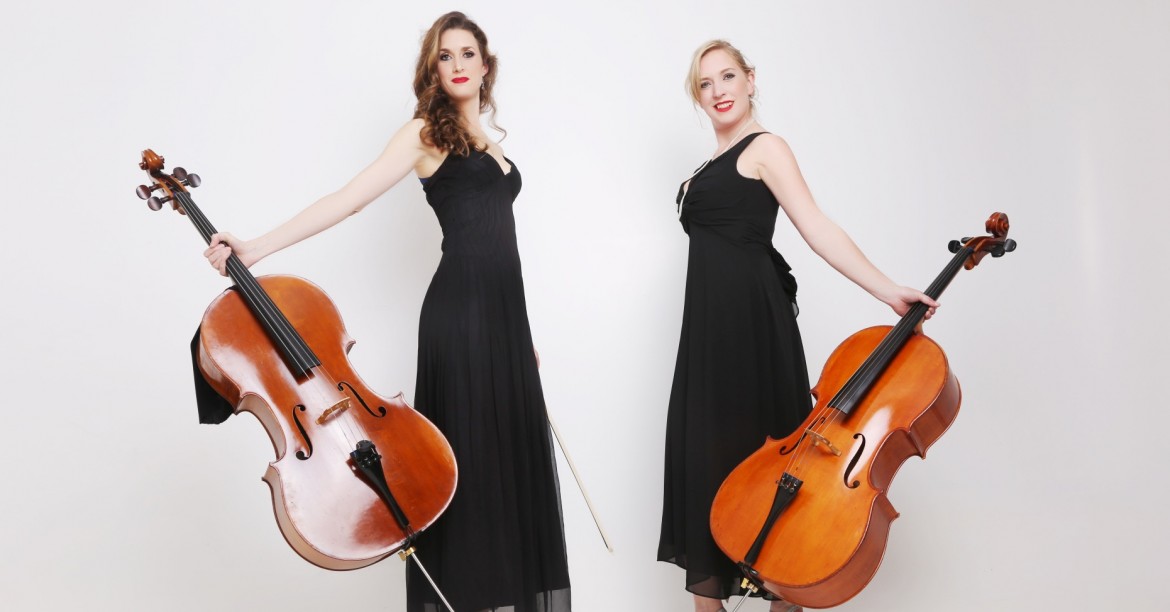 Location Manchester
Starting from £336.00
Vibrant cello duo that adds sophistication and elegance to any event. From classical to jazz to heavy metal, these ladies have a relentlessly optimistic approach to what's possible with two cellos!
'Listening to Arioso made the hairs on the back of my neck tingle. Beautiful music, performed by two outstanding and gorgeous musicians.' - Guy Garvey, Elbow
8 reviews
Song List
Popular Choices
Que Sera -Livingston/Evans
Can-Can –Offenbach
Summertime –Gershwin
Por Una Cabeza –Gardel
She -Aznavour/Kretzner
The Swan -Saint-Saens
William Tell Overture –Rossini
Chanson d'Amour -Shanklin & Hart
Sailor's Hornpipe -trad.
Autumn Leaves -Kosma
Arioso –J.S. Bach
Barbara Allen –trad.
Waves of the Danube –Ivanovic
Hungarian Dance -Brahms
Drunken Sailor- Trad.
Bare Necessities- Gilkyson
Classical/Baroque
Composers include Brahms, Strauss, Haydn, Handel, Breval, W.A. Mozart, Chopin, Mozart, Bach, Hook, Schumann, Dotzauer, Guignon, Pleyel, Beethoven, Schubert, Bartok, Kodaly, Couperin, Boismortier, Telemann, Purcell, Stravinsky, many more.
Air ('on a G string') – Bach
Air (from the Water Music) – Handel
Arrival of the Queen of Sheba – Handel
Autumn – Vivaldi
Bach – Double Concerto
Canon in D –Pachelbel
Celeste Aida – Verdi
Clair de Lune - Debussy
Fur Elise – Beethoven
Greensleeves
Hornpipe (from the Water Music) - Handel
I Wanna Be Like You – Sherman
In the Hall of the Mountain King - Grieg
Jesu Joy of Man's Desiring – J.S. Bach
La Rejouissance – Handel
Marche Militaire – Schubert
Minuet from "Eine Kleine Nachtmusik" –Mozart
Minuet from "Music for the Royal Fireworks" – Handel
Nimrod (adagio) – Elgar
Non Piu Andrai (from "Mariiage of Figaro) - Mozart
Ode to Joy from "Symphony No. 9"– Beethoven
Plovtsian Dance – Borodin
Sheep May Safely Graze – J.S. Bach
Spring –Vivaldi
Swan Lake – Tchaikovsky
The Silver Swan – Orlando Gibbons
To a Wild Rose - MacDowell
Trumpet Voluntary -Clark
Wedding March –Wagner
Bollywood
Chhukar Mere Manko
Churaliya
Hai Apna Dil
Jeena Yahan
Kal Ho Naa Ho - Kal Ho Naa Ho
Khabi Kushi Khabie Gham
Kuch Kuch Hotha Hai
Meri Mehbooba
Pehla Nasha
Piyu Bole
Pyar Deewana Hota Hai
Tere Bina Jiya Jaaya Na
Tu Hi Meri Shab Hai
Tu Je Deka To Ye Jaana Sanam
Tum Aa Gaye Ho Noor Aa Gaya Hai
Tumko Hi Chaenge Hum
Yeh Kahan Aa Gaye Hum
Yeh Galiyan Yeh Chaubara
Zara Sa Jhoom Loon Main
Traditional/Fiddle music
Popular/Modern/Jazz
A Million Dreams – The Greatest Showman
Addams Family theme
All of Me – John Legend
All Through the Nigh _trad. Welsh melody
Always A Woman to Me – Billy Joel
Amazing Grace
At Last (Etta James)
A Thousand Years
Barnacle Bill
Basin Street Blues
Budapest – George Ezra
Bob the Builder
Bring Me Sunshine
British National Anthem – jazz version
Can't Help (Lovin' Dat Man)
Cha-cha
Chim Chim Cher-ee (from Mary Poppins)
Chitty chitty bang bang
Clair de Lune
Come Fly With Me
Consider Yourself (from Oliver!)
Computer game themes: Tetris, Mario Brothers, Halo4
Dark Eyes
Diamonds are a Girl's Best Friend
Down By the Sally Gardens
Eastenders theme
Edelweiss
English Country Garden floral medley
Everybody Wants To Be A cat
Every Breath You Take
Fawlty Towers
The Final Countdown
Flintstones theme
Fraggle Rock
Free Fallin' – Tom Petty
Game of Thrones
Get Lucky – Daft Punk
Get me to the church on Time
Glenlogie (Scottish trad.)
Ghost busters theme tune
The Girl from Ipanema
Great Escape theme
Greensleeves
Grounds For Divorce - Elbow
Habanera
Happy Birthday
Harvest Home
Havana – Cabello
How Long Will I Love You? (E. Goulding version)
Hushaby Mountain
I Have A Dream
I Say a Little Prayer (Aretha Franklin)
Isn't She Lovely? (Stevie Wonder)
It Don't Mean a Thing (if it ain't got that swing)
It Must Be Love (Madness)
James Bond theme
La Vie en Rose
Last of the Summer Wine theme
Let it Go (from Frozen)
The Liberty Bell
The Lonely Goatherd
Love is All Around
Mexican Hat Dance
Mairi's Wedding
Mamma Mia!
Mission Impossible theme
Miss Marple theme
Mister Sandman
Moon River
Muppet Show theme
My Favourite Things
My Heart Will Go On (from film Titanic)
Nellie the Elephant
Night on a Bald Mountain – Mussorgsky
Once Upon A Dream - Sleeping Beauty
One Day Like This - elbow
Oompah Loompah song
Palladio
Paradise – Coldplay
Perfect – Ed Sheeran
Pink Panther theme
Pizzicato Polka
Phantom of the Opera theme tune
Puttin' On the Ritz
Rather Be – Clean Bandit
Rock Around the Clock
Salut d'Amour
Schindler's List theme
Secrets: one republic
Simple Gifts
Shake it Off – Katy Perry
She
Speak Softly Love ('Godfather' theme)
Star wars themes
Stop! (Spice Girls)
Summertime
Supercalifragilisticexpialidocious
Swing Low Sweet Chariot
Take the "A" Train
Teddybear's Picnic
Thriller – Michael Jackson
Those Magnificent Men in their Flying Machines
Top Of the World - The Carpenters
Valse a Mille Temps
Wallace and Grommit theme
Wedding March (both versions, by Wagner and Mendelssohn)
Whatever - Oasis
With or Without You – U2
When I'm 64 – The Beatles
This is just a sample of the duo's repertoire and requests are taken so long as they are agreed in advance.