Warble Entertainment's
The Cheshire String Quartet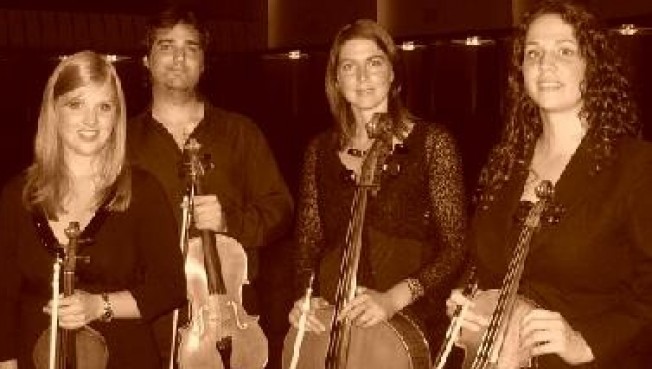 Location Cheshire
Starting from POA
As a quartet, The Cheshire String Quartet share a wealth of experience, ranging from pop to classical.
They play regularly with the Royal Liverpool Philharmonic, Northern Ballet Theatre, Halle and BBC Philharmonic Orchestras.
They have also enjoyed television appearances on Heaven & Earth Show with Sir Cliff Richard, Granada TV with Bonnie Tyler and more recently on Channel 4's programme T4 with Richard Hawley.
*The Cheshire String Quartet is passionate about providing you with the very best in live music. They specialise in performing at weddings, corporate functions and other special occasions*
1 reviews
Song List
Baroque-Classical (Popular Choices For Ceremony)
Water Music - Air - Bach
Canon - Pachelbel
Water Music - Hornpipe - Handel
Water Music - Allegro, La Rejouissance - Handel
Entrance Of The Queen Of Sheba - Handel
Four Seasons - Largo From Winter - Vivaldi
Four Seasons (Excerpts-Autumn-Spring) - Vivaldi
Trumpet Tune And Trumpet Voluntary - Purcell
Sarabande And Bourreé - Handel
Sheep May Safely Graze - Bach
Suite (Gavotte, Bourreé, Air On G, Gigue) - Bach
Pavane - Fauré
Minuet - Boccherini
Eine Kliene Nachtmusik - Mozart
Divertimenti (D,Bb,F Major) - Mozart
Quartet In D - Wesley
Double Violin Concerto - Bach
Brandenburg Concerto No. 3 - Bach
Concerto In A Minor - Vivaldi

Light Classics
Wedding March - Wagner
Wedding March - Mendelssohn
Slavonic Dance No.8 - Dvorak
Nimrod - Elgar Blue Danube
Waltzes - Strauss
Siciliene -Paradis
Emperor Waltz - Strauss
Andantino - Verdi
Hungarian Dance No.5 - Brahms
Pizzicato Polka - Strauss
Greensleeves - Traditional
Rondo Alla Turka - Mozart
William Tell Overture - Galop - Rossini
Holberg Suite - Praludium - Grieg
Palladio - Jenkins
Bolero - Ravel
Barcarolle - Offenbach
Funiculi, Funicula - Denza
Czardas - Monti

Religious
Ave Maria - Schubert
Jesu, Joy Of Man's Desiring - Bach
Panis Angelicus - Franck

Opera And Ballet
O Mio Babbino Caro - Puccini
Lakmé - Flower Duet - Delibes
The Marriage Of Figaro - Non Piu Andrai - Mozart
The Marriage Of Figaro - Overture - Mozart
The Marriage Of Figaro - Voi Che
Sapete - Mozart
The Magic Flute - Der Vogelfanger - Mozart
Cavalleria Rusticana - Intermezzo Sinfonico - Mascagni
La Boheme - Musetta's Waltz Song - Puccini
Thais - Meditation - Massenet
Rigoletto - Quartet - Verdi
Barber Of Seville - Rossini
Peer Gynt - Morgenstimmung - Grieg
Madame Butterfly - Humming Chorus - Puccini
La Traviata - Drinking Song - Verdi
Carmen - Entr'acte, Act 3 - Bizet
Carmen - Habenera - Bizet
O Sole Mio - Capua
The Pearl Fishers - Au Fond Du Temple Saint - Bizet
Prelude To Carmen- Bizet
Prince Igor - Polovtsian Dances - Borodin
Sleeping Beauty - Waltz - Tchaikovsky
Orpheus - Ballet -Gluck
The Nutcracker - Waltz Of The Flowers - Tchaikovsky
A Midsummer Night's Dream - Scherzo - Mendelssohn
Swan Lake - Dance Of The Swans - Tchaikovsky
Hoe Down - Copland

Light Romantic
Salut D'Amour - Elgar
Chanson De Nuit - Elgar
Berceuse - Faure
Humoresque - Dvorak
Nocturne - Borodin
Woodland Sketches - To A Wild Rose From - Macdowell
Apres Un Reve - Faure
Jeux d'Enfants - La Toupie From Op.22 - Bizet
Andaluza Danza Espanola No.5 - Granados
Le Petit Negre - Debussy
Berceuse From Noure And Anitra Suite, Op.13 - Il'yinsk
Etude In C Sharp Minor, Op.2, No.1 - Scriabin
Jazz For You, For Me, For Evermore - Gershwin
A Foggy Day - Gershwin
Embraceable You - Gershwin
Summertime - Gershwin
The Man I Love - Gershwin
Swanee - Gershwin
I Got Rhythm - Gershwin
Somebody Loves Me - Gershwin
They Can't Take That Away From Me - Gershwin
Someone To Watch Over Me Me - Gershwin
By Strauss - Gershwin
Lullaby Of Birdland - Shearing
Anything Goes - Porter
Pennies From Heaven - Johnson
Moonlight And Roses - Lamare
Makin' Whoopee - Donaldson
Moonlight In Vermont - Suessdorf
Upstairs, Downstairs - Faris
Fly Me To The Moon - Howard
Let's Do It (Let's Fall In Love) - Porter
My Funny Valentine - Rodgers
Beyond The Sea - Lawrence/ Trenet
Let's Face The Music - Nat King Cole
A Nightingale Sang In Berkley Square
Come Fly With Me - Heusen
Leaning On A Lampost - Gay
What A Wonderful World-Weiss/Thiele
Take 5 - Desmond

Show Tunes, Film And TV
Gabriel's Oboe - Morriconne
Nobody Does It Better - Hamlisch
We Have All The Time In The World - Barry
Music Of The Night-Lloyd -Webber
All I Ask Of You - Lloyd-Webber
You Only Live Twice - Barry/Bricusse
Faulty Towers - Wilson
Theme From "The Godfather" - Rota
West Side Story - Maria - Bernstein
Three Little Maids From School - Sullivan
Some Enchanted Evening - Hammerstein/Rodgers
Moon River - Mancini/Mercer
Over The Rainbow - Arlen/Harburg
Schindlers' List - Williams

Tangos
Blue Tango - Anderson
Tango (Por Una Cabeza) - Gardel
Tango - Albeniz

Miscellaneous
Country Gardens - English
Folk Song Irish Sherry (Suite Of Irish Melodies) - Traditional And O'Carolan
Cock Linnett (My Old Man….) - Collins And Leigh
Turkey In A Straw - Traditional
Teddy Bears' Picnic

Rags
Country Club - Joplin
Paragon Rag - Joplin
The Entertainer - Joplin
Roseleaf Rag - Joplin

Popular
Blue Moon - Rodgers/Hart
When I'm 64 - Beatles
Yesterday - Beatles
Hey Jude - Beatles
Eleanor Rigby - Beatles
(They Long To Be) Close To You -Carpenters (Written By David And Bacharach)
It Had To Be You - Jones/Kahn
God Only Knows - Wilson
From This Moment On - Shania Twain
Perfect Day - Reed
Have I Told You Lately - Morrison
You Do Something To Me - Weller
She - Aznavour/Kretzmer
All You Need Is Love - Lennon/Mccartney
Can't Help Falling In Love - Weiss/Peretti/Creatore
Angels - Williams/Chambers
Bittersweet Symphony - Verve
Toss The Feathers - Corrs