Warble Entertainment's
Mariachi Margarita - Mariachi Band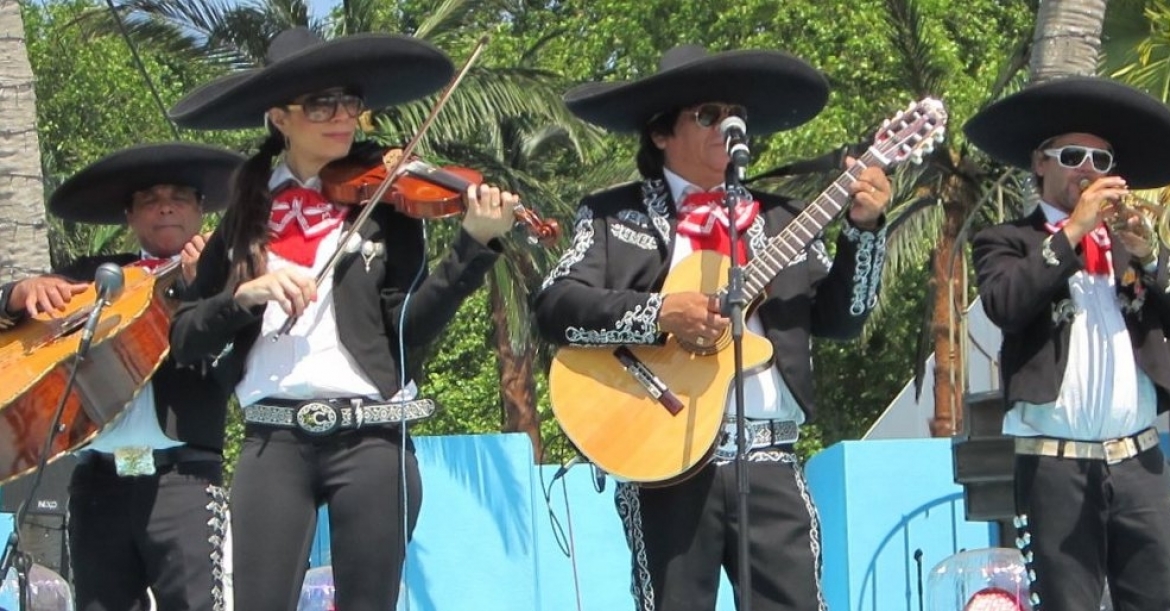 Location London
Starting from POA
Mariachi Margarita is a lively and fun 3-4 piece authentic Mariachi band of Mexican musicians, specialising in traditional Mexican Mariachi music. They are very famous for their Mariachi-style versions of English pop and Rock songs, and their good-natured, entertaining performances. Since their formation in 1996, the band has played at numerous venues and on TV all around the UK and frequently abroad, and recently at the anti-Trump rally in Trafalgar Square in front of 100,000 people!
The music is exciting, vibrant and instantly appealing, featuring singer, guitars trumpet and optional violin, performed in colourful Mariachi costumes and engaging the guests. They are very popular at weddings and make for some great wedding photos and lasting memories.
A hugely talented and reliable Mariachi band for hire!
29 reviews
Listen




Song List
English Pop/Rock Covers
Happy Birthday
Don't you Want me Baby
Heavy Seas of love
After Dark
Born to be Wild
Sex on Fire
Mr. Brightside
She Looks so Perfect
Sunshine of your Love
One Love (Bob Marley)
Jumping Jack Flash
The Sound of Silence
Hotel California
The Wall – Pink Floyd
Wonderwall – Oasis
Bamboleo – Gypsy Kings
My Way – Sinatra
La Bamba
Livin La Vida Loca – Ricky Martin
Many Gypsy Kings hits
Take That
Walking on Sunshine – Katrina and the Waves
The Mariachi Serenade from the movie 'A Walk in the Clouds'
and some classic Rolling Stones hits….
You can request others, just get in touch!
Traditional Mexican
Las Mañanitas (Birthday song)
Alla en el Rancho Grande
Amor eterno
Ay Jalisco no te rajes
Besame mucho
Caballo de patas blancas
Camino de Guanajuato
Caminos de Michoacan
Cielo Rojo
Cielito Lindo
Como Quien pierde una estrella
Cucurucu paloma
Cuatro caminos
De que manera te olvido
El ausente
El Carretero
El corrido del caballo blanco
El Dos negro
El Jarabe Tapatio
El Mariachi
El Mariachi loco
El Rey
Ella
En Tu dia
En tu Pelo
Entrega total
Guadalajara
Guantamera
Historia de un amor
Jesucita de Chihuahua
Juan Charrasqueado
La Adelita
La Bamba
La Banda del carro rojo
La Barca
La Bikina
La Calandria
La cama de piedra
La Cucaracha
La culebra
La feria de las flores
La flor de la canela
La venia bendita
Las alazanas
Las mananitas
Luz de Luna
Mexico lindo
Mi viejo
Mujeres divinas
No volvere
Ojitos traidores
Pa' todo el ano
Feria de San marcos
Perdon
Que te vaya bonito
Sabor a mi
Serenata Huasteca
Si nos dejan
Solamente una vez
Son de la negra
Te amare toda la vida
Tristes Recuerdos
Viva Mexico
Volver volver
El aventurero
La Malaguena
El aventurero
Ay Chavela
Sombras
El Loco
El Sinaloense
Renunciacion
Amar y vivir
Escalerass de la carcel
Viva quien sabe querer
Esclavo y amo
Payaso
Tres anos
Que Dios te aleje de mi
Se me olvido otra vez
Te voy a olvidar
Hasta que te conoci
Caballo Bayo
Por mujeres como tu
Este terco corazon
Por Amarte
La puerta negra
Cruz de madera
La media vuelta
Mujeres divinas
Ay Chatita
Apaga luz
El Ausente
Sangre caliente
Fabiana
15 Quince Primaveras
Nina Bonita
El Barrilito
Zopilote mojado
General Latin American music
Ella
Que no quede huellas
Secreto Amor
Cuanto mas te quiero
Amada mia
Ritmo sabroso
Carinito
Dos mujeres un camino
Maldita mujer
Ayudame a olvidar
Se que te amare
Todo lo aprendi de ti
Juana la Cubana
Mala Mujer
Secreto Amor
Gota Fria
El Cantante
La Revancha
Tequila
La Bamba
Danza Kururo
Gata salvaje
Rock de la carcel
Donde esta esa mujer
Almitas
Lambada
Sobre dosis
Lloraras
Devorame Otra Vez
Lluvia
Senora Ley
Gitana
Siempre sere
Te Arrepentiras
La tengo que olvidar
Pega la vuelta
Veneno para olvidar
Mentirosa
La Macarena
Bomba
Poeta enemorado
Eres
Amor pirata
El Baile de la cumbia
Pasito tun tun