Warble Entertainment's
Mike Plays Saxophone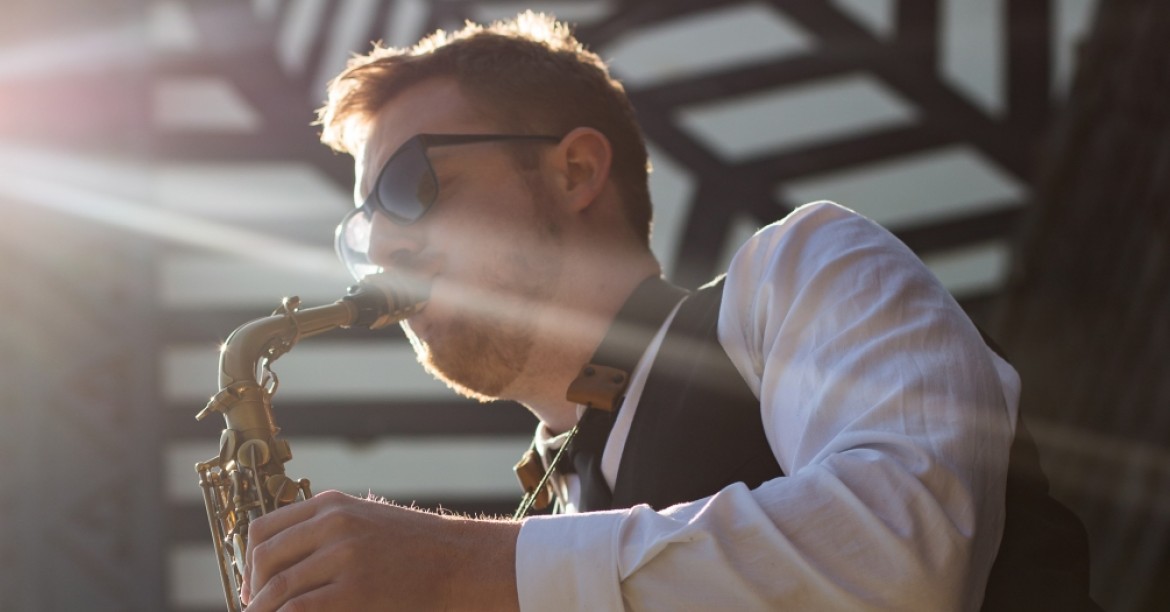 Location Merseyside
Starting from £420.00
Mike is a well known Saxophonist, and can provide music to suit all kinds of corporate drinks receptions or wedding breakfasts.
Having paid his dues as a sideman over the last fifteen years with household names, Mike is well versed in providing music for all sorts of situations. Mike's saxophone sets will be at a volume that compliment and not dominate proceedings, and set up the perfect atmosphere for your wedding or event.
A musician from the age of 10, he went onto study at LIPA (where he now holds a lecturer post) and his diverse and wide ranging experience have given him the kudos amongst his peers to become one of the most sought after sax players in the industry.
*Mike provides the perfect Saxophone for any event*
12 reviews
Song List
Jubel - Klingade
This Girl- Kungs
Changes - Faul & Wad Ad Vs Pnau
One Day - Bakermat
Waves - Mr Probs
Titanium - David Guetta
The Man With The Red Face - Funkagenda
Sunshine - Tieks
I Will Be Here - Tiesto
Homeless - Bougenvilla
Feel So Close To You - Calvin Harris
Leave The World Behind - Sweedish House Mafia
On My Mind - Disciples
You Dont Know Me - Jax Jones
Calabria - Rune
Love Shy - James Hype
Pianjoo Eric Pryds
I Wont Let You Down - Just Kiddin'
Girls Like - Tinie Tempah
All Cried Out - Blonde
Baker Street - Gerry Rafferty
All Of Me - John Legend
Rolling In The Deep - Adele
How Long Will I Love You - Ellie Goulding
Baker Street - Gerry Rafferty
My Funny Valentine - Chet Baker
In A Sentimental Mood - Duke Ellington
Girl From Ipanema - Astrud Gilberto
Stranger On The Shore - Acker Bilk
Just The Way You Are - Billy Joel
The Nearness Of You - Rod Stewart
Careless Whisper - George Micheal
Danny Boy - Trad
Summertime - Ella Fitzgerald
All The Things You Are - Various
Womans Worth - Alicia Keys
How Come You Don't Call Me - Alicia Keys
Tears In Heaven - Eric Clapton
St Thomas - Various
Equinox - John Coltrane
Chameleon - Herbie Hancock
Fly Me To The Moon - Frank Sinatra
Moondance - Van Morrison
Time After Time - Cyndi Lauper
Song For My Father - Various
Naima - John Coltrane
A Night In Tunisia - Chaka Khan
Fields Of Gold - Sting
Tenor Madness - Sonny Rollins
When You Wish Upon A Star - Various
Aint No Sunshine - Bill Withers
One For My Ba- - Frank Sinatra
Afro Blue - John Coltrane
Don't Know Why - Norah Jones
CHRISTMAS OPTIONS
Have Yourself A Merry Little Christmas
Jingle Bells
Lonely This Christmas
Merry Christmas Everybody
Mistletoe & Wine
Rudolph The Red Nosed Reindeer
Santa Claus Is Coming To Town
Sleigh Ride
The Christmas Song
Winter Wonderland
Wonderful Christmastime
Hark The Herald
Mary's Boy Child
O Little Town Of Bethlehem
Once In Royal David's City
Silent Night