Miss Ruby Rouge - Vintage Singer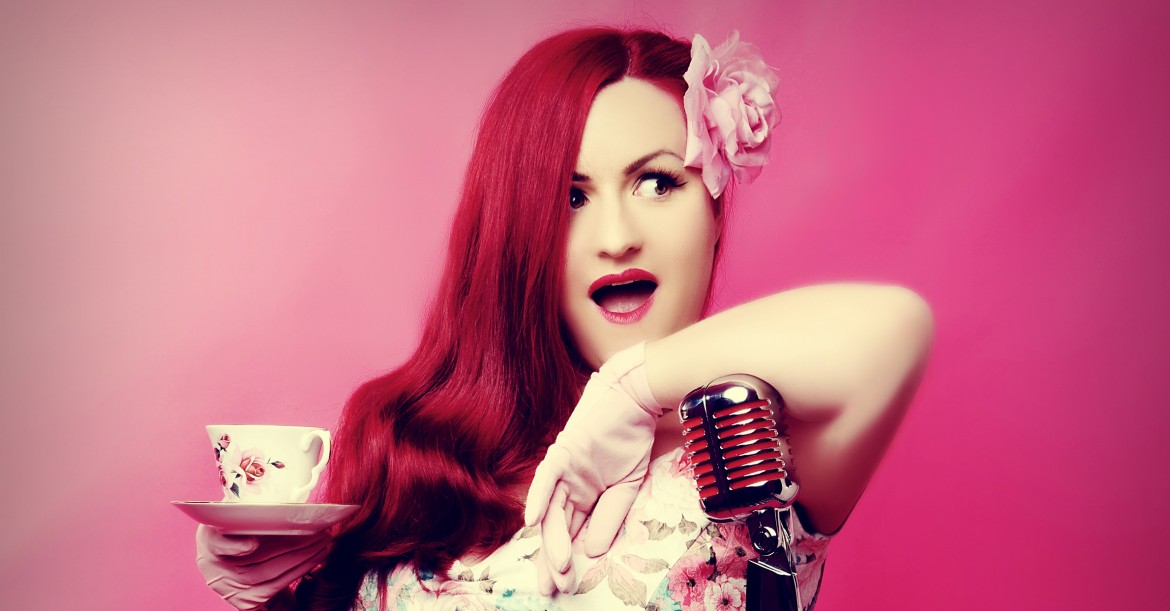 Location Derbyshire
Starting from £396.00

Ladies and Gentlemen, put your hands together for the sassy, sultry mistresses of vintage va-va voom! With killer curves and ruby red lips, Miss Ruby Rouge will seduce your senses with tantalizingly smooth velvety sounds of Jazz and the Great Gatsby era!
Succumb to the enticing charms, sights and sounds of the Jazz age with the silky smooth sounds of Miss Ruby Rouge and all of vivacious vintage glamour!
Miss Ruby Rouge - Vintage Singer
Number of Reviews and Counting... 6!
Jazz hands at the ready, as Miss Ruby Rouge takes to the stage to showcase a rich silky smooth mix of classic jazz standards, featuring hit after hit of the greatest Jazz divas of the 20s, 30s, 40s and 50s! Coupled with a refreshing, vibrant cocktail mix of modern hits shaken not stirred into a Jazztastic style! Add a touch of class and sofistication to any event with the rich velvety sounds of Ruby Rouge! Performing classic hits made famous by Ella Fitzgerald, Frank Sinatra, Julie London, Billie Holiday, Peggy Lee, Nina Simone and many other legendary jazz singers!
Alternatively grab your feather boas, say no to prohibition and join the Gatsby party! Take a magical enticing journey back in time to the roaring 20s Jazz age, when bobbed haired flappers, Silent movies, Gatsby and Prohibition were hitting the headlines! Become a star in your very own speakeasy, glitz n' glam party, full of fun frolics with traditional flapper dancing and extravagantly tasseled 20's costume! Keep calm and release your inner roaring raves with hot traditional hits from the1920s and modern day hits in a flappertastic Gatsby style!
Solo Singer With Backing Tracks
All About The Bass
Feeling Good
Black Coffee
Let There Be Love
Stay With Me
Someone To Watch Over Me
Why Don't You Do Right
Manhattan
Cry Me A River
Summertime
Lets Do It
Everytime We Say Goodbye
Lady Is A Tramp
My Heart Belongs To A Daddy
My Funny Valentine
All Of Me
Fever
Cheek To Cheek
They Can't Take That Away From Me
Fly me to the moon
Come fly with me
My Baby Just cares for me
Bewitched bothered and bewildered
Dream a little dream of me
S'Wonderful
Come away with me
Don't know why
Let's Face The Music And Dance
The Very Thought Of You
Feeling good
L.O.V.E
Hit The Road Jack
Straighten up and fly right
Almost like being in love
Come fly with me
On the street where you live
Fine romance
Misty
Mack the knife
Stormy Weather
Come fly with me
But Not For Me
Nice Work If You Can Get It
The Man I Love
Iv Got A Crush On You
Fascinating Rhythm
What A Difference a Day Makes
Talk Dirty To Me
Habits .
Anything goes
Ain't Misbehaving
Bare Necessities
Bugle Call Ragtime
Button Up Your Overcoat
Bye Bye Blackbird
Bad Romance
Baby Face
Charleston
Careless Whispers
Call Me Maybe
Gangsters Paradise
Happy Feet
Honeysuckle Rose
I Love My Baby
I Wanna Be Loved By You
I Can't Give You Anything But Love
Jeepers Creepers
King Of The Swingers
Love Yourself
Makin' Whoopee
Minnie The Moocher
Material Girl
New Rules
No Diggity
Oops, I Did It Again!
Puttin' On The Ritz
Red Red Robin
Sweet Child Of Mine
Seven Nation Army
Somebody Loves Me
Thong Song
Thriller
When Your Smiling
When The Saints Go Marching
Yes Sir That's My Baby
Fancy
That Man
Big Butter and Egg Man
Sarah Scardini

, Wedding, Egypt Mill, Gloucestershire
Absolutely wonderful. Professional, talented, just amazing. Don't think twice, snap her up if she's available. Just excellent.
---
Lindsay Smith

, Wedding, Elsham Hall, Lincolnshire
Miss Ruby Rouge was not only professional and organised throughout the entire process but the loveliest person to have share our wedding day with us! She was so kind and considerate and we would've had her there all evening. The only reason why we didn't was because our venue included a DJ and so we just wanted the best of both worlds. Her performance was completely outstanding! So many of our guests commented on how much they enjoyed her show because that is what she does, she puts on a show for an audience of all ages to enjoy. She is a credit and so we cannot recommend her highly enough!
---
Sophie Reeves - RELFM

, Corporate, The Olde Bell, Berkshire, Berkshire
Miss Ruby was brilliant. Very talented lady!
---
Stephen Partridge

, Military Event, RAF St Athan Golf Club, Glamorgan
It was a great night in no small part to Claire's performance. Her covers of all different eras in her style was fantastic, and the feedback from the guests was nothing short of complimentary. She tailored her repertoire to suit the evening, and her voice and performance were superb; would not hesitate to book again for future functions.
---
Lionel Kempster

, Other, Eccles Town Hall, Manchester
The act was superb. The small audience thought she performed brilliantly with terrific applause.
---
Derbyshire County Council

, Festival, Derbyshire
Very talented and welcome back anytime.
---
Marriot Hotels
Hilton Hotels
Mercedes
Virgin Media
Cosy Clubs
Chatsworth Flower Show
Brampton Manor Hotel
H&F Vintage Tearooms
Denmark War Festival
Salute To The 1940's
BBC Radio Derby
Billingham Forum
Princess Theatre, Hunstanton
Severn Valley Railway 1940's Event
Market Drayton Festival Theatre. Sell Out
Best Western Hotels
Devere Hotels
Do you provide a PA system and lighting system?
Yes I provide a full PA system and lighting show.
What are your requirements at an event?
I will need a performance space, plug sockets x3, changing area, table, drinking water and food/refreshments.
Do you learn requests?
I offer one request free of charge and further requests at an additional cost.
When will you arrive for a gig?
I will arrive 3 hours prior to our performance, allowing time for setup of PA system and sound check.
How do we arrange payment for the show?
This can be arranged with cash on the day or cheque.
Do you provide a band?
Yes I have a 3-7 piece Jazz Orchestra.
Can you play music in between sets or provide a DJ service?
Yes I can provide a DJ service as required.
Do you have public liability insurance?
Yes I have full public liability insurance as well as having all of our electrical equipment PAT tested.
Are you able to perform outside?
Yes. However I will require protection from weather conditions such as, rain, snow etc. to protect my electrical equipment. I also require power points for electrical equipment.
Are your shows fully adaptable?
I can adapt our show times, length of shows and material to meet your requests.
1 x 60 Minutes
2 x 45 Minutes
3 x 30 Minutes
2 x 60 Minutes
Miss Ruby Rouge can tailor set times to meet with your requirements.
Please Note: The fees indicated below are approximate and based on a central location for each county. They are intended to provide a rough guide only and exact quotes can only be given once the date and exact location of your event have been provided.
Scotland
Aberdeen
£720.00
Inverness
£684.00
Perth
£600.00
Sutherland
£684.00
Ayrshire
£564.00
Fife
£600.00
Stirlingshire
£564.00
West Lothian
£588.00
Dumfries-shire
£504.00
East Lothian
£564.00
Lanarkshire
£552.00
Midlothian
£564.00
Glasgow
£564.00
Edinburgh
£564.00
Dundee
£624.00
Foreign Locations
Europe
£600.00
Rest of the world
£840.00
North East
Durham
£468.00
Northumberland
£504.00
North Yorkshire
£444.00
South Yorkshire
£408.00
Tyne and Wear
£468.00
West Yorkshire
£468.00
Yorkshire
£468.00
East Yorkshire
£444.00
Leeds
£444.00
North West
Cheshire
£420.00
Cumbria
£504.00
Manchester
£444.00
Lancashire
£444.00
Merseyside
£456.00
Liverpool
£444.00
East Midlands
Derbyshire
£396.00
Leicestershire
£408.00
Lincolnshire
£420.00
Northamptonshire
£432.00
Nottinghamshire
£396.00
Rutland
£420.00
East
Cambridgeshire
£444.00
Norfolk
£480.00
Suffolk
£480.00
Norwich
£456.00
Wales
Anglesey
£504.00
Caernarvonshire
£480.00
Denbigh
£480.00
Flint
£468.00
Cardigan
£516.00
Brecon
£516.00
Carmarthen
£528.00
Glamorgan
£540.00
Monmouth
£504.00
Pembroke
£576.00
Wrexham
£468.00
Cardiff
£504.00
West Midlands
Gloucestershire
£480.00
Herefordshire
£480.00
Shropshire
£492.00
Staffordshire
£444.00
Warwickshire
£444.00
Worcestershire
£468.00
Birmingham
£456.00
South East
Bedfordshire
£480.00
Berkshire
£480.00
Buckinghamshire
£540.00
East Sussex
£540.00
Essex
£540.00
Hampshire
£540.00
Hertfordshire
£540.00
Isle of Wight
£540.00
Kent
£528.00
Oxfordshire
£480.00
Surrey
£504.00
Sussex
£528.00
West Sussex
£528.00
London
£492.00
Middlesex
£492.00
South West
Cornwall
£576.00
Devon
£576.00
Dorset
£552.00
Somerset
£528.00
Wiltshire
£516.00
Bath
£504.00
Bristol
£504.00