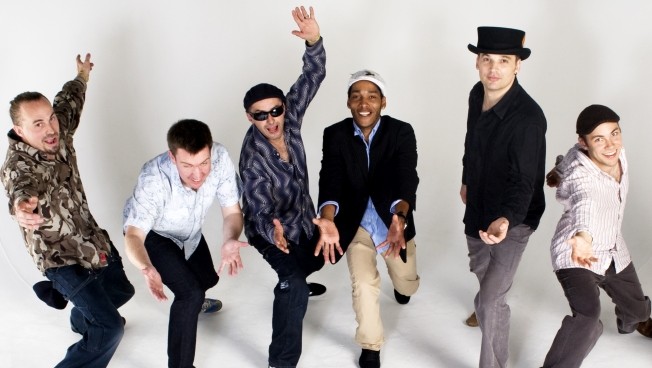 Location Manchester
Starting from £1,020.00

Mojito is a Manchester-based 5-7 piece Cuban Salsa band, one of Manchester's liveliest and hottest salsa bands.
Mojito bring the true taste of Cuba to the UK, playing authentic and inspiring mixes of salsa, timba, merengue, son, reggaeton and chachacha.
Mojito have created our own unique style, guaranteed to pack the dancefloor.
Listen




Number of Reviews and Counting... 1!
Mojito have been playing together for 5 years.
The group now also cover a range of straight-ahead Salsa, Timba, Cha-Cha-Cha, Merengue and Reggaeton.
This band likes to mix it up and they're not afraid to experiment and push the boundaries – you will hear salsa with reggae, funk and hip-hop. In the same way as these styles influence the contemporary sounds of Cuba they also naturally feed into the sound of Mojito.
Versatile and always grooving, their vibrant style and energy are guaranteed to provide an electric atmosphere wherever they go.
5 - 7 Piece – Male Vocals, Keyboard, Bass, Congas, Timbale drums, Sax and Trombone.
La Malanga - Eddie Palmieri
Descarga de Ahoy - Fania All Stars
El Yo Yo - Charlie Palmieri
Cumbanchero - Ruben Gonzalez
La Escencia de Guaguanco - Johnny Pachero
Azucar - Eddie Palmieri
Sandunguera - Los Van Van
Just a little Dream - Eddie Palmieri
Mambo Influenciado - Chucho Valdes
Mantecca - Charlie Palmieri
Son Cuero Y Boogaloo - Ray Barreto
Coco May - Ocho
Cuero Nama - Fania All Stars
Chan Chan - Bueno Vista Social Club
El Caraterro - Bueno Vista Social Club
Postizo - Mark Ribot
Partido Alto - Airto Moreira
Whachi Wara/Soul Source - Cal Tjader
Cuarto De Tula - Trad
Concinando Suave - Ray Barreto
Mambiando - Tito Puente
Afro Blue - Mongo Santamaria
Oye Como Va - Trad/Tito Puente
Guantanamara - Trad
ME Voy P'al Pueblo - Ben More
El Primer Amor Changui - Arturo
Carmel Wiggins

, Wedding, East Lothian
I'm leaving this feedback nearly a year late but I have to say Mojito were just excellent at my wedding last July in Scotland. I spent nearly an entire year trying to find an authentic Latin American band that could play at weddings and get a crowd going and it was seriously hard work - everything was too cheesy, too big or too hard to find out what the band actually sounded like. I gave up and tried to find a normal "wedding band" but I just couldn't bring myself to book one so thank goodness Warble found me Mojito. They were really helpful from the start - I spoke to them a few times on the phone and they were great at making sure they knew what type of atmosphere and songs I was looking for. They were happy for us to organise the accommodation for them and they explained that they use different musicians depending on location and availability. On the night they were fantastic. Slick, professional and excellent musicians - exactly what I wanted. They had everyone up dancing the entire time and everyone commented on how good they were and how nice it was to see a Cuban/Latin American band at a wedding - it's something really different but still a crowd-pleaser. My Dad, who is a musician of Latin American musician and didn't like all my previous choices, really liked these guys and was impressed by them as individual musicians. I really recommend them, they are professional, a lot of fun and they really know their stuff. Book them!
---
Numerous salsa events such as 'Rumberos' in Leeds with DJ Lubi, Latin Motion Birmingham, Dance Cubana Nottingham, Salsa 'Feel The Heat' Wigan, Funkysalsa Chester, a sell-out night at Copacabana Manchester.
Also, festivals such as Manchester Jazz Festival, Lancaster Jazz Festival, Kendal Brewery Summer Festival.
Recently Mojito played at Blackpool Tower Ballroom (in conjunction with Salsafever) for 500 salsa dancers and went down a storm.
Mojito have just completed an Arts Council supported Tour of the UK, palying some prestigious venues.
Mojito carry a full PA system.
Mojito can also offer a short salsa dance class.
2 x 45 minutes. CD music can be played in the break.
Please Note: The fees indicated below are approximate and based on a central location for each county. They are intended to provide a rough guide only and exact quotes can only be given once the date and exact location of your event have been provided.
Scotland
Aberdeen
£1,920.00
Inverness
£1,920.00
Perth
£1,920.00
Sutherland
£1,920.00
Ayrshire
£1,920.00
Fife
£1,920.00
Stirlingshire
£1,920.00
West Lothian
£1,920.00
Dumfries-shire
£1,800.00
East Lothian
£1,800.00
Lanarkshire
£1,800.00
Midlothian
£1,800.00
North East
Durham
£1,200.00
Northumberland
£1,080.00
North Yorkshire
£1,080.00
South Yorkshire
£1,080.00
Tyne and Wear
£1,200.00
West Yorkshire
£1,080.00
Yorkshire
£1,080.00
North West
Cheshire
£1,080.00
Cumbria
£1,080.00
Manchester
£1,020.00
Lancashire
£1,080.00
Merseyside
£1,080.00
East Midlands
Derbyshire
£1,320.00
Leicestershire
£1,320.00
Lincolnshire
£1,320.00
Northamptonshire
£1,320.00
Nottinghamshire
£1,320.00
Rutland
£1,320.00
East
Cambridgeshire
£1,680.00
Norfolk
£1,920.00
Suffolk
£1,800.00
Wales
Anglesey
£1,200.00
Caernarvonshire
£1,200.00
Denbigh
£1,200.00
Flint
£1,200.00
Cardigan
£1,500.00
Brecon
£1,440.00
Carmarthen
£1,440.00
Glamorgan
£1,440.00
Monmouth
£1,440.00
Pembroke
£1,440.00
West Midlands
Gloucestershire
£1,320.00
Herefordshire
£1,320.00
Shropshire
£1,320.00
Staffordshire
£1,320.00
Warwickshire
£1,200.00
Worcestershire
£1,200.00
South East
Bedfordshire
£1,680.00
Berkshire
£1,680.00
Buckinghamshire
£1,680.00
East Sussex
£1,680.00
Essex
£1,680.00
Hampshire
£1,680.00
Hertfordshire
£1,680.00
Isle of Wight
£1,920.00
Kent
£1,800.00
Oxfordshire
£1,560.00
Surrey
£1,680.00
Sussex
£1,680.00
West Sussex
£1,800.00
London
£1,680.00
Middlesex
£1,680.00
South West
Devon
£1,920.00
Dorset
£1,920.00
Somerset
£1,920.00
Wiltshire
£1,920.00