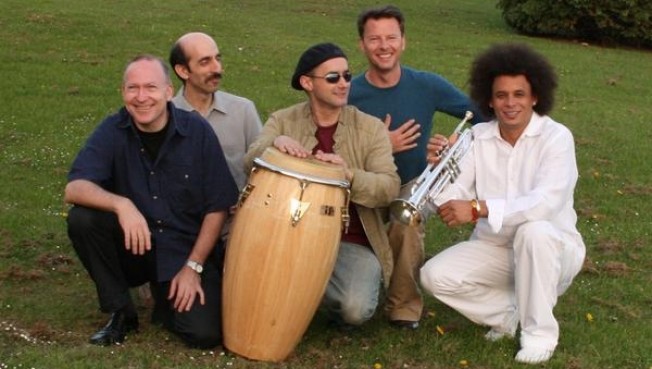 Location Manchester
Starting from £1,080.00

Formed initially 17 years ago, this band is based in the Manchester area, and is experienced in providing Latin music at all types of events, from Corporate affairs to festivals and weddings. Their music is Salsa in the classic Cuban "Son" style, and their repertoire includes many favourites, made popular by the "Buena Vista Social Club". Salsa PA Gozar is self-contained.
Listen




Number of Reviews and Counting... 1!
Salsa Pa Gozar is a five plus piece band specializing in a wide variety of Latin music styles. The band is based in Manchester and has been performing all over the UK since 1994. As well as Salsa, the band's repertoire includes traditional Cuban music, Latin party music and other styles.
All the band members dance Salsa and much of the music is geared towards the requirements of dancers. Although Salsa Pa' Gozar normally work as a five-piece, they can work with additional horn players to form a larger band if required.
Members of the band travel regularly to Cuba and other parts of Latin America where they rehearse and perform with local musicians. This helps them to keep up to date with the latest trends in Latin music and also allows them to immerse themselves in all aspects of the music, dance and the local culture.
5 Piece – Male Vocals / Trumpet, Congas / Percussion, Keyboards, Drums / Percussion, Bass Guitar
Juan – Vocals / Trumpet: Juan is an experienced and dynamic vocalist and trumpet player. He grew up in Cuba where playing and dancing Salsa is a way of life.

Gavin – Congas / Percussion: Gavin plays congas with Salsa Pa Gozar and also various other percussion instruments. His solid groove and lively style of performance is an important part of the Salsa Pa Gozar experience. In order to perfect his Latin feel, Gavin spent six months learning to play Latin rhythms in Cuba.

Dave – Keyboards: Dave has been playing piano and keyboards for over 20 years. In the last few years he has specialised in Salsa and other Latin styles. Dave is also a fluent Spanish speaker and an experienced Salsa dancer.

Ricardo - Drums and Percussion: Ricardo has trained as a percussionist in both Brazil and Cuba. He has studied with foremost folkloric groups 'Clave y Guaguanco' and 'Yoruba Andabo' and has played in Havana with the cream of rumba musicians. He has also played in Brazil with Maracatu group 'Leao Negro'. In this country he has worked with Latin groups such as 'La Timbala', 'Charanga Del Norte' and 'Descarga' before joining Salsa Pa Gozar. He also works as a session musician and has recorded with 'The Doves' and 'The Charlatans'.

Demetris - Bass Guitar: Demetris has played in bands since he was 13. He has had extensive formal tuition on piano and guitar as well as his main instrument, bass guitar. He has also studied jazz improvisation and arranging. Demetris was introduced to Latin music about 10 years ago through dancing Salsa and is now experienced in playing a wide variety of Latin styles.
Salsa Pa Gozar specialises in a wide variety of Latin music styles suitable for dancing and also as background music.
• Latin American favourites like 'Guantanamera', 'La Bamba' and 'Oye Como Va'
• Songs of the Gipsy Kings such as 'Bamboleo' and 'Volare'
• Traditional Cuban music including various hits by the 'Buena Vista Social Club'
• Pure 'Salsa' for dancers
• Other Latin styles such as 'Bomba', 'Plena', 'Guajira', 'Son', 'Cha-Cha', 'Bolero', etc.

Having such a large and diverse repertoire, the group can tailor their set to your requirements. Whether you want traditional Cuban music, Latin party music, or pure up-tempo Salsa, Salsa Pa Gozar can meet your needs.
Ami Williams - Nantwich Food Festival

, Festival, Nantwich Town Square, Cheshire
Absolutely fabulous. They were very professional and had good communication before the event. On the day, they were extremely popular - I have never seen so many people get up and dance - perfect for our event. All band members were so friendly and easy to get along with . I would not hesitate to book them for our next event.
---
As well as playing at weddings, corporate functions, salsa parties and other events, Salsa Pa' Gozar also perform at larger, more prestigious functions.
Recent venues include Manchester Town Hall, Bradford Bulls Rugby Stadium, Manchester's Royal Exchange Theatre and the Monmouth Festival.
Please Note: The fees indicated below are approximate and based on a central location for each county. They are intended to provide a rough guide only and exact quotes can only be given once the date and exact location of your event have been provided.
North East
Durham
£1,320.00
Northumberland
£1,200.00
North Yorkshire
£1,200.00
South Yorkshire
£1,140.00
Tyne and Wear
£1,200.00
West Yorkshire
£1,140.00
Yorkshire
£1,080.00
North West
Cheshire
£1,200.00
Cumbria
£1,200.00
Manchester
£1,080.00
Lancashire
£1,080.00
Merseyside
£1,200.00
East Midlands
Derbyshire
£1,440.00
Leicestershire
£1,320.00
Lincolnshire
£1,320.00
Northamptonshire
£1,320.00
Nottinghamshire
£1,320.00
Rutland
£1,320.00
Wales
Anglesey
£1,200.00
Caernarvonshire
£1,200.00
Denbigh
£1,200.00
Flint
£1,200.00
Cardigan
£1,440.00
Brecon
£1,440.00
Carmarthen
£1,440.00
Glamorgan
£1,440.00
Monmouth
£1,440.00
Pembroke
£1,560.00
West Midlands
Gloucestershire
£1,440.00
Herefordshire
£1,440.00
Shropshire
£1,440.00
Staffordshire
£1,320.00
Warwickshire
£1,320.00
Worcestershire
£1,320.00