Warble Entertainment's
Rhia The North West Harpist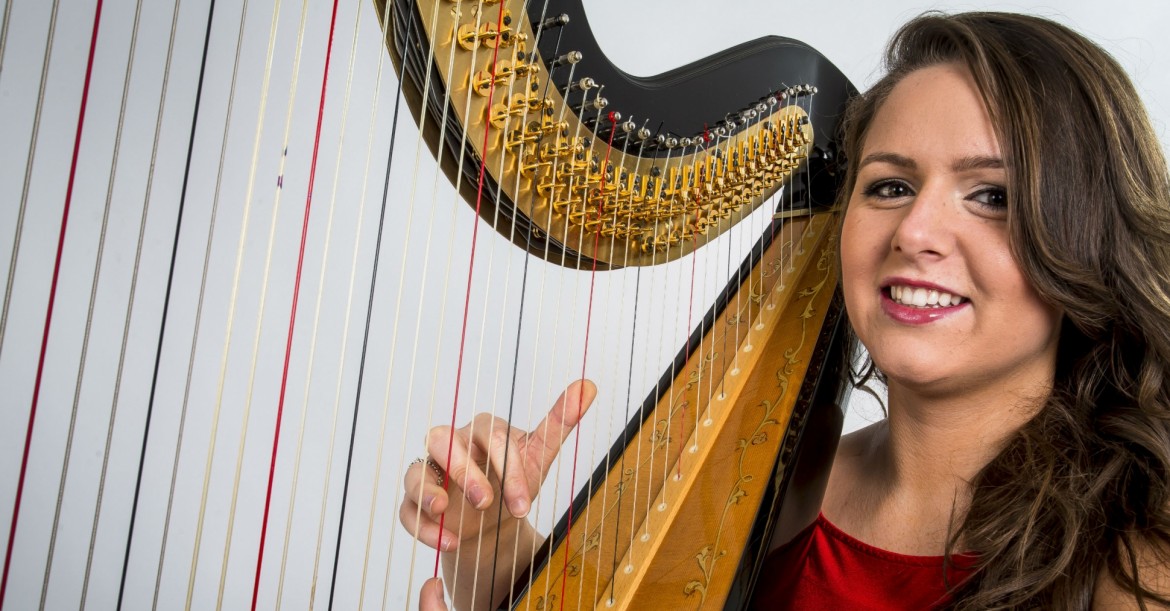 Location Cheshire
Starting from £240.00
Rhia The North West Harpist is a brilliant harpist available to play at weddings and events. Rhia is a freelance harpist who works all over the UK.
After graduating as a scholar from the prestigious Royal College of Music in London she has played for royalty several times, including at Her Majesty the Queen's birthday.
14 reviews
Listen




Song List
Classical Wedding Recommendations
Bach - Sheep May Safely Graze
Bach - Arioso
Bach - Air on the G String
Bach - Jesu Joy of Man's Desiring
Beethoven - Fur Elise
Clarke - The Prince of Denmark's March
Debussy - Clair de Lune
Debussy - Arabesque
Elgar - Salut d'Armour
Franck - Panis Angelicus
Goodall - Psalm 23: The Lord is My Shepard
Handel - La Rejouissance from "Music for the Royal Fireworks"
Handel - Zadok the Priest
Handel - The Arrival of the Queen of Sheba
Lovland - You Raise me Up
Mendelssohn - Wedding March "A Midsummers Night Dream"
Offenbach - Barcarolle
Pachelbel - Canon in D
Parry - Jerusalem
Parry - I was glad
Purcell - Trumpet Tune
Schubert - Ave Maria
Shostakovitch - Romance from "The Gadfly"
Tchaikovsky - Swan Lake
Wagner - Bridal March (Here Comes the Bride)
Yurima - River Flows In You
Harp Repertoire
Albeniz - Sonata in D
Bach arr.Grandjany - Violin Sonata No.1 and Partita No.1
Bach - Lute suite
Enesco - Allegro de Concert chromatique
Donizetti - Fantasy on Lucia di Lamermoor
Glinka - Nocturne
Gordon - Sonata
Grandjany - Fantasy on a theme by Haydn
Hasselmans - La Source, Opus 44
Hasselmans - Valse de Concert
Henshall - Tair dawns Cymraeg
Hindemith - Sonate (1939)
Mathias - Improvisations
Naderman - Sonata in F major
Naderman - Sonata in D Minor
Naderman - Sonata in C minor
Parish - Alvars Fantasie on Lucia di Lammermoor
Parry - Sonata No. 1 in D major, Sonata No. 2 in G major
Piazzola - C'est L'amour
Piazolla - Libertango
Pierne Impromptu - Caprice
Rota - Sarabande et Toccatta
Salzedo - Lara's Granada
Scarlatti - Sonata in E major K380
Tchaikovsky - Fantaiaise on a theme of the opera "Eugene Onegin"
Tournier - Quatre Preludes
Tournier - Childrens hour
Watkins - Fire Dance
Jazz
Ain't Misbehavin
Can't Help Lovin' dat Man
Come away with Me
Don't Get Around Much Anymore
Embraceable you
Everybody loves somebody
Ev'ry time we say Goodbye
Evergreen
Feelings
Georgia
God Bless the Child
Have I told you lately
I got rhythm
When I fall in Love
Musical Theatre



All That Jazz
All that's known
All that you are
Angel of Music
Any dream will do
As long as he needs me
Beauty and the beast
Carousel
Castle on a cloud
Chicago
Close Every Door
Dancing through life
Diamonds are a girls best friend
Don't Cry for Me Argentina
Edelweiss
Empty chairs, empty tables
Far from the home I love
Friend like me
From this moment on
Get me to the church on time
Getting to know you
Giants in the sky
Hello, young lovers
Home
I could have danced all night
I Don't Know How To Love Him
I Dreamed a dream
I feel pretty
I have dreamed
If I can't love her
If I loved you
I'll know
In my life
Luck be a lady
Maria
Memory
My favourtie things
On this night of a thousand stars
Over The Rainbow
On My Own
Pie Jesu
Somewhere
Starlight Express
Sunrise, Sunset
Tell Me on a Sunday
Think Of Me
The Music of the Night
The Phantom of the Opera
The American Dream
Tomorrow
Who Will Buy?
Disney Music
A Dream is a Wish your heart Makes (cinderella)
A Whole New World (Aladdin)
Be Our Guest (Beauty and The Beast)
Believe (Stralight Express)
Beauty and The Beast
Can You Feel The Love Tonight (Lion King)
Chim Chim Cher-ee (Mary Poppins)
Colours of The Wind (Pochahontnas)
Circle of Life (Lion King)
Do You want to build a snowman? (Frozen)
Go The Distance (Hercules)
God Help The Outcast (The Hunchback of Notre Dame)
Hakuna Matata (Lion King)
If I Never Knew You (Pocahontas)
I wana be like you
Just around the River Bend (Pocahontas)
Kiss The Girl (Little Mermaid)
Lady and the Tramp
Let it Go (Frozen)
Little April Showers
Make A Man Out Of You (Mulan)
Once Upon a Dream (Sleeping Beauty)
Part of Your World (Little Mermaid)
Reflection (Mulan)
Someday (Hunchback of Notre Dam)
So This is Love (Cinderella)
Ten minutes ago (cinderella)
You've Got a Friend in Me (Toystory)
Under The Sea (litte Mermaid)
When you wish upon a star
Zip-A-Dee-Do-Da (Song of The South)
Traditional Music
Irish Air Cockles and Mussels
Irish Air Danny Boy
Welsh Air David of the White Rock
Welsh Air All Through the Night
Welsh Air Bugeilio'r gwenith gwyn (Watching the wheat)
Welsh Air The Ash Grove
Welsh Air Y Ferch o Blwy Penderyn
Welsh Air Y Deryn Pur
English Air Drink to me Only
English Air English Country Garden
English Air Greensleeves
Scottish Air Auld Lang Syne
Scottish Air The Rose
Scottish Air Over The Sea to Skye
Film Music & Popular Music
A Team (Ed Sheeran)
All Of Me (John Legend)
All You Need is Love (The Beatles)
All I Ask (Adele)
A Hard Day Night (Beatles)
Angel (Sarah McLachlan)
Angels (Robbie Williams)
A Thousand Years (Christina Perri)
Beautiful (Christina Aguilera)
Beatiful Day (U2)
Because you loved me (up close & personal)
Believe (The Polar Express)
Candle in The Wind (Elton John)
Can't fight the moonlight ( Coyote Ugly)
Can't Help Falling in Love (Elvis Presley)
Chandelier (Sia- Acoustic version)
Chasing Pavements (Adele)
Clocks (Coldplay)
Close To You (The Carpenters)
Don't Let The Sun Go Down on Me (Elton John)
Don't Look Back in Anger (Oasis)
Don't Stop Believeing (Journey)
Everybody Hurts (REM)
Everything I Do (Bryan Adams)
Feather Theme (Forrest Gump)
Feeling Good (Muse)
Fields of Gold (Sting)
For the Love of a Princess (Braveheart)
For you I will (Space Jam)
Free Fallin' (John Mayer)
Hero (Enrique Iglesias)
Hero (Mariah Carey)
How Do I live ( Con Air)
How Long I Will Love You (Ellie Goulding)
Ice Castles Main Theme
I Don't Wanna Miss A Thing (Aerosmith)
Is This Love (Bob Marley)
I Believe in You and Me (The Preacher's wife)
Just the Way You Are (Bruno Mars)
Kissing You (Love Theme from Romeo & Juliet)
Lara's Theme (Dr. Zhivago)
Let Her Go (Passenger)
Make You Feel My Love (Adele)
Marry Me (Jason Derulo)
Photograph (Ed Sheeran)
Singin' in The Rain
Stairway to Heaven (The Song Remains the Same)
Someone Like You (Adele)
Star Wars Main Theme
Take My Breath Away (Top Gun)
The Note book Main Theme ( The Notebook)
The Way You Look TOnight (Sinatra)
Theme from Schindler's List
The Long And Winding Road (Beatles)
The Pink Panther
The Prayer (Quest for Camelot)
There You'll Be (Pearl Harbour)
Thinking Out Loud (Ed Sheeran)
Titanic Theme (Celine Dion)
Treasure (Bruno Mars)
Truly Madly Deeply (Savage Garden)
Unchained Melody
What The World Needs Now Is Love
Wherever You Will Go (Charlene Soraia)
When I Fall in Love (Nat King Cole)
When We Were Young (Adele)
When You Believe (Mariah Carey, Whitney Houston)
Will You Be There (Free Willy)
Wind Benneath My Wings (Bette Midler)
What A Wonderful World (Louis Armstrong)
Wonderful Tonight (Eric Clapton)
You Light Up My Life (You Light Up My Life)
You Raise Me Up (Westlife)
Your Song (Elton John/Ellie Goulding)
Yellow Submarine (Beatles)
XO (Beyonce)