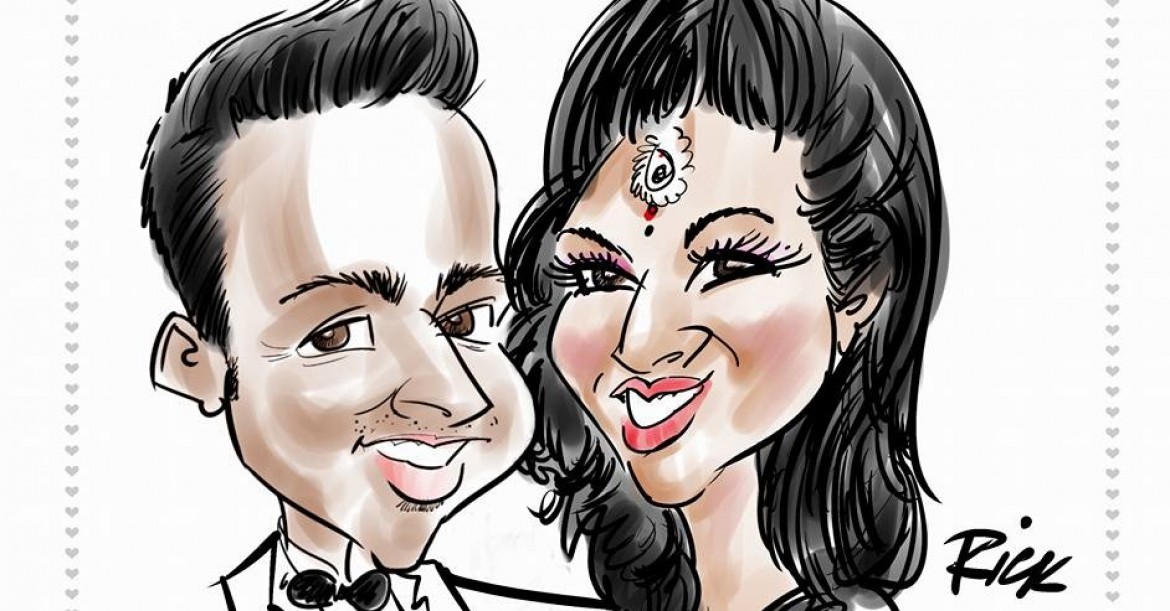 Location Hertfordshire
Starting from POA

Rick has been entertaining on-the-spot for some fifteen years. He has a reputation for being a complimentary caricaturist, never cruel or unkind (unless asked!).
He draws full body caricatures including a hobby, pastime or themed to your event.
There two main ways of drawing caricatures at your event, TRADITIONAL black and white on paper and COLOUR PROJECTION CARICATURES on the big screen.
Rick can also do a virtual live caricature via zoom for a fantastic piece of entertainment to keep forever.
Rick is the ideal caricaturist for Weddings, Parties of any type and Corporate Functions or trade shows
Number of Reviews and Counting... 6!
Rick has developed a unique style that entertains as well as providing a fantastic cartoon gift for your guests. His work balances great likeness with humour.
He features the whole body and incorporates a hobby or pastime so caricatures can be themed to your event or company work. The ability to work quickly and achieve great likeness has led him to work for ITN news - drawing live on the evening news for various news features, including the last Tory leadership battle.
Rick is able to create approximately 10-12 caricatures per hour and is happy drawing adults and children alike.
There two main ways of drawing caricatures at your event, TRADITIONAL black and white on paper and COLOUR PROJECTION CARICATURES on the big screen.
Rick can also do a virtual live caricatures via Zoom for a fantastic piece of entertainment to keep forever.
Louise Lam

, Corporate, London
Rick is an absolute gem to work with - very professional.
---
Lucy Banks

, Private Party, Berkshire
I just wanted to let you know that Rick was absolutely fantastic! He went down a storm and not only did he provide us with some great caricatures but he was also a lovely person. Judging by the amount of guests I had asking where we booked Rick I'm pretty sure you will be receiving some repeat work! Please pass on my thanks to Rick.
---
Kim Moody

, Birthday Party, Dorset
A big thank you to both you and Rick. Rick was fab at the event - everyone loved their drawings and the evening was a real success. I know that Rick doesn't normally cover a distance this far away from London - he was an absolute star! Thanks again - btw I will be writing to the Museum Inn to recommend your agency if anyone asks for entertainment services.
---
Fran Greatorex

, Birthday Party, Berkshire
Rick did some excellent drawings at the party and everyone was really pleased with them. The time went so quickly though, but he did as many as he could. I chose him because on the website, it showed that he drew the whole person and not just their head - so the pictures were great. I really appreciate your help and if I need entertainment again, I'll be sure to contact you as you were far more helpful than the other agent (who never returned my calls). Thanks again Warble.
---
David Cutmore

, Wedding, Essex
Rick was fantastic - everyone had nothing but good things to say about him and his fantastic drawings. I would have no hesitation in recommending him to anyone who has a need for a caricaturist at their wedding / function. Thanks.
---
Marion Knight (Bourns Ltd)

, Corporate, Bedfordshire
Hi guys, Thank you both again for a wonderful evening's entertainment - your caricatures were brilliant, our guests were thrilled with them - one told us that it was the best souvenir of the weekend that she had! It was great to see everyone passing them around to look at, and taking photos of each other holding their pictures... I'm sure we'll be able to get copies for your websites. We'll certainly be recommending you to anyone who wants a memorable and original entertainment for their occasion! Many many thanks for helping to make our evening so special.
---
Rick's clients include Microsoft, Impact Marcom, Talk Sport, Tescos, Frost Rowley, Londis, BAE Systems, The Armed Forces. His work has featured on This Morning and most recently on ITN News.
TRADITIONAL CARICATURES
Rick is happy to wander among guests through reception drinks and go around the tables during meals, but is equally happy located in a fixed spot, in which case two chairs are all that is required. Each picture is drawn on A4 in Black and White with grey toning. If you would like all your guests to appear on one picture that's possible too.
BIG SCREEN ENTERTAINMENT
If entertaining one person at a time isn't enough for your event Rick also works on big screens to entertain all your guests at the same time. He draws into a Tablet PC computer which can be linked or projected onto large screens. This was used to great effect at the Labour Party Conference where he drew many politicians and Cherie Blair. This method has many advantages: Entertaining any number of people at once – It is in colour – Saved to disc instantly – Emailed to clients – Includes template backgrounds. (Please note- Rick does NOT provide the screens or Colour Projector.)
VIRTUAL LIVE CARICATURE!
A fantastic gift idea with an end result to keep forever! Rick will draw your likeness over the Zoom platform quickly and with a light hearted and skilful likeness. This is also perfect for businesses looking for that little something different!
Please Note: The fees indicated below are approximate and based on a central location for each county. They are intended to provide a rough guide only and exact quotes can only be given once the date and exact location of your event have been provided.