Warble Entertainment's
Steve H The Caricaturist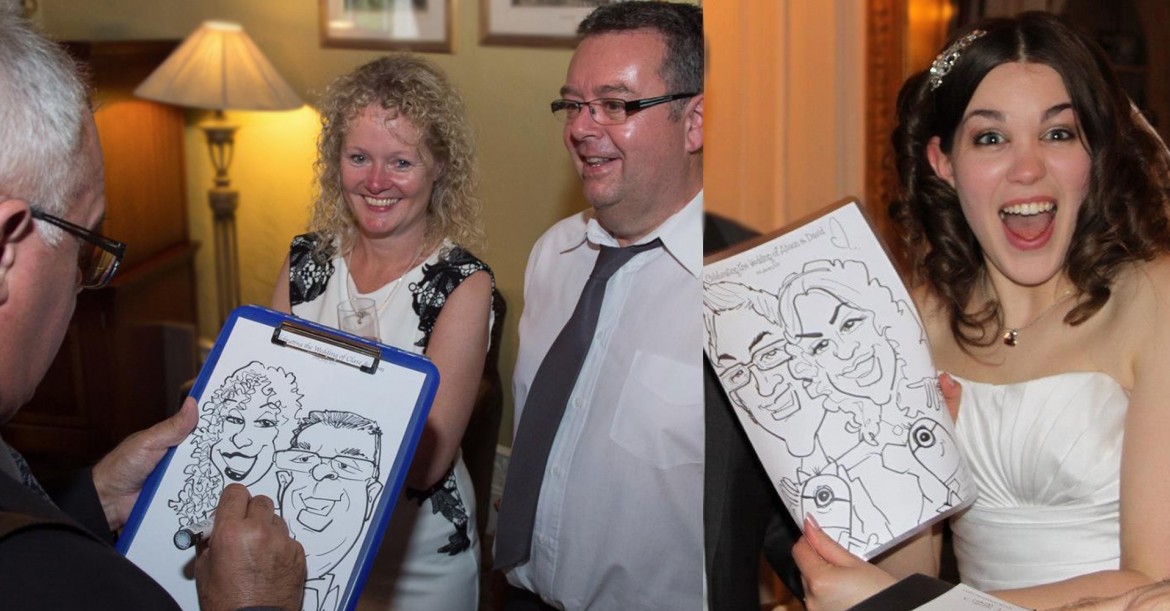 Location Essex
Starting from £240.00
Location Essex
Starting from £240.00
Introduction
Get a feel for them
Intro
Your guests will love all the fun of being drawn and taking home a unique memento from your wedding!
Steve has been drawing at weddings for almost 20 years and creating wonderful memories for hundreds of couples and all their guests! In addition, corporate events, parties, birthdays and anniversaries will greatly benefit from Steve's fun 'Disney' drawing style.
Guests really enjoy the caricatures and of course, they make for a great keepsake of the event! Corporate and business events will also be enhanced with Steve drawing caricatures on behalf of your business!
*Book Steve H the Caricaturist today*
38 reviews
Steve H The Caricaturist
Number of Reviews and Counting... 38!
Steve has been drawing since he was a small child and equates it to breathing... he can't do without it!
Born in 1962 in a village 30 miles east of London, England, Steve started drawing at an early age; he then progressed from the bedroom wall onto paper! As a growing boy he loved to draw as well as watching cartoons on TV and reading comic books.
Steve received his art training at school and soon his talent began to shine. After college he got his first job as a messenger working for a commercial art studio in London. This he enjoyed and soon progressed within the studio, working alongside cartoonist's, lettering artist's and other people mad about art!
A Professional Member & current President of the International Society of Caricature Artists, Steve attends their annual conventions and has drawn in Walt Disney World, Orlando, Las Vegas & Tokyo. Steve appeared on the BBC and he has also appeared on ITV1 recently on the Mel & Sue Show, filmed drawing his caricatures. Steve has also appeared on Spanish & Japanese television.
Steve is married with two grown up children and lives in Essex not too far from where he was born. He works from home and travels far and wide providing FUN Caricature Entertainment that people truly love.
Julie Candon - Herrco Cosmetics Ltd

, Corporate, Halesworth, Suffolk
Steve H was such a lovely man who mixed well with everyone who attended our event. His drawings were brilliant! I would definitely book Steve again should the need arise and would definitely recommend him to anyone who wanted to add a bit of fun to an event.
---
Kay Anderson - Spencer Private Hospitals

, Corporate, Leas Cliff Hall, Kent
Great night, all pictures much appreciated. Thank you.
---
Andrew Hoodless

, Wedding, Crondon Park, Essex, Essex
Excellent service, guests thought he was brilliant.
---
Andrew Hoodless

, Wedding, Crondon Park, Essex, Essex
Excellent service.
---
Jacqui Lovatt

, Private Party, Essex
What a lovely gentleman and very professional. Will 100% book again. Thank you.
---
Tony Doble

, Wedding, Dorton House, Buckinghamshire, Buckinghamshire
Marvellous - absolutely brilliant!
---
Emma Davis

, Wedding, Parley Manor , Dorset
Steve was amazing! He was so warm and friendly, was a massive part to our evening celebration and everyone really enjoyed having their picture drawn by him. Thank you to the Warble Entertainment team for being so organised and helpful! We would recommend Steve and the team to everyone!
---
Kimberely Elis

, University / School, Cambridgeshire
Very friendly and drawings were a great hit with the pupils and staff.
---
Chris Monks

, Birthday Party, Silverwing Sailing Club, Surrey
Very nice guy and a great caricaturist. Really worked with the group well.
---
Leanne Guthrie

, Wedding, Mulberry House, Essex
Steve was great! Everybody loved his work.
---
Shyanne Wilkes - Nexen Petroleum

, Corporate, Grovefield House Hotel, Middlesex
Booking process was easy and efficient. Steve H The Caricaturist was fantastic and would highly recommend.
---
Sean Ola

, Wedding, Ariana Garden, Essex, Essex
Steve is perfect and fast. I was really busy on the day so I did not see him working, but days after the wedding, many guests called me to inform me how great he was. I will recommend him always. Thanks Steve for the great work.
---
Louise Taylor - The Leigh Academy

, Corporate, Kent
Absolutely fantastic. The kids loved him. Very much a fantastic service.
---
Stacey Knowles

, Wedding, Layer Marney Tower, Essex
Steve was excellent.
---
Namrita Kaith

, Wedding, Hertfordshire
Steve was a massive hit at our wedding and added something really special to our day! Such a charming and professional man with a fantastic talent! Thank you from the new Mr & Mrs Dollapi! x
---
Philip Khoo

, Wedding, Essex
Steve was friendly and personable, he dealt with all of the different guests in a good manner.
---
Kacy Smith

, Private Party, Kent
Steve was brilliant - really friendly, really quick and amazing drawings!
---
Jon Howley

, Wedding, Essex
Steve gave us such a friendly and professional service. Many of our guests commented positively on the caricatures drawn. It helped our event run very smoothly.
---
Joe Maynard

, Wedding, Buckinghamshire
We were so glad to have hired Steve H for our reception, we didn't realise how well it went down with everyone. It was a nice touch to have our names and wedding date at the top of each caricature and everybody got one to take home as a reminder of the day. We didn't get to see them all but the ones we did see were brilliant, there was plenty of smiles and laughter throughout the time Steve H was there. A big thank you to Steve (who was very nice) for adding to what was a brilliant day. Joe, Bucks.
---
Martin Webb

, Wedding, Hampshire
Steve is a lovely bloke and we had a great day. A very good caricaturist - everyone was very happy with their pictures.
---
Eleanor Glazebrook - Winkworth Franchising Ltd

, Corporate, London
Steve provided the perfect entertainment value to our Corporate Event. Our guests are still talking about how great the drawings are and I'm sure there will be many pictures being hung up on walls very soon! I would strongly recommend Steve services as he's hilarious, professional, punctual and his drawings were so funny!
---
Andrea Butterworth

, Wedding, Kent
Steve was excellent and greatly enhanced the evening - everyone loved his interpretation of their looks/character and produced a non cheesy memento for them. My one regret was not telling everyone he was only booked until 10pm. Some guests left it too late which was disappointing. Would definitely recommend him.
---
Alice Chan

, Wedding, Hertfordshire
I'm happy to say that I was very pleased both with the agency's service and the acts that you provided. You were very prompt in replying to my e-mails both with queries and sorting out the paperwork. With regards to the acts, Steve H was excellent, producing amusing caricatures very quickly and mingling easily with our guests. Haynes Jazz were absolutely brilliant and really made our evening, we were so pleased we booked them. My husband had been a little worried that a jazz band might have limited appeal for some of our guests but they had an excellent repertoire and played lively upbeat songs which really got everyone dancing. We were very impressed with the band and Guy in particular and would definitely book them again. Hope this helps!
---
Toby & Sophie

, Wedding, Kent
This is Toby Sophie's Husband (that's strange to now say ha ha) I just wanted to say Steve was amazing. Unfortunately we were so busy talking to our guests and partying that we didn't actually sit down and have our pictures drawn (totally our fault) but Steve still drew our pictures from seeing us walk past - and was just as brilliant as if we were right in-front of him. All the guests loved him and he always had a queue, people are still commenting on him now after the event. We would highly recommend Steve to anyone not only on arrival after introducing himself did he happily let us attend to everything and set up on his own, but he continued to wade through the herds of guests we had without a bother, still creating really amazing pictures of everyone. As for yourself I don't really know what to say as you dealt with Sophie through all of this but I'm sure Sophie would say that all along this has been a very smooth process and you guys have provided us with a brilliant entertainer - thank you. Many thanks for everything and we would definitely come to you guys again for any other party entertainment needs.
---
Rita Broomfield, Community Development Officer - RAF Marham

, Military Event, Norfolk
I am so pleased that when I Googled entertainment in the Norfolk area, Warble came up. Steve the Caricaturist when down a storm and have already had requests to book him again. Darren the magician was equally entertaining, and one young person has told me he is going to be a magician as a result of seeing Darren at work. Both worked constantly and tirelessly for the whole of their time with us, were extremely friendly and very very professional. Thank you for your help and support, I will be in touch when we have our next event.
---
Sarah Harding - Haines Watts

, Corporate, Surrey
Steve was terrific, very talented, everyone so happy with their portraits. We would happily recommend him. Thanks, Sarah
---
Rachael Allerston

, Wedding, Essex
Very polite and got straight to work. Everyone loved it was something different. Thank you Steve.
---
Zoe Williamson

, Wedding, Buckinghamshire
Hi Charlotte, Thankyou very much,cant believe the day has been and gone already. I just wanted to say how very happy we were with Steve and that he really made our special day complete, everyone has commented on how fantastic he was and I was very happy with the level of service we received from him. He really worked very hard and his pictures were fantastic. I could not think of anything more perfect for us, his picture of us will now have pride of place in our lounge for everyone to see. A memory of a very happy day. Please express to him our gratitude and absolute delight that he made our special day complete and really put a smile on everyone's face :0) Thankyou again!
---
Melanie Farquharson - 3Kites Consulting Limit

, Corporate, London
Steve was great - very accommodating and an asset to our party.
---
Samantha Nicholas

, Wedding, Kent
What an amazing guy, guests loved him and their drawings xxxxx
---
Hazel Sunshine

, Wedding, Essex
Fabulous! We had an accident and he even did a caricature of the paramedic! He was a star, very popular with our guests.
---
Natasha Sammut

, Wedding, Essex
We really appreciate having booked Steve the caricaturist for our wedding! He arrived on time, well presented and very organised. He drew many pictures of our guests and everyone was extremely delighted with them. It was nice for our guests to have a keepsake of our special day & Steve personalised all pictures with our names & wedding date - which is a lovely personal touch. We would like to say a very big thank you to Steve! His personal act was a delightful touch!!
---
Shelley Kearns

, Wedding, Essex
Steve was utterly brilliant and kept our guests very entertained throughout the photos and drinks reception. Plus, he was such a lovely guy and everyone loved their memento pictures! Warble were very quick with any responses and the process was very easy, just what you need when getting married! Thanks again, The new Mrs Nayler!
---
Jay Ali

, Wedding, London
A big thank you to Steve for making my Brother's party a fantastic and memorable one!! He was a hit with the guests!! Very friendly, reliable and professional. Would defiantly book him again in the future.
---
Robert Glover

, Wedding, Essex
Absolutely amazing, everybody loved it!
---
Clare Jeffery

, Wedding, Hertfordshire
A massive thank you for Steve. He was fantastic... all our guests loved the pictures... and we also love ours. He was so professional on the night and was fantastic with our guests! We will definitely be recommending him! Thank you, for making our day so special! Clare & Simon Marks
---
Matthew Williams

, Wedding, Suffolk
He was really great. Relaxed and friendly approach and our guests enjoyed being part of a hilarious piece of art!
---
Dean Nutzlader

, Wedding, Essex
Hi Marie, Steve was perfect, very entertaining, all our guests loved the pictures. Highly recommend.
---
Just some of the clients Steve has worked with include: BBC, Apple, ITV1, Virgin, Barclays bank, David Lloyd, Leeds Castle and The Bank of England.
Weddings have many variations but that is no problem. From a few hours in the afternoon to more in the evening, the best drawing times are designed to fit and meet your wedding plan fo rthe day. So something like 2pm to 4pm whilst photos are being taken or maybe 7pm to 10pm during the evening reception where both day and evening guests can be capttured on paper!
Steve draws on a mix and mingle basis and supplies all he needs, you need not worry about anything!
Drawing approx 20 people per hour, Steve draws quality caricatures really fast and can achieve a large number of guests for your wedding! So over 2 hours, drawing 40 people is possible, sometimes more!
Steve is always open to discuss your requirements once the booking has been made to clarify any details!
Options are based on either 2 hour, 3 hour or 4 hour periods of drawing
Steve's prices start for 2 hour time period and increase for the longer times
Please Note: The fees indicated below are approximate and based on a central location for each county. They are intended to provide a rough guide only and exact quotes can only be given once the date and exact location of your event have been provided.
East
Cambridgeshire
£300.00
Suffolk
£300.00
South East
Bedfordshire
£312.00
Berkshire
£300.00
Buckinghamshire
£300.00
East Sussex
£300.00
Essex
£276.00
Hampshire
£324.00
Hertfordshire
£276.00
Isle of Wight
£480.00
Kent
£276.00
Oxfordshire
£312.00
Surrey
£288.00
Sussex
£300.00
West Sussex
£300.00
London
£240.00
Middlesex
£240.00
You may also like
Customers who have enquired for Steve H The Caricaturist have also been interested in the following Caricature Artists for Hire who are also available in Essex and the South East. For more information or further options, please call 0845 643 9384.