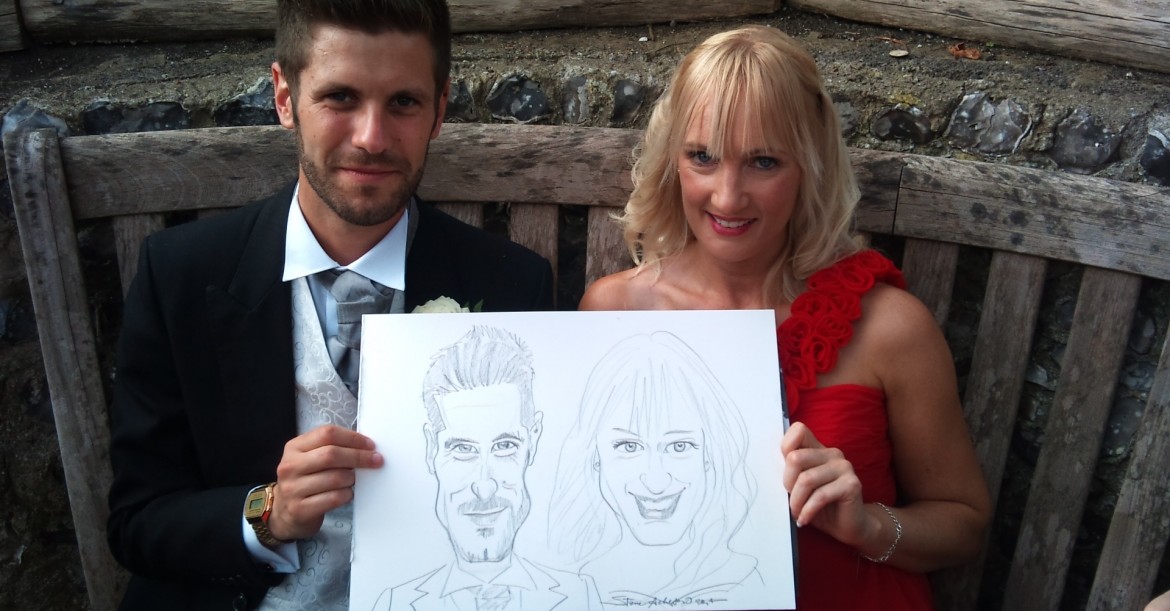 Location Hampshire
Starting from £252.00

Steve has well over two decades of experience as an on-the-spot caricaturist and portrait artist, and uniquely can also combine this with a masked mime act to provide entertainment for all.
Based in Hampshire, Steve is equally at home at Weddings, Corporate Events or Private Parties.
Number of Reviews and Counting... 23!
Steve has well over two decades of experience as an on-the-spot caricaturist and portrait artist, and as such is able to put guests at their ease and provide entertainment for all at events.
Steve will bring his humour and witty drawing style to your event, moving from table to table and wowing your guests, whilst giving them something to take home as a keepsake of the day.
He is equally at home at Weddings, Corporate Events or Private Parties.
Suzanne Cudd

, Corporate, Hampshire
Steve was amazing, fantastic drawings, we were far busier than expected but he coped very well and everyone loved his drawings… Thank you!
---
Martin Holborow

, Wedding, The Anchor, Taunton, Somerset
All communication good. All guests very happy with the caricatures they received. Steve was helpful and made this part of the evening easy to organise.
---
Gill Wicks

, Private Party, Martinis, Wiltshire
Steve completed eleven caricatures and a group caricature too, excellent. Everyone was pleased with their pictures and Steve was friendly and accommodating. Thank you Steve.
---
Kimbridge Barn

, Corporate, Hampshire
Very professional and a great addition to our corporate launch.
---
Denise Dawkins

, Private Party, Holiday Inn, Reading, West Berkshire, Berkshire
From initial enquiry to confirming booking the service was friendly and efficient and easy to follow. Really appreciated the reminders as the event got closer and everything ran as promised. Steve was a hit at the party with some great drawings as take a ways. It's a shame we didn't have him for longer. Thank you one and all.
---
Trethowans LLP

, Charity, The White Hart Hotel, Wiltshire
The response and service from Warble has been great; and Steve was fab on the night - very unobtrusive and great entertainment for everyone.
---
Stewart & Lizzy White

, Wedding, George Inn, Warminster, Wiltshire
Steve was great. He went all out to look the part and made the day extra fun. Thank you.
---
Sarah and Edward Laptalis

, Wedding, Monks Arm, Berkshire
Steve was absolutely fantastic and worth every penny, he had a queue of guests with him for the whole 3 hours he was at our wedding. The quality of his drawings are fantastic and we have already framed our family picture. He could probably have done another 3 hours worth of our guests as so many wanted a picture, I would 100% recommend Steve for any event you have planned. He was a star.
---
Helen Owden

, Birthday Party, Hampshire
He was FANTASTIC! Brilliant caricatures, friendly, chatty... fabulous!
---
Natalie Burridge

, Wedding, Burley Manor, Hampshire, Hampshire
We were very pleased with the entertainment.
---
Steven Judd

, Wedding, Langshot Manor, Surrey
Very good, stayed later for us and people were impressed.
---
Lea Denison

, Birthday Party, Berkshire
Steve was absolutely great, really captured everyone's expressions well and certainly looked like the person. Very accommodating, mingled with our guests well and chatted to everyone - would definitely recommend Steve A for parties and special occasions.
---
Adriana Rusu

, Private Party, Accor UK Head Office , London
Steve was very accommodating and great with the guests.
---
Hilary Hawkes

, Private Party, Lainston House Hotel, Hampshire
Steve A is a lovely person who fitted in, mingled easily with us all and made everyone feel at ease. Everyone, young and old, wanted to be sketched. Absolutely recommend. Thank you.
---
Sandra Clark

, Wedding, Hampshire
I decided I wanted some entertainment at my wedding about a week before the event so after looking up wedding entertainers, Warble suggested Steve. The process was quick and easy I paid a deposit and said what time I wanted him. I did have a brief worry that I had no idea who he was, and what the drawings would be like, but on the day, as asked, he arrived on time and got straight on with the drawings, he quietly went round the tables and got on with his work. I would definitely recommend Steve he was just perfect.
---
Sharon Hermitage

, Wedding, The Dancing Man Brewery, Hampshire
Steve was superb; he wowed guests with his extraordinary talent and mingled well with everyone - old and young! Would definitely recommend him for any event.
---
Nicky Berry

, Wedding, Surrey
We booked Steve for our wedding. He was reliable - contacted me in advance to reassure and to confirm details for the day and had some helpful suggestions, was no trouble for me on the day - arriving and getting on with it with no fuss. He managed to draw a number of people in the couple of hours he was with us and was really popular.
---
Theresa Johns

, Wedding, Hampshire
Fantastic day and great pictures. Thank you.
---
Catherine Young

, Private Party, Hampshire
Steve was fab! Everyone loves his creations and I would recommend him highly! Thanks Steve!
---
Tom Fisher

, Wedding, Hampshire
Steve did a great job, couldn't have asked for any more!
---
Sarah Cutler

, Wedding, Hertfordshire
Hi Charlie, Steve was a fantastic edition to our wedding. He is not your average caricaturist, he makes a real show of it. He wears a mask and does a mime. It really went down extremely well indeed! I would recommend Steve A and if asked shall I wear my mask, by Steve, scream 'Yes' back at him. It was a hit. A++++ Thanks
---
Stephen Beck

, Private Party, Surrey
This is the second time we have booked Steve via Warble. The booking process was undertaken online and was problem free and easy. Email confirmations and booking paperwork were efficiently organised. Steve in turn provided telephone confirmation of the booking a week or so before the event date. He arrived promptly for the function and got straight to work. Having booked him before we knew what to expect and he did not disappoint. He has an excellent manner with guests and put them at ease through light banter. He is extremely skillful and guests loved the momento of the event he provides. Without doubt will book again and can recommend without reservation.
---
Stephen Beck

, Wedding, Oxfordshire
Steve was absolutely outstanding. His very professional approach and affable nature saw him in demand throughout the evening. He captured people to perfection and worked hard throughout the event maximising his time with us. He worked discretely and kept people at their ease. We would use him again and can recommend him without reservation. Our event was greatly enhanced and memorable as a result of Steve's attendance. A great job done at a fair price. Warble made all the arrangements on our behalf and are to be commended on their organisation and attention to detail. Nicola who managed our booking was superb dealing with contract details and keeping us informed.
---
John Lewis
Coca Cola
Sainsburys
NHS
GlaxoSmithKline
P&G
Fiat
Vauxhall
Skoda
B&Q
BurgerKing
Portsmouth FC
Southampton FC
BBC
Channel 5
Sky
Ericsson
Hewlett Packard
IBM
Microsoft
WHSmith
Lego
Early Learning Centre
The Army
Royal Navy
Royal Air Force
Royal Marines
Territorial Army
Fort Nelson
Royal Marines Museum
The Royal Maritime Club
RNLI
Air Cadets
Hampshire Constabulary
Hampshire Fire & Rescue Service
Portsmouth Historic Dockyard
Royal Navy Submarine Museum
Spitbank Fort
The Fire Fighters Charity
Citizens Advice Bureau
Breast Cancer Care
The Salvation Army
The Church of England
The Church of Jesus Christ of Latter-day Saints
Faith & Football
Goodwood Racecourse
Goodwood Festival of Speed
Isle of Wight Festival
Cowes Week
London Stansted Airport
Portsmouth City Council
Arun District Council
Isle of Wight Council
Winchester Guildhall
South Parade Peir
Alexandra Palace
Serco
SSE
Pall Corporation
Babcock
Vector Aerospace
Ocean Trawlers
Mac Tools
Tyco Healthcare
KPMG
Allianz
Virgin Money
Handelsbanken
Bank of America
Wilberforce Chambers
Computershare
Taylor Wimpey
Kleeneze
AMF Bowling
Seward Group
Travelodge
MacDonald Hotels
JW Marriott
Le Manoir Aux Quat Saisons
The Mayfair Hotel
Queen's Hotel
Hilton
The Goodwood Hotel
University of Oxford
University of Cambridge
University of Chichester
University of Southampton
University of Portsmouth
University of Bristol
Portsmouth College
Gunwharf Quays
Tallaght Community Arts
Royal Military Academy Sandhurst
2 hours
3 hours
4 hours
All day
Please Note: The fees indicated below are approximate and based on a central location for each county. They are intended to provide a rough guide only and exact quotes can only be given once the date and exact location of your event have been provided.
East
Cambridgeshire
£300.00
South East
Bedfordshire
£288.00
Berkshire
£276.00
Buckinghamshire
£300.00
East Sussex
£276.00
Essex
£300.00
Hampshire
£252.00
Hertfordshire
£300.00
Isle of Wight
£276.00
Kent
£288.00
Oxfordshire
£288.00
Surrey
£276.00
Sussex
£276.00
West Sussex
£264.00
London
£276.00
Middlesex
£276.00
South West
Cornwall
£312.00
Devon
£300.00
Dorset
£276.00
Somerset
£300.00
Wiltshire
£264.00
Bath
£300.00
Bristol
£300.00