Warble Entertainment's
The Silhouette Artist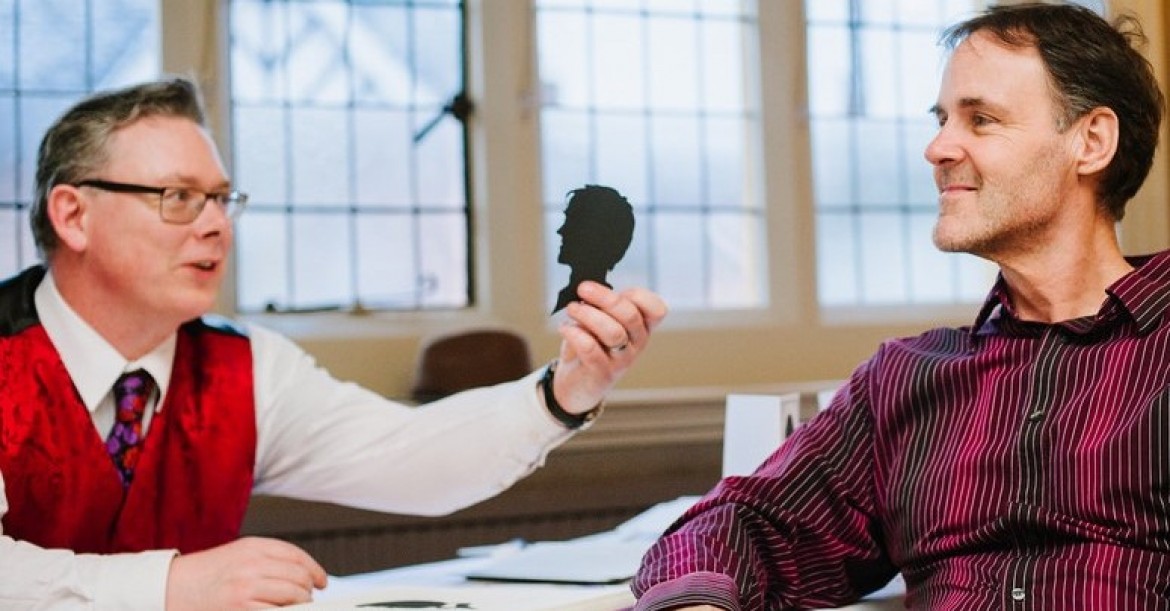 Location Middlesex
Starting from £288.00
Location Middlesex
Starting from £288.00
Introduction
Get a feel for them
Intro
The Silhouette Artist is a trained artist who sold his first portrait at the age of 14, got his degree in graphic design from St Martins in 1990 and has been doing portraiture & caricature of one sort or another ever since! He loves helping to generate the buzz of an event or party, and adores the reaction his lightning-fast likenesses get.
He took up silhouette portraiture around 10 years ago and thoroughly enjoys the discipline and focus it takes to create an amusing or accurate likeness of a subject - "It's one of those art forms that very few people do, so it's nice to stand out from the crowd and create work that people can take home as a unique souvenir of a memorable night - I see my silhouette portraits as little parcels of pleasure!"
SPECIAL OFFER FOR WEDDINGS: Steve is very happy to offer a free silhouette portrait of the couple which he can cut from photos emailed by the client - this can be done prior to the wedding to ensure that the stars of the show don't miss out on getting their portraits done, which can happen as they're often so busy with all their guests and duties. The image can also be used on their invitations and any other wedding paraphernalia or displays!
For a small extra cost, Steve can also 'double-cut' the happy couple's silhouette and place it in the centre of a Wedding Signature Board, along with any message you'd like him to write for you - usually the wedding date and couple's names - which can be signed by guests. This makes a marvellous alternative to the standard Wedding Guest Book and a souvenir which the couple can frame and enjoy forever!
The Silhouette Artist's skills are ideal for weddings, birthdays, anniversaries, Victorian theme days, bat and bar mitzvahs, corporate and promotional events!
40 reviews
The Silhouette Artist
Number of Reviews and Counting... 40!
These unique souvenirs to make your event unforgettable can be created in next to no time. Each person takes from three to five minutes depending on style required and detail.
The Silhouette Artist's skills impress the crowds and his manner will raise smiles while he crafts individual artworks which your guests can take home and treasure.
Each finished silhouette is placed within a protective card mount so they are ready to frame and enjoy!
Ervina Caka - CISI

, Corporate, Assembly House, Norwich
Steve was very engaging with our guests and worked the room really well. He was very punctual and helpful on the night, wouldn't hesitate to book him again.
---
Melanie Nathan

, Other, Leeds
Incredible. Went down a treat. Everyone loved it and Steve was just brilliant!
---
Nicky - OneLogin

, Corporate, Intercontinental O2, London
The guys said Steve was great to work with and the photos I saw looked great.
---
Vanessa Coutinho

, Birthday Party, Middlesex
Steve is very talented. Having him at my party was fab! My guests were delighted with their silhouettes and Steve, bless him, had a steady stream of people waiting throughout. Steve is such a lovely man too. He was kind and funny and put everyone especially the children at ease. Thanks to Steve, that was my best party yet! Many thanks again Steve!
---
David & Carol Horan

, Wedding, East Lodge Hotel, Derbyshire
Steve was absolutely brilliant, everyone had fun, he worked incredibly hard, was very entertaining and a brilliant artist to boot. We all had a fabulous time with him and the results were superb. It was the icing on the cake for our wedding. Really, really pleased we chose him, people had so much fun in his company - excellent.
---
Natasha Edgell

, University / School, University of Oxford, Oxfordshire
Steve was absolutely fantastic on the night. He worked at a ball with over 700 guests and did a great job of mingling and seeing to as many guests as possible. He was upbeat and we had really, really great reviews from many of our guests.
---
Ben Nakata-Kingwell

, Wedding, Chobham Village Hall, Surrey
Steve was amazing at our wedding and a huge part of the entertainment for the evening. He was constantly busy because everybody wanted theirs done! He was friendly and lively and we'd definitely hire him again and recommend to friends.
---
Esther Pepper

, Birthday Party, West Sussex
Steve was absolutely brilliant at my 50th birthday party. He is a great character, and seriously wow'd my guests with his silhouetting skills. It's hard to believe that Steve can capture the essence of a person in just a couple of minutes, with only a pair of scissors and some black paper! A charming and professional piece of art for my guests to take home and treasure. He even made sure he did my portrait before the date, and days later snipped a couple of extra guests who'd had to leave early. The likenesses were so good, that when we found a stray silhouette after the party, we could instantly tell who it was and could post it on. I've had so many nice comments, both about Steve and his artwork. Would not hesitate to have him back next time. Great value for money and highly recommended.
---
Richard Freeman

, University / School, Ramside Hall, Durham
Steve was amazing! Everyone loved the silhouettes and was buzzing to have a portrait. Steve had a bubbly personality that went down a storm with the guests as he produced top quality products for them to remember an amazing night!
---
Amy Jennings - SSE Electricity Limited

, Corporate, Gaiety Bar, Portsmouth, Hampshire
Steve was so passionate, turned up early and left late and works his socks off for the whole evening barely stopping. His work is extremely skilled and everyone loved their portraits which were uncanny! Would definitely hire Steve again given the opportunity. Thank you so much!!
---
Kelly Strong

, Wedding, London
Steve was fantastic. Everyone loved him and he made every effort to get round to as many people as he could. Fantastic guy, 5 star!!!
---
Jeanette Lee

, Private Party, Essex
Thank you Steve for the amazing silhouette portraits, we greatly appreciated the time and care you took, so professional. We would thoroughly recommend Steve to give your event that very extra special touch.Thanks again.
---
Samantha Leadbeater

, Birthday Party, North Yorkshire
What a fantastic guy Steve is. His work and his personality was first class. He made everyone feel at ease, made them laugh, talked to many different people of all ages, can't rate him highly enough! Thank you Steve - you were great!
---
Lucia Briant

, Corporate, Horizons, Sandbanks , Dorset
Steve arrived very early and instantly captivated the room. He was charming, talented and an absolute delight to work with! It's a great keepsake for guests at any event - would highly recommend and use again!
---
Howard Smedley

, Birthday Party, Kent
The Silhouette Artist made a great contribution to the atmosphere of our party.
---
Graham Makepeace

, Other, London
The silhouette guy was fantastic! A serious gem... He was a real find!
---
Louise Gibbs

, Wedding, Gorse Hill, Surrey
Would absolutely recommend, Steve was great with my guests and everyone loved their silhouettes!
---
Priya Nobbs

, Wedding, Berkshire
He made the wedding so special. Very professional and loved by all the guests.
---
Belinda Orphanou

, Wedding, Buxted Park, Kent
The Silhouette Artist was nothing short of amazing. He was not only extremely talented, but a lovely guy and we are so glad we booked him for our vow renewal - many thanks!
---
Eve Wells

, Wedding, East Sussex
He was great, very entertaining and funny, everyone was very impressed.
---
Heather Lloyd

, Wedding, Wasing Park, Berkshire, Berkshire
He went above and beyond and stayed later to see as many of our guests as possible. He did mainly characters as far as I'm aware which I think meant he was able to get round more people. He worked really hard and the feedback I had from guests was superb. His communication before hand was brilliant, we couldn't have asked for more. Highly recommended and an asset to your company.
---
Rita Daly

, Birthday Party, Redbourn Golf Club, Hertfordshire
Steve was brilliant. His mixture of silhouettes and caricatures went down extremely well and there was a queue all evening. His personality fitted easily into the party atmosphere with adults and children. I would definitely recommend The Silhouette Artist for future events! Well done Steve!
---
Michelle Aldous

, Wedding, Kilworth House Hotel, Leicestershire
The Silhouette Artist was a true professional, he arrived early and got started straight away ensuring the main guests had their silhouette completed. He put guests at ease with his friendly manner. All wedding guests thought he was absolutely amazing and different to more traditional wedding acts. He made our evening reception truly memorable. Thank you
---
Charlotte Bell - Coffin Mew LLP

, Corporate, Hampshire
Our guests were absolutely delighted with Steve The Sihouette Artist. It was absolutely perfect for a Corporate event such as this - thank you.
---
Stephen Macken

, Military Event, Suffolk
Excellent product, friendly and very professional.
---
Negar Laing - Pharo Advisors UK Ltd

, Corporate, London
We loved Steve! A punctual, great artist and fab with people. The chat was great and he made the evening! Thank you.
---
Gemma Walker

, Wedding, Wiltshire
Steve arrived early which was amazing and brought an iPad so could take some photos and be working on those silhouettes and so guests (including the bride and groom) wouldn't have to stand and wait for him to do them. He did lots of live ones also in the time he was with us and the quality was amazing! The likeness from the real people to the silhouette was astonishing. He was a very likeable person and evidently loves his job. I have had many comments from guest about how they have kept their silhouettes as they are so great! It was a pleasure to have him as part of our wedding. Charles and Gemma.
---
Dawn Baker

, Wedding, Kent
An excellent artist. Friendly and very talented. Very recommended.
---
Nicola Madden

, Wedding, Essex
Steve was FANTASTIC!! I was amazed at how accurate his work was and the guests absolutely loved him! He arrived early and stayed well beyond his allocated time to finish his silhouettes and was certainly well worth the money. Would most certainly recommend Steve for any special occasion! Thanks for helping to make our day special.
---
Judith Martin

, Wedding, Suffolk
Arrived ahead of time and interacted well with guests. The Silhouette Artist was polite and focussed. The silhouettes were brilliant and everyone who had one was very impressed. I would be happy to recommend.
---
Daniel Bellis

, Wedding, Leicestershire
The Silhouette Artist was first class, Sophie and I couldn't be more happy or impressed with him. He was polite, complimentary throughout and was a pleasure to be around. The way he created those silhouettes and how quick was amazing. I would give him 5/5 and would recommend him to anyone as all my guests were equally impressed. He even went above and beyond to ensure guests got a silhouette and made sure we got the full two hours.
---
Olivia Stanton

, Private Party, Gloucestershire
Steve arrived with plenty of time to spare and set himself up. Entertained our guests very well whilst doing the silhouettes and our friends were delighted with their 'portraits'. Thank you.
---
Joey Kirk

, Wedding, Suffolk
We were really pleased with The Silhouette Artist, really friendly, the kids loved him and everyone really wanted theirs done! We are so happy that we booked him. If anybody is unsure, I would definitely recommend him, it was such a good talking point at the wedding!
---
Charlotte Draper - Fennes

, Corporate, Essex
The Silhouette Artist was absolutely brilliant, all the guests had such positive feedback! Great communication from yourselves and the artist - would definitely use again!
---
Sarah Milton

, Wedding, Lancashire
Steve was brilliant and friendly throughout the day - the silhouettes he did were amazing and it was such a lovely addition to our day and so many people commented on his work - their artwork now on their mantlepieces! Would recommend 100%
---
Sian Reen

, Wedding, Surrey
What a great personality! Really friendly & chatty, a great talking point at our wedding & very amusing. Integrated seamlessly with our guests & many guests were keen on getting involved. He even stayed late after we turned up late.
---
Nicola Taylor

, Wedding, Wiltshire
He managed to see every guest that wanted a silhouette, no mean feat considering there were approx 150 of us all! Everyone who received a silhouette was thrilled and some, even brought to tears. A fantastic addition to our wedding celebration and would thoroughly recommend this artist to any and everyone. A unique keepsake, from a unique artist. Thank you Steve.
---
Pippa Bostock - Portsmouth Grammar Jumior School

, Charity, Hampshire
Steve was absolutely truly amazing!!! Guests were blown away and wonderful souvenirs to treasure forever! I will definitely be booking again - thank you so much for helping to make the evening truly magical.
---
Ashwynn Dar

, Private Party, Gloucestershire
Brilliant. Outstanding results produced quickly, roamed around crowd well. Put guests at ease, good conversation!
---
Nigel Parker

, Wedding, West Sussex
Some amazing silhouettes. Our guest were well pleased and filled in nicely during our photos. Thanks for everything.
---
IBM
KPMG
Canon
M&S
RBS
Midland Bank
Heathrow Airport
The Armed Forces
Leapfrog International Ltd.
Zerfofiftyone
Impacct Ltd.
MaST
Nissan
Jewson Ltd.
Ashton Court Festival
Royal Parks
Longleat
University of Bristol
Oxford University
Cadburys
Jongleurs Comedy Clubs
The Silhouette Artist creates silhouettes of each guest within 3-5 minutes.
He can either do walkabout caricature or be set up at a table with some chairs for guests to come and chat and pose for him. The latter always creates a real centre of interest and excitement!
The Silhouette Artist travels around most of the UK and will also work abroad.
The Silhouette Artist can be hired from 1 - 8 hours, although it's more usual for him to go out for 2-3 hours.
Please Note: The fees indicated below are approximate and based on a central location for each county. They are intended to provide a rough guide only and exact quotes can only be given once the date and exact location of your event have been provided.
Scotland
Edinburgh
£600.00
North East
Durham
£480.00
North Yorkshire
£480.00
South Yorkshire
£456.00
Tyne and Wear
£504.00
West Yorkshire
£480.00
Yorkshire
£456.00
Leeds
£456.00
North West
Cheshire
£480.00
Cumbria
£540.00
Manchester
£408.00
Lancashire
£504.00
Merseyside
£432.00
East Midlands
Derbyshire
£336.00
Leicestershire
£408.00
Lincolnshire
£456.00
Northamptonshire
£408.00
Nottinghamshire
£384.00
Rutland
£408.00
East
Cambridgeshire
£384.00
Norfolk
£456.00
Suffolk
£384.00
Wales
Anglesey
£480.00
Flint
£480.00
Carmarthen
£480.00
Glamorgan
£480.00
Monmouth
£480.00
Pembroke
£480.00
Cardiff
£384.00
West Midlands
Gloucestershire
£360.00
Herefordshire
£408.00
Shropshire
£456.00
Staffordshire
£408.00
Warwickshire
£384.00
Worcestershire
£408.00
Birmingham
£336.00
South East
Bedfordshire
£360.00
Berkshire
£360.00
Buckinghamshire
£360.00
East Sussex
£360.00
Essex
£288.00
Hampshire
£384.00
Hertfordshire
£360.00
Isle of Wight
£480.00
Kent
£324.00
Oxfordshire
£312.00
Surrey
£360.00
Sussex
£360.00
West Sussex
£360.00
London
£288.00
Middlesex
£288.00
South West
Cornwall
£504.00
Dorset
£480.00
Somerset
£432.00
Wiltshire
£432.00
You may also like
Customers who have enquired for The Silhouette Artist have also been interested in the following Caricaturists and Unique Entertainment Ideas that are also available in the South East of England. For more information or further options, please call 0845 643 9384.