Warble Entertainment's
Steve P The Caricaturist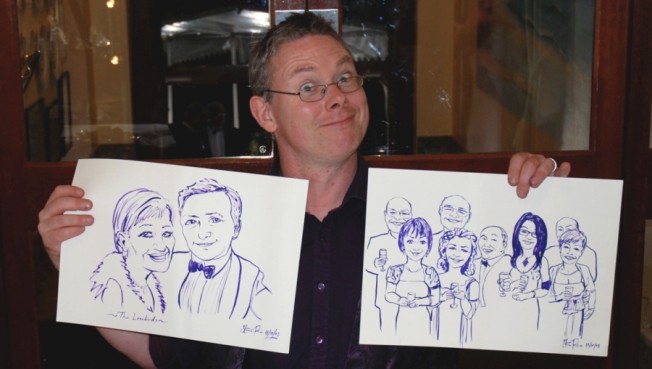 Location Cambridgeshire
Starting from £264.00
Location Cambridgeshire
Starting from £264.00
Introduction
Get a feel for them
Intro
Steve can create lightning fast likenesses of your guests in mere minutes! From comical cartoons to glamorous portraits, these unique souvenirs to make your event unforgettable can be created in next to no time. Each person takes from two to four minutes depending on style required and detail. His skills impress the crowds and his manner will raise smiles while he crafts individual artworks which people can take home and treasure.
Ideal for weddings, birthdays, bar and bat mitzvahs, anniversaries, corporate parties, promotions and product launches. Steve can also add your logo or theme idea to his drawings so your guests have a souvenir of a great event!
SPECIAL OFFER FOR WEDDINGS: Steve can do a FREE A4 caricature of the Bride and Groom in advance of their wedding with lots of detail, to make sure they get a really special piece of art for their big day! Just email him with photos to work his magic on!
Steve can also create Wedding Signature Boards - these are giant-sized on either A2 or A1 card, with a detailed caricature of the couple at the centre, any message you'd like him to write (usually the wedding date & couple's names), and lots of space around for guests to sign. These make a change from the standard Guest books and are completely unique to each wedding. They create a real centrepiece for your special day attracting lots of attention and conversation, they make a fantastic souvenir for the couple to take home and for guests to take a zillion selfies with! Ask for prices, which are very reasonable.
Based in Middlesex but available throughout England and Wales.
41 reviews
Steve P The Caricaturist
Number of Reviews and Counting... 41!
Steve the cartoon artist will never fail to bring out the glamorous Goddess in the girls - and will do so in mere minutes! No need to worry about being drawn in an unflattering manner, Steve is a trained artist who will capture your likeness at it's very best! He's Gok Wan with a pen! The guys can choose to be made comical or handsome, but Steve is always complementary to the ladies!
Steve's also a dab hand with keeping children busy, so if you have an event where you'd like the young guests to be occupied, send them over to be sketched and entertained too!
Tracy Woodsmith - Undo LTD

, Corporate, Undo's Offices, Cambridgeshire
Steve was great. Happy with the end result :)
---
Jo Brimble

, Birthday Party, Bath
Steve is fantastic. He is naturally funny and gifted and a pleasure to have join us.
---
Edwina Watts

, Wedding, Royal Holloway University of London, Surrey
Absolutely great! Steve did some wonderful caricatures. He started the Bride and Groom early so that guests could sign around the frame. Thank you so much Steve. Your work and effort was much appreciated.
---
Gareth Stewart

, Wedding, The Pattiswick Compasses, Essex
We booked Steve for our wedding to mix and mingle with our Guests. Steve clearly loves his job very much and his enthusiasm was infectious as he pandered to our all our guests' requests. Steve went way beyond our expectations, adding to the fun on a very special day - our guests loved their drawings and it provide a nice gift.
---
Sherrie Sandy

, Wedding, Toft Country House Hotel, Lincolnshire
Awesome communication and flexibility working with Steve. Everyone enjoyed the day - kids were entertained and people that wished for a caricature drawing of themselves got one and were not disappointed. My only regret is not getting chance to talk to Steve on the day but he was so busy and everyone kept pulling me in different directions. Steve drew a picture of me and husband before our big day and it takes pride of place in our living room. I would highly recommend Steve for your event as he is just lovely and well worth the money.
---
Margaret Ackroyd

, Other, The Oxfordshire , Buckinghamshire
Steve was amazing. He made the guests feel comfortable and would recommend a style of caricature for them, giving them a wonderful keep sake of the occasion. He was also very generous with his time and worked past his allotted time which we appreciated. Would certainly recommend him to anyone. Kind regards, Margaret.
---
Tracy Kenny

, Corporate, Horwood House, Buckinghamshire, Buckinghamshire
Steve was absolutely fantastic - he was so into our event and I couldn't believe his enthusiasm. Took the assignment very seriously and you can tell he loves his work. He almost felt like he worked for Aspers when he turned up early to get set up. Made sure he was meeting our expectations leading up to the event. Left us with a lovely keepsake and even offered to do caricatures of the organisers post event as we never had time to sit for him on the day. Outstanding - thanks Steve!!
---
Jane Hatcher

, Wedding, Brookfield Barn, West Sussex, Sussex
Lovely guy, wowed the guests and everyone was still talking about their drawings the next day! Thank you!!
---
David Taylor

, Corporate, Oxford University Natural History Museum, Oxfordshire
Steve was exceptionally attentive to our customers. He enhanced both the event and the customer experience. Difficult to suggest how he could have done any better.
---
Mark Ezekiel

, Private Party, London
My wife and I were delighted with the entertainment Steve provided at our son's party. Everyone enjoyed his pictures tremendously and there was always a hive of people around him. His service was exemplary and everyone said how nice he was. We are VERY satisfied customers.
---
Antonia Torr

, Private Party, Magnolia Park, Buckinghamshire
Steve was absolutely fabulous! He was great with the guests and his drawings were amazing. He really made the party atmosphere!
---
Sunil Kainth

, Wedding, Dorney Lake, Berkshire
Absolutely amazing, Steve P was great and made everyone at ease while he drew away. Thank you Steve for making our day special.
---
Maria Alfaradhi

, Wedding, Kia Oval Cricket Club, London
We booked Steve for our wedding and his services really gave our wedding a special touch. He got in touch with us well before the big day to finalise details and arrived early on the day to set up well before our guests arrived. He was a great hit with all the guests... they were queuing up to have their caricatures drawn! All the pics came out great :) We would definitely recommend Steve for any party or large event.
---
Trish Stansfield

, Wedding, Warwick Castle, Warwickshire
Hard working, entertaining and hilariously accurate! Thank you so much, Steve.
---
Diego Bevilacqua

, Private Party, London
Steve proved to be a very affable, flexible and witty caricaturist. He joined in the fun and made some lovely caricatures of the group as well as individuals. Everyone enjoyed having him there. The booking and administration was easy and simple to deal with via Warble Entertainment. Highly recommend Steve for your party.
---
Florence Decaires

, Private Party, Tapestry, Soho, London
Steve was brilliant, he was so good at the portraits and was very quick, he definitely worked the crowd. We would use him again for more of our events.
---
Emma Taylor

, Wedding, Ridge Farm , Surrey
Steve went down a storm, everyone was thrilled with their pictures and the best part was he spotted in like he was a guest, laughing and joking with everyone. Perfect! Thank you.
---
Leonie Dean

, University / School, Oxfordshire
Five out of five!
---
Camilla Dickson and Henry Davidson

, University / School, Oxfordshire
The guests absolutely adored Steve! They were utterly impressed with both the quality of his work and also his friendly demeanor and great conversation. Thanks so much Steve!
---
Emma Bashford

, Wedding, Royal Berkshire, Berkshire, Berkshire
We are genuinely so pleased we booked Steve for our wedding reception. He really did keep our guests entertained with his hilarious sketches and his work was a topic of conversation for hours! Steve is a really sociable person and you could see that the guests warmed to him quickly, exchanging banter but without being overpowering in any way. Steve's work was fast and fun resulting in a very memorable product that our guests were able to take away as a reminder of the day. I would thoroughly recommend Steve to anybody who is considering a caricaturist for their big day!
---
Matthew Wood - Elms MINI Bedford

, Corporate, Barons Bedford MINI, Bedfordshire
Steve was fantastic again - he self manages his interaction with customers so you can get on with your function. We love him and will be using him again!
---
Lyn Nunnerley

, Private Party, Warwickshire
Steve was absolutely brilliant and worth every penny. A fantastic addition to our hen party.
---
Jenny Webster - Anglia Ruskin University

, University / School, Cambridgeshire
Really nice chap, had a really good attitude with staff and visitors.
---
Stephanie Campin - Elms MINI Bedford

, Corporate, Bedfordshire
Steve was absolutely amazing with our customers at the weekend - in fact I'd go so far as to say he MADE the weekend event at our dealership.
---
Katie Le Flem - Inbox Insight Ltd

, Corporate, Hampshire
Fantastic evening where Steve really was the life and soul of the party! Fantastic feedback from all of the staff who thoroughly enjoyed his company. I had no idea that he was such an entertainer, as well as an artist! Many thanks for sourcing him.
---
Jessica Peters

, Wedding, Kent
Steve P was amazing, he went above and beyond for me. The sketch he did of my ceremony is amazing and I cannot wait to frame it. Every guest that spoke to him or had a drawing done could not stop speaking praise about him. Amazing artist and amazing personality - would hire him again (once i have an event to hire him for lol). Thanks for all your help.
---
Sarah Kenworthy - Xpression Events

, Other, London
Very good with customers, natural interacting and lots of banter! He was very up-beat and we were very impressed.
---
Jade Falkner

, Wedding, Hampshire
Steve was punctual on the day. He was friendly, bubbly and charismatic. His drawings were fantastic and lots of our guests were very impressed with their pictures. The children absolutely loved their Superhero drawings! It was really nice for our guests to have a keepsake from the wedding day. Thank you Steve!
---
Keisha McLean

, Wedding, London
Absolutely amazing ! A must to hire for your event. So friendly. Went above and beyond for us on our wedding day!!!
---
Rob Heck

, Birthday Party, Oxfordshire
Steve was fantastic. He didn't intrude or impose on anyone but made sure that all the important guests were sketched. Some of his artwork was quite brilliant with many very original ideas on how people could be portrayed. Would certainly recommend him to others.
---
Tom Shelly

, Corporate, London
Steve was probably one of the best caricature artists we have ever worked with. We got him for an event, where the goal was to attract more leads in order to make our booth successful. Steve had a charm that created a queue by our booth. He was very skilled at the art and you could tell he truly loved what he did as he constantly made everyone laugh. We would totally hire him again and highly highly recommend anyone who is thinking about using him for any type of event.
---
Sharon Barlow

, Private Party, Hampshire
Steve did really fantastic drawings of everyone and joined in the party spirit. All the guests were excited to have a personalised memento to take away with them and are still talking about them weeks after the event. Thanks to Steve for helping to make it a great party.
---
Wendy Humphrey

, Private Party, Hertfordshire
Steve was really polite and friendly. Very professional in his work and my guests were really pleased with their portraits. I'd definitely use him again. Thanks muchly! :-)
---
George Janopulos

, Birthday Party, London
Steve P was really great!! He was fun, engaging and great with the people and the sketches. He was extremely personable and highly likable. He seemed to really enjoy himself - always a good sign. I would definitely recommend him.
---
Finance Shop

, Corporate, Norfolk
Absolutely fantastic artist, great character and fabulous drawings. Really gave our event a fantastic atmosphere to arrive to and have whilst all greeting and having drinks. Great chap! Definitely a good recommendation. Thanks again Steve!!
---
Paul Molony

, Wedding, Surrey
Steve was fantastic from the moment he arrived to the moment he left. He was flexible to our needs and he engaged well with all our guests young and old. His pictures were brilliant and guests are still talking about him now. Can't recommend him enough. Thanks Steve!!
---
Varsha Gopal

, Wedding, London
Steve was a hit at the wedding!! He was brilliant! We could see several guests queuing up to get their caricature done. He seemed very friendly and pretty much talk of the town. Even after the wedding, everyone kept mentioning how fun it was to get their caricatures done. Would definitely recommend Steve!! And also thank him for coming to our wedding and entertaining our guests.
---
Sally Hartwell

, Wedding, Hampshire
Steve P was absolutely brill! His drawing's were fabulous and in my case very flattering :-) He worked quickly and kept people (and children) very well entertained while they were waiting their turn. Excellent entertainment and value for a party or celebration. I would definitely use Steve again. Thank you for helping make my Daughter and son-in-law's wedding such a wonderful day. :-)
---
Karen Hawkins

, Birthday Party, London
Excellent evening. Would recommend to anyone. My guests absolutely loved him and several plan to use him for other parties.
---
Graham Duncan

, Charity, London
Absolutely delighted with Steve and, even more importantly, so were the guests. He worked solidly for 5 hours all the while chatting with guests to put them at ease. The caricatures were great, hitting the spot with everyone. He judged the atmosphere and mood perfectly. Steve was the crucial ingredient in a very successful event. Most definitely recommended. Warble's support was excellent, quick and helpful.
---
Tara Power

, Wedding, Buckinghamshire
Best decision of the wedding, there were queues all night for Steve. The drawings were amazing and everyone commented on how lovely Steve was!! Thank you soo much!
---
IBM
KPMG
Canon
M&S
RBS
Midland Bank
Heathrow Airport
The Armed Forces
Leapfrog International Ltd.
Zerfofiftyone
Impacct Ltd.
MaST
Nissan
Jewson Ltd.
Ashton Court Festival
Royal Parks
Longleat
University of Bristol
Oxford University
Cadburys
Jongleurs Comedy Clubs
Steve creates either comical or glamorous likenesses within 2-4 minutes per person when working in black and white; colour caricatures take around 3-6minutes.
He can either do walkabout caricature or be set up at a table with some chairs for guests to come and chat and pose for him. The latter always creates a real centre of interest and excitement!
1-8 hours possible; 2-4 hours usually requested
Please Note: The fees indicated below are approximate and based on a central location for each county. They are intended to provide a rough guide only and exact quotes can only be given once the date and exact location of your event have been provided.
Scotland
Edinburgh
£552.00
North East
Durham
£480.00
North Yorkshire
£480.00
South Yorkshire
£456.00
Tyne and Wear
£504.00
West Yorkshire
£456.00
Yorkshire
£432.00
Leeds
£432.00
North West
Cheshire
£456.00
Cumbria
£528.00
Manchester
£408.00
Lancashire
£504.00
Merseyside
£408.00
East Midlands
Derbyshire
£360.00
Leicestershire
£408.00
Lincolnshire
£456.00
Northamptonshire
£408.00
Nottinghamshire
£336.00
Rutland
£408.00
East
Cambridgeshire
£384.00
Norfolk
£456.00
Suffolk
£360.00
Wales
Anglesey
£468.00
Flint
£456.00
Carmarthen
£456.00
Glamorgan
£456.00
Monmouth
£456.00
Pembroke
£480.00
Cardiff
£360.00
West Midlands
Gloucestershire
£336.00
Herefordshire
£408.00
Shropshire
£456.00
Staffordshire
£408.00
Warwickshire
£384.00
Worcestershire
£408.00
Birmingham
£324.00
South East
Bedfordshire
£336.00
Berkshire
£360.00
Buckinghamshire
£324.00
East Sussex
£336.00
Essex
£348.00
Hampshire
£360.00
Hertfordshire
£336.00
Isle of Wight
£480.00
Kent
£312.00
Oxfordshire
£300.00
Surrey
£312.00
Sussex
£360.00
West Sussex
£360.00
London
£264.00
Middlesex
£288.00
South West
Cornwall
£504.00
Dorset
£432.00
Somerset
£408.00
Wiltshire
£408.00
Bath
£360.00
Bristol
£336.00
You may also like
Customers who have enquired for Steve P The Caricaturist have also been interested in the following cartoon artists who are also available in Middlesex and the South East. For more information or further options, please call 0845 643 9384.