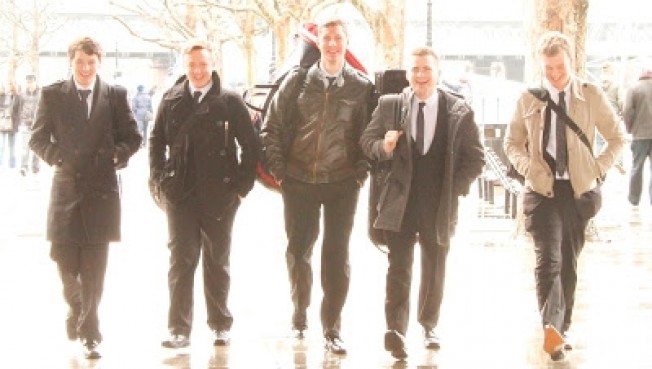 Location London
Starting from £720.00
Number of Reviews and Counting... 2!
Top Five Brass formed in 2010, where the players met at the Royal College of Music and Guildhall School of Music & Drama in London. The group has since gained a vast amount of experience as well as individual players embarking on serious careers as professional freelance musicians.
Between Top Five Brass, they have played with some of London's most distinguished ensembles, including the London Philharmonic, London Symphony, Philharmonia and Royal Philharmonic Orchestras. We've performed with renowned conductors including Bernard Haitink, James Gaffigan and Vladimir Ashkenazy and played in some of the UK's most prestigious venues and halls - from the Royal Albert Hall to Glastonbury Festival! Some of Top Five Brass have even achieved a number 1 hit, both in the UK and abroad!
Education through music is a particular passion of Top Five Brass and, thanks to education programmes such as RCM's partnership with the Westminster Music Service, Top Five Brass are experienced at giving workshops in schools.
Ultimately, Top Five Brass is a young and dynamic brass ensemble. Top Five Brass repertoire covers some classic quintet writing as well as some exciting arrangements. Top Five Brass even have a composer within our group who has written pieces especially for them!
Recent engagements have included playing for Lord Coe and athletes from around Europe for the Olympic 'One Year To Go' event held in St Pancras International Station, an Independence Day Recital for the Ronald Reagan Foundation and the unveiling of Chopin's statue for the Polish Embassy and HRH The Duke of Gloucester at the Royal Festival Hall. Top Five Brass have been invited by the Royal College of Music to host concerts and even played at parties, from a 50th birthday to a Christmas event held in London's famous Venn Street Records.
Top Five Brass are currently preparing for a busy Christmas season and would love to come and play at your venue where they can blow away the crowds with editions of festive pop tunes and carols. Top Five Brass can even lead a sing song and get you up on your feet to really party the evening away if that's what you wish. At this special time of year Top Five Brass have plenty of experience to know that what they can offer is a tried and tested method that is guarantied to succeed and really add to the atmosphere of any event, whether the venue is a pub, a bar, a Christmas party, corporate event, in a hotel, at a function dinner or in a church.
With their broad range of style and repertoire, Top Five Brass can however cater for all types of events and occasions throughout the year, whether it be a concert recital, background music, fanfares for a wedding or an education workshop - all tailored to your individual needs.
5 Brass, or
5 Brass plus Singer
Classical Music
Air - J.S. Bach
Aria of the Queen of the Night - W.A. Mozart
Calon Lan - John Hughes (arr. Edward Hallinan)
Fancies, Toyes & Dreames - Giles Farnaby
Jesu, Joy of Man's Desiring - J.S. Bach
Locus Iste - Bruckner
Nimrod - Elgar (arr. Toby Street)
Pomp & Circumstance March No.1 - Elgar
Rondo a la Turca - W.A. Mozart
Rule Britannia! - trad.
Sailor's Hornpipe - trad.
Shepherd's Hey! - Percy Grainger
selections from The Water Music - Handel
Light, Up-beat Music
Bugler's Holiday - Leroy Anderson
The Entertainer - Scott Joplin
Fascinatin' Rhythm - Gershwin
I Got Rhythm - Gershwin
selections from The Lion King - Elton John (arr. Toby Street)
Love Walked In - Gershwin
selections from Les Misérables - Claude-Michel Schönberg
New York, New York! - John Kander
Le Petit Negre - Debussy
Strike Up The Band - Gershwin (arr. Toby Street)
The Stripper - Joe Loss (arr. Toby Street)
The Washington Post - J.P. Sousa
selections from West Side Story - Leonard Bernstein
WEDDING MUSIC
Prelude music (pre-ceremony)
Canon in D - Pachelbel
Greensleeves - (trad.)
Jesu, Joy of Man's Desiring - J.S. Bach
Nimrod from Enigma Variations - Elgar (arr.Toby Street)
The Water Music - G.F. Handel
Processional Music (bridal entrance)
Bridal Chorus (Here Comes The Bride) - Wagner
Hornpipe from The Water Music - G.F. Handel
Trumpet Voluntary - Clarke
Wedding Hymns
These can be discussed with you and arranged accordingly
Signing of the Register
Air (on the G String) - J.S. Bach
movements from Quintet No. 1 - Ewald
The Swan - Saint Saëns
Recessional Music (the exit of the bride)
Aria from The Queen of the Night - Mozart
Overture from The Magic Flute - Mozart
Trumpet Tune - Purcell
Wedding March from A Midsummer Night's Dream - Mendelssohn
'Zadok the Priest' - Handel (arr. Edward Hallinan)
N.B. trumpeters can also play a variety of fanfares - perfect for that something special to walk down the aisle/introduce dinner
Concert Music
Battle Suite - Samuel Scheidt
Quintet for Brass - Gareth Wood
Quintet No. 1 - Malcolm Arnold
Quintet No. 1 - Ewald
Overture from Magic Flute - W.A. Mozart
Suite Americana - Enrique Crespo
Christmas Music
a large selection of Christmas Carols
Santa Claus is Coming to Town (arr. Toby Street)
Peace on Earth/Little Drummer Boy (arr. Barnaby Philpott)
Stop the Cavalry (arr Barnaby Philpott)
Fairytale of New York (Jonny Abraham)
Jingle Bells (arr. Brass players of the New York Philharmonic, transcribed by Jonny Abraham)
Christmas Crackers - trad. (arr. Iveson)
It's Beginning To Look A Lot Like Christmas (arr. Barnaby Philpott)
Have Yourself A Merry Little Christmas (arr. Barnaby Philpott)
Walking In The Air - Blake (arr. Ed Hallinan)
The 12 Days of Christmas
We Wish You A Merry Christmas - trad.
Winter Wonderland (arr. Toby Street)
Danielle Black

, Wedding, Surrey
Amazing! Top Five Brass made the atmosphere of our drinks reception truly magical - Thank you so much.
---
Susan Mulcahy

, Birthday Party, Hertfordshire
A huge thank you for everything Saturday night. You really set the mood of the party right from the start and it was greatly appreciated. It was fantastic to arrive and see you already set up and waiting patiently! One couple said they heard the music as they walked across the Common to the party which was exactly what we wanted.
---
Royal Festival Hall
Olympics and Paralympics
St Pancras Intl.
Venn Street Records
Britten Theatre
Heathrow T5
Regional Music Societies
Southwark Cathedral
1. What are your standard performance times?
Depending on the situation we will perform for any amount of time, from 10 minutes to 4 hours (including breaks).
2. Are you able to offer extended performances / extra sets and at what fees?
Yes. Extra fees to be negotiated.
3. How much time do you require to set up and sound check?
We only need 10 minutes to set up and sound check for most events, however for a formal recital we would prefereably like access to the venue for an hour or two beforehand for a runthrough and to get settled.
4. How much Stage space do you require?
We only require a 3m x 3m space.
5. How many electrical sockets do you require?
0 unless you wish to book us with a singer for our Christmas Sing along shows.
6. What is your full line-up and instrumentation?
Our full line up is 2x trumpets, 1x trombone, 1x french horn and 1x tuba
7. Are you able to learn requests and at what extra charge (if any)?
We can do some requests for free. If we need to arrange the music or buy it in, it will be at an added price of either the cost of the sheet music or c £50 for an arrangement.
2 x 45 minute sets as standard. Extras to be negotiated.
Please Note: The fees indicated below are approximate and based on a central location for each county. They are intended to provide a rough guide only and exact quotes can only be given once the date and exact location of your event have been provided.
Scotland
Aberdeen
£1,800.00
Inverness
£1,800.00
Perth
£1,800.00
Sutherland
£1,800.00
Ayrshire
£1,440.00
Fife
£1,440.00
Stirlingshire
£1,440.00
West Lothian
£1,440.00
Dumfries-shire
£1,200.00
East Lothian
£1,200.00
Lanarkshire
£1,200.00
Midlothian
£1,200.00
North East
Durham
£1,440.00
Northumberland
£1,440.00
North Yorkshire
£1,440.00
South Yorkshire
£1,440.00
Tyne and Wear
£1,440.00
West Yorkshire
£1,440.00
Yorkshire
£1,440.00
North West
Cheshire
£1,200.00
Cumbria
£1,200.00
Manchester
£1,200.00
Lancashire
£1,200.00
Merseyside
£1,200.00
East Midlands
Derbyshire
£1,080.00
Leicestershire
£1,080.00
Lincolnshire
£1,080.00
Northamptonshire
£1,080.00
Nottinghamshire
£1,080.00
Rutland
£1,080.00
East
Cambridgeshire
£900.00
Norfolk
£900.00
Suffolk
£900.00
Wales
Anglesey
£1,560.00
Caernarvonshire
£1,560.00
Denbigh
£1,560.00
Flint
£1,560.00
Cardigan
£1,080.00
Brecon
£960.00
Carmarthen
£960.00
Glamorgan
£960.00
Monmouth
£960.00
Pembroke
£960.00
West Midlands
Gloucestershire
£1,080.00
Herefordshire
£1,080.00
Shropshire
£1,080.00
Staffordshire
£1,080.00
Warwickshire
£1,080.00
Worcestershire
£1,080.00
South East
Bedfordshire
£900.00
Berkshire
£900.00
Buckinghamshire
£900.00
East Sussex
£900.00
Essex
£900.00
Hampshire
£900.00
Hertfordshire
£900.00
Isle of Wight
£900.00
Kent
£900.00
Oxfordshire
£900.00
Surrey
£900.00
Sussex
£900.00
West Sussex
£900.00
London
£720.00
Middlesex
£900.00
South West
Cornwall
£1,440.00
Devon
£1,440.00
Dorset
£1,440.00
Somerset
£1,440.00
Wiltshire
£1,440.00