Warble Entertainment's
Styles Solo Acoustic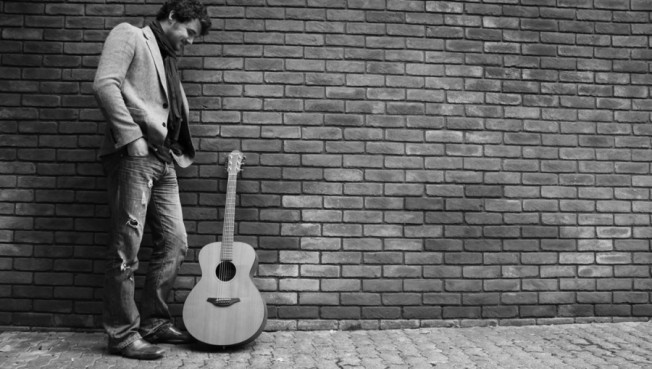 Location Devon
Starting from £456.00
A unique high quality touring act, Style Solo Acoustic has played the Monaco GP for the Ferrari F1 several times, for the Queens's Guard in Westminster and played a number of European events including a wedding in stunning Slovenia. It is rare to find a solo acoustic artist that can move a room like a full band or play mellow laid back summer jazz / pop / Spanish guitar. For any event, large or small, Styles Solo Acoustic is definitely your man!
5 reviews
Song List
Sky Full Of Stars - Coldplay
Want To Want Me- Jason Derulo
Shut Up And Dance - Walk The Moon
Latch - Disclosure
Hello- Adele
Writing's On The Wall - Sam Smith
Somebody I Used To Know - Gotye
Hold Back The River - James Bay
Hotline Bling - Drake
Titanium - David Guetta / Sia
Just The Way You Are - Bruno Mars
Grenade - Bruno Mars
Pumped Up Kicks - Foster The People
Place Your Hands - Reef
Newborn - Muse
Super Massive Black Hole
Boys Of Summer - Don Henley
Hey Ya - Outcast
Skinny Love - Bon Iver
Sex On Fire - Kings Of Leon
Use Somebody - Kings of Leon
Valerie - Zutons
Ground For Divorce - Elbow
One Day Like This - Elbow
Poker Face - Lady Ga Ga
Papparazzi - Lady Ga Ga
Superstition - Stevie Wonder
Sir Duke - Stevie Wonder
I Wish - Stevie Wonder
Thank You - Led Zepplin
Sledgehammer - Peter Gabriel
Secret World - Peter Gabriel
Come Talk To Me - Peter Gabriel
Solsbury Hill - Peter Gabriel
In Your Eyes - Peter Gabriel
Alright Now - Free
Mustang Sally - The Commitments
Purple Haze - Jimi Hendrix
Little Wing - Jimi Hendrix
Voodoo Chile - Jimi Hendrix
Aint No Sunshine - Bill Withers
Lovely Day - Bill Withers
Something Only We Know - Keane
Mad World - Tears For Fears
Cry Me A River - J.Timberlake
Gotta Get Thru This - D. Bedingfield
Falling At Your Feet - Crowded House
Wicked Game - C.Issac
With Or Without - U2
Back To Black - Amy Winehouse
Black & Gold - Sam Sparro
Bubbles - Biffy Clyro
Not Alone - Calvin Harris
Light My Fire - The Doors
Broken Stones - Paul Weller
You Do Something To Me - Paul Weller
Wild Wood - Paul Weller
Yer So Bad - Tom Petty
Sorry - Tracy Chapman
English Man In NY - Sting
Fields Of Gold - Sting
Da Do Do - Sting
Every Breath You Take - Sting
King Of Pain - Sting
Tea In The Sahara - Sting
Shape Of My Heart - Sting
Probably Me - Sting
Fragile - Sting
So Lonely - Sting
Every Little Thing She Does Is Magic - Sting
Roxanne - Sting
Mrs Robinson - Simon & Garfunkel
Under The Bridge - Red Hot Chilli Peppers
I Wouldn't Believe Your Radio - Stereophonics
Dakota - Stereophonics
Moving - Supergrass
Funky Music - Wild Cherry
Kiss - Prince
I Wanna Be Your Lover - Prince
I Cant Make You Love Me - George Michael
Faith - George Michael
Creep - Radiohead
Hard To Handle - Black Crowes
With A Little Help From My Friends - Beatles
All You Need Is Love - Beatles
Norweigan Wood - Beatles
Cant Buy Me Love - Beatles
Im Looking Through You - Beatles
Yesterday - Beatles
Hotel California - The Eagles
Wonderful Tonight - Eric Clapton
Tears In Heaven - Eric Clapton
Have You Ever Loved A Woman - Eric Clapton
Malted Milk - Eric Clapton
Old Love - Eric Clapton
Before You Accuse Me - Eric Clapton
Lonely Stranger - Eric Clapton
Let It Grow - Eric Clapton
Inside - Stiltskin
Cry For Me - Roachford
I Don't Want To Talk About It
Guitar Man - Bread
Wonderwall - Oasis
Don't Look Back In Anger
Jealous Guy - Lennon
Come Together - The Beatles
Stuck In The Middle With You - Stealers Wheels
Drugs Don't Work - The Verve
Only To Be With You - Roachford
Jugglers - Average W.Band
Sex Machine - James Brown
I Feel Good - James Brown
Thrill Has Gone - BB King
With Arms Wide Open - Creed
Yellow - Coldplay
Trouble - Coldplay
Clocks - Coldplay
Speed Of Sound - Coldplay
The Last Time - Rolling Stones
Penny Royal Tea - Nirvana
Something In The Way - Nirvana
Polly - Nirvana
All Apologies - Nirvana
Better Man - Pearl Jam
Elderly Woman Behind A Counter In A Small Town - Pearl Jam
Daughter - Pearl Jam
Not For You - Pearl Jam
Rearview Mirror - Pearl Jam
Nothing Man - Pearl Jam
Long Train Running - Doobie Brothers
That's The Way (Un Huh) - K C + The Sunshine Band
Walk On By - Bacharach
Colours - Donovan
Everybodys Talkin' - Donovan
More Than Words - Extreme
Just Be A Woman - Lenny Kravitz
If I Could Read Your Mind - Gorden Lightfoot
Wild World - Gorden Lightfoot
San Francisco Bay Blues - Gorden Lightfoot
I Wont Back Down - Tom Petty
Free Fallng - Tom Petty
You've Got A Friend - James Taylor
Heart Of Gold - James Taylor
I'm Not In Love - 10CC
Knocking On Heavens Door - Dylan
I Cant Get Enough Of Your Love - Bad Company
Sunny Afternoon - Kinks
You've Really Got Me
Nothing Ever Happens - Del Amitri
My Lovers Gone - Dido
Fits Ya Good - Bryan Adams
Cuts Like A Knife - Bryan Adams
Summer Of 69 - Bryan Adams
Driftwood - Travis
Never Too Much - L. Vandross
Time Is Running Out - Muse
Starlight - Muse
Newborn - Muse
Super Massive Black Hole - Muse
Hallajuah - J.Buckley
Grace - J.Buckley
Forget Her - J.Buckley
Lover You Should Come Over - J.Buckley
Last Goodbye - J.Buckley
Take You Mama Out - Scissor Sisters
California Dreamin' - Beach Boys
Still Havent Found - The Chimes
Word Up - Cameo
Time After Time - C.Lauper
Everybody Needs Somebody - B.Brothers
Easy - Lionel Richie
Bad Day - Daniel Powter
Best Of You - Foo Fighters
Times Like These - Foo Fighters
My Hero - Foo Fighters
Billy Jean - Michael Jackson
Cant Fight The Funk - Hiram Bullock
Crazy - Gnarles Barkley
Crazy - Seal
Killer - Seal
Chasing Cars - Snow Patrol
Run - Snow Patrol
Open Your Eyes - Snow Patrol
Daughters - John Mayer
Vultures - John Mayer
Good Love Is On The Way - John Mayer
Stay - John Mayer
Tightrope - Stevie Ray Vaughan
Diggin On J B - T .O .P
Soul Man - Sam Cooke
Mr Brightside - The Killers
Somebody Told Me - The Killers
Seven Days In Sunny June - Jamiroquai
Deeper Underground - Jamiroquai
Dynamite - Jamiroquai
Iris - The Goo Goo Dolls
Heard It Through The Grapevine - Marvin Gaye
Angels - Robbie Williams
Moondance - Van Morrison
Walking On Sunshine - Katrina + The Waves
Twist And Shout - Lulu
Naked - Reef
I Believe In A Thing Called Love - The Darkness
My Sharona - The Knack
Wake Me Up When September Ends - Green Day
Fever - Michael Buble
Home - Michael Buble
I Got A Woman - Ray Charles
Somewhere Else - Razorlight
Feeling Good - Nina Simone
Heartbeats - Jose Gonzalez
I Feel It - Lorriane
Maneater - Nelly Furtado
You're My Best Friend - Queen
Looking As You Are - Embrace
Teardrop - Massive Attack
You're Beautiful - James Blunt
Constant Craving - K D Lang
Dream Catch Me - Newton Fulkner
Uprising - Muse
Starlight - Muse
Jazz
Summertime
Autumn Leaves
Don't Get Around Much Anymore
Stormy Weather
Don't It Make Your Brown Eye
Fly Me To The Moon
Night And Day
The Mascarade Is Over
Angel Eyes
Nowhere With Love
Foggy Day
Round Midnight
Lady Is A Tramp
Aint That A Kick In The Head
Mack The Knife
It Had To Be You
My Funny Valentine
Chameleon
All Blues
Caravan
Djangology
Four On Six
So What
A Night In Tunisia
Blue Bossa
I Found A New Baby
Duece Ambience
Minor Swing
Mediterranean Sundance
Misty
Satin Doll
Son Of Mr Green Genes
Sidewinder
St Thomas
Lotus Feet
Got A Match?