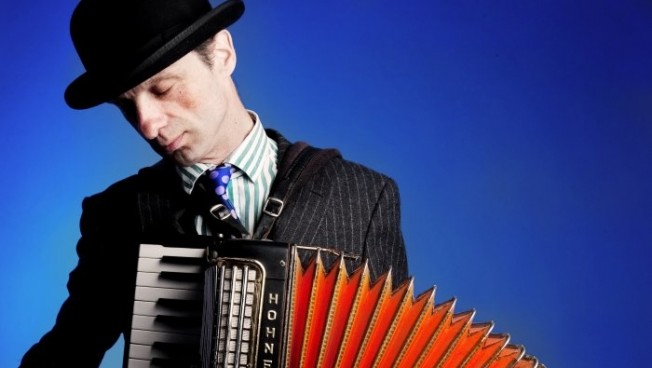 Location Somerset
Starting from £180.00

Accordion music for your wedding, party or corporate event. The Accordion Player is based in Bristol, but can travel anywhere in England or Wales.
Number of Reviews and Counting... 4!
Waltzes and javas from 1930's Paris, sultry tangos from Argentina, romantic melodies from Italy or classic klezmer from Eastern Europe.
The Accordion Player's solo accordion music will help create the perfect atmosphere for your event.
The Accordion Player can mix the styles up, or focus on a particular genre, it's up to you.
French
Coeur vagabond
Caprice musette
L'interdite
Ca gaze
Galopade
Indifference
Convoitise
Rivalite
Reine de musette
Retour des hirondelles
Brise Napolitaine
Accordeon samba
Fugitive
Calinere
Eugenie de la Bastille
Enivrante
Flambee Montalbanaise
Jeanette
Zingarella
Balajo
Valse d'Amelie
Valse des monstres
La noyee
Sous les ciels de Paris
La vie en rose
Autumn leaves
La foule
Italian
Tra veglio e sogno
Carnival of Venice
La mattinata
Ah! Mari!
Torna a Sorrento
La donna e mobile
Wedding Tarantella
Vieni sul mar
Non sei tu
Addio a Napoli
Santa Lucia
O sole mio
Aballati aballati
Figghia di'n massaru
Fischiettando
La palumella
Pizzicarella mia
Pizzica pizzica
Serenata amalfitana
Sonos e memoria
A collection of tarantellas
Tango

La cumparsita
El choclo
Gallo ciego
Bolada de aficionado
Acorazado rivadabia
El farrista
Retintin
Luna de arrabal
Una noche de garufa
Armenonville
Catamarca
La serenata de ayer
Libertango
Adios nonino
Klezmer
Hava netze b'machol
Der filosof
Sher
Freylekh zain
Der glater bulgar
Firn die mekhatonim aheim
A nakht in gan edyn
Nokh a gleyzl vain
Varshaver freylekhs
Nigun atik
Zemer lach
Choson kale mazel tov
Nadia Balasco

, Wedding, Bristol
John was brilliant, the guests enjoyed the unexpected treat and a few enjoyed dancing to the Italian songs which added to the enjoyable and very relaxed atmosphere. Played a good selection that I had requested and was good with the guests. Coming from an Italian family, just what we were looking for and didn't disappoint. Highly recommend.
---
Tracy Kenny

, Corporate, Horwood House, Buckinghamshire, Buckinghamshire
Really good and met the brief perfectly.
---
Neil Hulme

, Military Event, Wiltshire
A nice bit of background music for when the evening started, worked well with the theme of the function.
---
Sarah and Faneau

, Wedding, Gloucestershire
We just wanted to say thank you so much for making our wedding day extra special with your incredible accordion playing. From the moment we first heard you play we knew that you would be able to create the perfect ambience for our drinks reception. We really appreciated you staying to play a waltz for our first dance and had many comments from our guests about your lovely music.
---
South Wales Chamber of Commerce, Cardiff Arms Park
Bridgwater Carnival
Qinetic, Malvern
Cardiff Castle
Casanis Restaurant, Bath
Tiger Tiger, Cardiff
Circomedia, Bristol
The Birdcage, Malmesbury
Ashton Court, Bristol
Rattlebone Inn, Sherston
I'm more than happy to discuss the set with you, and may be able to add that special tune to my set.
I need little looking after, so long as I know where you'd like me to play and for how long.
I can move around among guests, or stay in one spot.
The music is not amplified, but if required I can play loudly with my 4 voice Paulo Soprani accordion, or softly in a more intimate setting.
I have my own transport and I'm used to finding my way to venues far off the beaten track.
The Accordion Player is really flexible on this.
A usual event is 2 - 3 hours, but The Accordion Player is happy to play as long as you want.
For event over 3 hours The Accordion Player will charge a little extra.
Please Note: The fees indicated below are approximate and based on a central location for each county. They are intended to provide a rough guide only and exact quotes can only be given once the date and exact location of your event have been provided.
North East
Durham
£360.00
Northumberland
£360.00
North Yorkshire
£348.00
South Yorkshire
£324.00
Tyne and Wear
£360.00
West Yorkshire
£324.00
Yorkshire
£336.00
North West
Cheshire
£300.00
Cumbria
£360.00
Manchester
£312.00
Lancashire
£324.00
Merseyside
£324.00
East Midlands
Derbyshire
£288.00
Leicestershire
£276.00
Lincolnshire
£288.00
Northamptonshire
£276.00
Nottinghamshire
£288.00
Rutland
£288.00
East
Cambridgeshire
£276.00
Norfolk
£288.00
Suffolk
£276.00
Wales
Anglesey
£360.00
Caernarvonshire
£348.00
Denbigh
£312.00
Flint
£312.00
Cardigan
£264.00
Brecon
£216.00
Carmarthen
£240.00
Glamorgan
£216.00
Monmouth
£216.00
Pembroke
£264.00
West Midlands
Gloucestershire
£216.00
Herefordshire
£216.00
Shropshire
£264.00
Staffordshire
£264.00
Warwickshire
£264.00
Worcestershire
£216.00
South East
Bedfordshire
£264.00
Berkshire
£216.00
Buckinghamshire
£240.00
East Sussex
£276.00
Essex
£276.00
Hampshire
£240.00
Hertfordshire
£240.00
Kent
£276.00
Oxfordshire
£216.00
Surrey
£240.00
Sussex
£276.00
West Sussex
£264.00
London
£240.00
Middlesex
£240.00
South West
Cornwall
£264.00
Devon
£240.00
Dorset
£228.00
Somerset
£180.00
Wiltshire
£204.00