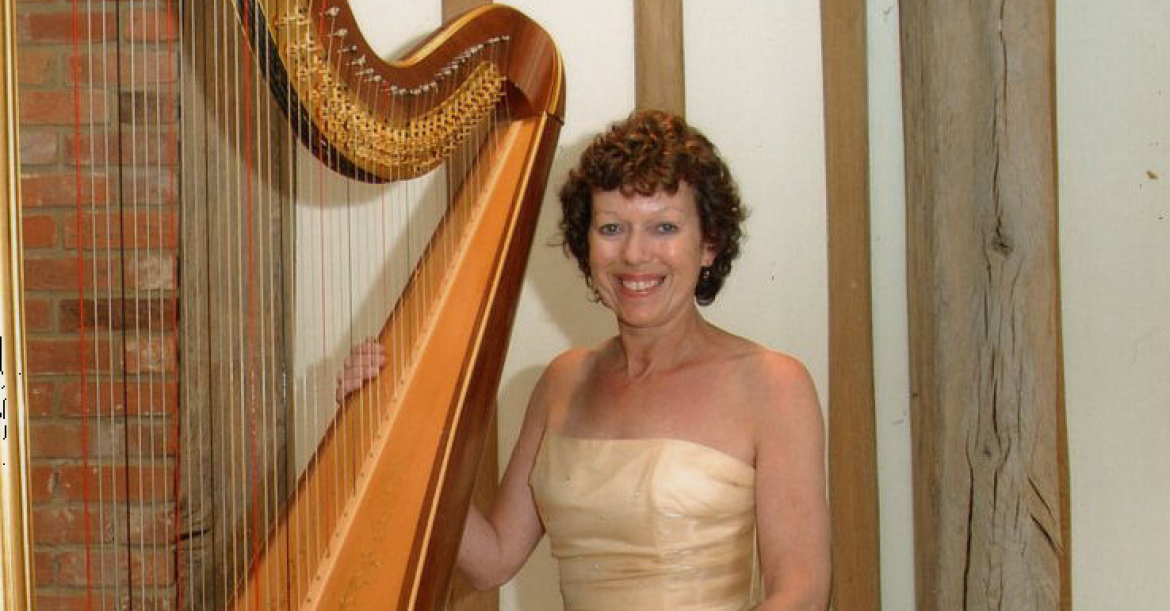 Location Hampshire
Starting from £300.00

The Hampshire Harpist's repertoire of classical, traditional and modern classics, together with the clear tone of her harp, makes an excellent combination for entertaining your guests.
The Hampshire Harpist studied the harp at The Hindhead School of Music and The Royal College of Music.
Listen




Number of Reviews and Counting... 10!
The Hampshire Harpist's repertoire of classical, traditional and modern classics, together with the clear tone of her harp, makes an excellent combination for entertaining your guests.
The Hampshire Harpist studied the harp at The Hindhead School of Music and The Royal College of Music.
Classical
Angelus - Renie
Arabesque - Debussy
Arioso - J.S.Bach
Ave Maria - Shubert
Ave Maria - Gounod
Barcarolle - Offenbach
Cannon In D - Pachelbel
Chaconne - Clark
Claire D'lune - Debussy
Concerto In D (2nd Movement) - Vivaldi
Ebb Tide - Maxwell
Echoes Of A Waterfall - Thomas
Gymnopedies - Satie
Impromptu Caprice -Pierne
La Source - Hasselmann
Leibestraum - Liszt
Love Unspoken - Lehar
Lullaby - Brahms
Marguerite Dauleureuse Au Roueat - Zabel
Meditation - Massenet
My Heart At Thy Sweet Voice - Saint-Saens
Oh My Beloved Father - Puccini
Panis Angelicus - Frank
Passagalia - Handel
Plasire D'amour - Martini
Prelude In C - Bach
Rondeau From Abdelezar - Purcell
Sonata In C (2nd Movement) - Dusek
Sanata No 1 In D - Parry
Sonata No 6 - Nadermann
Spring Brunnen - Zabel
The Arrival Of The Queen Of Sheba - Handel
The Swan - Saint-Saens
Una Furtiva Lagrina - Donizetti Arr Thomas
Villa - Lehar
Wedding March - Wagner
You Are My Hearts Delight - Lehar
Popular & Contemporary
All I Ask Of You - Lloyd-Weber
Bless This House - Braha/Taylor
Brideshead Revisited - Burgon
Crazy - Nelson
Echoes - Cameron Finnemore
Eleanor Rigby - Lennon/Mccartney
Dawning Of Light - Cameron Finnemore
Evergreen - Streisand
Feelings - Albert
Fool On The Hill - Lennon/Mccartney
Hey Jude - Lennon/Mccartney
I Dreamt I Dwelt In Marble Halls/Just A Song At Twilight - Balfe/Malloy
If I Fell - Lennon/Mccartney
If I Loved You - Rodgers/Hammerstein
I'll Follow The Sun - Lennon/Mccartney
Imagine - Lennon
Love Story (Where Do I Begin) - Lehar
Loving That Man Of Mine - Kern
Memory - Lloyd-Weber
Misty - Garner
Nataliana - Henson-Conant
Nicola - Cameron Finnemore
Night And Day - Porter
Nightingales Sometimes Sing - Cameron Finnemore
Rhapsody In Blue - Gershwin
Romeo And Juliet - Rota
September Song - Weill
Smoke Gets In Your Eyes - Kern
Somewhere Over The Rainbow - Arlen
Stairway To Heaven - Page/Plant
Summertime - Gershwin
Till There Was You - Wilson
The Deerhunter - Myers
The Shadow Of Your Smile - Webster/Mandel
Unchained Melody - North
Victoria - Cameron Finnemore
Vincent (Starry Starry Night) - Mclean
Walking In The Air - Blake
Wedding Calypso - Cameron Finnemore
Wind Beneath My Wings - Henley
Traditional
All Throught The Night - Arr Thomas
Ash Grove
Believe Me If All These Endearing Young Charms
David Of The White Rock
Greensleves
Londonderry Air
Minstral Adieu To The Native Land
Scarborough Fair
The March Of Brian Boru
Whatching The Wheat
Ellysia Mason

, Wedding, The Old Bowling Green, Hampshire
We had a very small wedding so the harpist was a lovely treat. She arrived on time and in formal dress, with a really big harp! The music was lovely and everyone enjoyed familiar tunes with the meal and it helped to make our day very intimate and special.
---
Derek McGhee

, Wedding, Royal Southampton Yacht Club, Hampshire
The Hampshire Harpist was marvellous! She is an amazing musician, and is very accommodating - perfect for our drinks reception at our wedding.
---
Bo Krajciova

, Wedding, Hampshire
I was very happy with your service. Approachable, prompt and very helpful. I have nothing negative to say, or anything you should improve on. I think you are/were great. We were very happy with her performance. All the best.
---
Jacquie & Michael Corderoy

, Wedding, Dorset
Dear Charlotte, It was lovely having The Hampshire Harpist to play for us at our Wedding Breakfast and all our guests really enjoyed her repertoire. I did manage to speak to her myself for a short time and I hope she enjoyed playing for us as much as we enjoyed hearing her. It really added something special to our wedding day. Many thanks.
---
Kirsty Cook - Waverley School

, Corporate, Berkshire
A very talented lady who was tremendous on the night. She lightened the room with her wonderful Harp and played beautifully throughout the entire evening. I would be happy to recommend and book 'The Hampshire Harpist' for any future events.
---
Rebecca Greenwood

, Wedding, Hampshire
The Hampshire harpist was great and the music was beautiful.
---
Karen Bonde

, Wedding, Surrey
Good work.
---
Ronald Dunbar

, Military Event, Oxfordshire
The Hampshire Harpist was very well received by all and she will undoutedly make an appearance in future events.
---
Caroline Johnson

, Wedding, Berkshire
A truly beautiful performance at our wedding. We asked for specific Maori songs to be played as we walked in/out of the ceremony as my husband is from New Zealand. The atmosphere The Hampshire Harpist created was magical, we can't thank you enough. xxx
---
Katie Vincent-Brown

, Wedding, Hampshire
The Hampshire Harpist played superbly for our wedding ceremony at The Elvetham Hotel. Beforehand we emailed each other to discuss our music choices (which included traditional and modern pieces) and she was very enthusiastic about our suggestions and very helpful. On the day, The Hampshire Harpist was professional, looked great and produced a very memorable soundtrack to our ceremony. Many of our guests commented on how beautiful her playing was and I'd absolutely recommend her to other couples who are getting married. Thank you so much The Hampshire Harpist!
---
Past bookings include: The New Forest Show (For H.R.H Princess Anne), Lancaster House (For the American Ambassador), HMS Invincible (Special Guest Jim Davidson), House Party for Reg Presley, BBC Radio Solent, Several other naval bookings (HMS Invincible, HMS Victory, HMS Warrior), Corporate functions at top London Hotels (Hilton Hyde Park, Millennium Gloucester, Grosvenor etc.) as well as numerous Provincial Orchestra's, shows & musicals.
Previous venues The Hampshire Harpist has played at include: Angel – Guildford, Audleys Wood – Basingstoke, Avisford Park – Arundel, Botleigh Grange – Botley, Cain Manor - Headley Down, Careys Manor – Brockenhurst, Champneys - Forest Mere, Chilworth Manor – Southampton, Chine Hotel – Bournemouth, Crown – Lyndhurst, Cumberland – Bournemouth, Deans Place – Alfriston, De Vere Grand Harbour – Southampton, Elvetham Hall - Hartley Wintner, Englemere Hall – Ascot, Esseborne Manor - Hurstbourne Tarrant, Farnham House – Farnham, Forest Park – Brockenhurst, Fountain Court – Southampton, Grosvenor - Central London, Half Moon Inn – Petersfield, Hannover International – Hook, Haven – Sandbanks, Highfield House –Southampton, Highfield Park – Heckfield, Hilton (Hyde Park) - Central London, Hilton National – Portsmouth, Ivy House – Marlborough, Lainstone House – Winchester, Manor House – Aldermaston, Marriots – Goodwood, Meon Valley Golf and Country Club - Shedfield, Milton Hill House – Didcot, Millenium Gloucester - Central London, Moonfleet Manor – Bridport, Old Thorns Golf and Country Club – Liphook, Queens – Bournemouth, Riverbank Park Plaza - Central London, Royal Victoria Country Park – Netley, Runneymede – Egham, The Grange – Alton, Winchester Royal - Winchester.
Please Note: The fees indicated below are approximate and based on a central location for each county. They are intended to provide a rough guide only and exact quotes can only be given once the date and exact location of your event have been provided.
South East
Berkshire
£330.00
Hampshire
£300.00
Isle of Wight
£360.00
Surrey
£330.00
Sussex
£330.00
West Sussex
£330.00
London
£360.00
South West
Dorset
£330.00
Wiltshire
£330.00