Warble Entertainment's
The Hampshire Harpist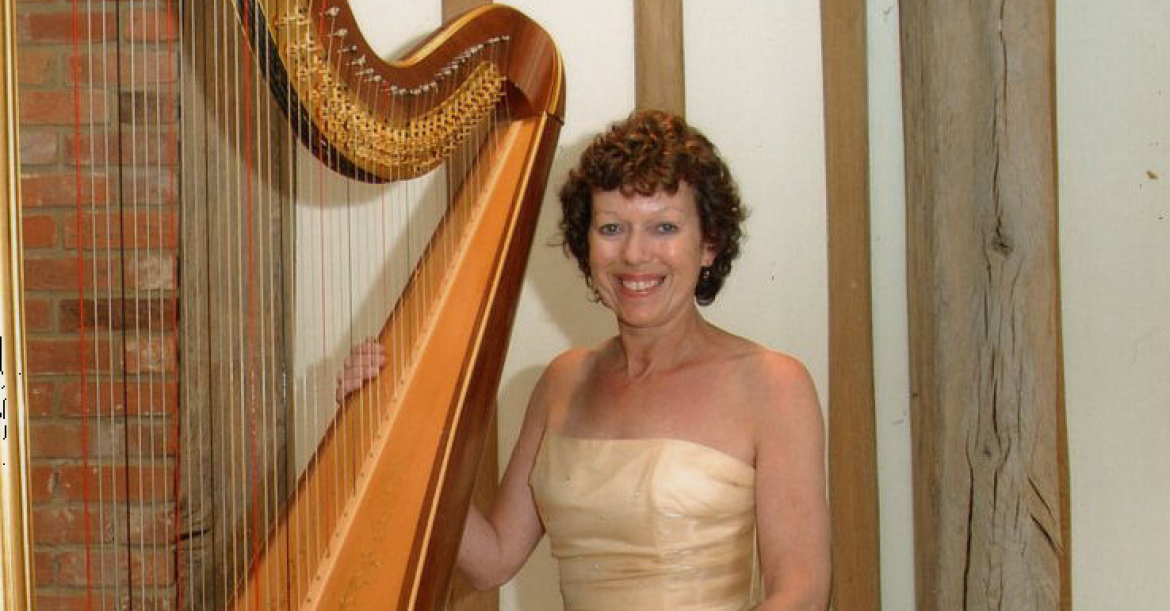 Location Hampshire
Starting from £300.00
The Hampshire Harpist is known in the south of England for her beautiful harp music.
Her repertoire of classical, traditional and modern classics together with the clear tone of the harp makes an excellent combination for entertaining your guests.
The Hampshire Harpist studied the harp at The Hindhead School of music and The Royal College of music.
*Fantastic Harpist with varied repertoire*
9 reviews
Listen




Song List
Classical
Angelus - Renie
Arabesque - Debussy
Arioso - J.S.Bach
Ave Maria - Shubert
Ave Maria - Gounod
Barcarolle - Offenbach
Cannon In D - Pachelbel
Chaconne - Clark
Claire D'lune - Debussy
Concerto In D (2nd Movement) - Vivaldi
Ebb Tide - Maxwell
Echoes Of A Waterfall - Thomas
Gymnopedies - Satie
Impromptu Caprice -Pierne
La Source - Hasselmann
Leibestraum - Liszt
Love Unspoken - Lehar
Lullaby - Brahms
Marguerite Dauleureuse Au Roueat - Zabel
Meditation - Massenet
My Heart At Thy Sweet Voice - Saint-Saens
Oh My Beloved Father - Puccini
Panis Angelicus - Frank
Passagalia - Handel
Plasire D'amour - Martini
Prelude In C - Bach
Rondeau From Abdelezar - Purcell
Sonata In C (2nd Movement) - Dusek
Sanata No 1 In D - Parry
Sonata No 6 - Nadermann
Spring Brunnen - Zabel
The Arrival Of The Queen Of Sheba - Handel
The Swan - Saint-Saens
Una Furtiva Lagrina - Donizetti Arr Thomas
Villa - Lehar
Wedding March - Wagner
You Are My Hearts Delight - Lehar
Popular & Contemporary
All I Ask Of You - Lloyd-Weber
Bless This House - Braha/Taylor
Brideshead Revisited - Burgon
Crazy - Nelson
Echoes - Cameron Finnemore
Eleanor Rigby - Lennon/Mccartney
Dawning Of Light - Cameron Finnemore
Evergreen - Streisand
Feelings - Albert
Fool On The Hill - Lennon/Mccartney
Hey Jude - Lennon/Mccartney
I Dreamt I Dwelt In Marble Halls/Just A Song At Twilight - Balfe/Malloy
If I Fell - Lennon/Mccartney
If I Loved You - Rodgers/Hammerstein
I'll Follow The Sun - Lennon/Mccartney
Imagine - Lennon
Love Story (Where Do I Begin) - Lehar
Loving That Man Of Mine - Kern
Memory - Lloyd-Weber
Misty - Garner
Nataliana - Henson-Conant
Nicola - Cameron Finnemore
Night And Day - Porter
Nightingales Sometimes Sing - Cameron Finnemore
Rhapsody In Blue - Gershwin
Romeo And Juliet - Rota
September Song - Weill
Smoke Gets In Your Eyes - Kern
Somewhere Over The Rainbow - Arlen
Stairway To Heaven - Page/Plant
Summertime - Gershwin
Till There Was You - Wilson
The Deerhunter - Myers
The Shadow Of Your Smile - Webster/Mandel
Unchained Melody - North
Victoria - Cameron Finnemore
Vincent (Starry Starry Night) - Mclean
Walking In The Air - Blake
Wedding Calypso - Cameron Finnemore
Wind Beneath My Wings - Henley
Traditional
All Throught The Night - Arr Thomas
Ash Grove
Believe Me If All These Endearing Young Charms
David Of The White Rock
Greensleves
Londonderry Air
Minstral Adieu To The Native Land
Scarborough Fair
The March Of Brian Boru
Whatching The Wheat