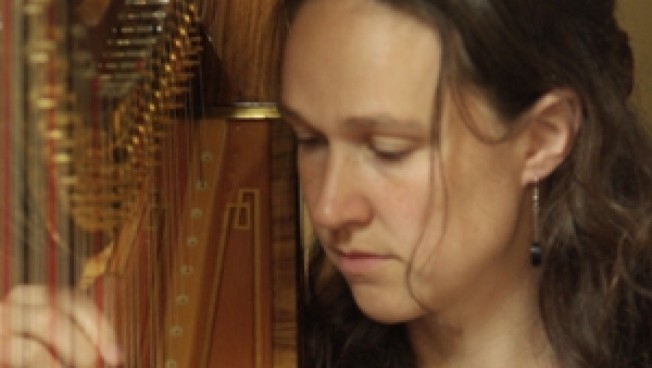 Location West Sussex
Starting from £240.00
The East Sussex Harpist's playing has taken her across Europe and as far afield as Hong Kong and Chicago.
Closer to home she has performed in tiny houses, large houses, marquees, cafes, hotels, churches, castles, the Cafe Royal, London's Carlton Towers Hotel, Kensington Palace, Sandhurst Royal Military Academy, Wembley Arena and The Royal Albert Hall. The East Sussex Harpist loves to play the harp, and values sharing her passion for music wherever she goes.
*The East Sussex Harpist is currently based in Sussex and available for Weddings, Corporate Events, Functions and Special Occasions*
Number of Reviews and Counting... 3!
The East Sussex Harpist - harpist, composer, arranger.
The East Sussex Harpist graduated with a First in Performance from Keele University in 2003. She was taught by Robert Johnson from the Birmingham Conservatoire, and then Thelma Owen, from the Royal Academy of Music. The East Sussex Harpist made her debut playing the Debussy Danses which she performed with Keele Philharmonic Orchestra in Paris and across Brittany.
Since graduation, The East Sussex Harpist has been in demand for orchestral work, solo recitals, weddings, functions, Christenings and Naming Ceremonies. Her most recent orchestral engagement was with the Docklands Sinfonia at the Royal Albert Hall to perform music composed and conducted by the singer Imogen Heap for 'Love the Earth'.
As a composer, The East Sussex Harpist has collaborated with the Pericles Theatre Company since 2000, and written music for five major productions to date. The Children of Lir (2000), Bench (2005), Woman (2006), Pericles (2008), and The Nightingale (2009). The East Sussex Harpist performed her compositions at Wembley Arena in 2006 to celebrate the United Nations International Day of Peace. Other contributors at the event included Ruby Wax, Tania Bryer, Robin Gibb (Bee Gees) and Michael Timothy (Massive Attack).
The East Sussex Harpist has arranged a number of tunes composed by the seventeenth-century blind Irish harper, Turlough O'Carolan. Her interest in this extraordinary music led her to join the Cambridge Music of the Heart Conference in 2005, where she collaborated with Brian Keenan, author of Turlough. Brian shared his experiences as a hostage in Beirut, Lebanon, and his connection to the Irish harper O'Carolan. Fellow contributors were Sir John Tavener and Nigel Osborne. The inter-disciplinary nature of the conference brought heart surgeons, artists and musicians together to share their knowledge and promote a more holistic approach to understanding the organ of the heart.
The East Sussex Harpist has played in many bands over the years. Andrew Norman and the Blaxland Sisters headlined at the Chiddinglye Folk Festival in 2004, and the following year The East Sussex Harpist and Eoni supported the Irish singer Niamh Parsons at the White Hart. In 2006, Wasps in the Woodshed, a celtic band, supported Last Night's Fun at the Hailsham Pavilion in Sussex. Later the same year, The East Sussex Harpist formed a duo with French harper Francois Pernel and travelled the UK with their Contemporary Celtic Harp Tour. They performed a series of 21 concerts of O'Carolan arrangements and The East Sussex Harpist's compositions to a range of audiences, including children and adults with special needs.
The East Sussex Harpist's solo album Reflection (2006) is a collection of original compositions and O'Carolan arrangements. Wasps in the Woodshed released their album entitled Polly's Night Out in 2009. The line-up is fiddle, whistle, harp, uilleann pipes, mandolin, mandola, guitar, didgeridoo, vocals, bodhran and djembe.
The East Sussex Harpist has just completed a Masters Degree in English Literature at Sussex University. Her particular interest lies in the theme of the Imagination, with reference to the Romantic poet, philosopher, and lecturer Samuel Taylor Coleridge and the twentieth-century thinker Owen Barfield. The East Sussex Harpist draws on this knowledge in her composition work, and teaching practice.
The East Sussex Harpist's repertoire includes: Classical, Romantic, Popular, Jazz, Film, Musicals, Traditional, Celtic and her own compositions.
Let The East Sussex Harpist know which genres you like and she will play a selection of tunes.
If you have a special track in mind that she doesn't know yet, The East Sussex Harpist would be delighted to learn it for you, providing it is suitable for the harp.
Jo Freemantle

, Wedding, Wiltshire
The East Sussex Harpist was amazing, absolutely perfect. Thank you for playing my songs so beautifully... it was an emotional day anyway but I lost it (again) when she played Clannad during the reception. She played a special part in making my day the dream day I always wanted. So sorry we never got to speak in person to say thank you. The guests thought it was beautiful too.
---
Tom Helliwell

, Wedding, West Sussex
Great, very professional and sounded great in the garden.
---
Alex Richards & Jessica Gardner

, Wedding, Buckinghamshire
The East Sussex Harpist was a lovely lady who was not only a massively talented musician, but also a very charming person who was most happy to tailor her programme to include our favourite pieces of music. Although she was providing a "background" while people ate, her performance was much appreciated and several of the guests said how much they had enjoyed it. It lent an atmosphere of class and calm to the occasion that was wonderful. Several times one would suddenly stop eating and realise that what was being played was a beautiful rendition of a piece one had never heard played on a harp before, and it was very enjoyable.
---
Royal Albert Hall
Wembley Arena
Kensington Palace
Sandhurst Royal Military Academy
The Cafe Royal
London Carlton Towers Hotel
Weddings
Ceremony - harp music as guests enter and take their seats, as the bride walks up the aisle, during the signing of the register, and finally as the bride and groom lead their guests out.
Drinks Reception - background harp music while drinks are served and photos taken (1hour or up to 1.5 hours music).
Wedding Breakfast - background harp music during the meal, until the start of the speeches (up to 2 hours music).
Combinations are available:
Ceremony & Drinks Reception
Ceremony and Wedding Breakfast
Drinks Reception and Wedding Breakfast
Please Note: The fees indicated below are approximate and based on a central location for each county. They are intended to provide a rough guide only and exact quotes can only be given once the date and exact location of your event have been provided.
South East
Bedfordshire
£288.00
Berkshire
£264.00
Buckinghamshire
£264.00
East Sussex
£240.00
Essex
£288.00
Hampshire
£288.00
Hertfordshire
£288.00
Kent
£276.00
Oxfordshire
£288.00
Surrey
£240.00
Sussex
£240.00
West Sussex
£240.00
London
£276.00
Middlesex
£240.00